"Made in Japan" craftsmanship at your fingertips
Traditional Japanese handicraft at the tip of your fingers
Created in Hiroshima, the traditional Kumanofude brush has also been selected as one of the prefecture's traditional crafts. Now you may think, "There aren't too many opportunities out there in Canada to use a brush," but fear not! This shop in particular offers a wide range of makeup brushes, which can definitely be used on a daily basis. In particular, the "Happy Box" and "SS Must-item Set", which include 5 and 10 brushes respectively, can serve as great gifts. You can also choose to combine brushes of your choice, and even have their names engraved—and create a gift that's one of a kind.
A breathtakingly intricate design that transcends time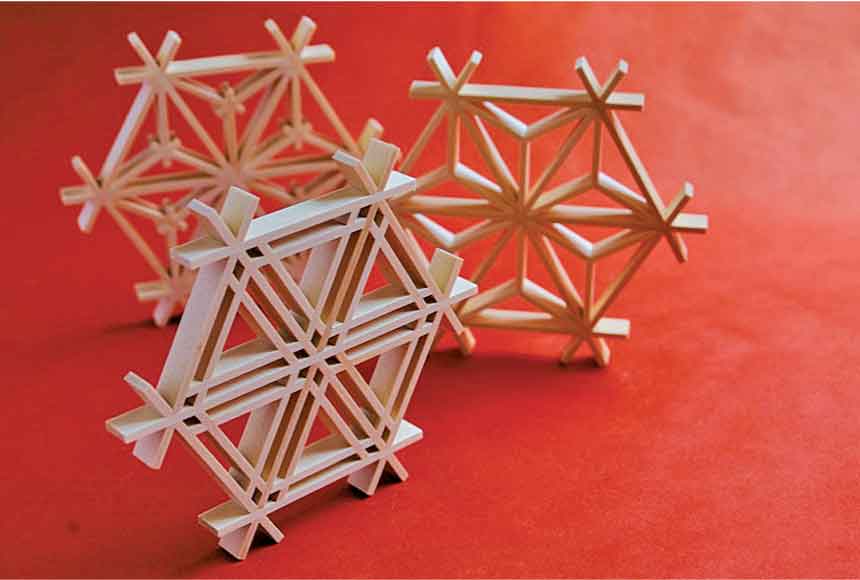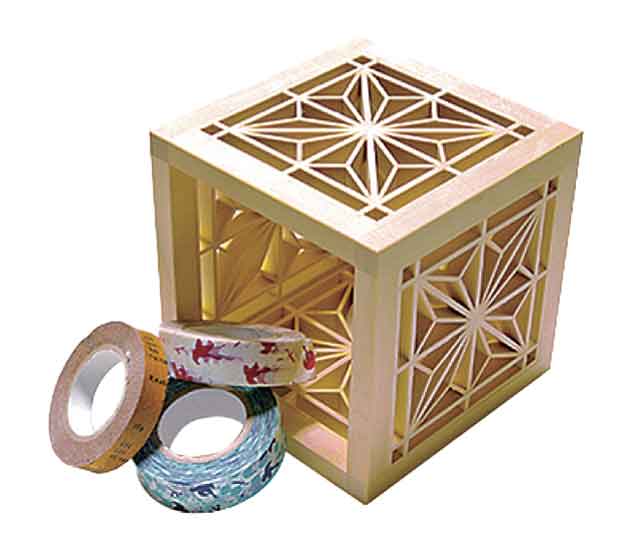 Kokura Kumiko is a piece of traditional craft that dates all the way back to the Asuka period (c. 538 AD – 710 AD), with a history of over a millennium. Traditionally used for architecture, this method of building does not employ any nails or pegs. It is held together only by the balance and tension created between the individual wooden pieces, which are brought together like a puzzle. While the westernization of homes in Japan has led to a decline of its traditional use, the craftsmen modified the craft ever so slightly to allow a place for it in any kind of home. Because of its refined design, it can be a great addition to your home decor. Designs range from simple ones to intricate ones, making it fun just to ponder on which one to get. In particular, we recommend the small boxes and coasters, just because they are super simple to incorporate into your everyday life.
A design and method worthy of awe: traditional craft born in Hakone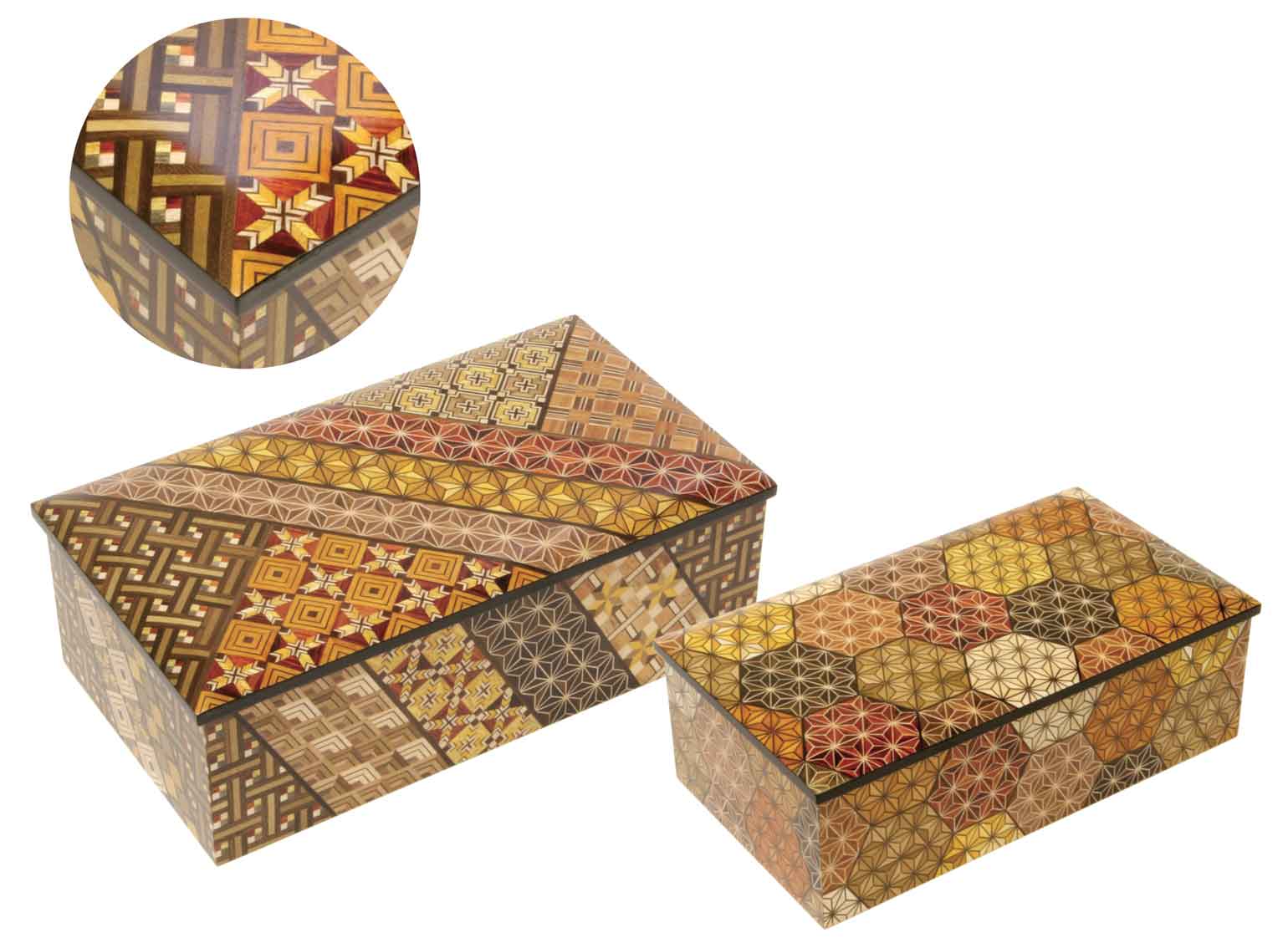 Yosegi-zaiku is a traditional craft of the Hakone region. Its beginnings date all the way back to the Edo period (1603 – 1868) and is yet another piece of art that is recognized by the government as the prefecture's traditional crafts. Yosegi-zaiku translates to "craft (zaiku) created by putting together (yose-ru) pieces of wood (gi)", and believe it or not, that is literally how the masterpieces are created. Its unique designs have recently garnered attention from across the globe, the most famous one being the "Himitsubako", or "a box of secrets". Its intricate design will definitely surprise those who see it for the first time. Another form of yosegi-zaiku that we would like to bring to your attention is mokuzougan. These art pieces, which would traditionally be painted, are "drawn" by pieces of wood, giving it a whole different texture and warmth to the images. Their products are available for shipping overseas, so you can order it wherever you are, which is also a big plus.
Woodblock prints that bridge Japan and Canada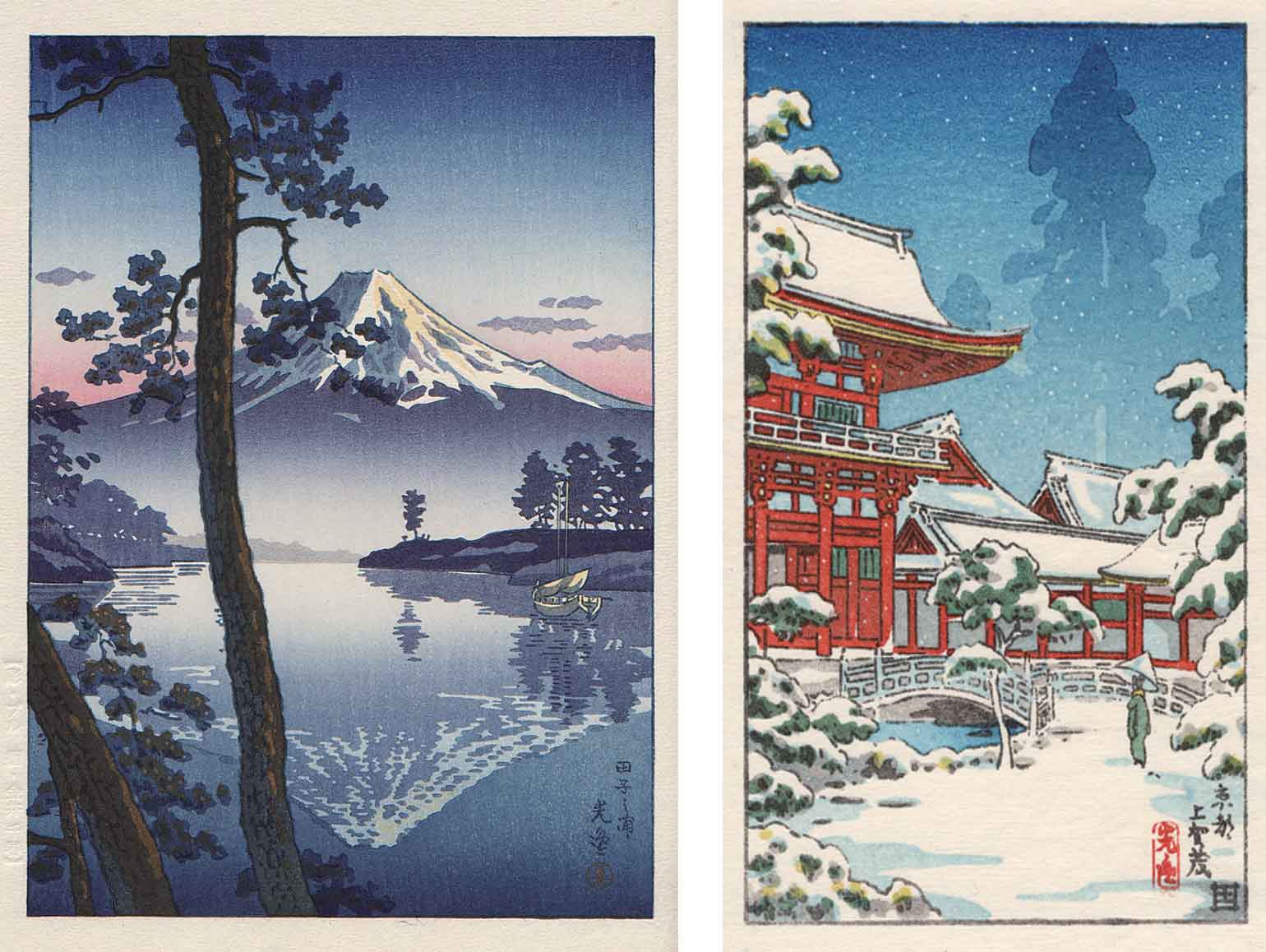 There is no gift better than this one that links Japan and Canada—and we say this because these woodblock prints are actually created by a Canadian artist, David Bull. According to him, he opened his shop Mokuhankan with the hopes of promoting woodblock prints to a wider audience. Here, you can get hold of traditional woodblock prints that date all the way back to the Edo period as well as David's original works. While there is a wide range of designs, all of them, with great detail, are carved by hand. Just by looking at them you can feel the warmth of a handmade craft.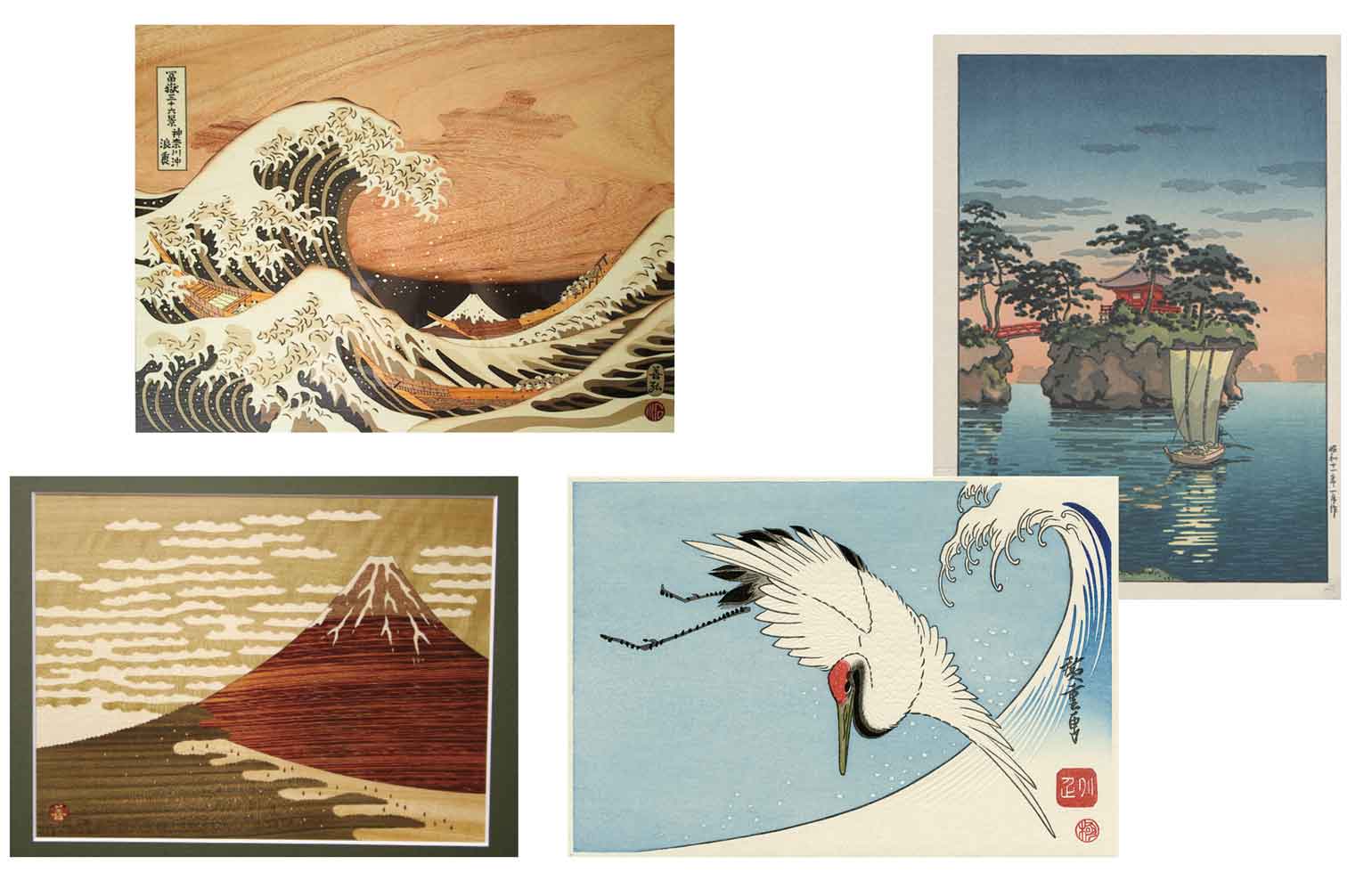 Gifts full of surprises and innovations
A basket that bends and twists!?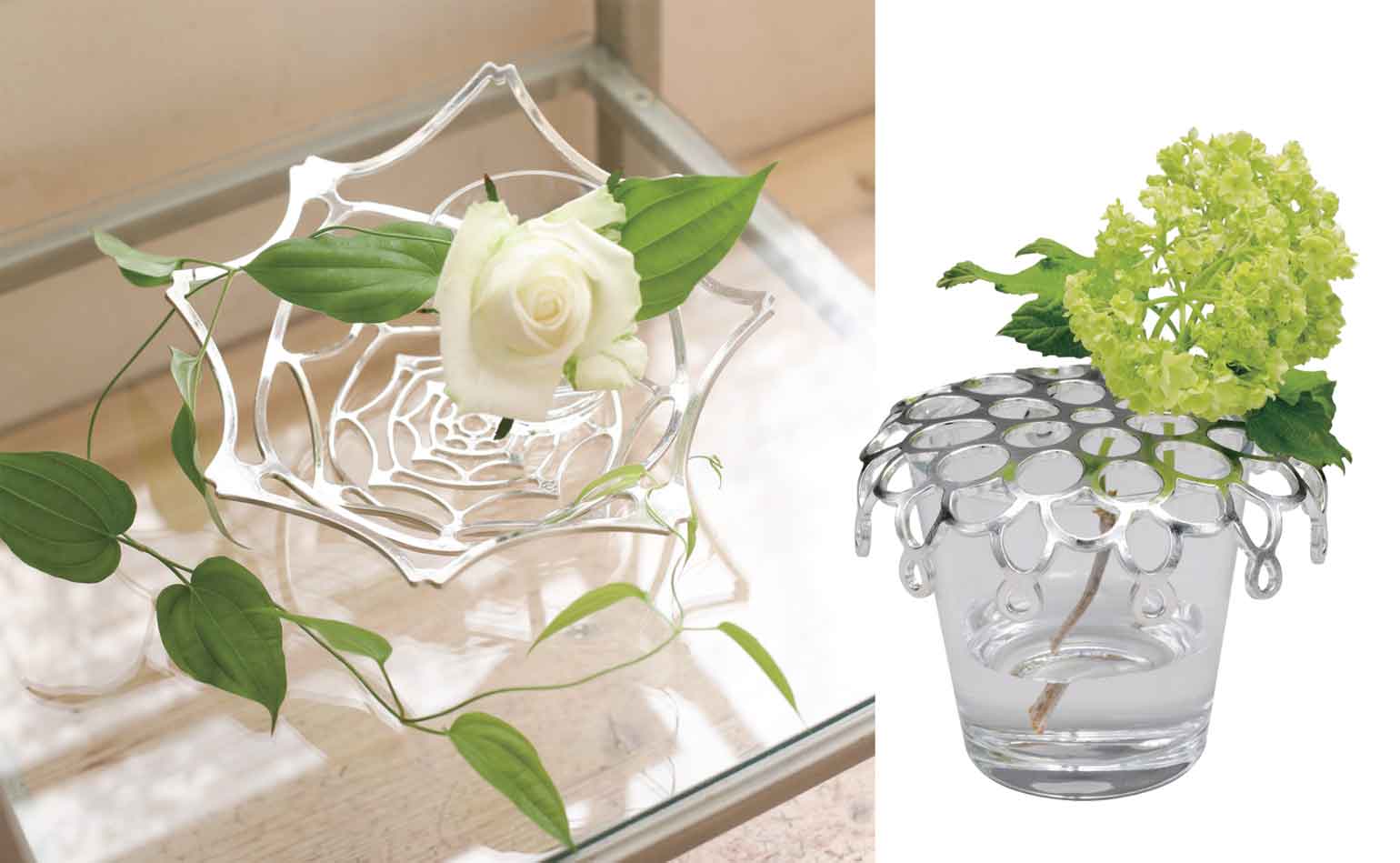 KAGO (the Japanese word for "basket"), is created through casting, a method in which molten metal is poured into a mould. Because it's created with tin, it is highly flexible, allowing it to be turned and twisted into any shape or form. Of course, it can be flattened out as well—which means it will take up almost no space in your suitcase. Because its design is so simple, it goes well with any room and space, even in a Western-style home. You don't even have to use it as a basket—you can use it as an interior by just placing a flower inside it.
A furoshiki that embodies the merge of tradition and technology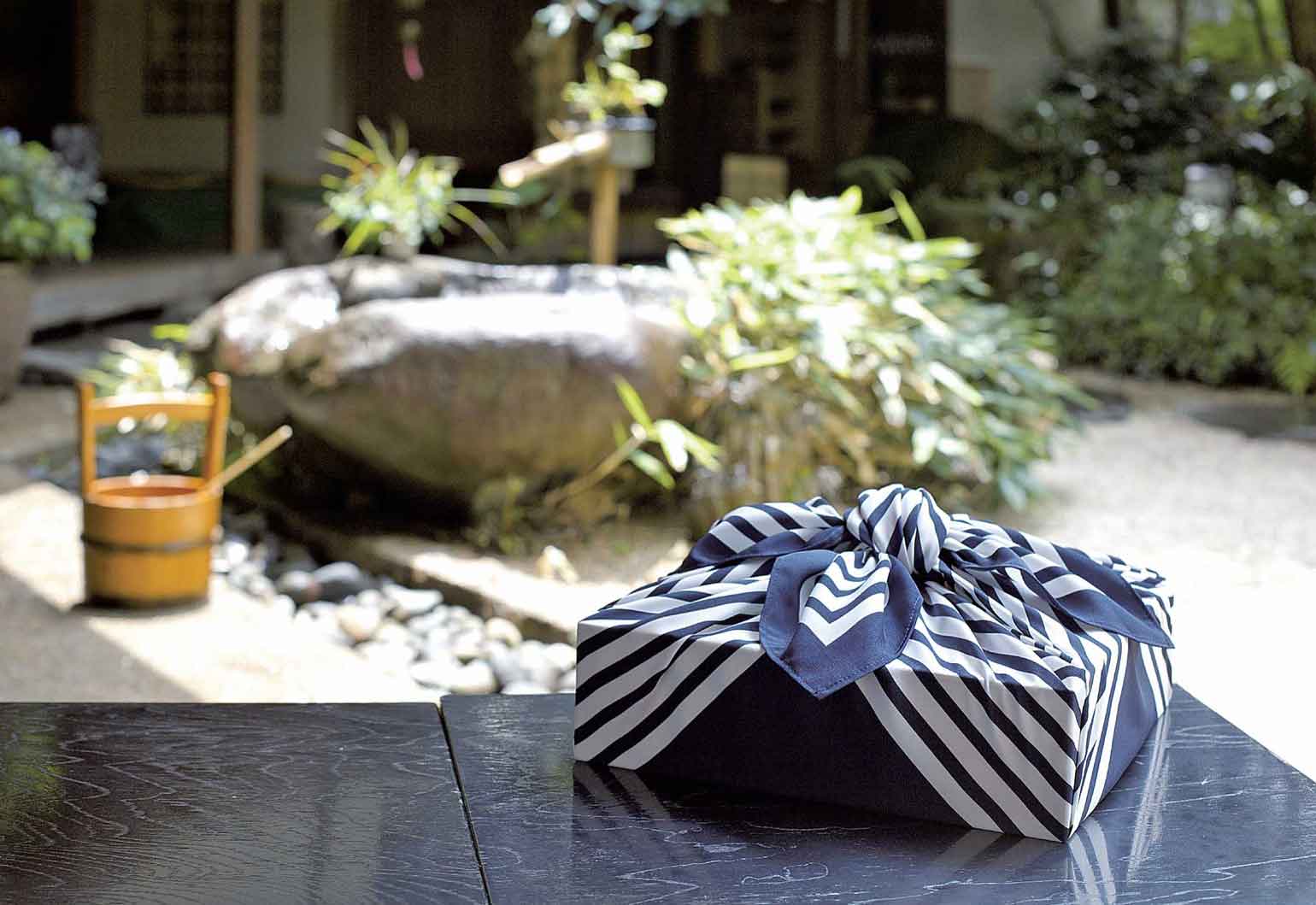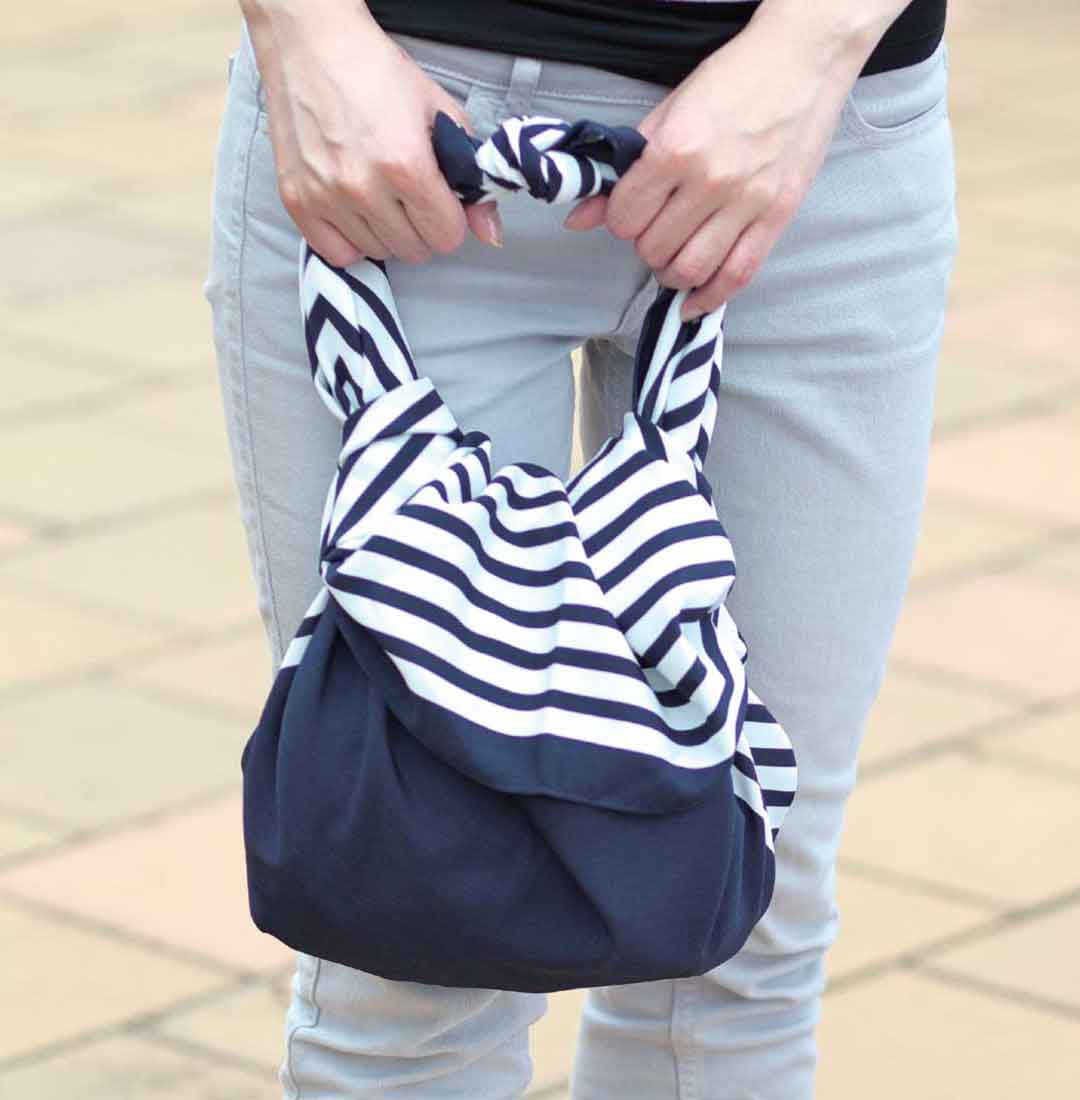 A perfect gift to promote eco-friendly, sustainable behavior. The name of the furoshiki, Nagare, means "to flow". As the name suggests, the bag is "super water-repellent", and lets water flow on the bag instead of allowing it to permeate through. Because of this latest technology, the bag can even carry water inside! Not only is Nagare functional, it also comes in a number of decorative designs, making it a perfect reusable bag for your groceries. Now that a number of grocery stores in town are charging a fee for plastic bags, perhaps it's the time to switch over to something more sustainable—and pretty, too!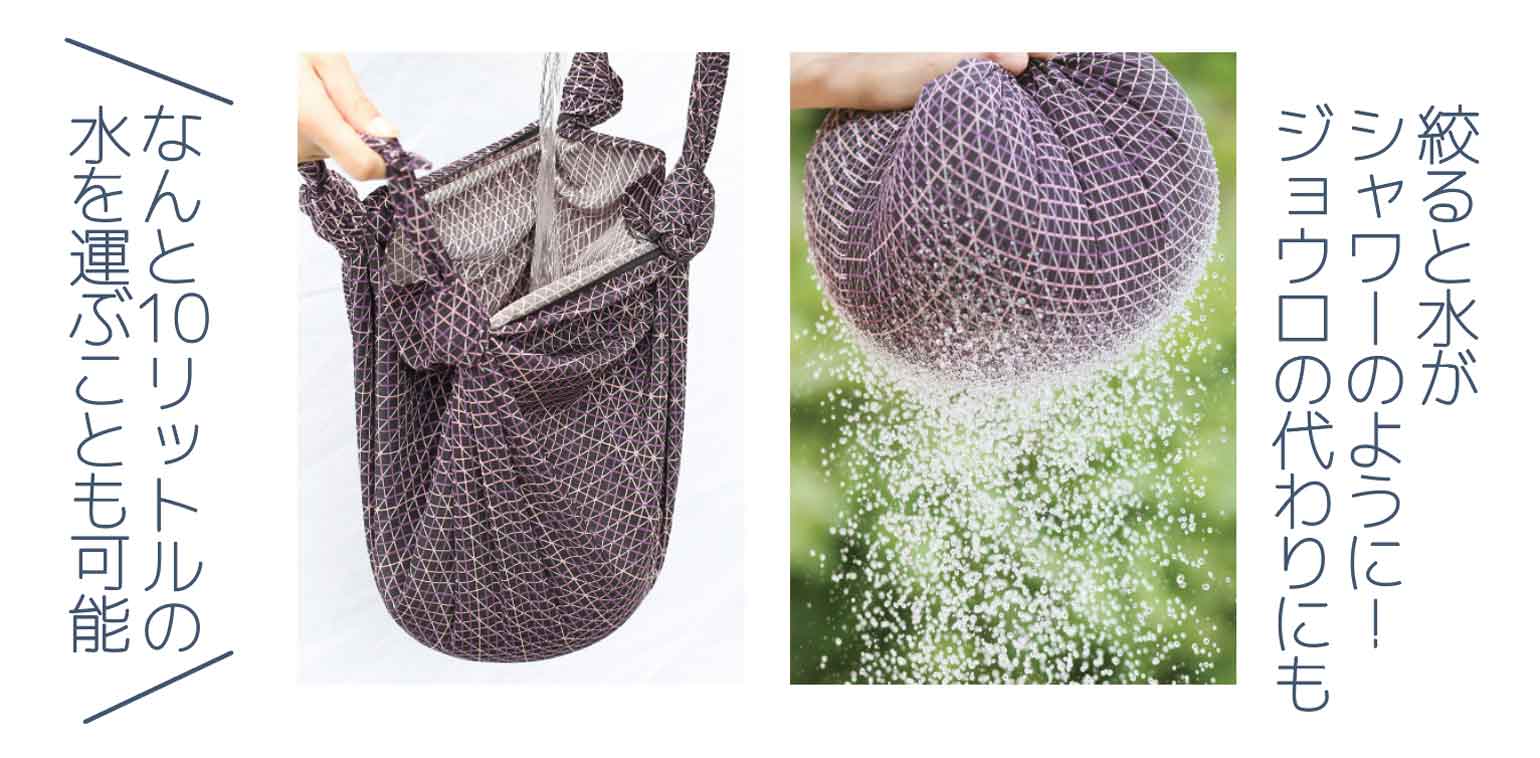 Tiny food samples made possible by dedication and precision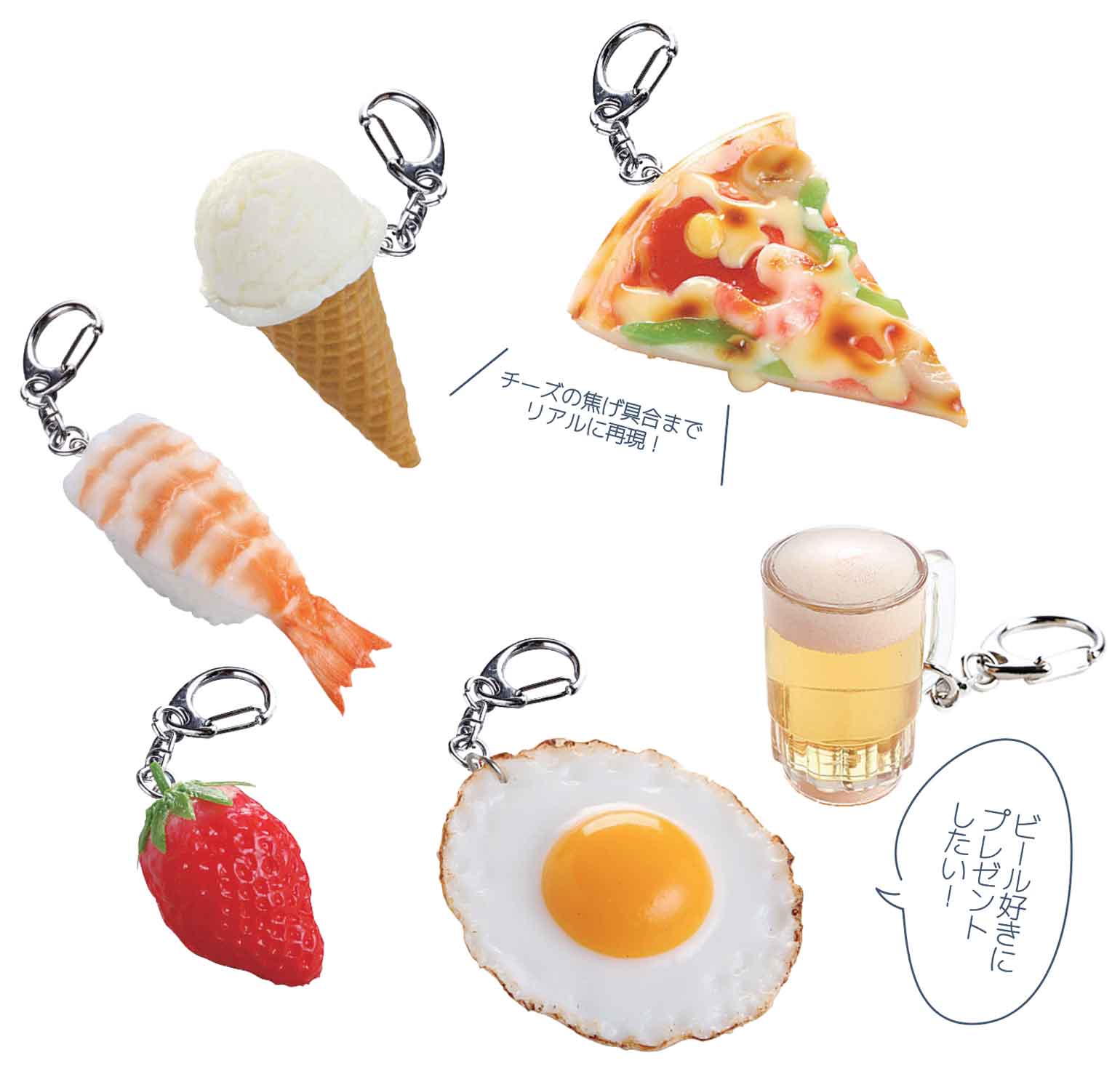 Food samples are one of the souvenirs that have continued to gain popularity in the past few years. The problem with it though, is that it can be pretty big, as they are as big as the actual food. Say, imagine how fun it would be to be able to carry that around with you wherever you go!? A renowned food sample manufacturer, Iwasaki, makes that a dream-come-true with their small food sample keychains. Of course, there's the all-time favourites like sushi, but there's also unique ones like ice cream, beer, and even pizza. Despite its small size, the craftsmanship is still there—every one of them is made with so much detail and precision. A definite go-to if you are looking for a fun gift!
Top quality condiments for everyday use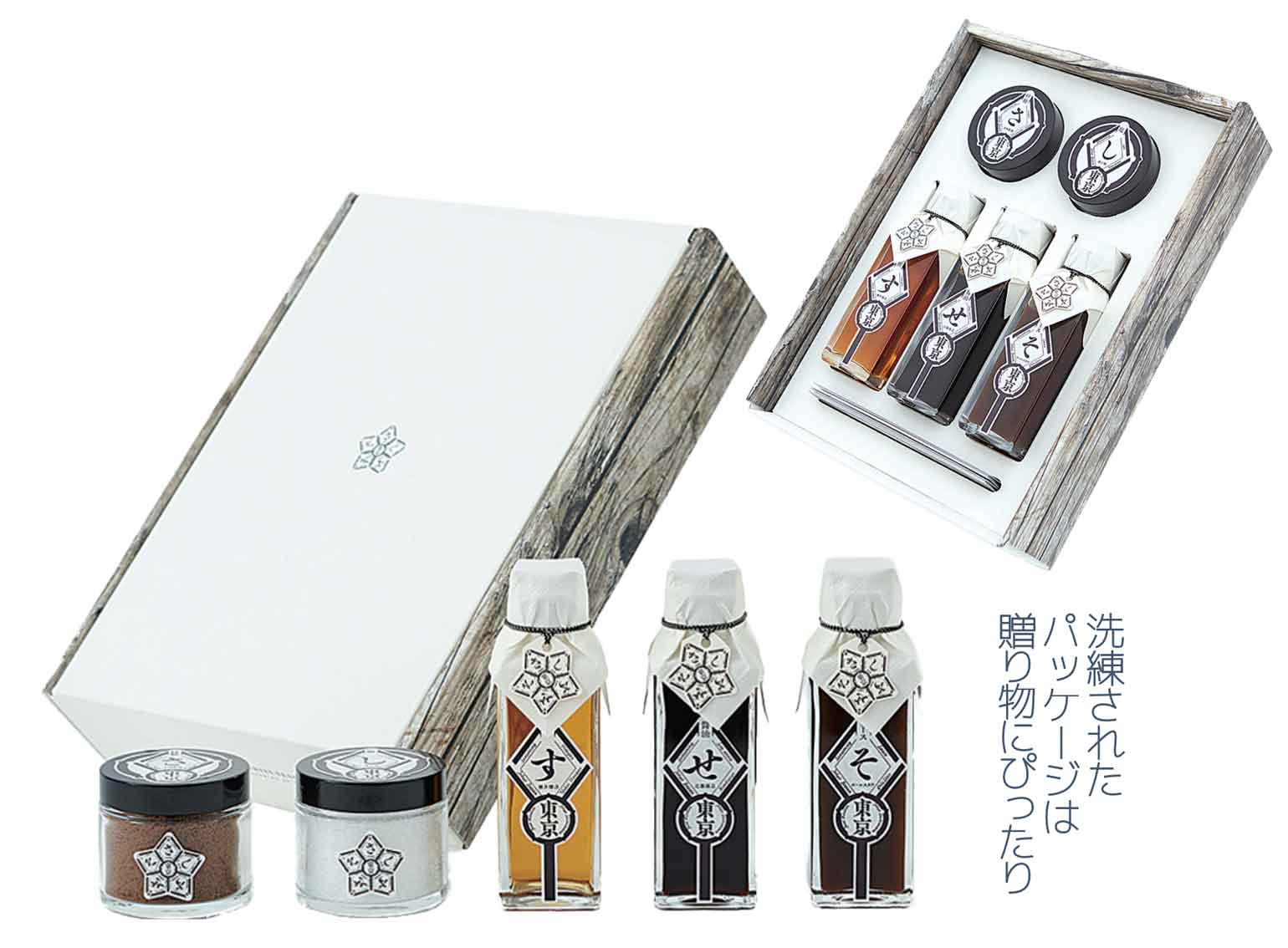 Not only is "sa-shi-su-se-so" the third group of five letters in the Japanese alphabet, it is also the abbreviation for the five essential condiments in Japanese cooking (sa: sake or sato (sugar), shi: shio (salt), su: su (vinegar), se: shoyu (soy sauce—shoyu used to be written se-yu in old Japanese), so: miso). "Tokyo Sashisuseso" is created based on this idea of the five essential condiments in Japanese cooking. Five manufacturers, one for each condiment, joined forces to create this perfect set of sugar, salt, vinegar, soy sauce and sauce (so-su in Japanese). As the name "Tokyo" suggests, all of them are manufactured in Tokyo. With a global rise in the interest in healthy eating, Japanese food has been gaining its popularity more than ever. Perhaps you have friends who enjoy cooking Japanese food at home—this is the perfect gift for them, especially because it's something you will need every day.
Creative sweets and Kyoto-born gin
Sweets created by the renowned togarashi brand!?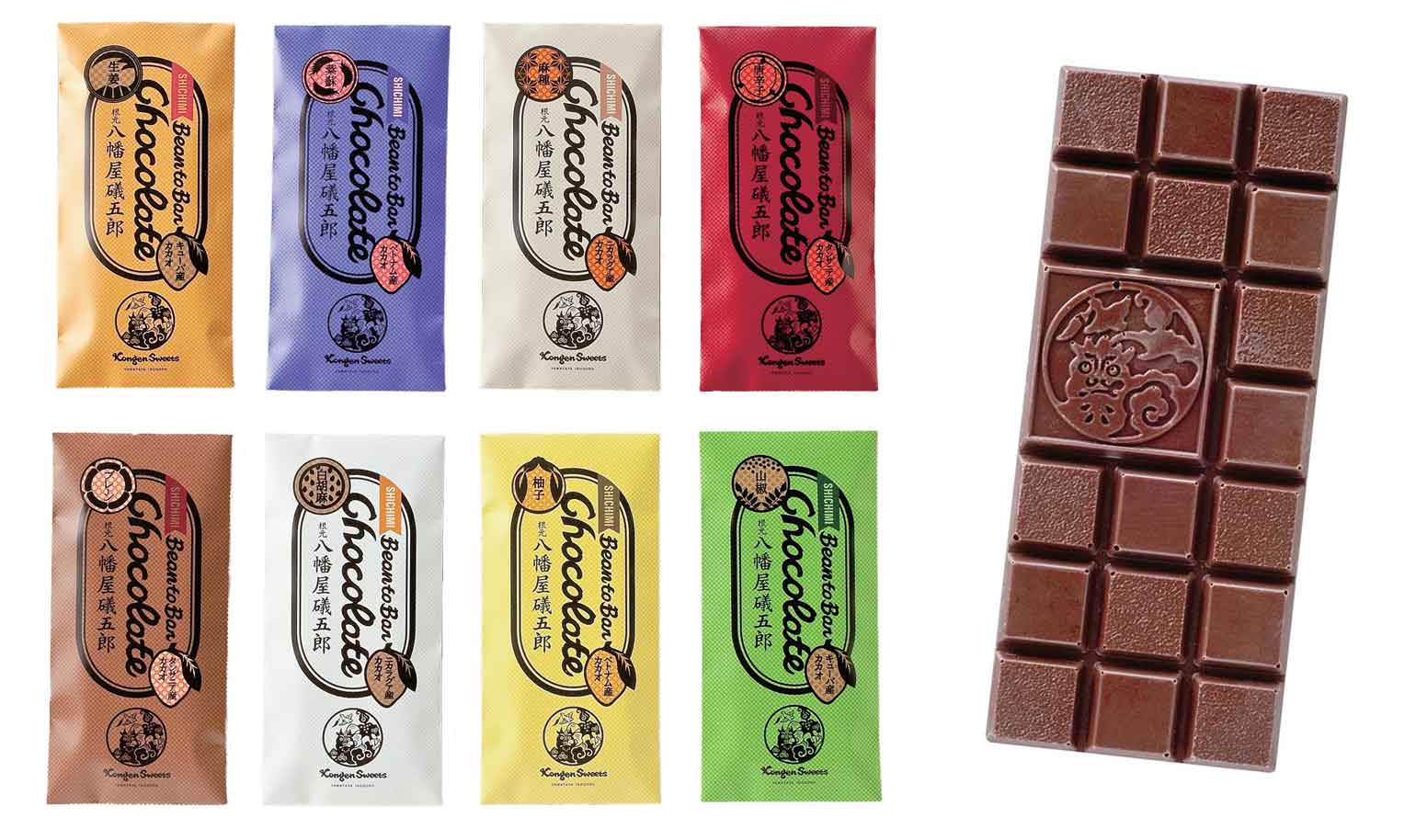 If you are growing a little tired of traditional Japanese sweets, here's a way to give it a little twist. There is one brand of seven-spice blend (shichimi togarashi) that almost everybody in Japan knows, or at least have seen it on the dining table at least once. This brand, known as Yawataya Isogoro, is the creator of Kongen Sweets, a whole lineup of sweets created by the same ingredients that go into their blended spice. In particular, they make chocolates and macaroons: the chocolates are actually manufactured in a way similar to that of the blended spice, and come in 8 different flavors. Other than plain, they have their very own unique flavours such as yuzu and sansho pepper. Of course, there is the red pepper flavour as well. What's more surprising is their macaroons, which comes in seven different flavours, one per every spice that's in their blend.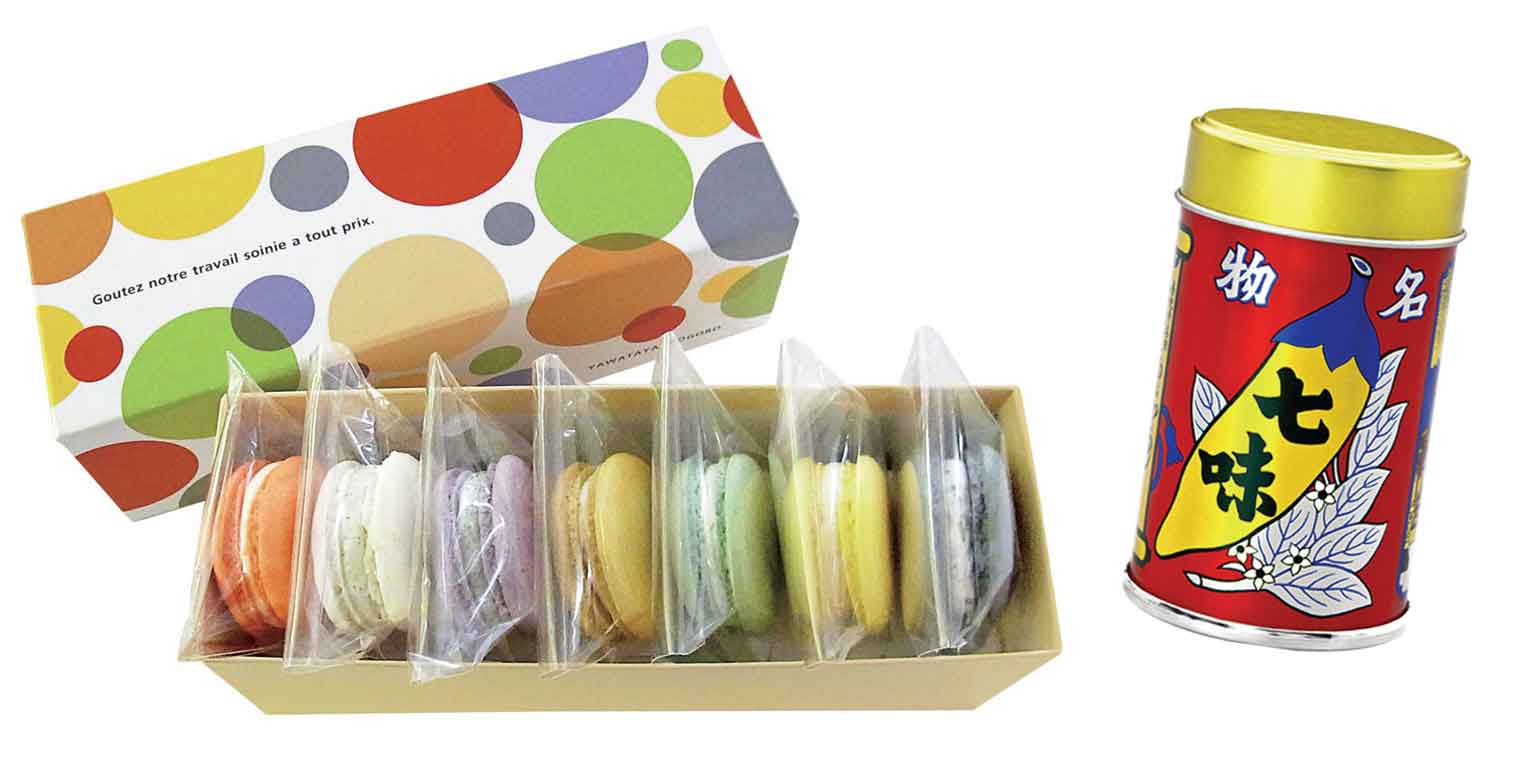 The first in Japan. Gin created by the pairing between UK and Kyoto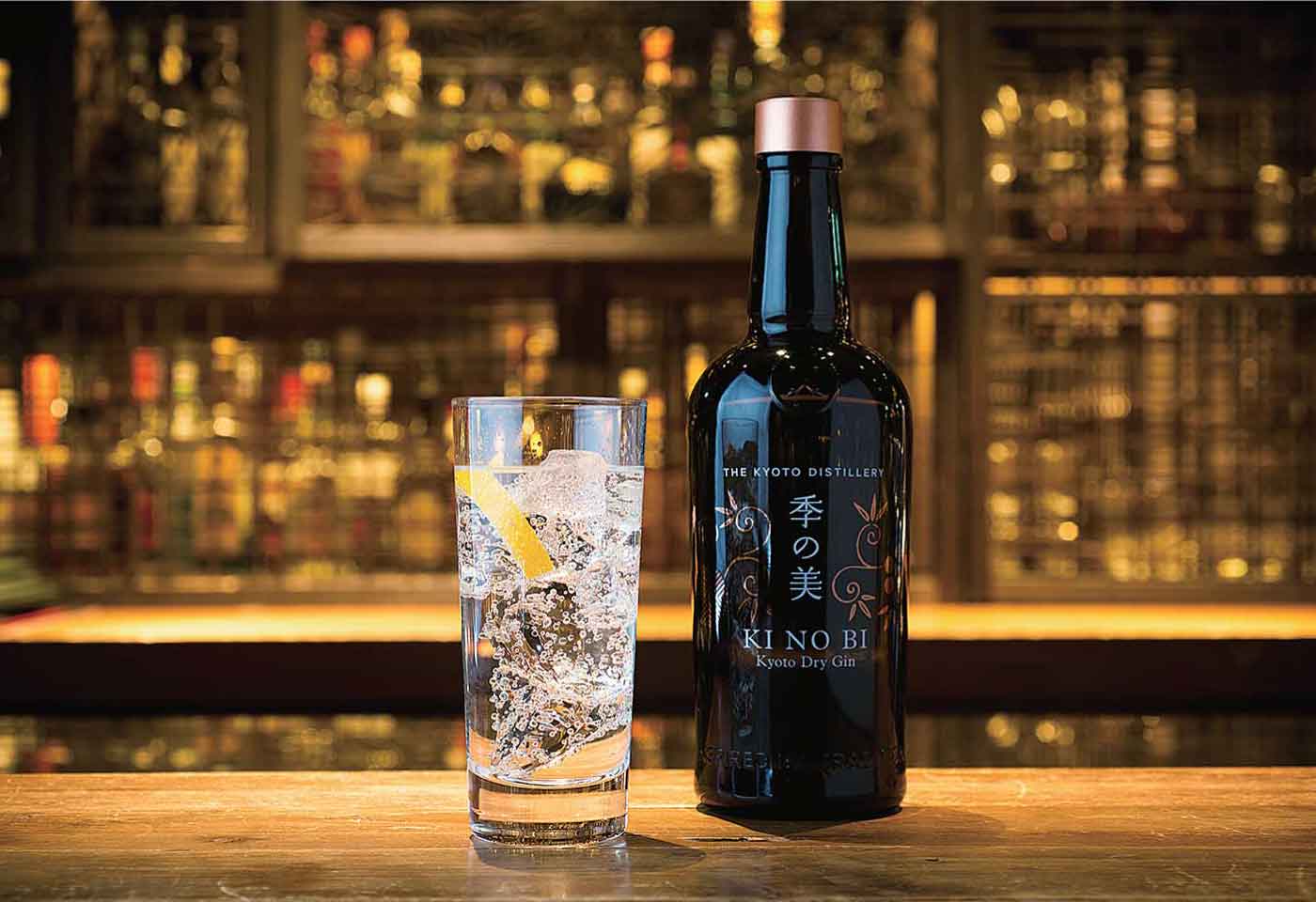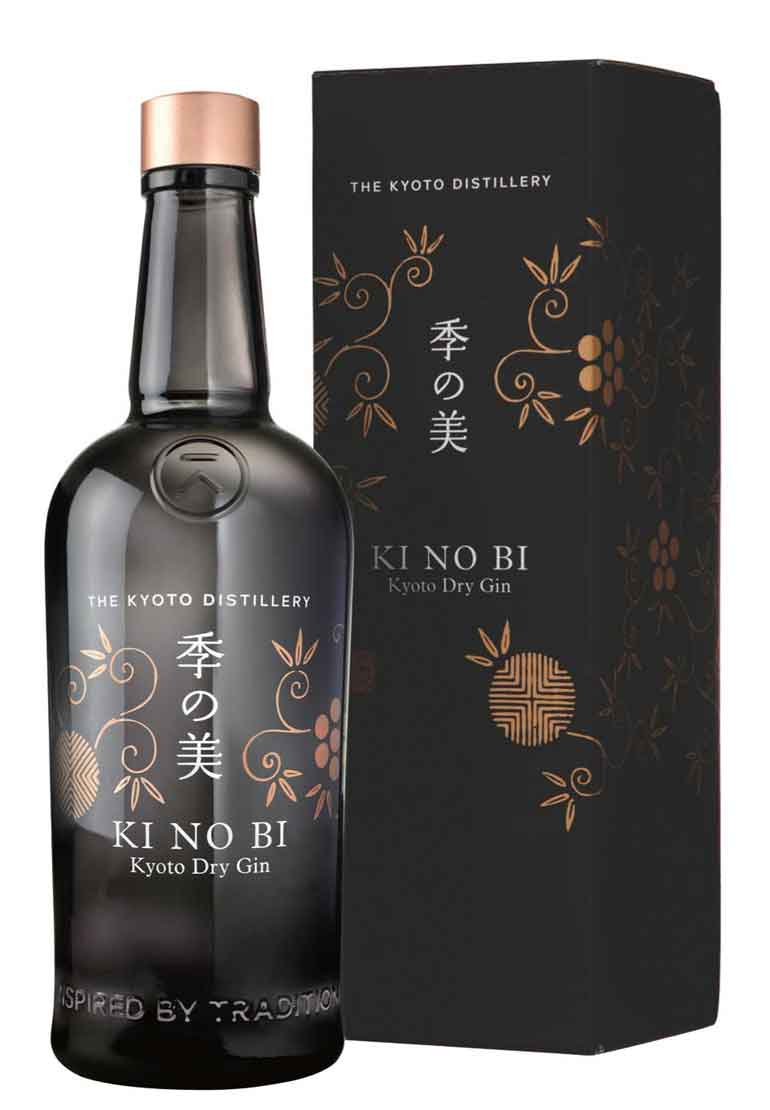 Kyoto Distillery is the first distillery in Japan that is dedicated to gin. As the name suggests, the dry gin created in Kyoto incorporates ingredients specific to Japan, including yuzu, gyokuro (green tea), red shiso (similar to perilla), and sansho pepper. With "Kinobi" as its signature, its lineup constitutes of 10 varieties. Using top-quality water from Fushimi, world-renowned tea leaves from Uji, and organically-grown lemons from Hiroshima, what you have here is a true Japanese gin. On their website you can also find their recommendations on how to best enjoy their gin, so there's no problem even if you're not an expert.
Japanese and European colours find their point of intersection in the new Kyo-ame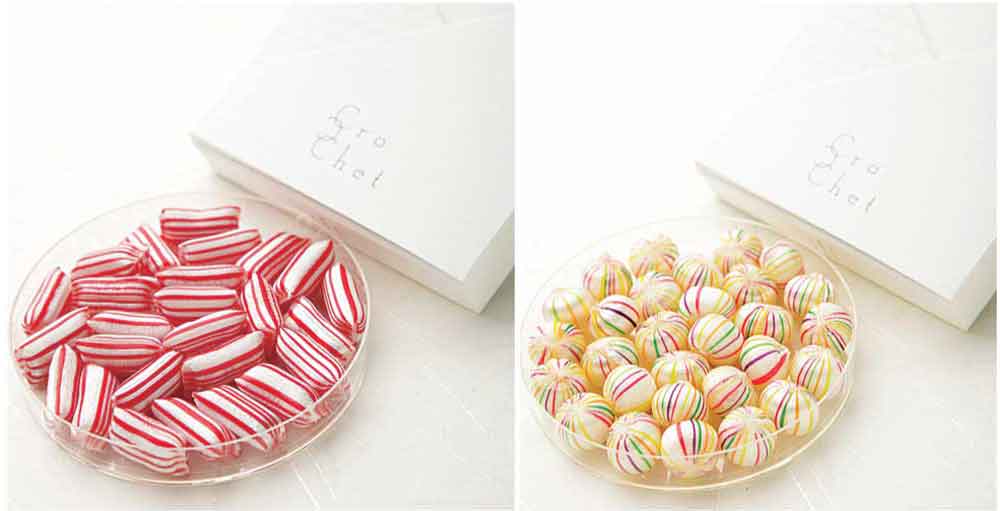 Known as the "new Kyo-ame (Kyoto-style lollies)", these beautiful candies are created with a range of colors, each of which carry a meaning behind them. For instance, the Kotohogi candies are coloured in red and white, the traditional colours meant for celebration in Japan. The Shiraginu-Temari candies have the traditional Kyo-ame design, which signifies "celebration and integrity". Not only do they have a range of colors, they also come in a wide variety of flavors, from simple ones like lemon and orange, to more unique ones like sakura-mochi, fig and even Bellini. The colours draw inspiration from a European palette—a globalization of candies in the true sense.
Chocolate as thin and as pretty as an origami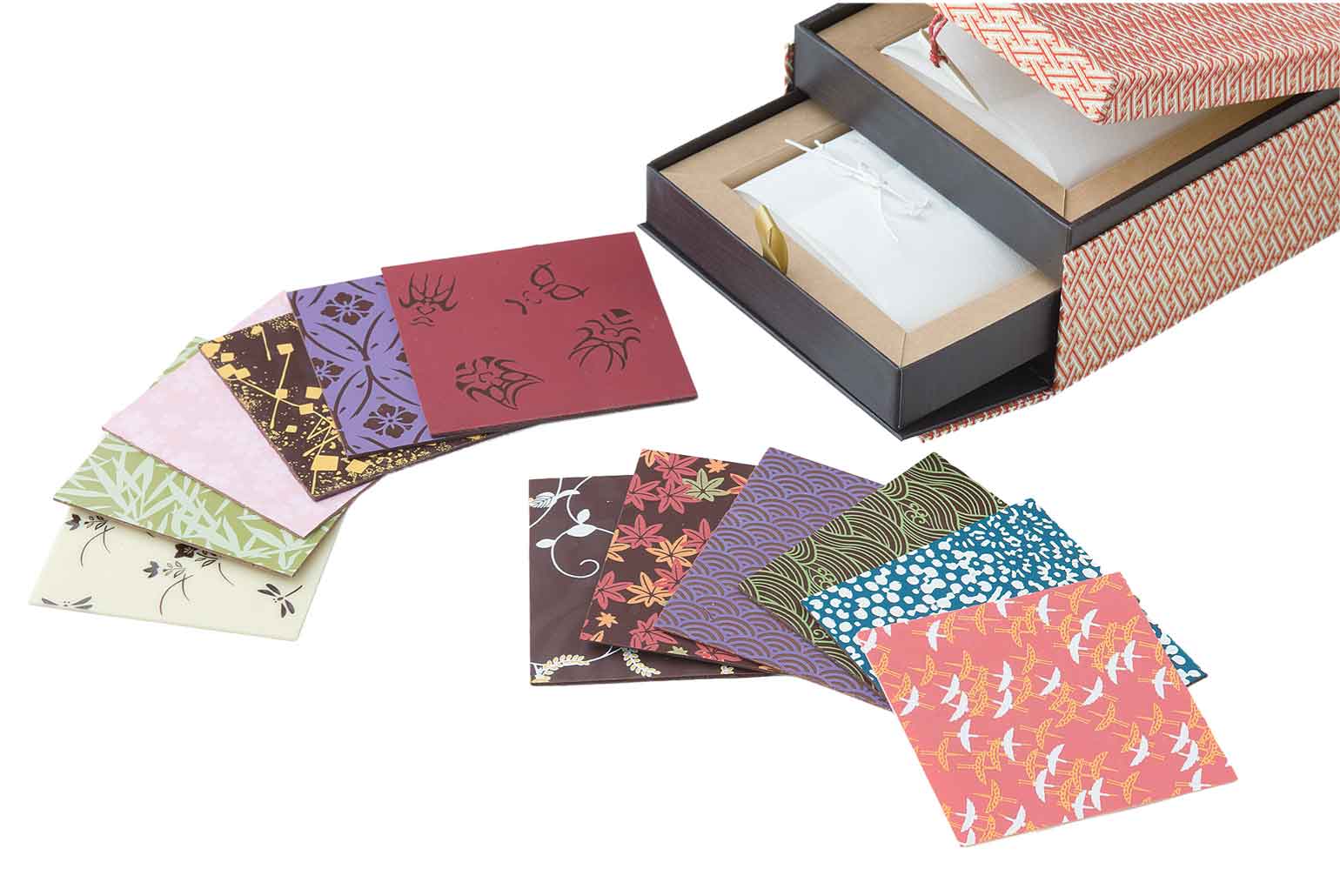 It's no surprise if your breath was taken away at the sight of this piece of edible art. This chocolate, created by Palace Hotel Tokyo, is modelled after chiyo-gami, a small-sized origami. Chiyo, which can also be translated to "a thousand generations", represents the wish for an "everlasting (a thousand generations) harmony". The chocolates comes in two packages, one with 6 pieces and the other with 12. There are no two same flavours in one package, so you can thoroughly enjoy them with both your eyes and your palate. What a delicate and delicious gift!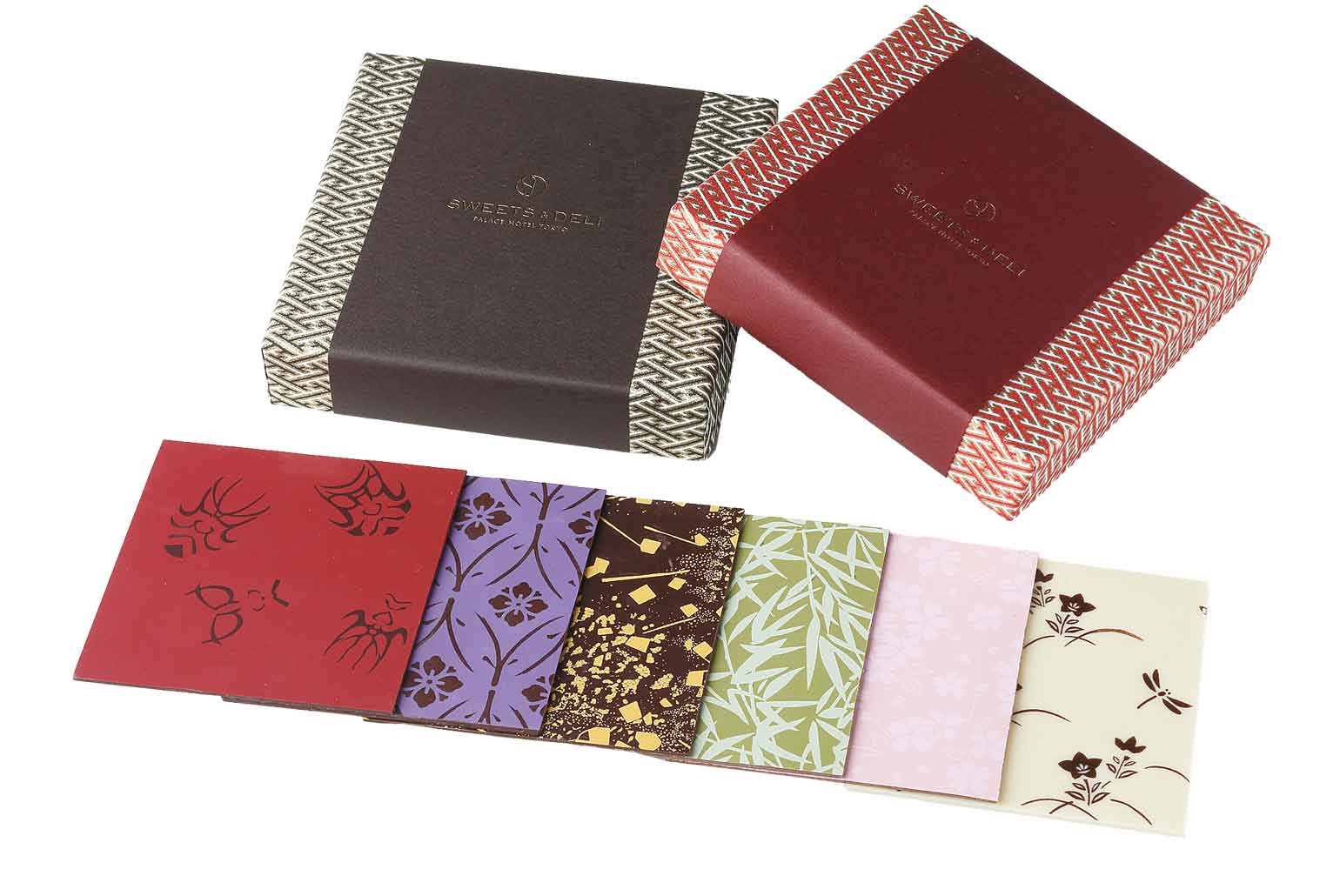 Yokan or cake? A new type of Japanese dessert.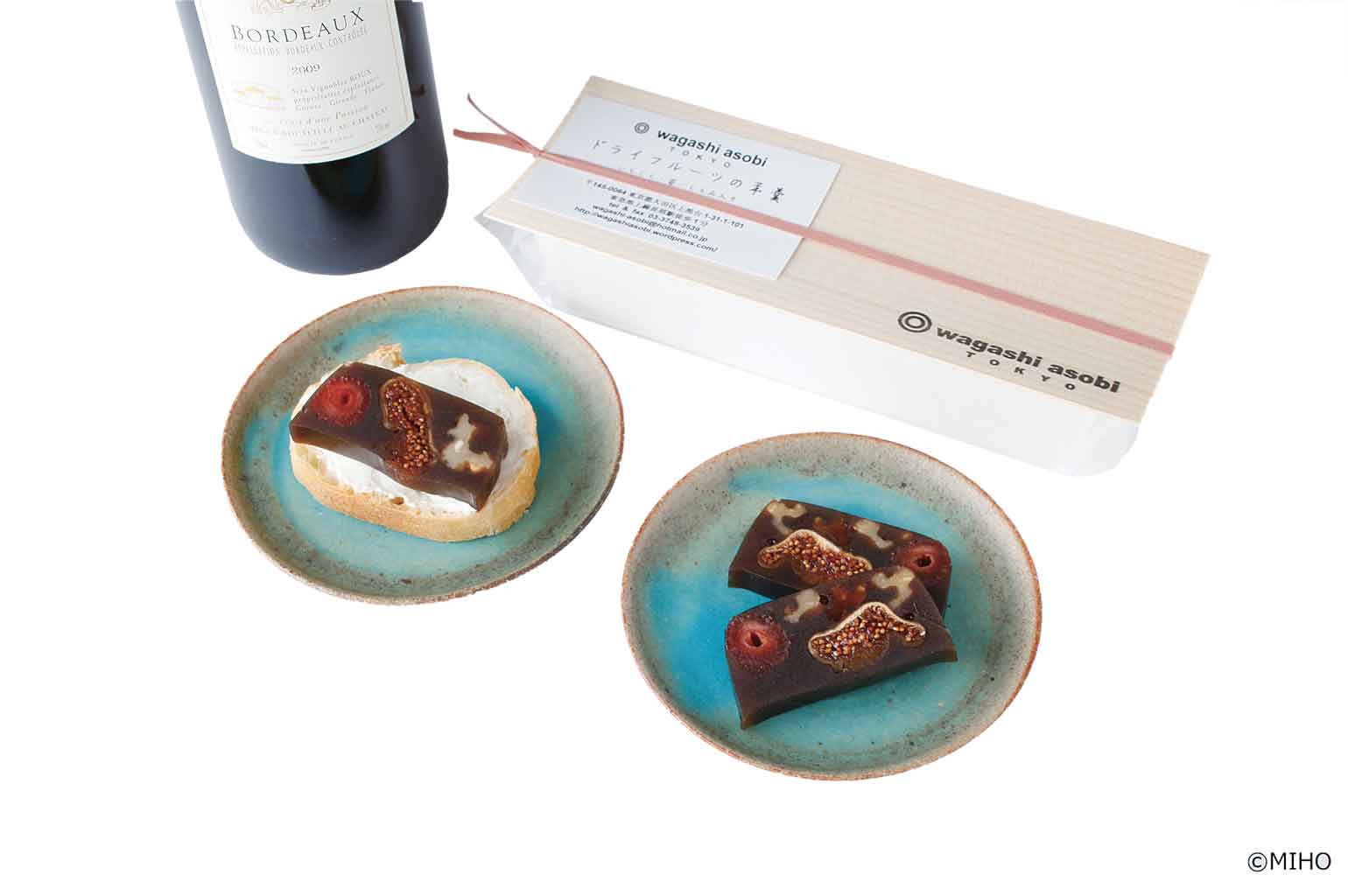 wagashi asobi, which translates to "playing with Japanese desserts", does exactly that: it gives traditional Japanese desserts a little twist. Currently, its innovative Japanese desserts have been gaining quite a bit of popularity. Specifically, their "dried fruits yokan (a dessert made of agar and red bean)" is one such innovative Japanese dessert. Its cross section resembles that of a pound cake or a terrine—with fruits such as figs and strawberries along with walnuts, the texture is also quite different from that of a traditional yokan. What's more, unlike yokan, apparently it pairs well with rum—making it a perfect gift even for those who are unfamiliar with Japanese desserts.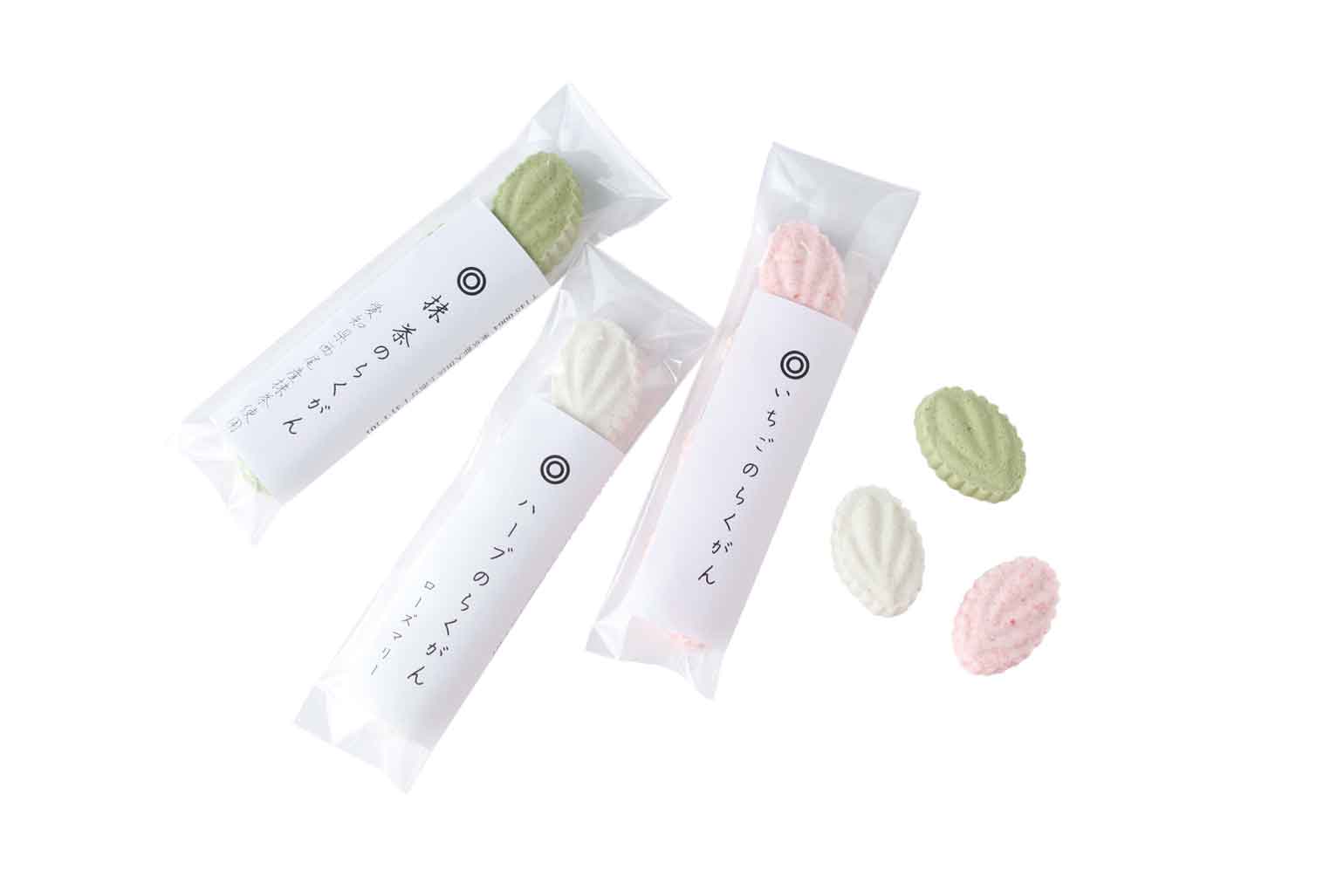 Lighting up the dining table with pieces of refined craftsmanship
Colored glass that takes your breath away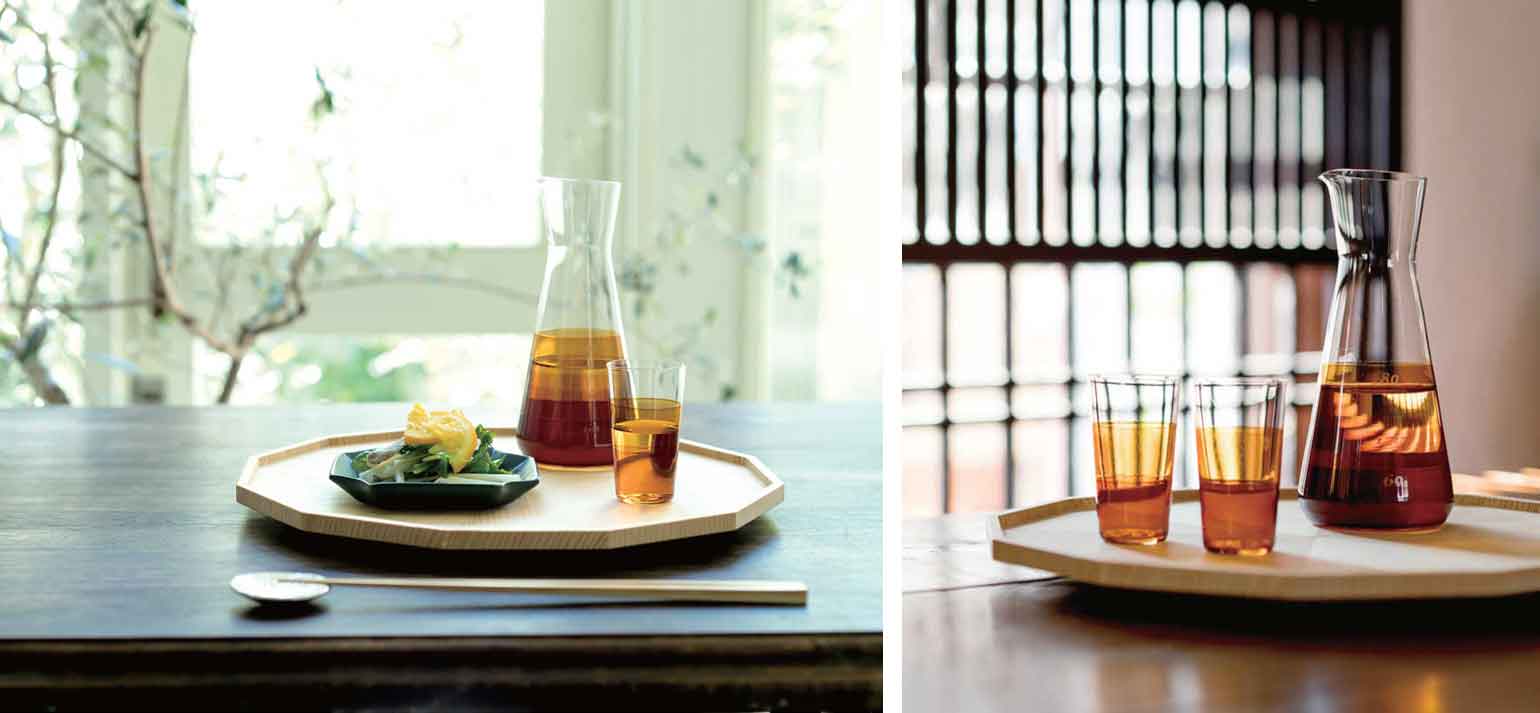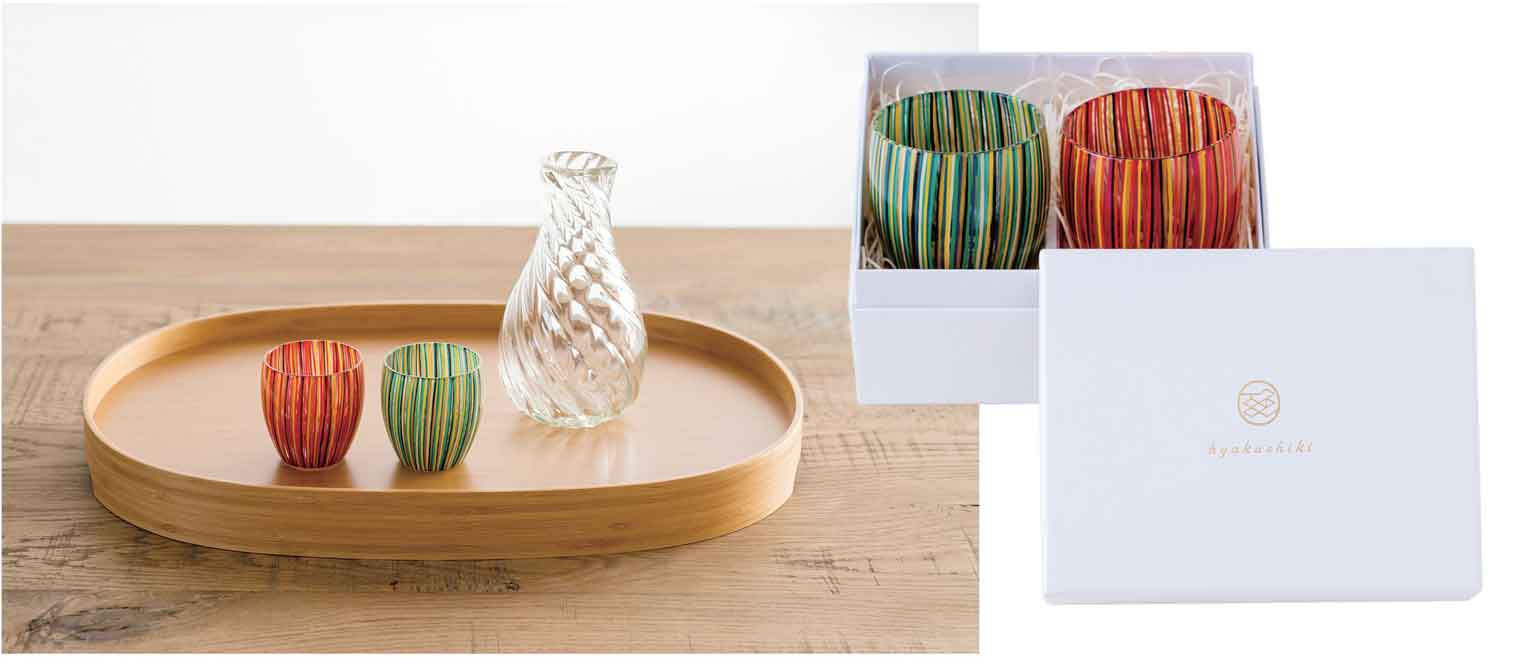 The colourful yet transparent glass is probably something that will not only grab your attention but also take your breath away. Using the technology for creating traditional lacquerware, this colourful glass took its name from "Hyakushiki Megane", what used to be the name for a kaleidoscope back then. They carry a wide range of items, from plates to glasses, bowls and even carafes, allowing their utensils to be used in a wide range of occasions. Its design is also simple, allowing it to be matched with almost any cuisine and any style of house. A perfect gift to brighten up the dining table.
A simple, sophisticated design that has gained worldwide popularity
Founded in 1919, Yamada Heiando marks its 100th anniversary this year. Its lacquerware, which now has a solid history, has also been awarded the Premium Gift Award of the Japan Gift Awards. Japanese lacquerware is yet another piece of craft that has garnered attention from around the world. With its rich colours and sophisticated design, it will definitely be a pleasant surprise for anybody that receives it. Sure, you can give a set of two bowls called the "Fuufu-wan", or "bowls for the married couple", with the design of a gourd known for bringing good luck. Their tray, with a simple design of the cherry blossom, is quite breathtaking. What's more, their lacquerware is known for its durability—so bringing it all the way from the other side of the ocean should not be a problem.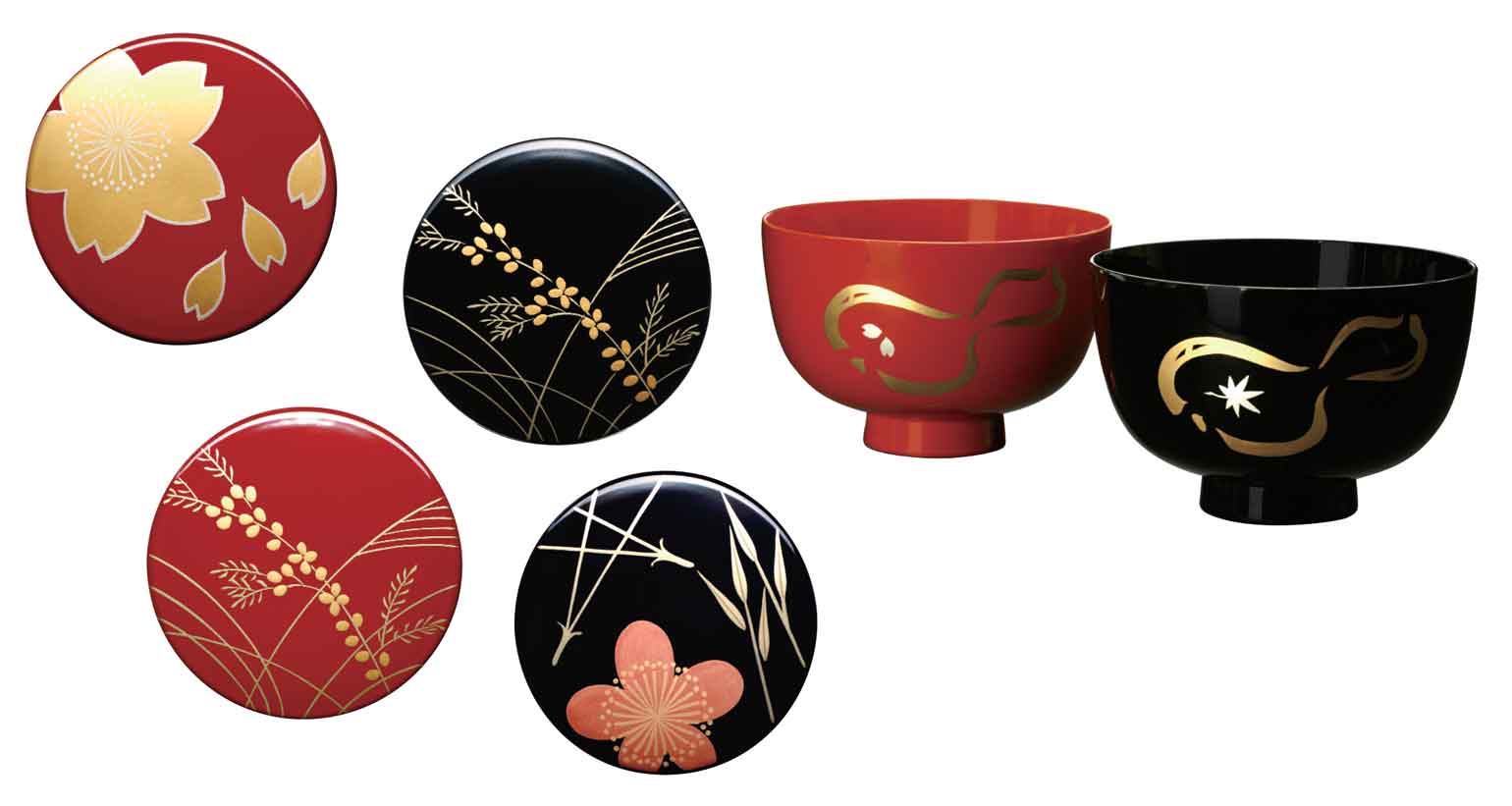 Chopstick rests perfect for any occasion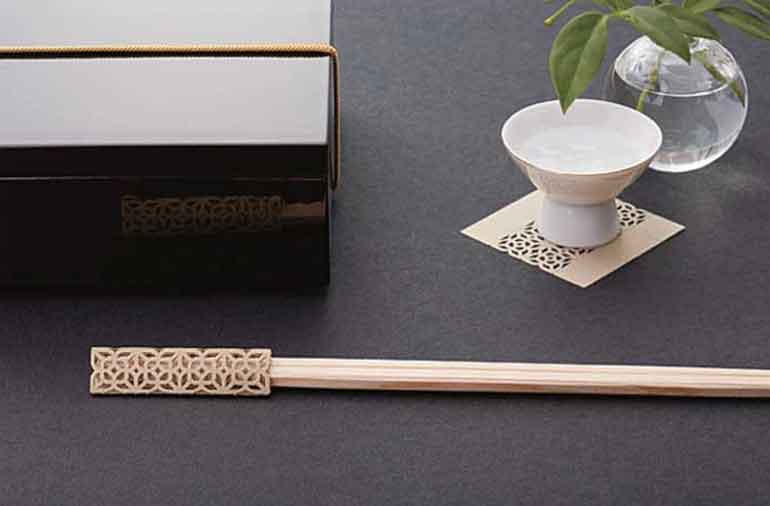 It's quite hard to believe that these chopstick rests are actually made of paper. Perhaps these will be the perfect gift for your friend who enjoys washoku (Japanese cuisine), or uses chopsticks on a daily basis. Because these chopstick rests are made of paper, they can be used as sleeves prior to the meal as well. Their sets, which indeed resemble a box of coloured pencils as they describe it on their website, is a true piece of art. What's more, the packs of 5 and 10 already come with bamboo chopsticks, so you can use them right out of the box.
A thin, yet durable product of craftsmanship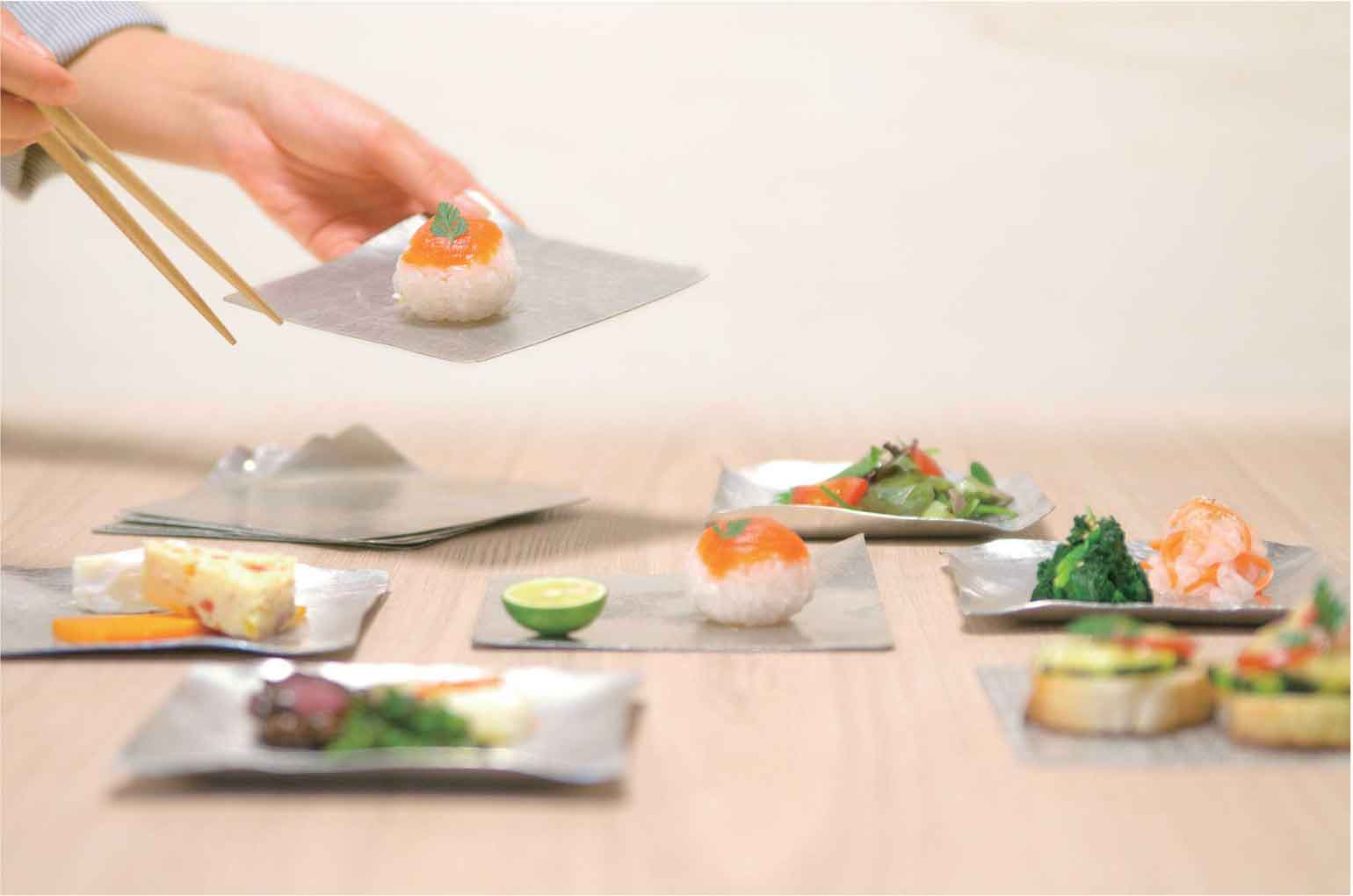 This series of plates, called "Suzugami", is as thin as paper. Because it's so thin, you can bend it to use it in any shape or form. These plates were created by the craftsmen with hopes to "create a new product that can be used every day". As a true embodiment of this ambition, these plates can be used with really any cuisine. You might wonder whether these dishes, thin like paper, will not snap, but fear not. Suzugami is perfectly durable. These will be the perfect gifts for those who enjoy cooking, and perhaps those who want to add a little shimmer to their dining tables.
(Japanese Article: カナダの大切な人へ贈りもの)