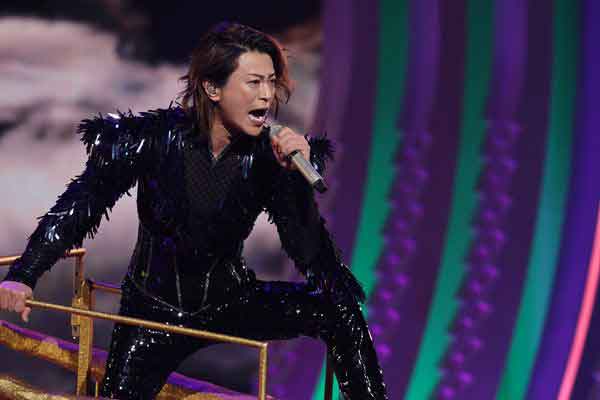 Not long ago, Japan ushered in the new year with a slew of year-end programs. One of them was "Kōhaku Uta Gassen" (紅白歌合戦), more commonly known simply as Kōhaku, an annual New Year's Eve television special produced by NHK.
The event brought out tons of J-pop stars to perform, but Kiyoshi Hikawa (氷川 きよし), did not take a sugary route for 2020. Hikawa Kiyoshi, aka the "Prince of Enka", came out on stage riding a giant golden dragon and rocked out to the second opening theme of Dragon Ball Super. His stage presence was impeccable as ever. He also garnered much praises for his new "genderless" style".
Hikawa, 42, an Enka singer celebrating 20 years in the industry, is one of the most prolific enka singers in Japan. Enka is a fairly traditional Japanese music genre, sometimes seen as something of a correlate of fado. Enka is quietly fading into memory under the weight of J-Pop's popularity—but a few proponents have propped up the genre and Hikawa is one of them who swims against the current of his age groups' musical propensities.
Zundoko Bushi
He began singing enka pieces while working at a nursing home. Building a fan base among the genre's more traditional audiences, he gained attention as an icon; he's far younger, far more handsome than the average enka singer. With his great vocal and stage presence, outfitting himself with suits and styles in line with the J-pop boy bands than the traditional kimonos associated with classic enka singing, he was crowned "Prince of Enka."
He made his professional debut with his single "Hakone Hachiri no Hanjirō" in 2002, and won both song and album of the year in the enka category of 2002's Gold Disk Awards, which is one of the most prominent awards in the genre, both for his debut collection. He maintained high chart positions with subsequent releases; his single "Hatsukoi Ressha" in 2005 became his number-one single on the Japanese Oricon weekly single charts.
Hatsukoi Ressha
In 2017, at Jump Festa, it was announced that Hikawa would sing his first anime theme song which was Dragon Ball Super's second opening theme, "Genkai Toppa x Survivor" which surprised anime fans. This garnered mixed responses from Japanese netizens as he is known for his enka style singing. But "Genkai Toppa", which translates to "breaking boundaries", omposed by Takafumi Iwasaki and the lyrics written by Yukinojo Mori, became a huge success.
Hikawa, by stepping into another music genre from emka to rock, and breaking gender norms and stereotypes in Japan, proved that he was the perfect match for this anime opening.
Kiyoshi Hikawa perfoms at Kōhaku Uta Gassen
Hikawa kicked off his performance at Kōhaku in tight leather ensemble, ushered in through a cloud of smoke before a live audience. In the background, a few screens played footage of Dragon Ball Super while fans took in the singer's epic fashion.
Once the performance begins, you can really feel the energy of Hikawa. The artist belted out "Limitbreak x Survivor" with all the right inflections.
In an interview, he explained that he was constantly pressured to be "masculine" since he was bullied from young age for not fitting in the gender norms. He made a confession that at times, he even thought of killing himself; however, he made a decision to be comfortable in his own skin, and empower listeners to be comfortable too.
Genkai Toppa x Survivor
Hikawa's cover of Queen's classic, Bohemian Rhapsody
Hikawa performs "Genkai Toppa" at Anime Summer Live 2019 – STORY-

Majorities of his fans and netizens are supportive of his transition and are celebrating him for finally being comfortable being himself.
"No matter what style he is in, Kii-kun is Kii-kun," said a woman in her sixties after attending his performance.
Rederring to the performance at Kōhaku, a woman in her forties, who has been a fan of him for a decade told a local media that "his stage performance was great, just like his vocals. We got to witness a new Kiyoshi Hikawa."
"How he performed Daijoubu in red and white kimono, and switched his costume into a rock-star attire, and performed Genkai Toppa x Surviver was truly amazing. His ability to performe in wide range of genres proves that he is a true entertainer and a performer," said a man in his forties.
"He proved that no matter how old you are, you can live your life the way you want to. It's never too late. He gave me courage," said a man in his early twenties.
His videos are going viral on social media in Japan and has garnered attentions from those who are not familiar with enka.
"I wasn't a fan of Hikawa when he was singing enka. But his new visual is cool," commented a woman in her sixties on a local broadcast.
"His androgynous looks and powerful vocal is great. He seems like he's finally freed," said a Twitter netizen.