August 15th – 26th 2019
MONTREAL x TORONTO
Introducing the NEW GENERATION OF KAWAII! Sebastian Masuda and his "Sensational Kawaii" brand, 6%DOKIDOKI, are coming to Montreal and Toronto for the first time!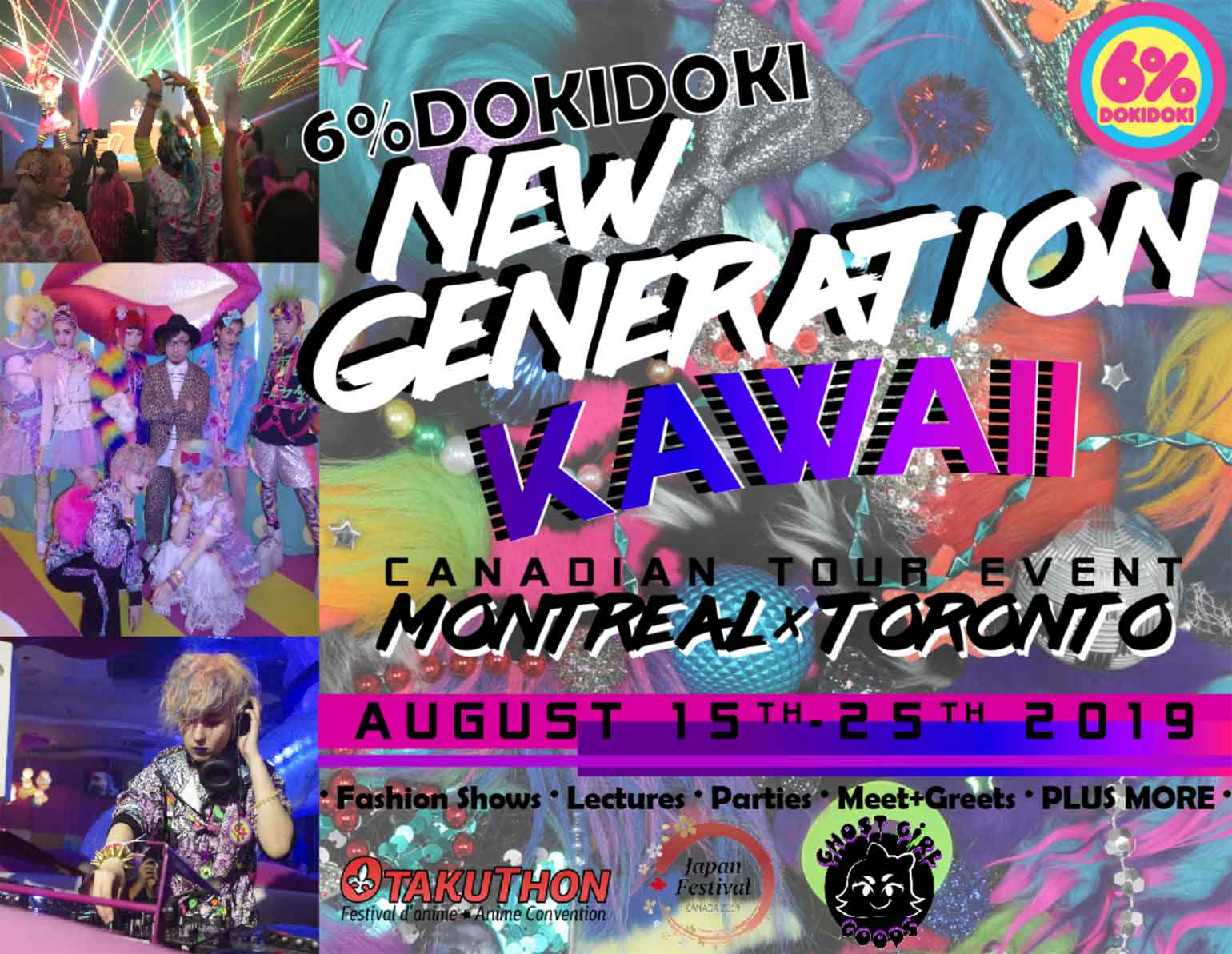 CANADA! Get ready for the most KAWAII experience yet!
Sebastian Masuda, creator of 6%DOKIDOKI and the godfather of kawaii, alongside the 6%DOKIDOKI team, will be making their way to Canada from August 16th – 25th. They will be making stops at Otakuthon in Montreal and Japan Festival in Mississauga, along with some fun events in between! You WON'T want to miss out on this amazing tour filled with fashion shows, parties, meet and greets and MORE! Special collaboration goods by 6%DOKIDOKI and GHOST GiRL GOODS will be available throughout the tour!
Japan Festival Canada is proud to be the first to host Sebastian Masuda and 6%DOKIDOKI in Toronto! You'll be able to watch a special 6%DOKIDOKI fashion show, purchase your favourite 6%DOKIDOKI goods, and even hear Sebastian Masuda DJ! Mark your calendars for August 24th and 25th and don't miss out on the fun! Let's spread the NEW GENERATION OF KAWAII! Mini events will be announced soon!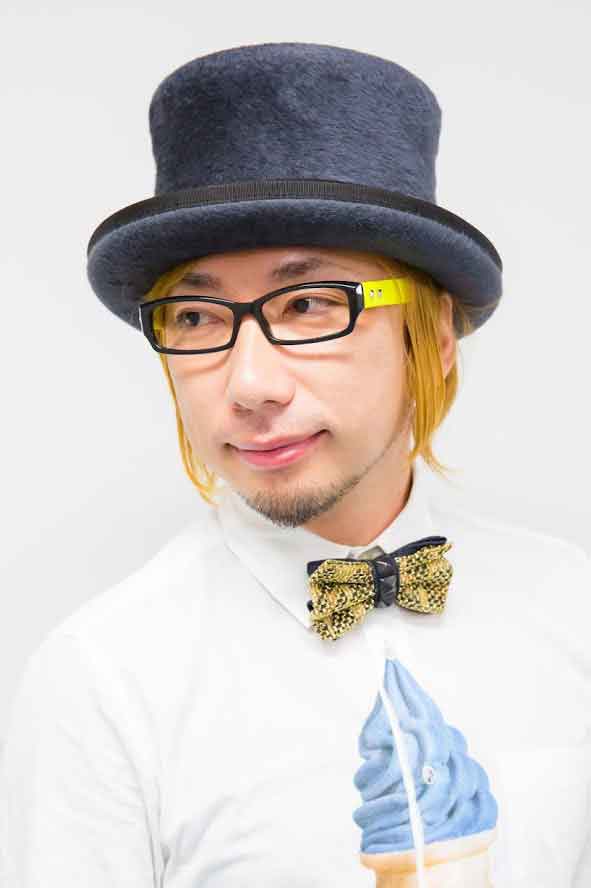 About Sebastian Masuda

Artist / Art director
Japan Cultural Envoy / Visiting Scholar at NYU / Visiting professor for Kyoto University of Art and Design and Yokohama College of Art and Design
After active involvement in theater performance and modern art, he opened "6%DOKIDOKI", a shop with the concept of "Sensational Kawaii" in Harajuku in 1995. Through the world tour titled "Harajuku Kawaii Experience," which started in 2009, he has been working to spread Harajuku culture on a global scale. He gained worldwide attention for his music video production for "PONPONPON," a debut single by Japanese pop icon "Kyary Pamyu Pamyu." He has been active as an artist and art director, contextualizing Harajuku Kawaii Culture, for example, by producing a concept restaurant "KAWAII MONSTER CAFÉ." His first solo exhibition "Colorful Rebellion – Seventh Nightmare -" was held in New York in 2014 and has held Kawaii fashion/culture lectures in 2015 and 2018. He is working on a participatory art project called "Time After Time Capsule", which will debut in 2020.
Masuda has worked as an art director for the following projects; 
TOWA TEI "Wordy" music video(2012)
NHK "Kawaii International" TV show art direction(2012)
"WIZ~The Wizard of Oz~" The Japanese production of "WIZ" on stage(2012)

As well as being the director for "Mou Hitotsu No Naito Rune" (The other side of Rune Naitou) art exhibit, which was held in Shibuya, Tokyo.(2012)

NTV "PON!" TV show studio art (2013)

"Colorful Rebellion -OCTPUS-"at CUTE CUBE HARAJUKU(2013)
"Melty go-a-round TREE"at Robbongi Hilles (Christmas2013)

About 6%DOKIDOKI
The brand that brought "kawaii" to Harajuku in 1995, founded by the legendary Sebastian Masuda. Discover the very heart of Harajuku and the essence of "kawaii" culture. Crazy colors, shocking designs – let it all stir your imagination and make your heart pound! 6%DOKIDOKI is one brand that constantly aims above and beyond, with original designs and inventions that challenge the status quo. Kawaii isn't just fashion. It's culture. Crazy fun, crazy colors and crazy love will tempt you to reach out for all that is original: accessories and clothing, stage shows and talks, as well as objects, that will stir your imagination and make your heart beat for 6%DOKIDOKI.
We are wishing kawaii anarchy spirits of 6%DOKIDOKI to reach all over the world…♥
Sebastian Masuda and 6%DOKIDOKI's appearance are in association with GHOST GiRL GOODS, with the support of Otakuthon and Japan Festival Canada.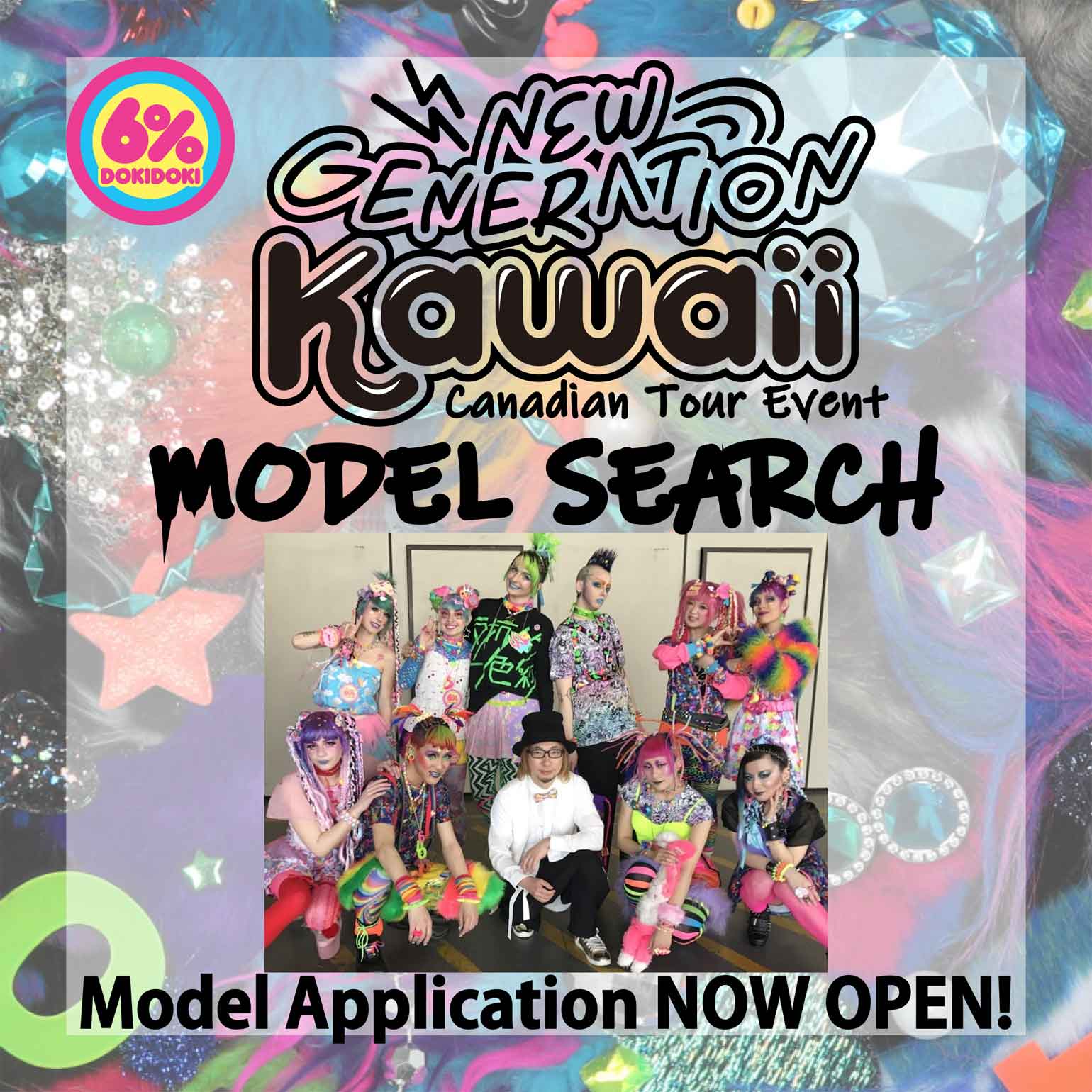 Interested in being a part of the event? Apply to be a model for one of the fashion shows! You can apply for Otakuthon, Japan Festival or both! (**Please note: for Otakuthon, you will need your own badge in order to participate)