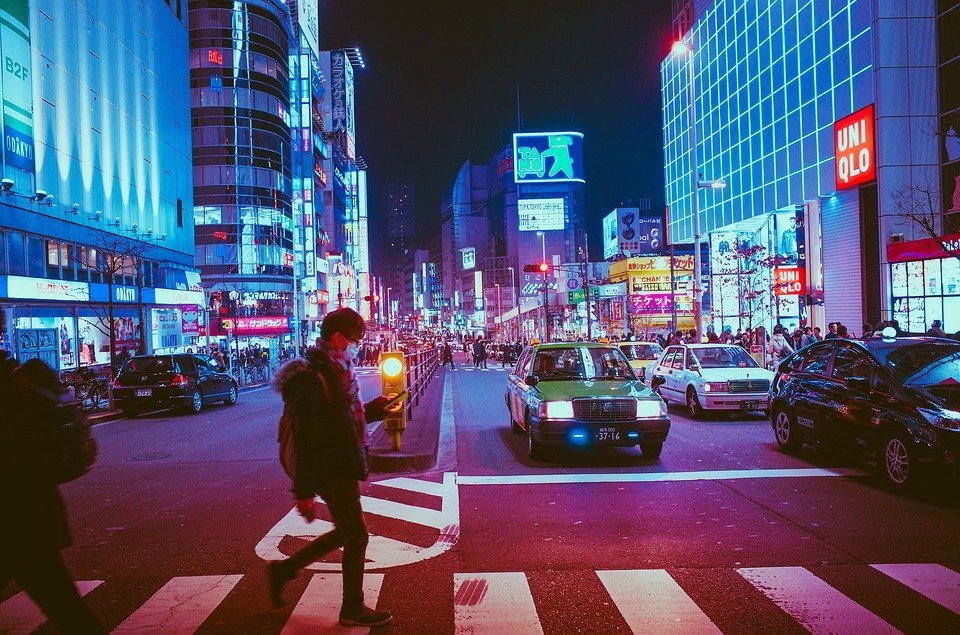 Japanese "city pop" is a loosely defined subset of optimistic pop music that originated in Japan in the late 1970s, at the peak of their post-war economic miracle. The genre was originally termed as an offshoot of Japan's Western-influenced "new music", but came to include a wide range of styles associated with the country's nascent economic boom, such as AOR, soft rock, R&B, funk, and boogie. What defines this style of music is ultimately more of a feeling than it is a rigid framework. Music journalist Yutaka Kimura described it simply as "urban pop music for those with urban lifestyles."
It reached the peak of its popularity in the 1980s and featured a "cosmopolitan" image that appealed to those who benefitted from the post-war asset price bubble—a Japanese economic euphoria.
"People were euphoric and eager to celebrate through '80s-style excess," Eli Cohen of Alliance Upholstery and Cultures of Soul told VICE. "The public spent lavishly on imported wine and liquor, luxury clothing, art, and international travel. Japanese nightlife, from flashy restaurants and hostess bars to glitzy bars and discotheques, was second to none. Japan needed a soundtrack for this new lifestyle, and city pop was born."
This optimistic new genre emerged when Japan's social attitudes were evolving as well. Women started gaining access to higher education, entering the workforce and enjoying Western indulgences such as fashion, travel, and nightlife. In contrast to the older times, when female singers embodied passive and innocent shoujo, city pop female singers began to voice their own desires and feelings. Cohen says, "Singers like Hitohmi Tohyama and Junko Ohashi sang about the inner workings of their bedrooms as they addressed risque and sometimes taboo subjects like one-night stands and the pursuit of men. While most Japanese love songs hesitate to express emotions directly, this allusion to physical relationships encouraged women to take an active role in their own sexuality."
Although Japan's era of economic prosperity came to an end in the 90s, city pop captures an intoxicating sense of optimism that the future is going to be bright. The genre fascinates creators and listeners worldwide with its lush details and the complex melodic jubilation. City pop began to hold a certain fascination for underground laptop artists in Western countries in the early 2010s, and fans are still constantly uploading new city pop discoveries to YouTube with pastel-colored images to accompany the tracks' infatuation with endless summers, Western luxurious goods and poolside extravagance.
Cohen described the experience he feels when listening to the music of Toshiki Kadomatsu to VICE, "[it sounds] like the feeling you get when leaving the train at Shibuya station around midnight. The city, and the night, are yours." Well, don't we all want to feel that late-night optimism and "metropolitan" wonder once in a while?
I got you covered.
Here are ten city pop songs to get you into the melting pot of the various styles of music, the world of City pop. Be aware, you will soon find yourself trapped in the labyrinth of city pop tracks on YouTube for hours, getting addicted to these disco-tracks with fantastically slapped basslines.
Sai Yoshiko- Taiji no Yume (1977)
Sai Yoshiko is a Japanese singer, composer and poet from the Nara Prefecture. Despite most of her work being composed in the mid-to-late 1970s, her music found resurgence on YoutTube, where her song Taiji no Yume reached more than 1.2 million views, despite her music having not previously been as far-reaching. The background image selected is perhaps her most striking—the cover for her 1975 album, Mangekyo. Due to her online popularity, her music has often been remixed and remastered, and her songs are often recommended by the site's video recommendation algorithm.
Mai Yamane, "Tasogare" (1980)
Mai Yamane is a Japanese singer, well known for her work on the Cowboy Bebop soundtrack with Yoko Kanno. Her career started at the very beginning of the 1980s and six months later she finished her first album, Tasogare (1980), she recorded as a solo artist until 1995, releasing albums like The Day Before Yesterday (1984), Flying Elephants (1985), Embassy (1986), Woman Tone (1988) and 1958 (1989). In 2017, this track was rediscovered via the city pop popularity. In 2019, a sample off her song "Tasogare" has taken over the internet, as producer Pierre Bourne and hip hop artists Young Nudy and Playboi Carti use it on their unreleased track Pissy Pamper (Kid Cudi). The song went #1 on Spotify before quickly being taken down.
Mariya Takeuchi – Plastic Love (1984)
This is one of the most popular city pop tracks that has been remixed and remastered countless times. Maria Takeuchi is a Japanese singer and songwriter from Taisha, Shimane (now the city of Izumo). She has had a successful career in Japanese pop music spanning decades, having sold over 16 million records in Japan. Her early work during the late 1970s to 1980s is largely associated with the Japanese city pop genre, along with that of her husband and collaborator Tatsuro Yamashita. Outside of Japan, she is best known for the 1984 song "Plastic Love".
Tatsuro Yamashita – Space Crush (1978)
Occasionally credited as Tats Yamashita, he is a Japanese singer-songwriter and record producer who helped pioneer the style of city pop. Yamashita produced a number of city pop tracks during the 1970s–1980s, and was considered the "king" of the genre. He sometimes collaborated with his wife Mariya Takeuchi, another city pop singer.
Minako Yoshida – Midnight Driver (1980)
Minako Yoshida is a Japanese singer-songwriter and producer. She is one of the first Japanese artists to dabble into soul, RnB, blues and funk. I'll neatly outlay below why I chose Minako Yoshida, by writing short descriptions of some of her albums, and a few highlight songs from each of those albums.
Tomoko Aran – I'm In Love (1983)
Aran Tomoko (亜蘭知子) is a Japanese pop singer and lyricist who got her start as a lyricist as the age of 19. She later made her singing debut in 1981 with the single "Kanashiki Vaudevillian" and six years later, she joined Oda Tetsurou's unit Nagisa no All Stars from 1986 to 1989 and then in 2006. In the 90s, Aran wrote lyrics for established artists like B'z, TUBE, and others.
Taeko Ohnuki – 4:00 AM (1978)
Taeko Ohnuki is a Japanese singer and songwriter, born in the Suginami Ward. In 1973, she formed Sugar Babe with Tatsuro Yamashita, Kunio Muramatsu. Her solo activity began in 1976. After the dissolution of Sugar Babe, she released her first solo album "Grey Skies" the same year. In 1998, she won the 21st Japan Academy Award for Best Music Award in the movie "Tokyo biyori".
Hako Yamasaki – Wandering (1975)


Hako Yamasaki, who was born in Fukuoka in 1957 and grew up in Yokohama, was only 17 years old at the time when she sang this track.
CINDY – Watashitahi Wo Shinjiteite (1990)
Mayumi Yamamoto, also known as Cindy, was a Japanese R&B singer-songwriter and composer, perhaps best known for composing some of Miho Nakayama's biggest hit songs. She worked with many Japanese artists throughout the '80s, and even had Stevie Wonder produce her debut album. She released 3 original albums and 1 best selection album over the course of 17 years before succumbing to cancer in December 2001.
Hiroshi Sato with Haruomi Hosono, Shigeru Suzuki, Tatsuo Hayashi and Masataka Matsutoya – Seaside Lovers, "Evening Shadows"
A track by Hiroshi Sato with Haruomi Hosono, Shigeru Suzuki, Tatsuo Hayashi and Masataka Matsutoya. This work with no vocal track captures seaside, breezy, optimistic vibe.