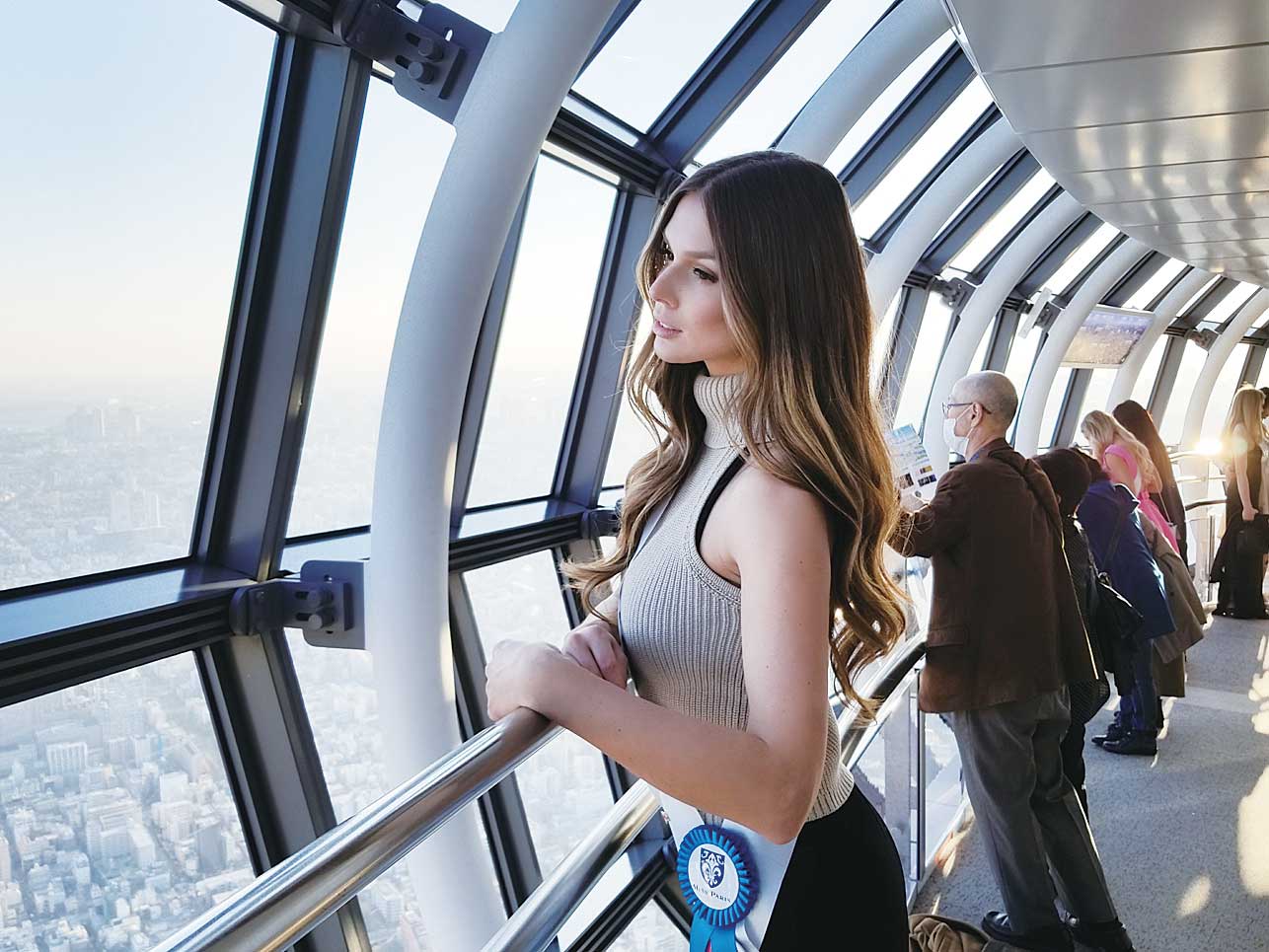 Marta Magdalena Stepien is the representative of Canada for the Miss International Beauty Pageant of 2017. On top of that, she is a student in biomedical engineering technology with a 3.95 GPA. Following the Miss International Beauty Pageant, she has been appointed as Miss Visit Japan Tourism Ambassador by the government of Japan. Through social media and various events, Marta actively promotes Japanese tourism to the people of Canada. In this interview, we ask Marta about her road to becoming Miss International Canada 2017 and her prospects for the future.
"What drives me is my will to try something new and to better understand myself"
You are a multitalented individual, working as a model while pursuing your studies. How would you describe yourself as a child?
I was born in Poland and immigrated to Canada soon after. Ever since I was a child, I had a strong desire to travel. Then, when I was 12, I began working as a model and visited countries such as UK and France as part of my job. Many people may think that models only know about fashion. Ever since I was little, though, my mother had taught me, "A woman must be up to date with any topic that can come up in a conversation." She has constantly pushed me to try new things, and I think that's what led me to become an individual with a curiosity for so many things.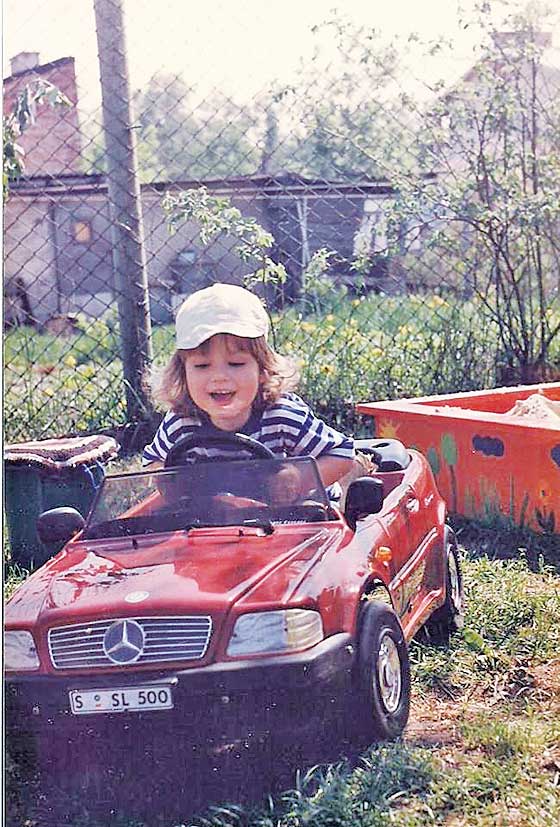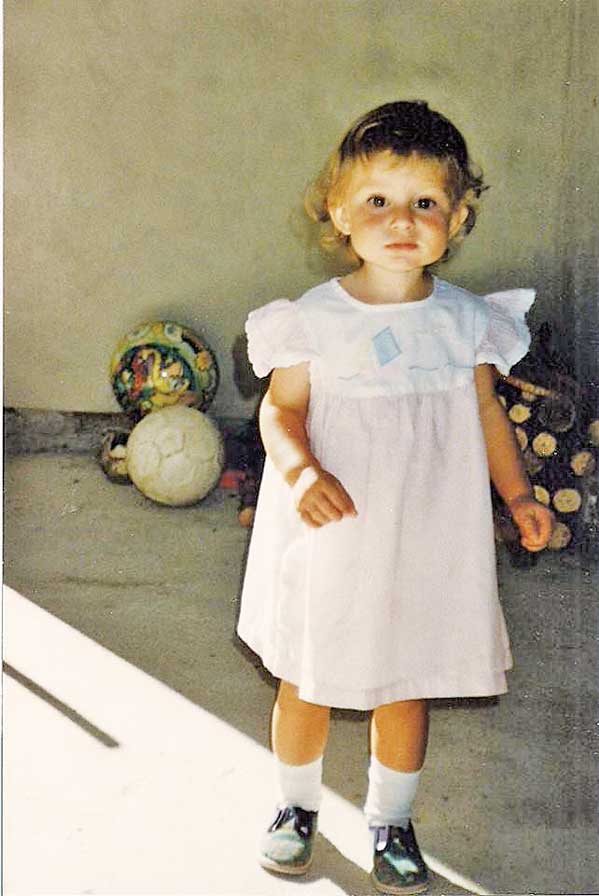 Would you say your mother was also a big reason why you decided to participate in the beauty pageant?
Certainly. My will to try something new and to better understand myself were the big reasons why I wanted to be part of it. I thought it would be a great opportunity to learn something new, particularly because there were representatives from 69 different countries. All the participants had a story to share and it was a rewarding experience. On top of that, they were all very intelligent and confident, so I was inspired by many of them. I'm truly grateful for being able to be part of this beauty pageant.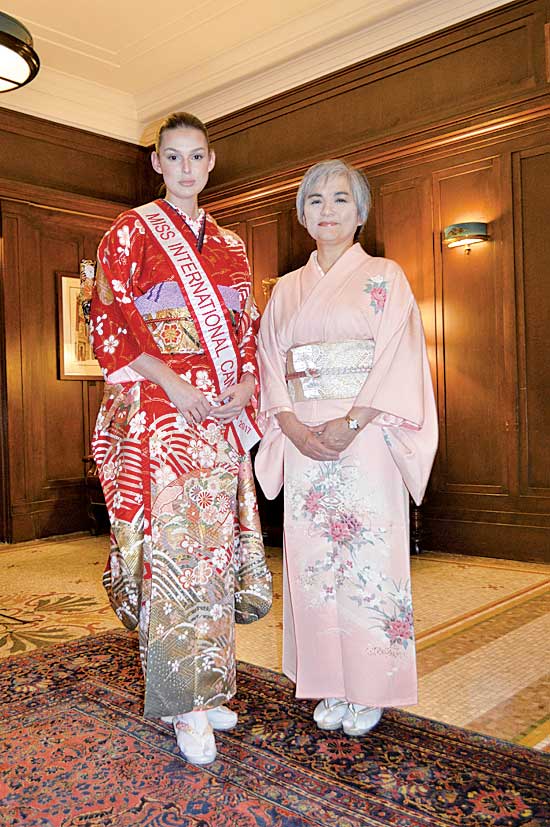 Miss International Beauty Pageant 2017 was held in Japan. Was this your first visit to the country?
Yes, it was. I do have a few Japanese friends and I had always been a fan of Japanese food, so I had a vague idea of what Japan was like. But of course, what we can see from the outside is often superficial, so I don't think I had a good understanding of the culture, traditions and people of Japan. Living in a multicultural country like Canada has its pros and cons; while you can experience many different cultures, you can never really gain a deep understanding of any of them.
I was a little anxious before going. I did learn some words like "Konnichiwa" and "Arigato", but I wasn't able to have conversations in Japanese. However, the people there were all generous and so even if I didn't speak much of the language I was able to communicate in English or even through gestures. I know many are worried that they won't be able to find their way around Japan because of the language barrier, but I would like to tell them not to worry.
What was the highlight of your first visit to Japan?
That's a very difficult question! Sanrio Puroland was pretty fun. I really enjoyed visiting Chuzenji Temple as well. I was there just as the sun was setting and the scenery was just beautiful. I'm glad I went there.
Above all, though, I would have to say the highlight was visiting the University of Tokyo. As a biomedical engineering student, I was thrilled to see some pioneering technology in action and to hear about some of the research they were conducting.
The best part was meeting Ms. Naoko Yamazaki, the second Japanese female astronaut. She was a kindhearted individual, and she answered all the questions I had. I look up to her very much.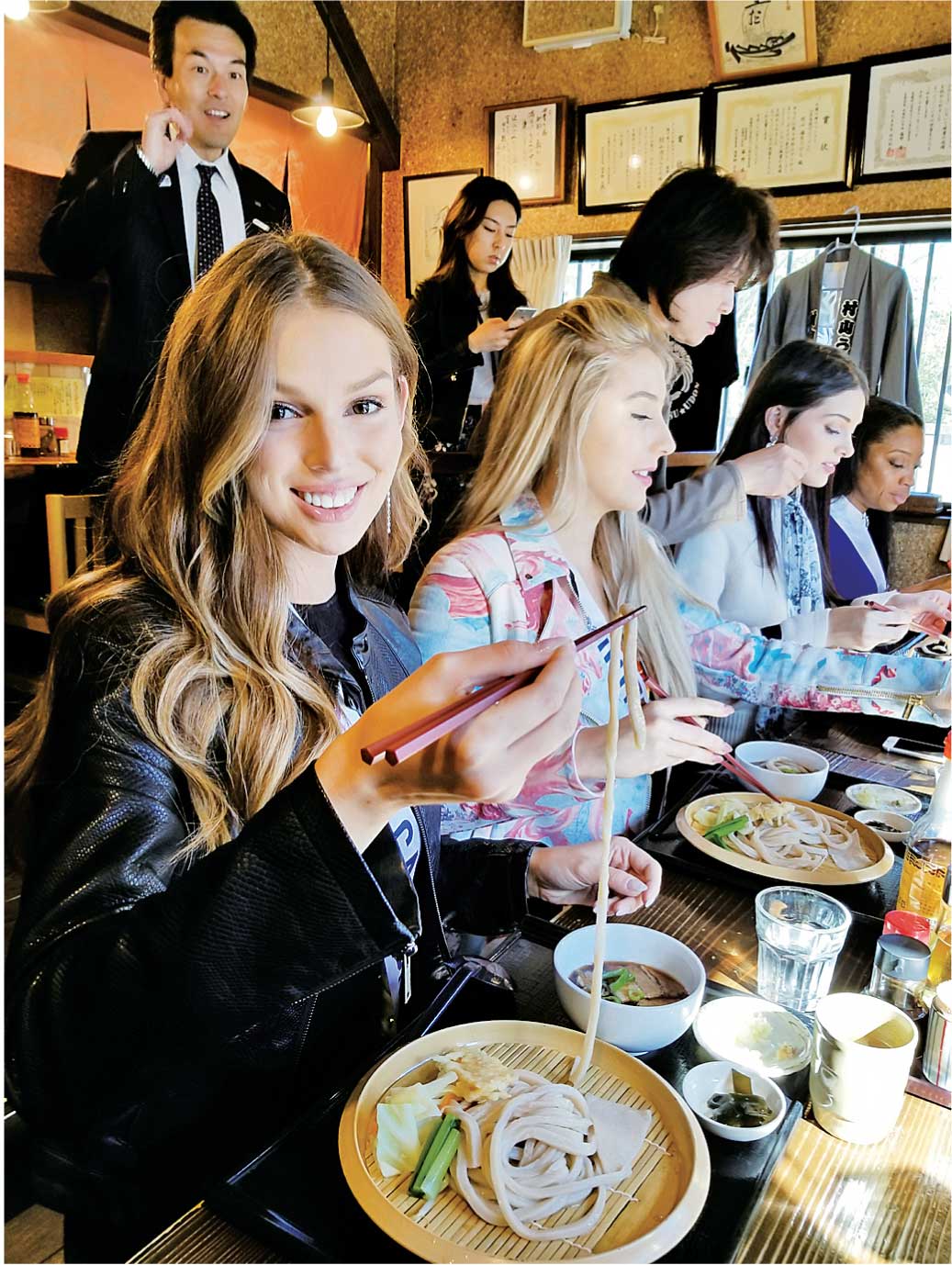 "The people of Canada and Japan are similar"
It seems like you have met a lot of people. Along the way, did you observe any similarities between Canada and Japan?
I would say the people of both countries are very kind. Like I mentioned, someone would always lend a hand even if I wasn't able to speak Japanese. I also saw that the people in the streets generally had a gentle look on their faces, and I was able to spend my time there without any fear. I think things are pretty similar in Canada, particularly because it's known to be a country that welcomes people regardless of race or ethnicity.
What are some of the things you do as Miss Visit Japan Tourism Ambassador?
I primarily promote Japan on social media and attend events like "Evening of Japan" hosted by the Japan National Tourism Organization. I would like to continue doing both of them for sure. In June, I will also be boarding the first flight operating between Narita and Montreal. I'm really enjoying my position as a Tourism Ambassador, as I'm deepening my understanding of other cultures and meeting many great people, both of which I value.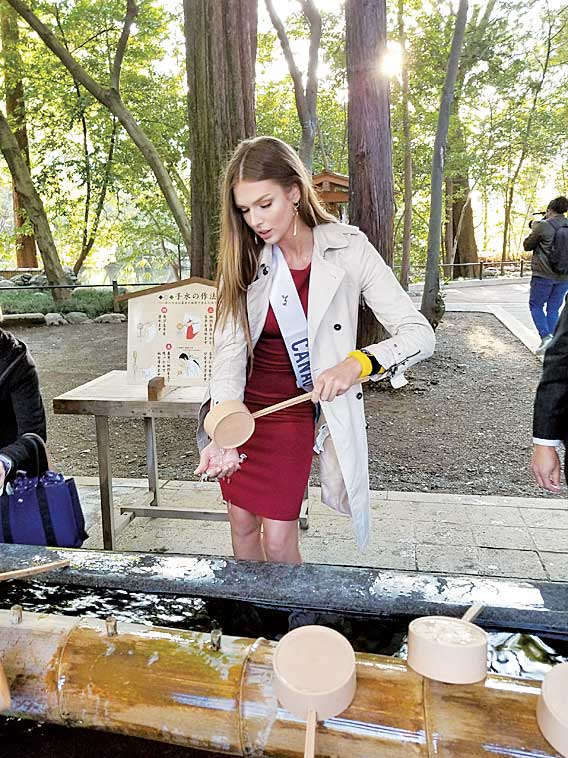 So you'll be visiting Japan again! Is there anywhere in particular you would like to visit?
I'm actually really excited about my next visit. I'm hoping to visit the places I missed out on last time, including Kyoto. I would like to immerse myself into the country's history and tradition by visiting the old capital. Eventually, I hope to promote the historical side of Japan to the people of Canada, too. Another one of my goals is to climb Mt. Fuji, although I might have to wait for the right season to come. I would also love to visit Japan in the spring to go see the cherry blossoms.
Cherry blossoms is definitely something you should see. As a Tourism Ambassador, what would be the one word you would use to describe Japan?
I would say "beauty". What I discovered upon visiting Japan was not only the beauty of the place but also the beauty of the hearts of the people there. Both the scenery and people are deeply connected with the culture and tradition of the country too, and this connection, I feel, is just as beautiful.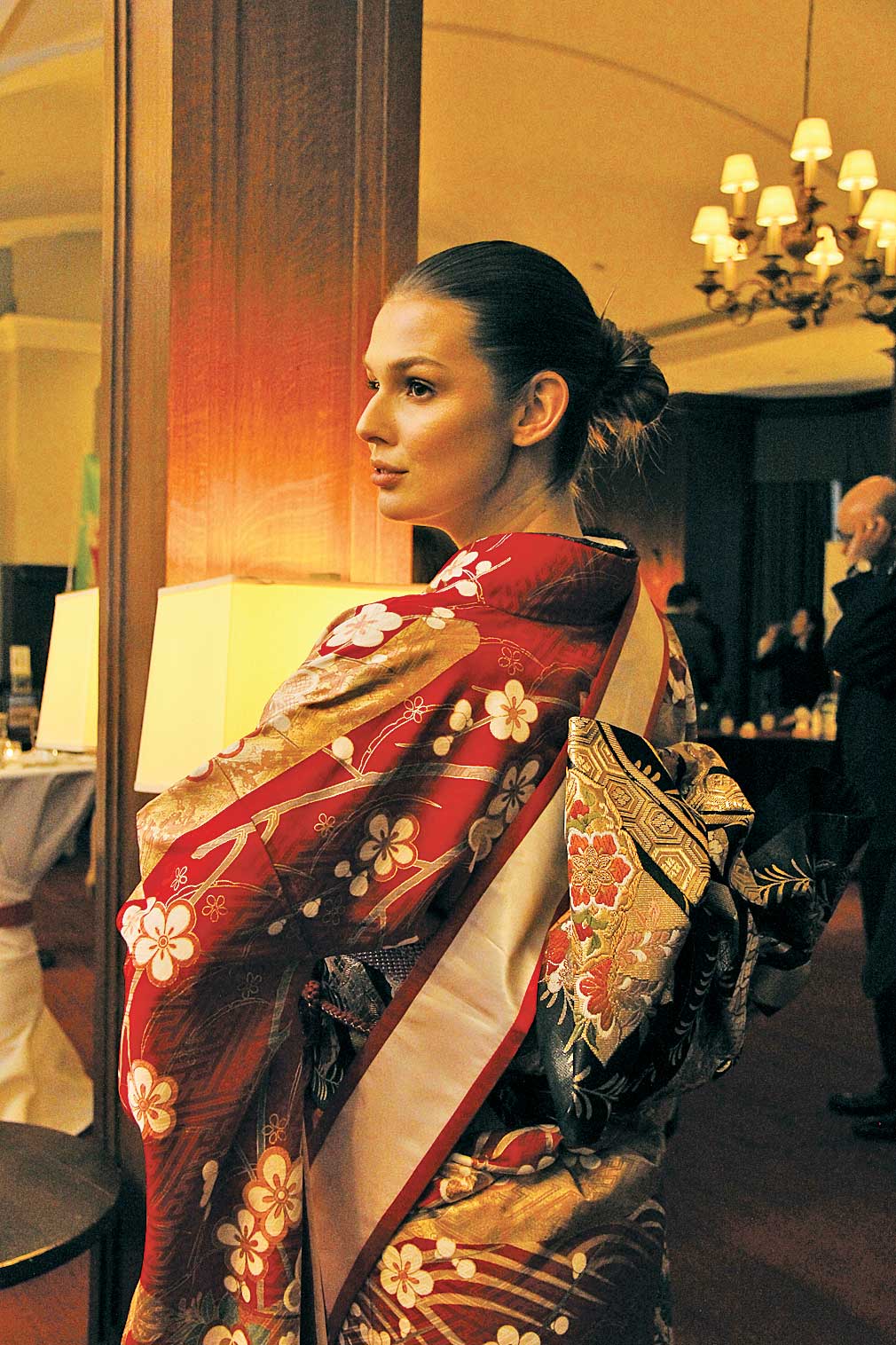 This year marks the 90th anniversary of diplomatic relations between Canada and Japan. What are some of the things you wish to see in the future of this relationship?
I would like to see more events that give the people of Canada the opportunity to experience the culture and food of Japan, similar to "Evening of Japan" that I was part of. When learning about a country or a culture, there are so many things you wouldn't truly understand until you experience it yourself. I believe events similar to this one will not only promote tourism but also bring the relationship of the two countries to the next level.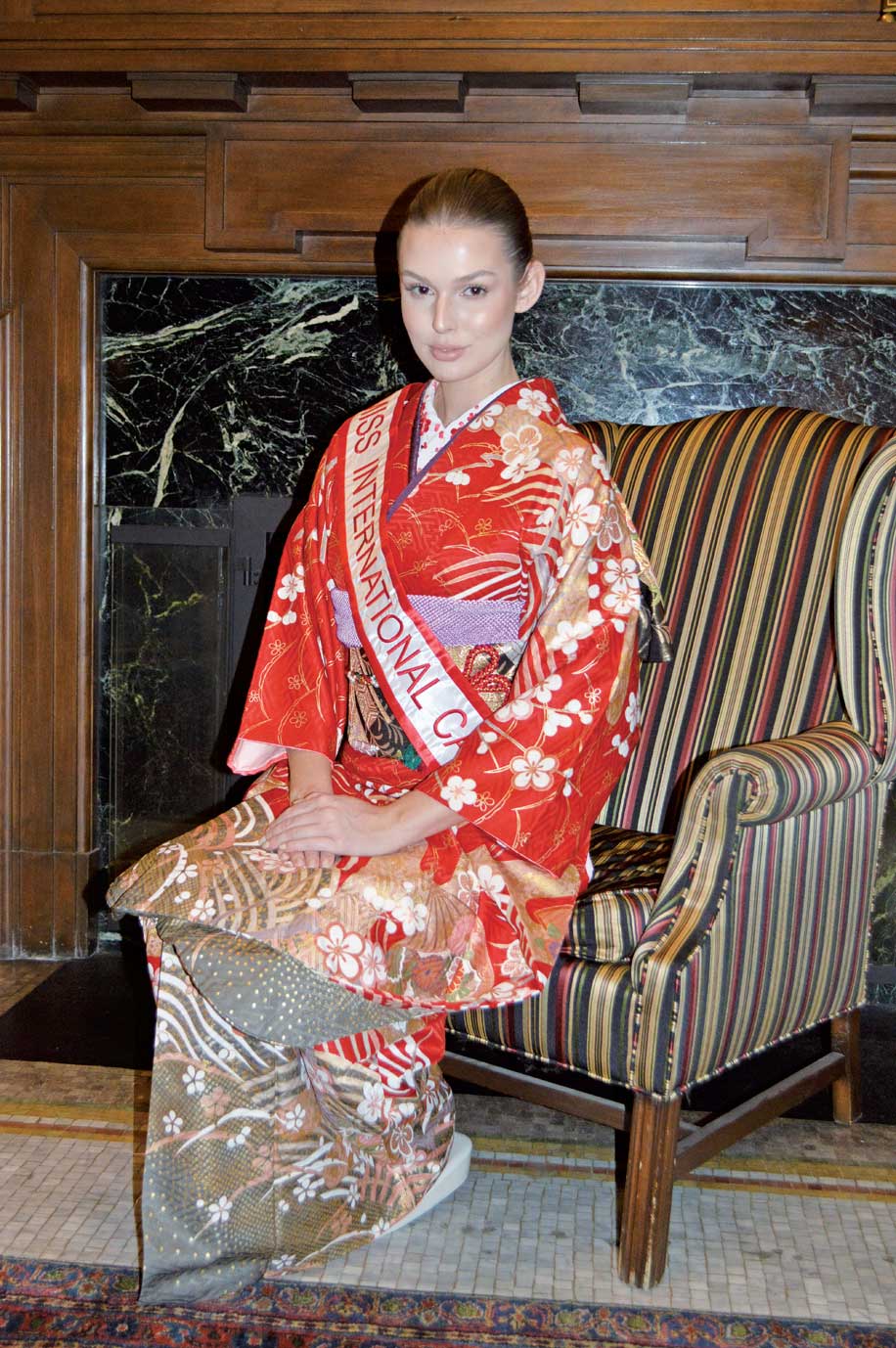 Finally, please give a message to the readers of TORJA.
Thank you very much for reading my interview. I am very honoured to be able to contribute to the relationship of Japan and Canada on this 90th anniversary as a Tourism Ambassador. It would be absolutely wonderful if you could check out my social media accounts, where I promote Japanese culture!
---
Check out her social media accounts:
Instagram:@stepien.magdalena
Facebook:facebook.com/missinternationalcanada2017/
(Japanese Article: 日本観光特使を務めるミスインターナショナルカナダ2017 マルタ・マグダレナ・ステビンさんスペシャルインタビュー|カナダと日本の架け橋ピープル)