Why am I so excited about this?
I am sure everyone knows about Zen Japanese Restaurant in Markham. They are reputable Japanese restaurant brand in town since 2000. Zen's Founder – Chef Seiichi Kashiwabara is the Vice President of Japanese Restaurant Association of Canada with 40 years of Japanese culinary experiences. This summer, He began to establish an Udon specialized menu at a new restaurant space. According to Chef Kashiwabara…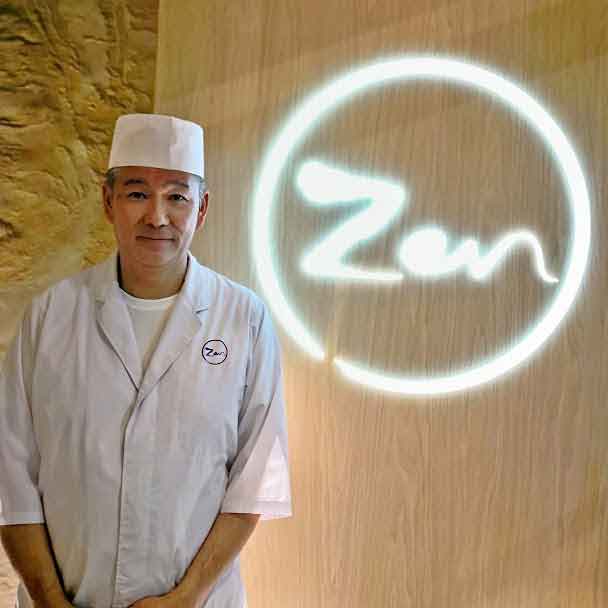 "I want to offer a causal, yet authentic Japanese food to Torontonian. Our Sanuki udon is nothing more than combination of Japanese tradition, craftsmanship, and carefully selected ingredients." (Chef Kashiwabara – Zen Sanuki Udon)
Zen Sanuki Udon
Zen Sanuki Udon offers authentic Japanese Sanuki udon with a semi- open kitchen concept. Their overall restaurant design is consistent with their original Zen location. It does have a classy décor with an elegant touch. They had allocated a designated area as an udon making room for crafting fresh udon. Located near the window area at their store front, customers can observed the udon making process. Udon are made in store everyday with premium quality flour import from Sanuki, Japan, sea salt, and soft water. So what is Sanuki Udon?
The term "Sanuki" represents the birth place of this udon style. Sanuki is an old province in Kagawa Prefecture, Japan. With its geographic advantage, Sanuki grow the best wheat in Japan that produce the best flour to make udon noodle. According to the restaurant, Udon made from Sanuki area is characterized by square cut, chewy, and firm texture. Indeed, they are one the most well-known udon style in Japan. Moreover, this type of udon was literally available at restaurant and supermarkets.
Why we need to visit Zen for their udon?
Frist of all, Udon are made fresh in store everyday with premium quality flour import from Sanuki, Japan, sea salt, and soft water. It had a light natural wheat flour taste with a firm texture, which slightly differentiate with other restaurants and udon products in supermarket.
House made Broth
Other than udon noodles, broth contributes a very important role in their final product. Chef emphasizes their broth were made in-house with no additives and no MSG. Tradition Umami dashi consists of kombu (Kelp), bonito flake, and dried baby sardine.
Mino Ware美濃焼
It's not just udon and broth.
Chef had put a lot of details in their final product. Indeed, serving bowls in Zen Sanuki Udon are also carefully selected. Moreover, every udon bowl is custom handmade Mino ware (美濃焼). Mino ware is Japanese pottery produced in Mino Province in Gifu Prefecture (岐阜県). These customize pottery bowls had a thick layer and the material itself does preserve the temperature slightly longer than other bowls out there.
The menu
Zen Sanuki Udon's menu consists of 4 udon categories with hot udon, cold udon "Bukkake Udon", dipping udon "Tsuke Udon", and Curry udon. Other than udon selection, they offered a variety of side dishes as well, such as Chicken Karaage, Slow braised beef tongue, Sengenton pork belly, & sous-vide duck breast. Moreover, they also have a "raw" selection on their menu, such as sushi, Kaisen Donburi, and handrolls. With all these selections, we would definitely need to come by several times to complete their collection. Therefore, you will see me often after they officially opened to the public.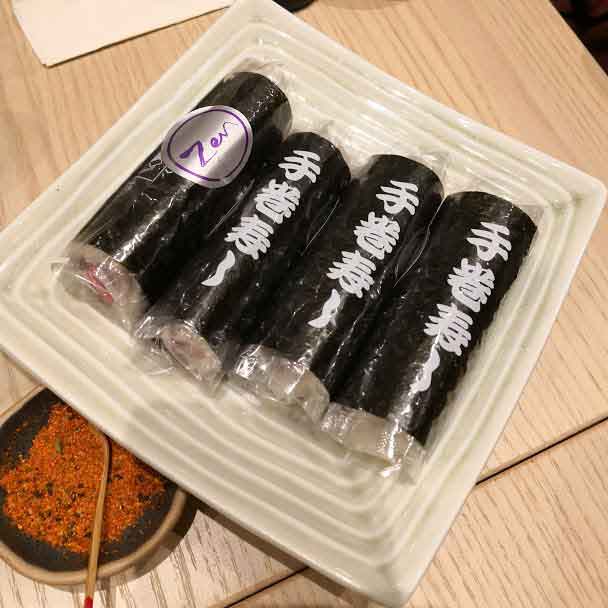 Here's what we have at the media preview tasting.
Hot Udon noodles
Beef udon – ビーフうどん ($17)
Buta Kaku udon – 豚角うどん ($17)
Ebi Kakiage udon + Onsen Tamago – 海老かき揚げうどん + 温泉たまご ($18+3)
Tsuke Udon – Dipping style
Kamo Tsuke Udon – 鴨つけうどん ($20)
Cold Udon
Ikura Oroshi Udon – いくらおろしうどん ($20)
Donburi
Kaisen-Don (Sample Version) – 海鮮丼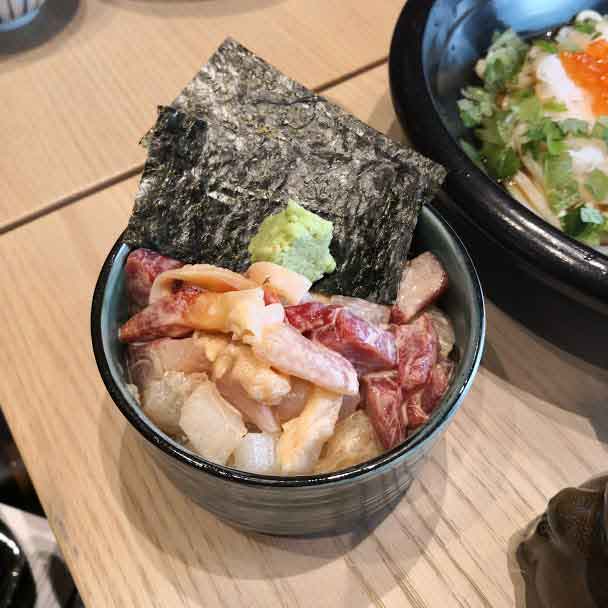 Hot Udon noodles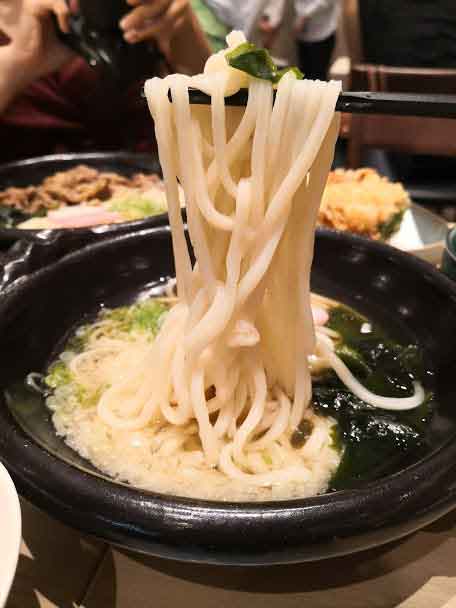 Zen's udon noodles selections consists of house made dashi with fresh sanuki udon made from scratch. Standard Hot Udon was topped with kamaboko fish cake, wakame seaweed, green onion, tempura flakes. Here's what we got.
Beef udon – ビーフうどん ($17)
Nothing with go wrong with classic niku udon with sliced beef. With the characteristics that we mentioned above, it had slightly stands out with other beef udon out there. BUT. If sliced beef couldn't satisfied your cravings, I would recommend you to order their Wagyu Suji Udon, which consists of A4 grade Waygu beef imported from Japan.
Buta Kaku udon – 豚角うどん ($17)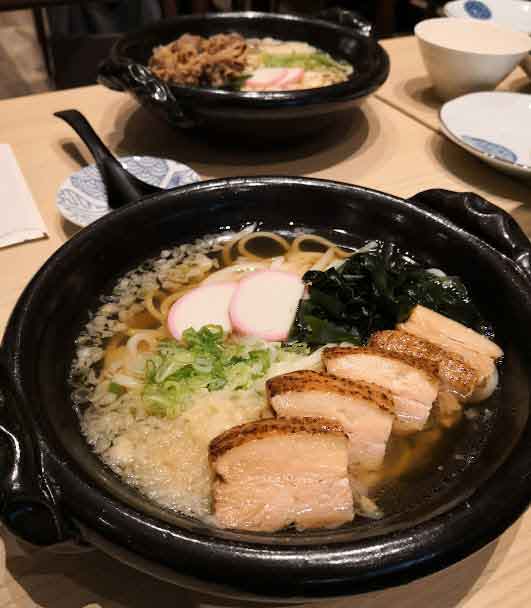 Here's one of my favourite udon in the menu. Buta Kaku udon are hot udon with Sangenton pork belly. Sangenton pork (三元豚) is a special breed with three different pork species. Premium quality pork belly was cooked perfectly that melts in your mouth. Other than standard hot udon, you can pair up pork belly with tsuke udon, and curry udon as well. This is definitely something that I will come back for.
Ebi Kakiage udon + Onsen Tamago – 海老かき揚げうどん + 温泉たまご ($18+3)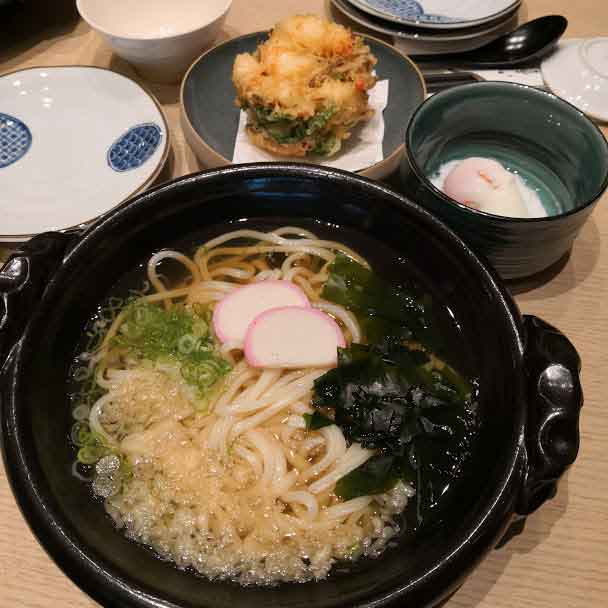 Tempura seems to be popular toppings for udon dishes. Zen's Ebi Kakiage is defiantly on another level. Ebi kakiage consist of dual layer tempura with fried shrimp on top and fried thinly cut vegetables tempura at the bottom. Their tempura texture was simply amazing. Indeed, you can enjoy both layers on the same time. If you like extra side toppings, you can always order onsen tamago on the side.
Tsuke Udon – Dipping style
– Kamo Tsuke Udon – 鴨つけうどん ($20)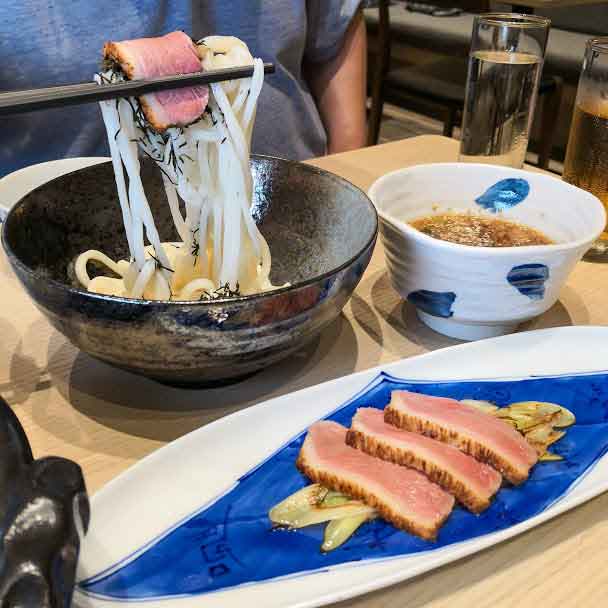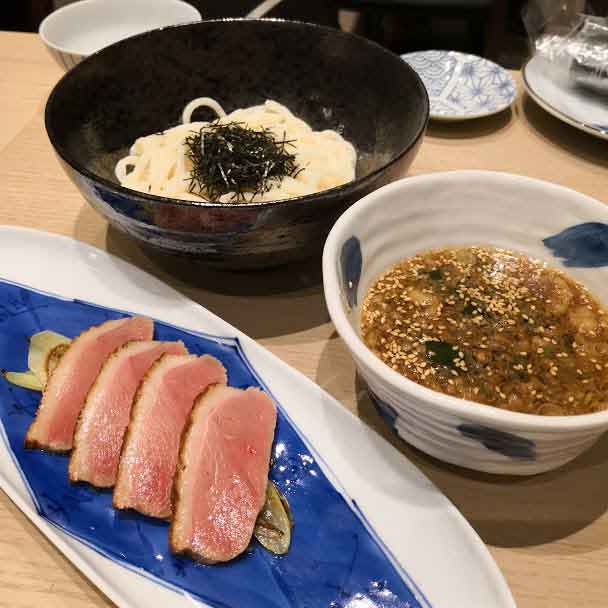 Other than hot udon with soup, they also offer dipping style udon (Tsuke-udon) with sous vide duck breast or Sangenton pork belly. Those sous vide duck breast were pretty good.
Cold Udon
– Ikura Oroshi Udon – いくらおろしうどん ($20)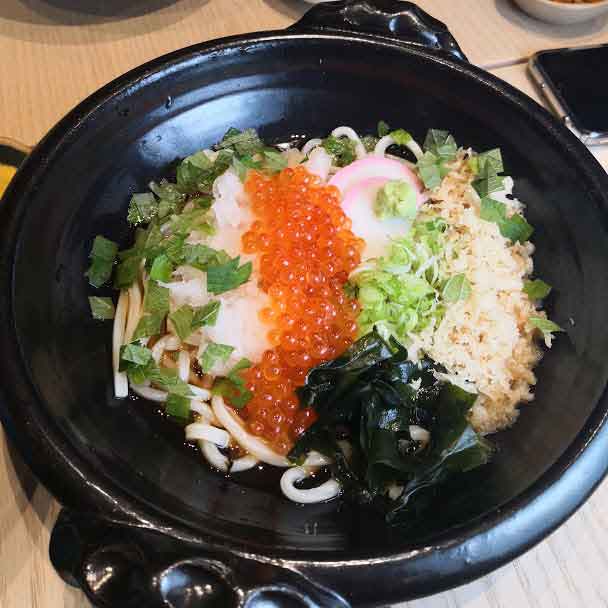 Zen's cold udon noodles were mainly Bukkake style Udon. "Bukkake" refers to the act of splashing liquid on something. Therefore, Bukkake udon consists of cold dashi-based broth splashed onto chilled udon noodles. Zen had a series of Bukkake udon selection on the list. This specific item had caught our attention. – Ikura Oroshi Udon.
Ikura Oroshi Udon were topped with generously amount of ikura (salmon roe), shiso, wakame seaweed, kamaboko fish cake, green onion, and granted radish.
Donburi
If you like something different than udon, don't worry.
They have donburi rice bowl as well. Moreover, Zen offers raw items on the menu, such as kaisen don, nigiri sushi, and tuna hand roll. Their hand roll had a unique package where they separated seaweed and rice component. It's quite interesting to try.
Here's my udon collection for Zen Sanuki Udon. They haven't announced their soft opening date as yet. It's coming soon. Stayed tuned for their confirmed opening day
Chef Seiichi Kashiwabara . Thank you for opening an authentic udon establishment in Toronto.
It's awesome to have more authentic places in Toronto.
Definitely looking forward to my next visit at Zen Sanuki Udon
Therefore,
Anthoni's Noodle Adventure Continues….