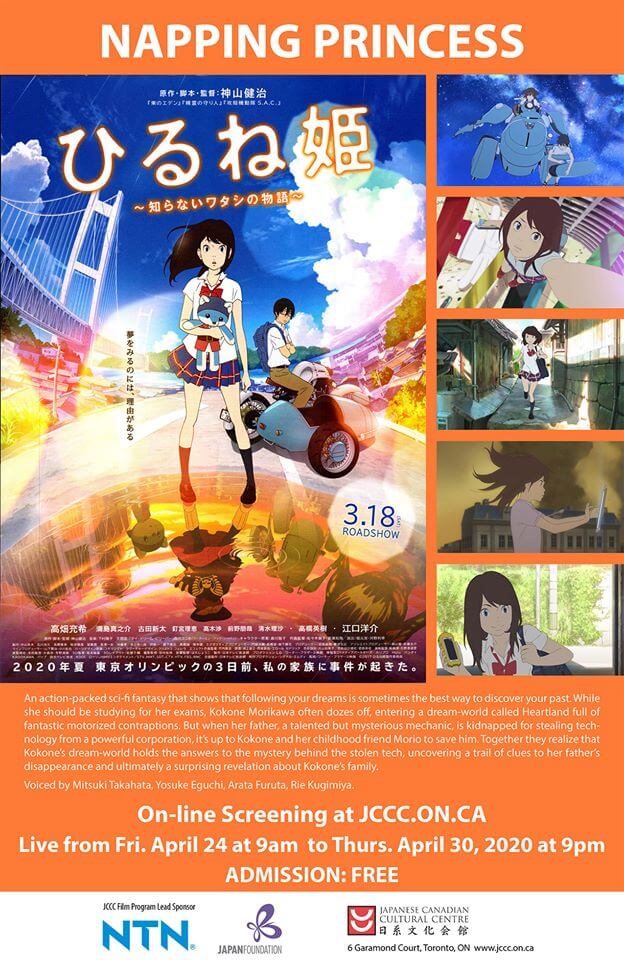 WELCOME TO THE "VIRTUAL JCCC FILM SERIES"
In Cooperation with the Japan Foundation Toronto
This Week's Feature: Kenji Kamiyama's NAPPING PRINCESS
The screening is FREE with password. Viewers wishing to support the JCCC's on-going programming through the Coronavirus crisis can make a tax-deductible donation to our Emergency Relief Fund.
Please let us know how you enjoyed the film so we can continue to offer films for free or for low fees.
This link will go live from Friday April 24, 2020 at 9:00 am to Thursday April 30, 2020 at 9:00 pm.
https://jccc.on.ca/virtual-jccc-film-series/
Genres: Animation, Kids + Family
Duration: 111 minutes
In Japanese with English Subtitles
NAPPING PRINCESS is an action-packed sci-fi fantasy that shows that following your dreams is sometimes the best way to discover your past.
The year is 2020. While she should be studying for her exams, Kokone Morikawa often dozes off, entering a dream-world called Heartland full of fantastic motorized contraptions. But when her father, a talented but mysterious mechanic, is kidnapped for stealing technology from a powerful corporation, it's up to Kokone and her childhood friend Morio to save him. Together they realize that Kokone's dream-world holds the answers to the mystery behind the stolen tech, uncovering a trail of clues to her father's disappearance and ultimately a surprising revelation about Kokone's family.
JCCC EMERGENCY APPEAL
In the face of the COVID-19 outbreak, the Japanese Canadian Cultural Centre (JCCC) is facing unprecedented operating challenges and we need your help.
The JCCC Emergency Appeal is our request for your financial support to weather this unprecedented crisis.