Sayaka Murata, winner of the prestigious Akutagawa Prize in 2016 for her novella, Convenience Store Woman, which became her debut in English in 2018, has been asking a question in all of her work—what is normal? Murata, who has defied all stereotypes of Japanese literature and Japanese women with her smartly constructed haunting novel, made her first appearance in North America, attended the Toronto International Festival of Authors (TIFA). On October 26th, she discussed with Jocelyne Allen at the Japan Foundation how her questions about social norms inform her work, from her writing process and early influences, the treatment of women in Japanese society, to her own years of working in convenience stores.
Japanese ulture seen through convenience tores

Following an introduction by Executive Director of the Japan Foundation, Yuko Shimizu, the audiences indulged in colorful videos that were taken in Japanese konbini—scanners beeping, large assortments of onigiris lining up in the brightly lit fridge, and workers greeting to customers with "irraishamase"—it's the world of Keiko's, the very unusual protagonist of the novel. Allen questioned Murata, what the hyper-organized konbini with employees wearing identical uniforms. Murata replied, "Convenience stores are made to be liked by Japanese," and stated that Japanese people are comfortable with things in order.
Murata explained that convenience store might seem "rational", but there are tricks within stores that persuade customers to do "irrational shopping", such as placements of sweets around the counter. She also mentioned that convenience stores make effort to be "chosen" by customers, with their quality customer service and assortment of products, which she thinks comes from a "Japanese mindset". Following the discussion on convenience stores, Murata and Allen, read out excerpts from the novel in both Japanese and English.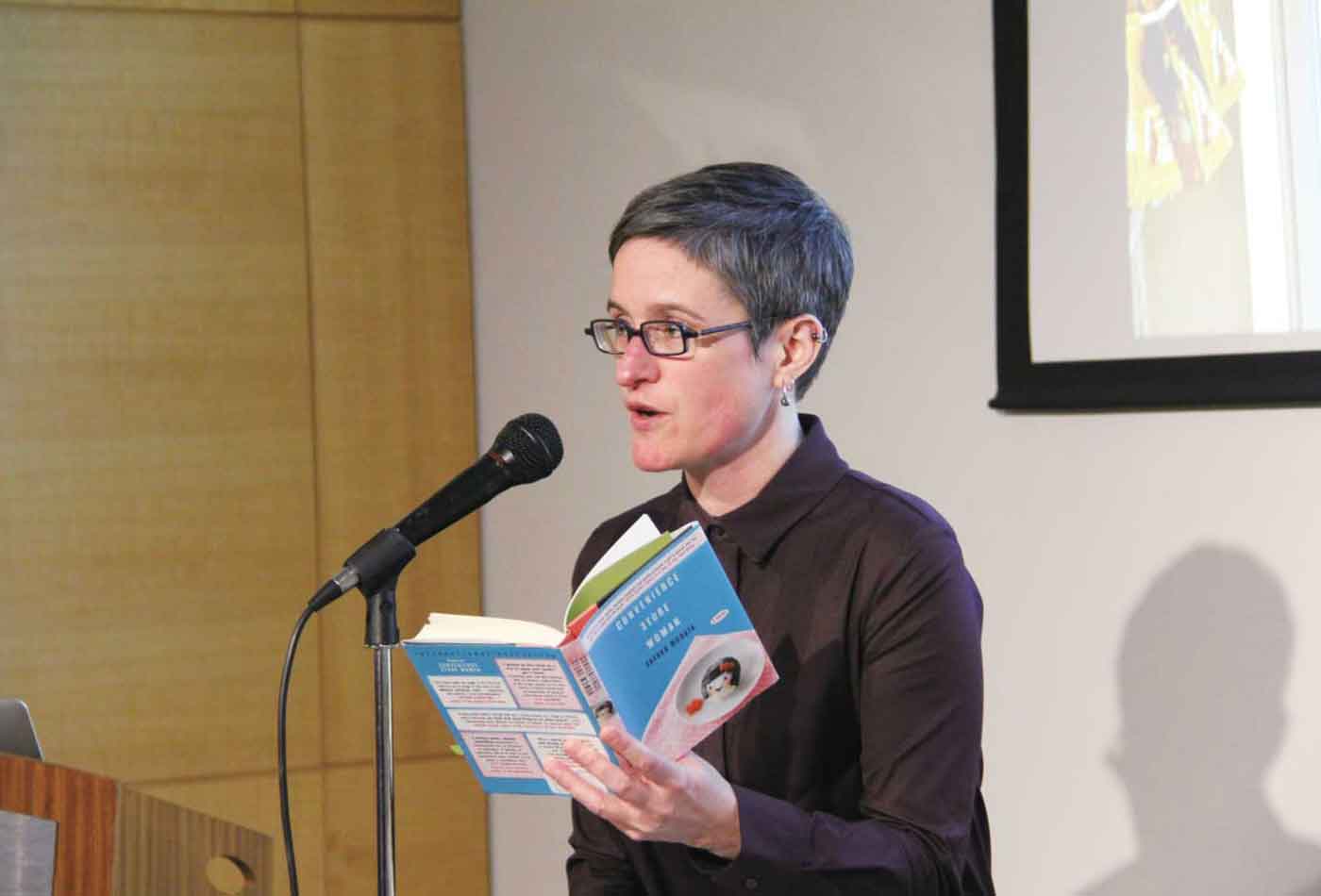 Murata, who also worked at convenience stores for years and participated in the opening of the store like the protagonist, explained that she started working there while she was a university student, as a way to "fix" her shyness. Her experience is reflected in her depiction of convenience store, how Keiko's body moves automatically to the littlest things. Murata also worked at a family restaurant at one point, but felt uncomfortable with the overly feminine uniforms enforced on female workers, and went back to the convenience store.


All of her works, including Triple and Satsujin Shussan, ask questions of what it means to be normal. When asked if she has the story in her head before she writes them, Murata responded, "I don't think of the narrative at all. When I start writing, I have no idea how the story would end", calling novels "experimental box". She explained that she "put rules that are not in accordance to current world's and simple questions that come up to her head in the experimental box", and she writes as the chemical reaction takes place. "Many experiments are held in the box. It's fun when the plot unfolds, and I find out stories' endings" she explained.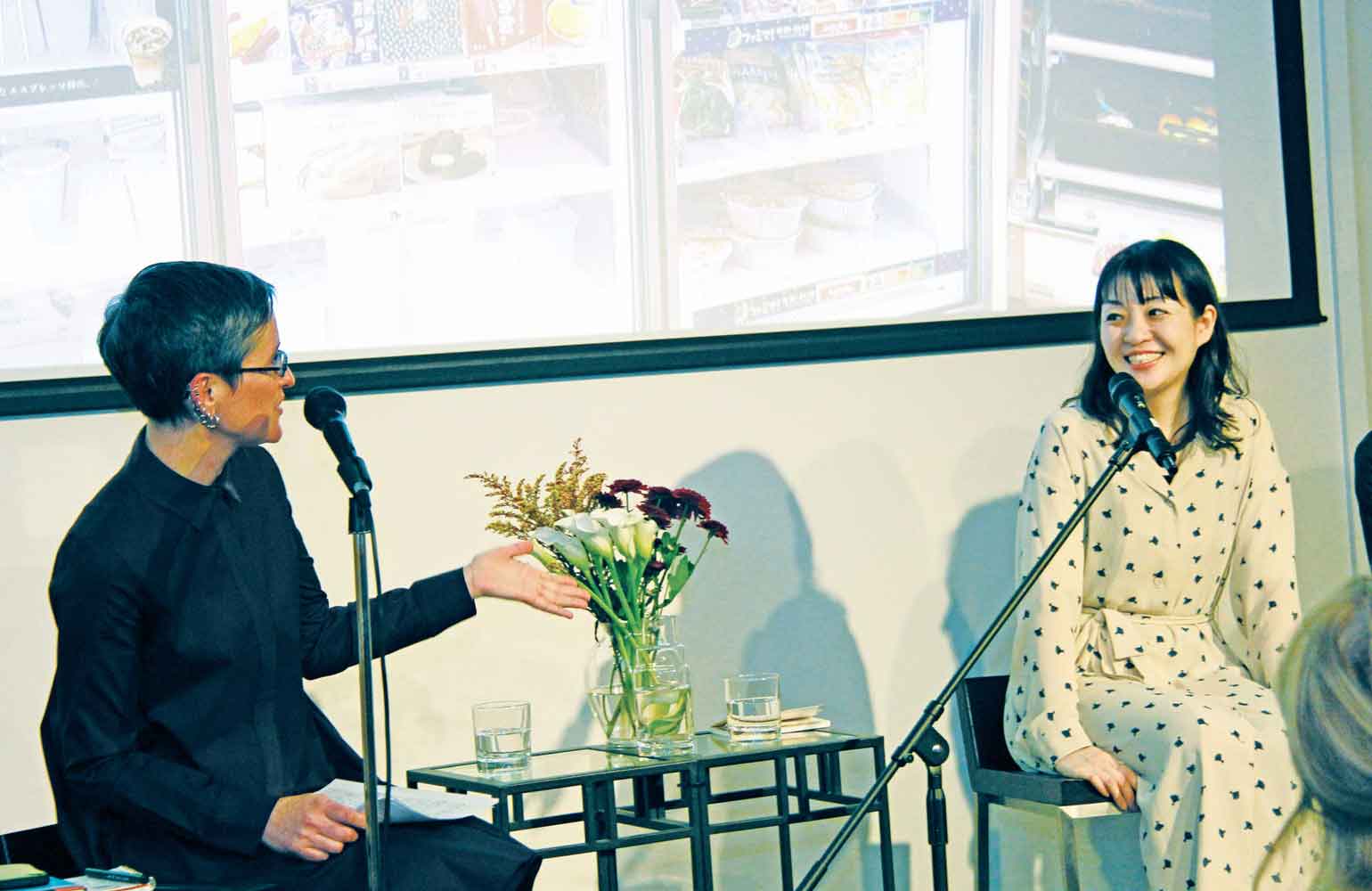 Murata also explained that she draws illustrations of characters before she starts writing her novels. "It's a habit I have since I was a child, and I decide on every details of characters' clothes, hairstyle and height in details, which influences the plot" she explained. "For example, if a protagonist is wearing high-heels while she is running, she would trip. If she is not, she would be able to chase and catch the criminal." The author also mentioned that she alters the illustrations as the story moves on. For example, Shiraha-san in Convenience Store Woman, "[he] had a little role in the novel first, he was a boy who works only at night shifts. He was a chubby, nice man, but as I kept writing the story, he eventually lost weight and got taller, and his personality was worsened", with a concerned face which was followed by laughter of the audience.
When asked by Allen what she thinks of societal norms in Japan, Murata responded: "being normal" was something she always yearned for since she was in elementary school. "When I am not writing, I am not sure who I truly am, because I have tried to be normal for such a long time." She also mentioned working at convenience store, just like other male employees turned her into a "genderless worker", which she feels thankful towards the store.
After the talk, many questions arose from the audiences. When asked about the design of the cover, she replied her editors entirely made the decisions and she likes them both. She talked of translation process which she discussed with Takemori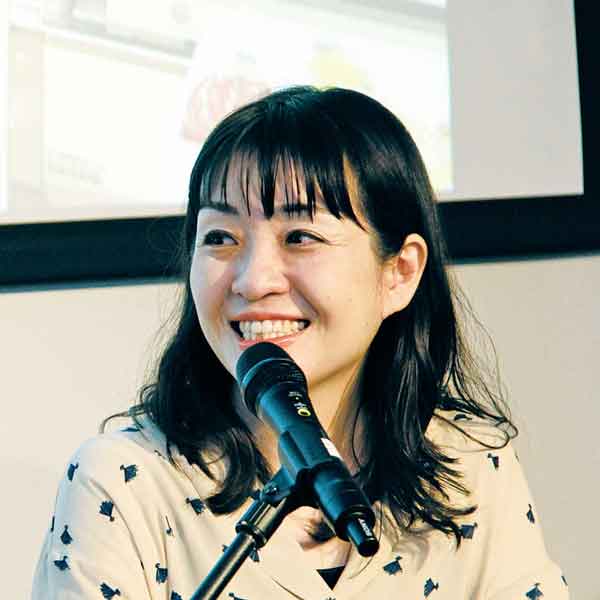 Sayaka Murata Biography
Sayaka Murata was born and raised in Chiba, Japan (just east of Tokyo), and then attended Tamagawa University on the western edge of Tokyo. She is known for exploring nonconformity in society for men and women, particularly with regard to gender roles, parenthood, and sex. Throughout her writing career, Murata has worked as a part-time convenience store clerk in Tokyo and draws much of her inspiration from her observations of everyday life in there. Murata received the Gunzo Prize for New Writers for her first novel, Jyunyū (Breastfeeding) in 2003, the Mishima Yukio Prize for Shiro-iro no machi no, sono hone no taion no (Of Bones, Of Body Heat, of Whitening City) in 2013, the Noma Literary New Face Prize for Gin-iro no Uta (Silver Song) in 2009, and the prestigious Akutagawa Prize in 2016 for Konbini ningen (Convenience Store Woman) which became her first book to be translated into English in 2018.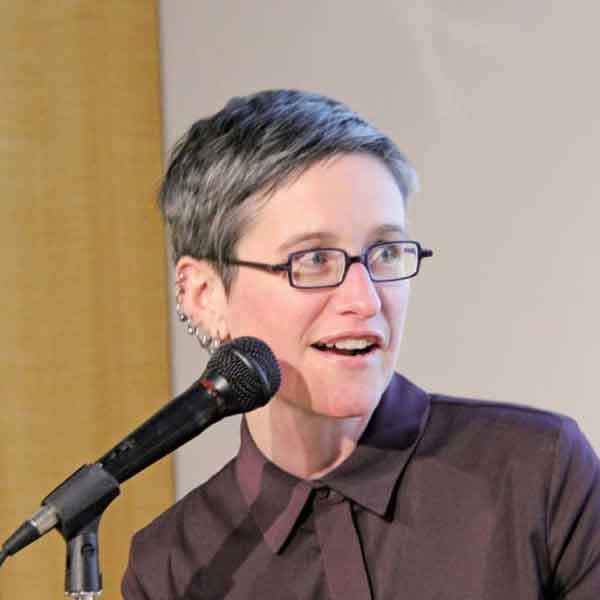 Jocelyne Allen Biography
Jocelyne Allen is a Japanese translator, interpreter, and writer based out of Toronto, Canada, after a decade in Japan. During her time in the Land of the Rising Sun, she worked as a magazine columnist, interpreted for foreign correspondents, and toured with a Japanese drum group. During her career as a professional translator of creative and pop culture works, she has translated a large number of short stories, novels, and manga, including the Eisner Award winning Onward Towards Our Noble Deaths. As an interpreter, she has worked with many of Japan's most celebrated manga artists and authors, including Taiyo Matsumoto, Aya Kanno, and Hideo Furukawa. She is also the author of the novel You and the Pirates.
(Japanese Article: トロント国際作家祭(TIFA)社会の「普通」を問う【対談】村田沙耶香氏 × ジョスリン・アレン氏)