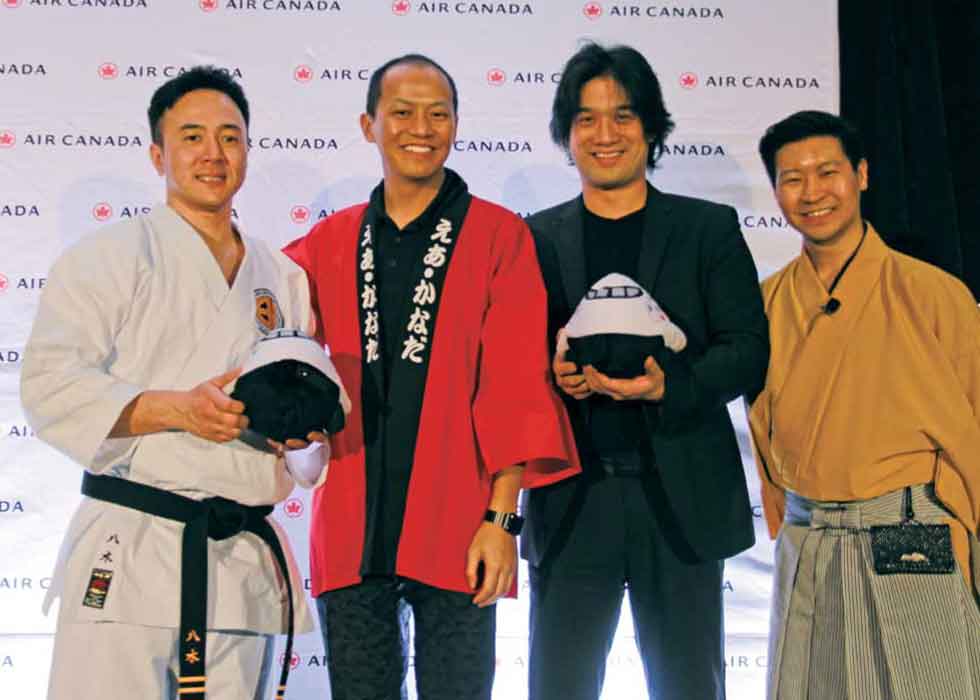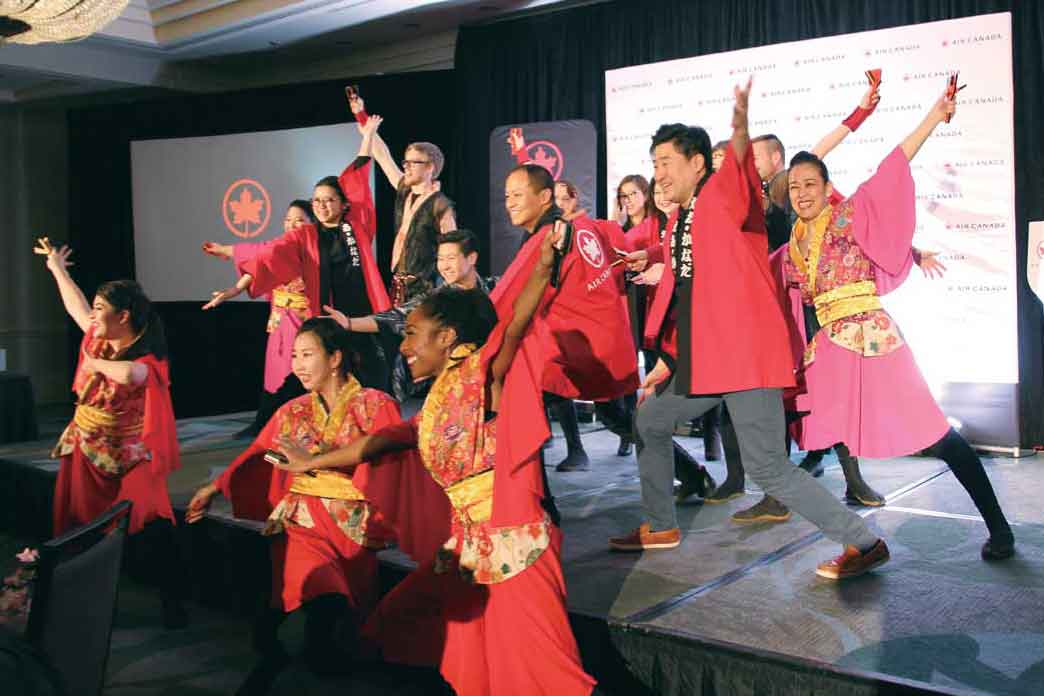 Starting June 1, direct flights from Vancouver to Osaka will be operated with Air Canda's flagship Boeing 787 Dreamliner aircraft.
In anticipation to the operation of Air Canada's flagship Boeing 787 Dreamliner aircraft starting June 1, Air Canada held a reception party with JNTO in Vancouver on March 5. Representatives from travel industry and media and those who are deeply affiliated with Osaka were invited to attend the reception, and information of the anticipated aircraft and charms of Kansai area including Osaka prefecture were introduced. Toronto Japanese Yosakoi dance group Sakuramai were invited from Toronto for this special occasion and they performed Yosakoi dance, and there was a lecture on how to dress in yukata by Mr. Mark Hashimoto, the moderator of the event.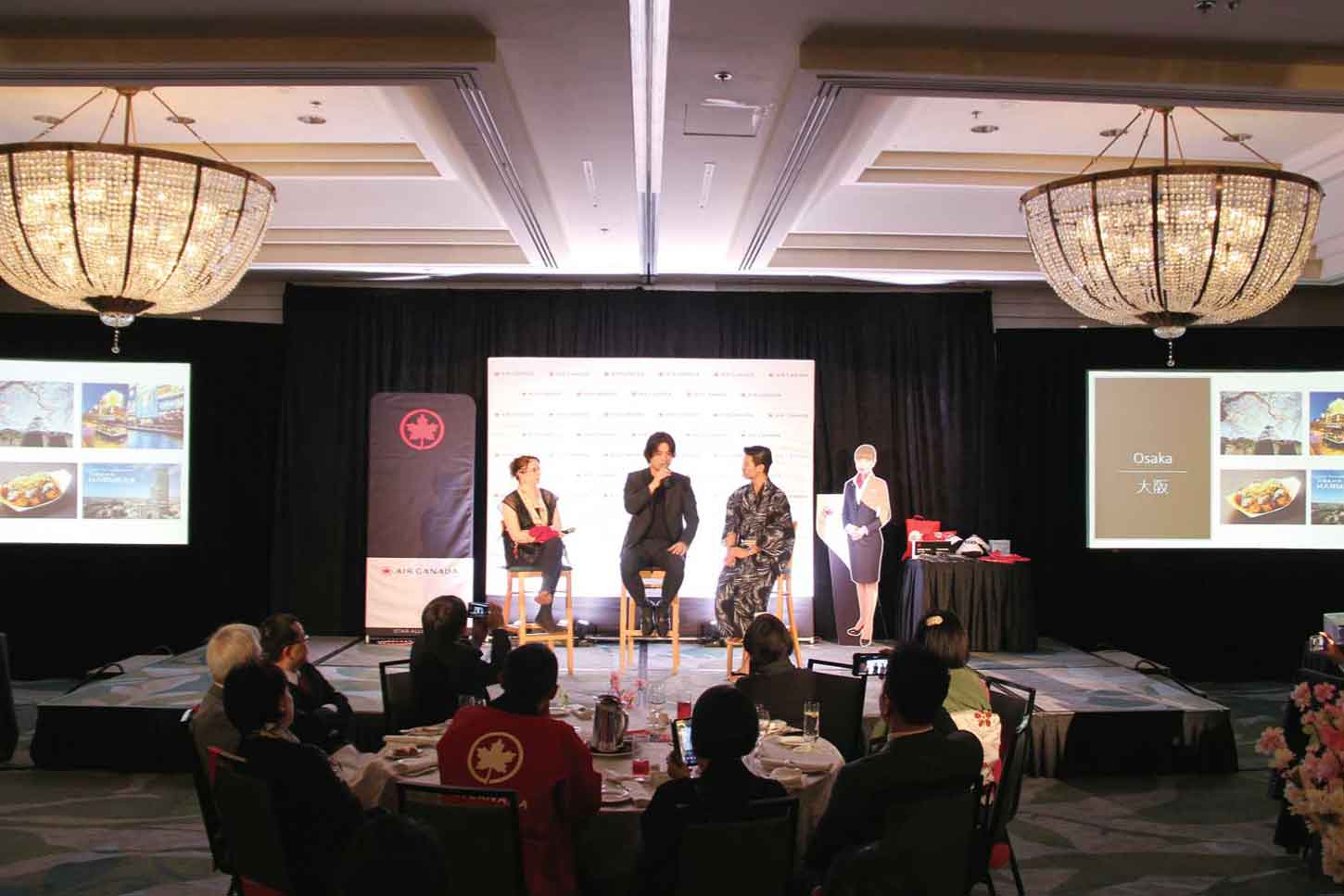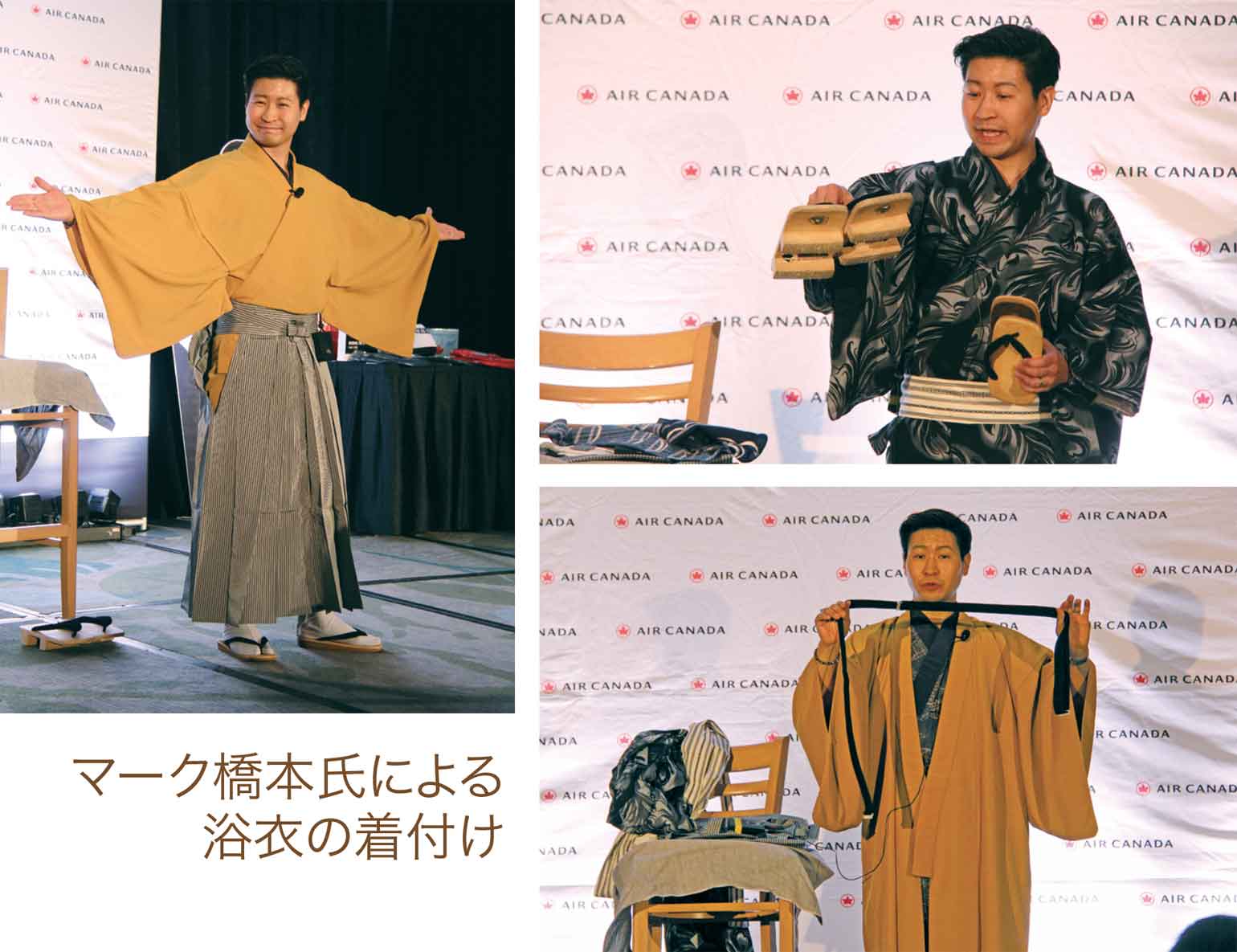 Enjoying Osaka's Culture
Mr. Ken Hsien, a prominent Canadian conductor who has witnessed the development of Osaka since his first visit in 2006, shared his experiences of visiting Osaka and discovering charms of Osaka and the people there. He commented on people in Osaka as "lively and friendly" and "express their honest feelings" and they have different characteristics to those in Tokyo.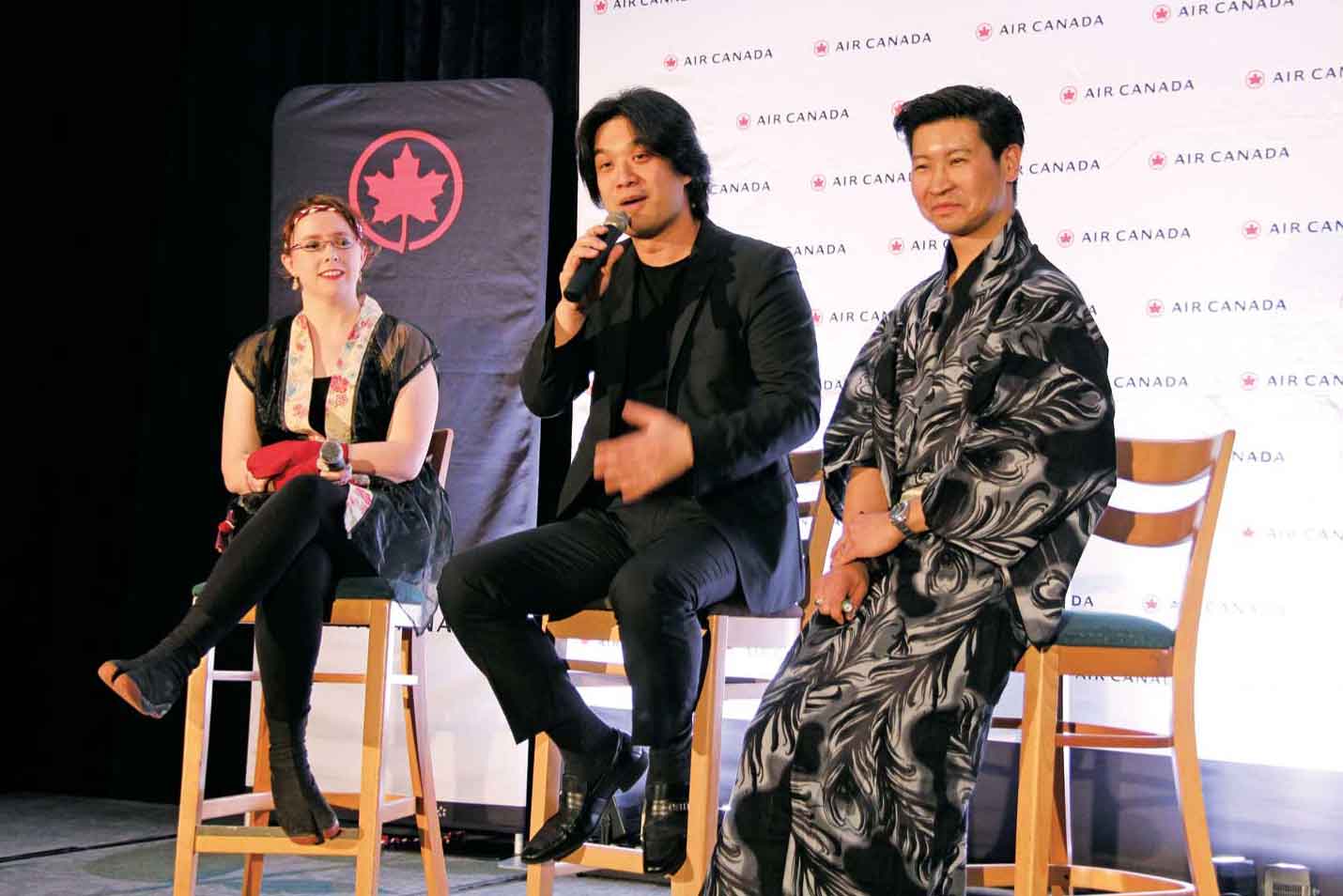 Mr. Hsien shared his experience of watching a baseball game in Tokyo—an episode that speaks of the vibrant energy of the people in Osaka. Mr. Hsien said he became a fan of the Hanshin Tigers as he was touched by the energy of the supporters. "Maybe the team won't be the best in Japan, but fans' support for Hanshin Tigers is incredible," he said, while explaining he loves watching people supporting their favorite team.
Following the remarks on baseball scene in Osaka, he talked about cuisine in Osaka. Japan owns the most number of Michelin stars in the world and Osaka is a city that has one of the highest number of stars. "There is a culture where you can enjoy diverse kinds of food in Osaka," he said, and that it's also a real pleasure to experience dining experiences of having udon in Osaka which is different from it in Tokyo.
He reminded the audiences to not forget about other cities in Kansai, such as Kyoto, Wakayama and Hyogo, which all have different charms and cultures, although they are close to each other. Out of many entertainments in Kansai, Mr. Hsien enjoys watching Takarazuka plays in Hyogo prefecture, and he is fascinated by the performances every time he visits. As accessing other cities from Osaka is easy, he ended his speech by suggesting audiences to visit surrounding cities and prefectures when they visit Osaka.
Following a speech by Mr. Hsien, Ms. Ashley Haley, a member from Toronto Japanese Yosakoi dance group Sakuramai, introduced audience other charms of Osaka. Ms. Haley who used to participate in JET program (Japan Exchange and Teaching Programme) now resides in Osaka. She talked about Yosakoi dance, and mentioned Yosakoi Festival that is helf in Kochi prefecture every summer is a huge success, as the number of dancers are large and audiences also participate in the performances. For the first time, Yosakoi dance will be performed in Harajuku in Tokyo in the form of a parade.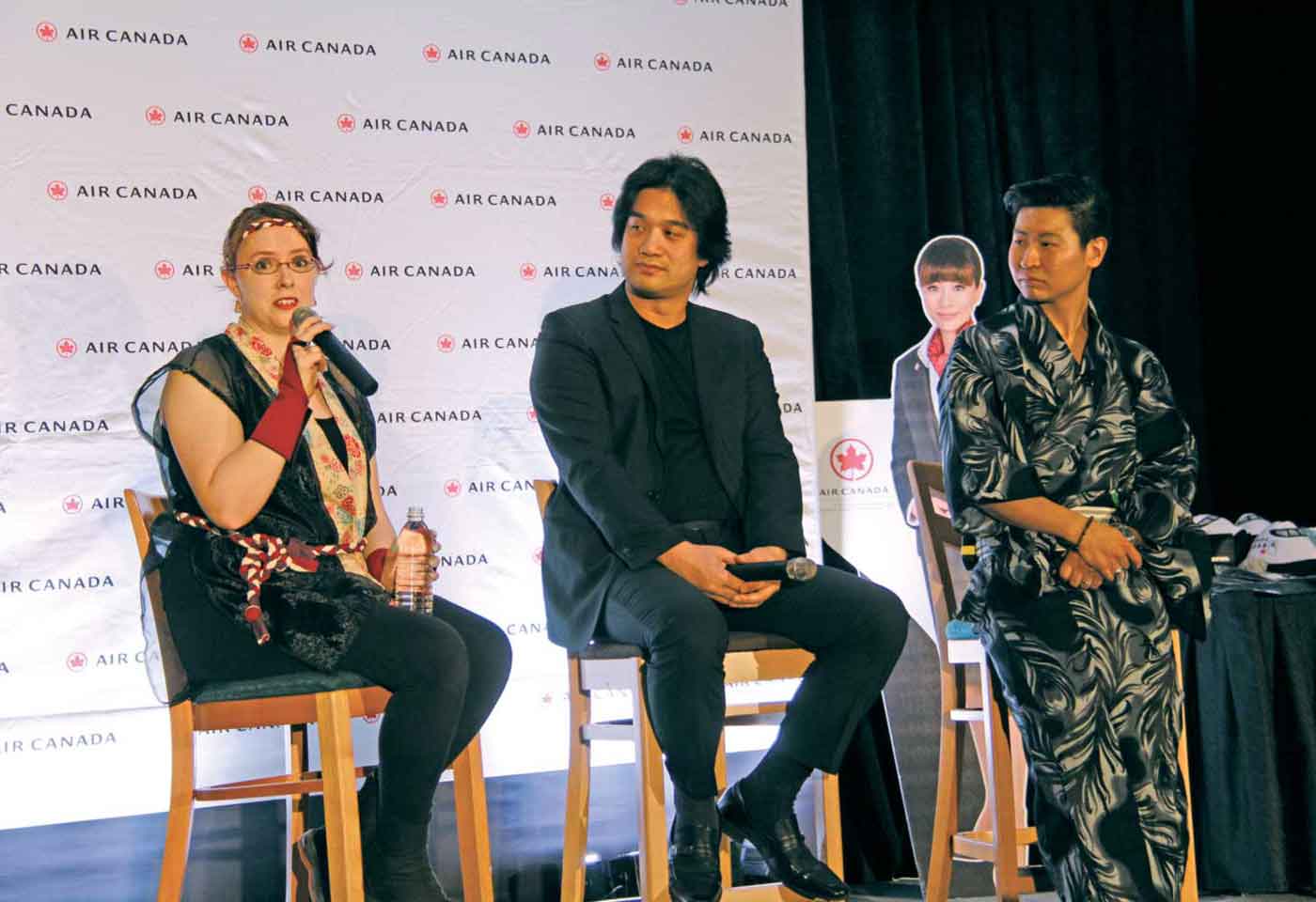 Ms. Haley shared her experiences of participating in JET program. She taught English to highschool students in Hirakata prefecture in Osaka prefecture for 3 years, and when she applied for the program she only requested to be assigned in Osaka. The reason behind her love for Osaka was its Kansai dialect. Ms. Haley who is originally from Newfoundland had a distinct accent, and she was fascinated when she learnt there are diverse dialects in Japan, and she was especially attracted to Osaka's Kansai dialect.
She also talked about other prefectures in Kansai such as Kyoto which has historical artifacts, and Nara where the oldest sumo-heya, Kehaya-za exists, and Hyogo prefecture where you can enjoy Kobe beef, Wakayama prefecture where there are Kumano Kodō.
Performance by Karate Expert, Mr. Akihito Yagi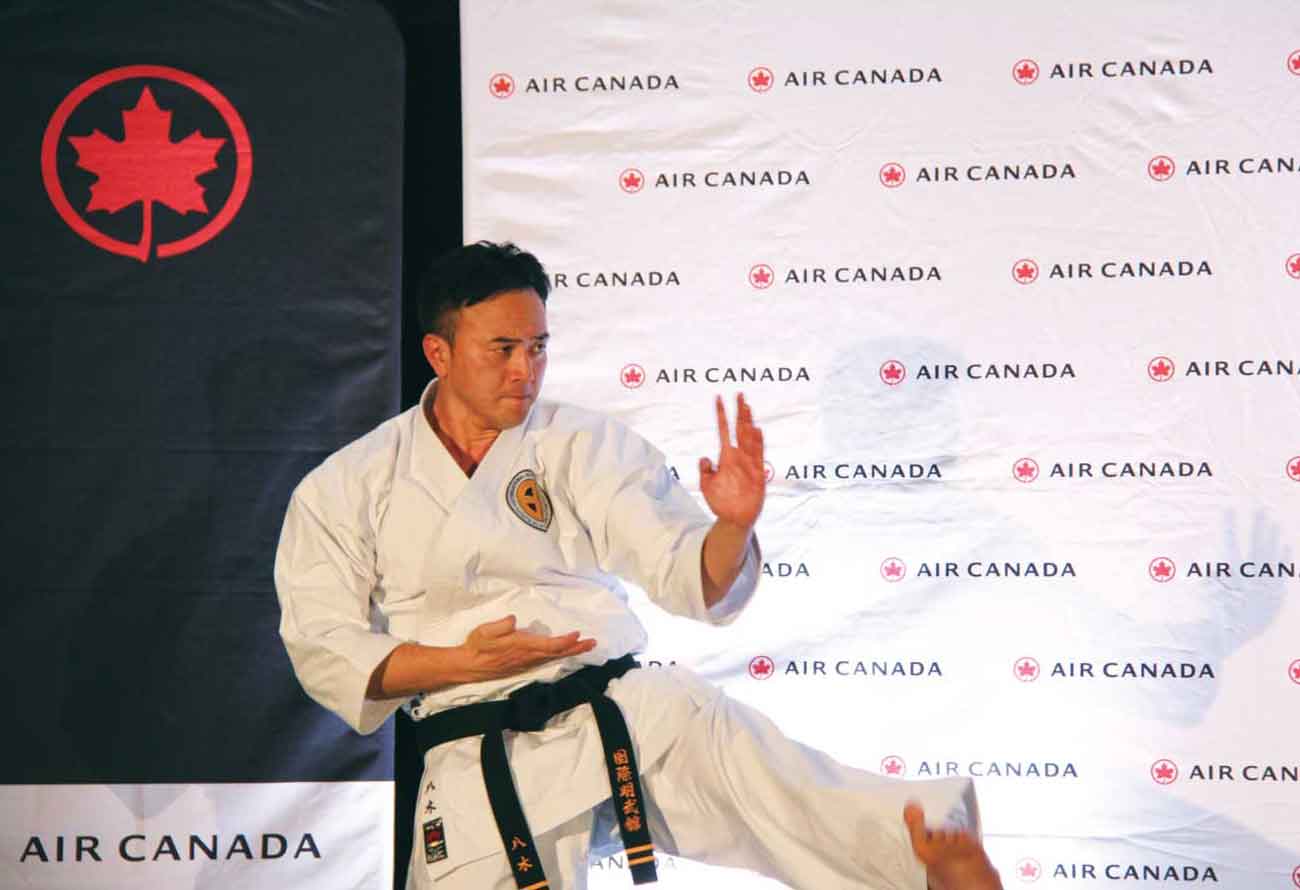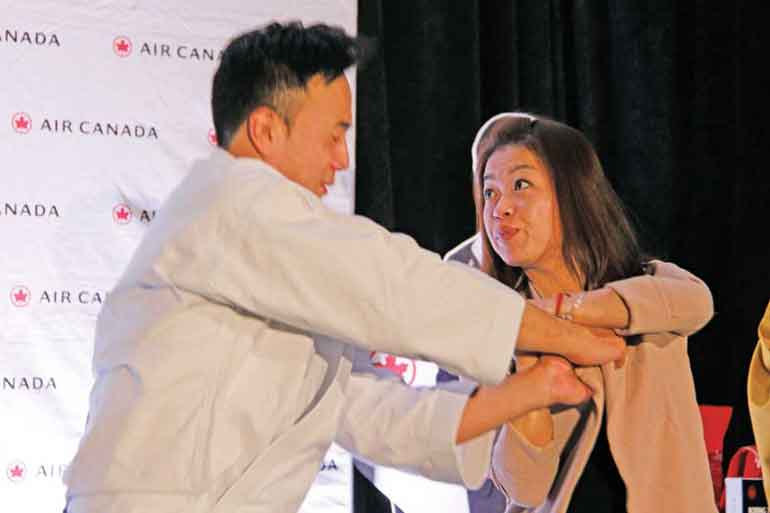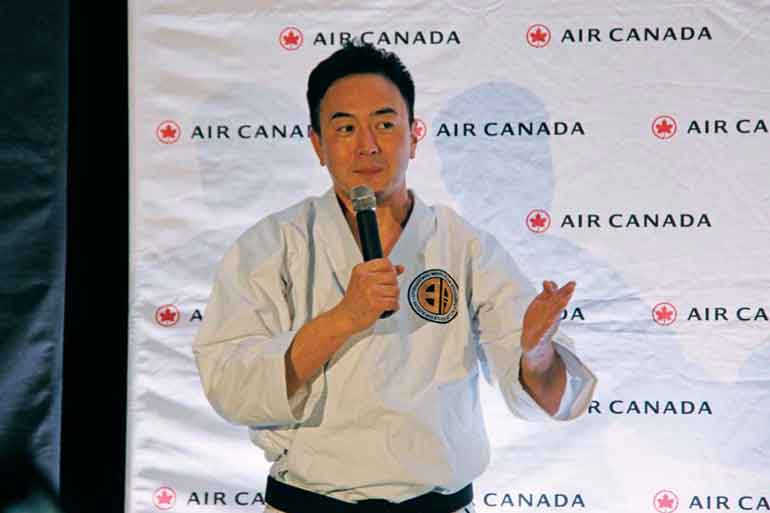 A karate expert, Akihito Yagi also joined the evening. Mr. Yagi who owns 8th grade of kyodhi in gōjū-ryū karate, currently teaches karate in 28 countries. When he was asked by characteristics of traditional Okinawan karate, he responded karate is martial arts and not sports. "It is for self-protection and train your mentality," he said. He demonstrated an art of self-defense while explaining moves in English.
Yokosai Dance Performance by Toronto Japanese Yosakoi dance group Sakuramai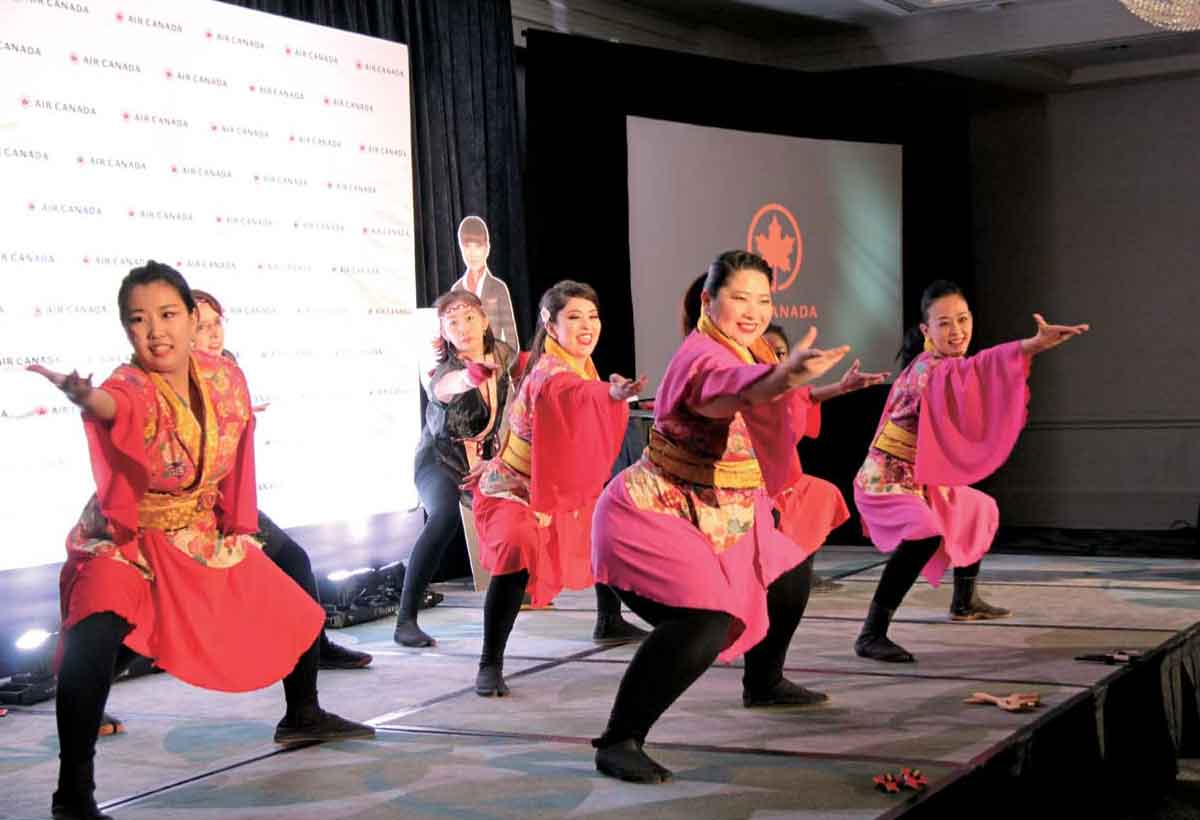 Following the demonstration by Mr. Yagi, a performance by Toronto Japanese Yosakoi dance group Sakuramai followed. The representative of the group, Ms. Yurika Hinkle said she was impressed by staffs of Air Canada joining the performance, and explained he picked an up-lifting song that matches the mood for the night. She also expressed her motivation to spread Yosakoi dance in Vancouver.
There were lectures and introduction on kimono and yukata, demonstration of yukata and quizzes on Japanese culture was held at the reception. Audiences joined the demonstration and it ended with many enjoying themselves at a celebratory event to mark the occasion.
Air Canada Japan Market Manager
Mark Hashimoto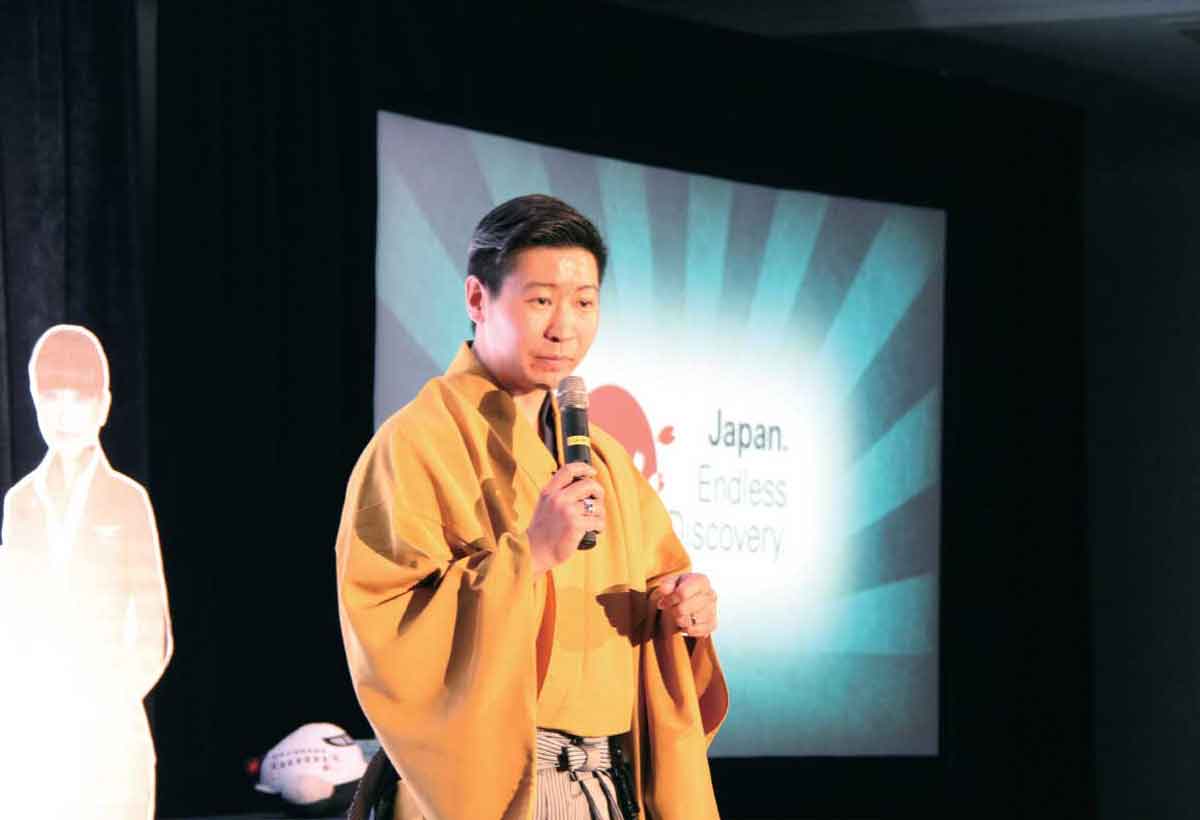 We are pleased to hold "Explore Osaka" event with JNTO tonight to celebrate our operation of direct flights from Vancouver to Osaka.
with around 100 representatives from travel industry tonight. Many tourists who visit Japan are familiar with big cities, but there are many cities in the country that have charms to be yet explored. What I wanted to share with you tonight are highlights of these cities. There are few tourists in countryside and I will keep on promoting these spots where you can enjoy experiencing Japanese tradition and culture.
From June to October, Air Canada's flagship Boeing 787 Dreamliner aircraft will be replacing Rouge and we hope you have more present flight. Our Boeing 787 Dreamliner is capable of lowering atmospheric pressure from 8000 feet to 6000 feet. It has positive effect such as suppressing fatigue, dryness and headache and also prevent jetlag. The lights adjustment and windows have been improved to be soft on your eyes, and the windows have dimmers.
Out premium economy class sears offer special amenity, priority services at airports, high-resolution touch screen and spacious seats and premium food. To offer premium services for customers at signature class (business class), we introduced "Air Canada Signature Service" which improves our international business class for customers' satisfaction,
The executive pod seats turn into full-flat bed with the seat length of 203.2cm and we offer welcoming champagne. The meal is prepared by award winning Canadian chef, Mr. David Hawksworth.
The direct flights do not require you to pick up luggage and we hope to offer comfortable flight for those who reside in Canada. For further information, please have a look at our website or contact local Japanese travel agencies.
(Japanese Article: エアカナダがバンクーバー・大阪直行便の就航決定!JNTO and Air Canada presents "Explore Osaka" 記念レセプション)