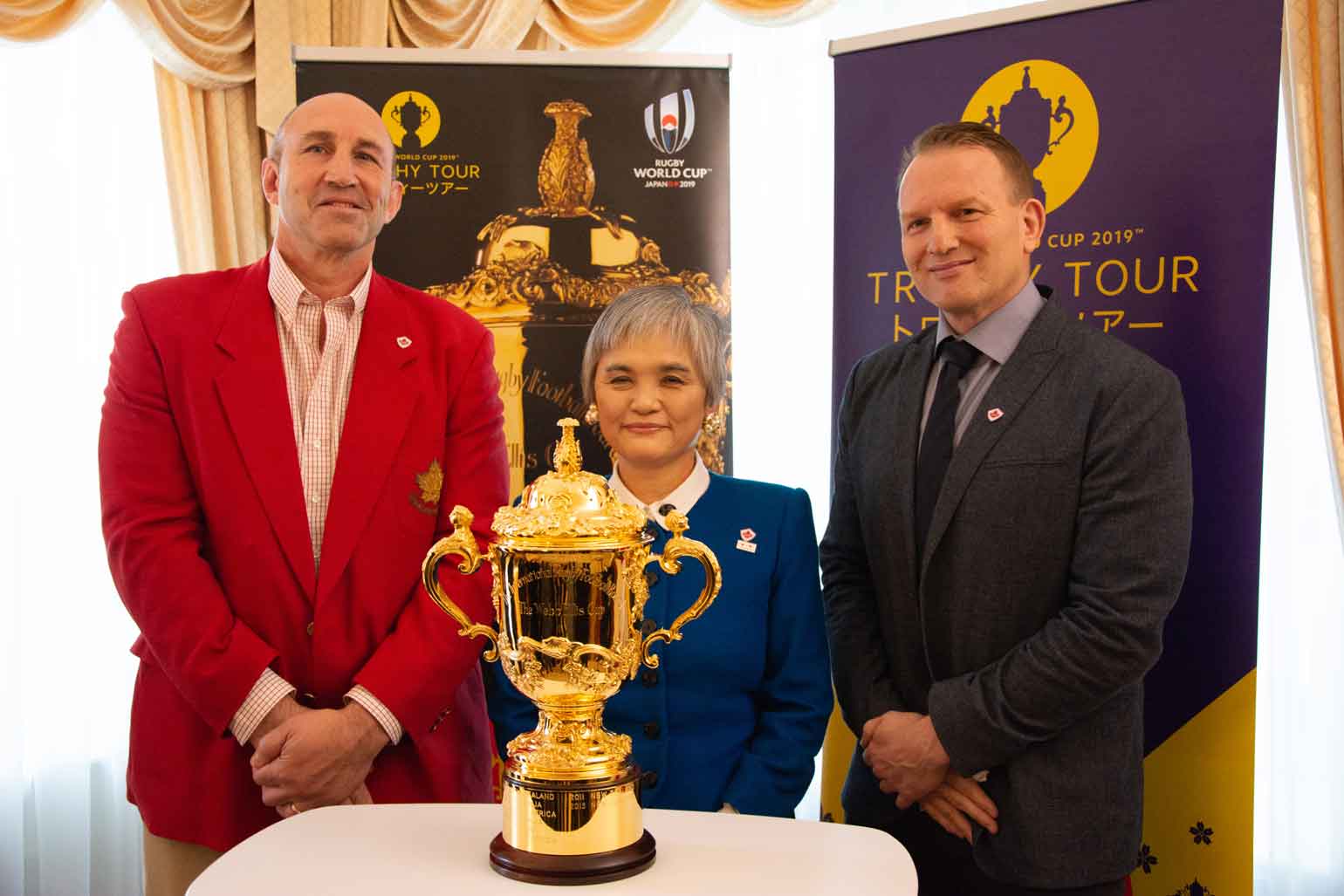 In anticipation of the Rugby World Cup 2019 Trophy Tour being held in Japan, a reception to celebrate the tournament was held at the official residence of the Consul-General of Japan on March 28, in the presence of the iconic Webb Ellis Trophy. Canadian players of rugby and other representatives of the sport and members of the media were invited to attend the reception celebrating and showcasing the trophy.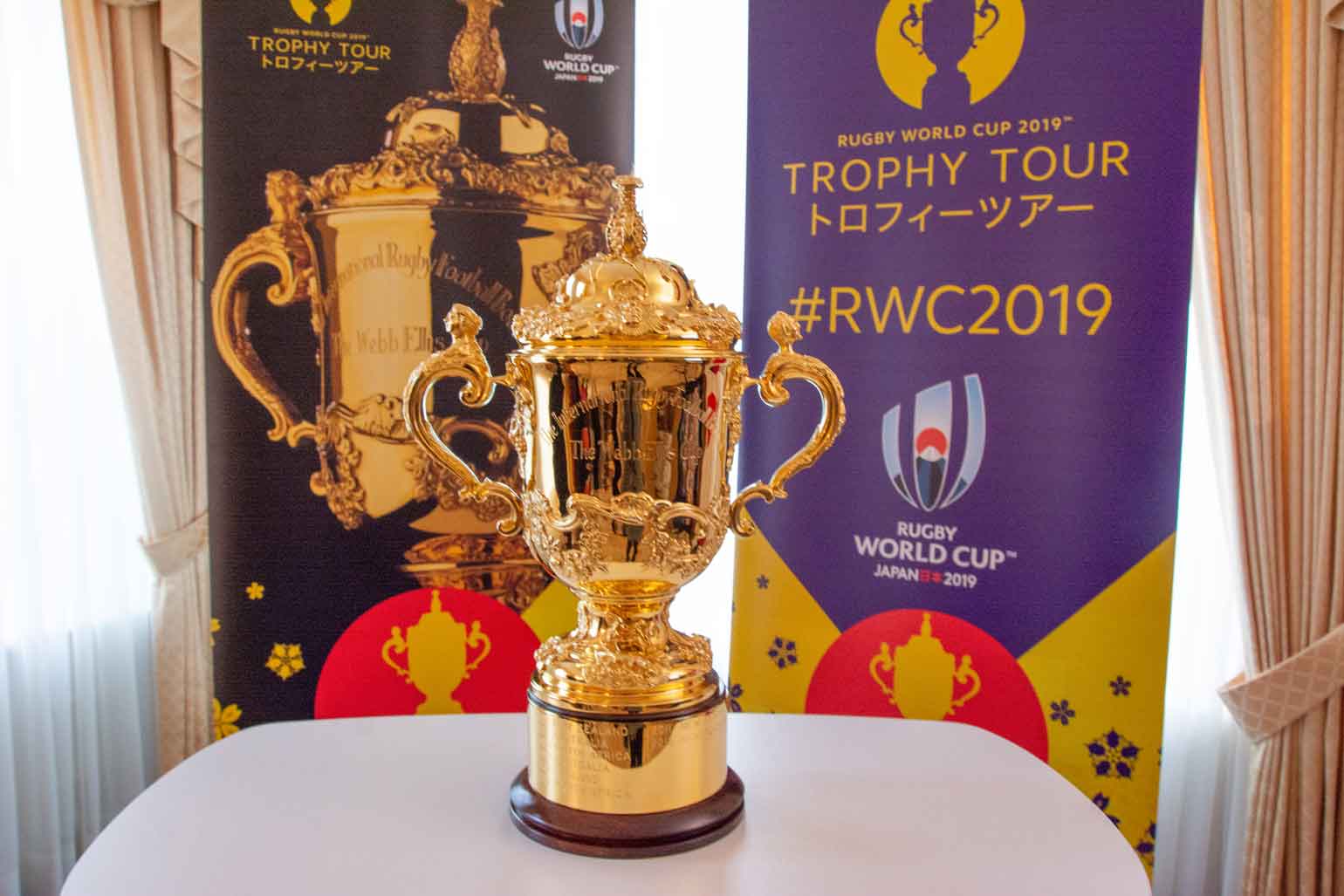 The Rugby World Cup will take place in Japan this year from September 20 to November 2. It will be the first time the tournament is held in Asia and also the first time for consecutive tournaments to be staged in the same hemisphere. The opening match of the event will take place at the Ajinomoto Stadium in Chōfu, Tokyo, and the final match will be held at the Nissan Stadium in Yokohama, Kanagawa Prefecture. 2019 is a big year for Japan, to be hosting Canada and other participating teams in this opportunity to foster friendship through rugby.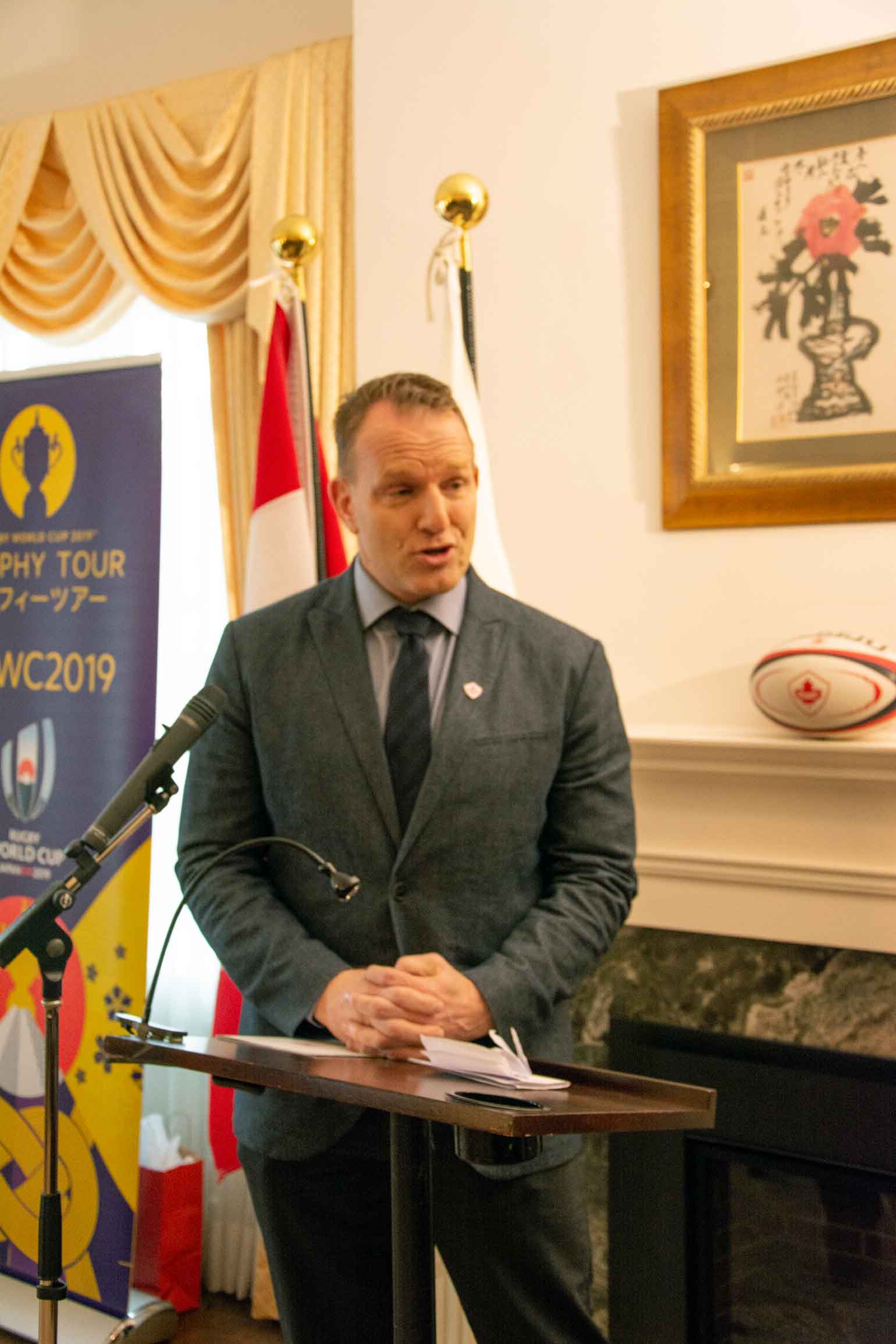 To mark the opening of the reception, Mr. Tim Powers, chairman of Rugby Canada's Director, expressed his gratitude to Ms. Ito for holding a celebratory event at her official residence and thanked the sponsors of World Cup, representatives of Rugby Canada and Rugby Ontario who were joining the evening.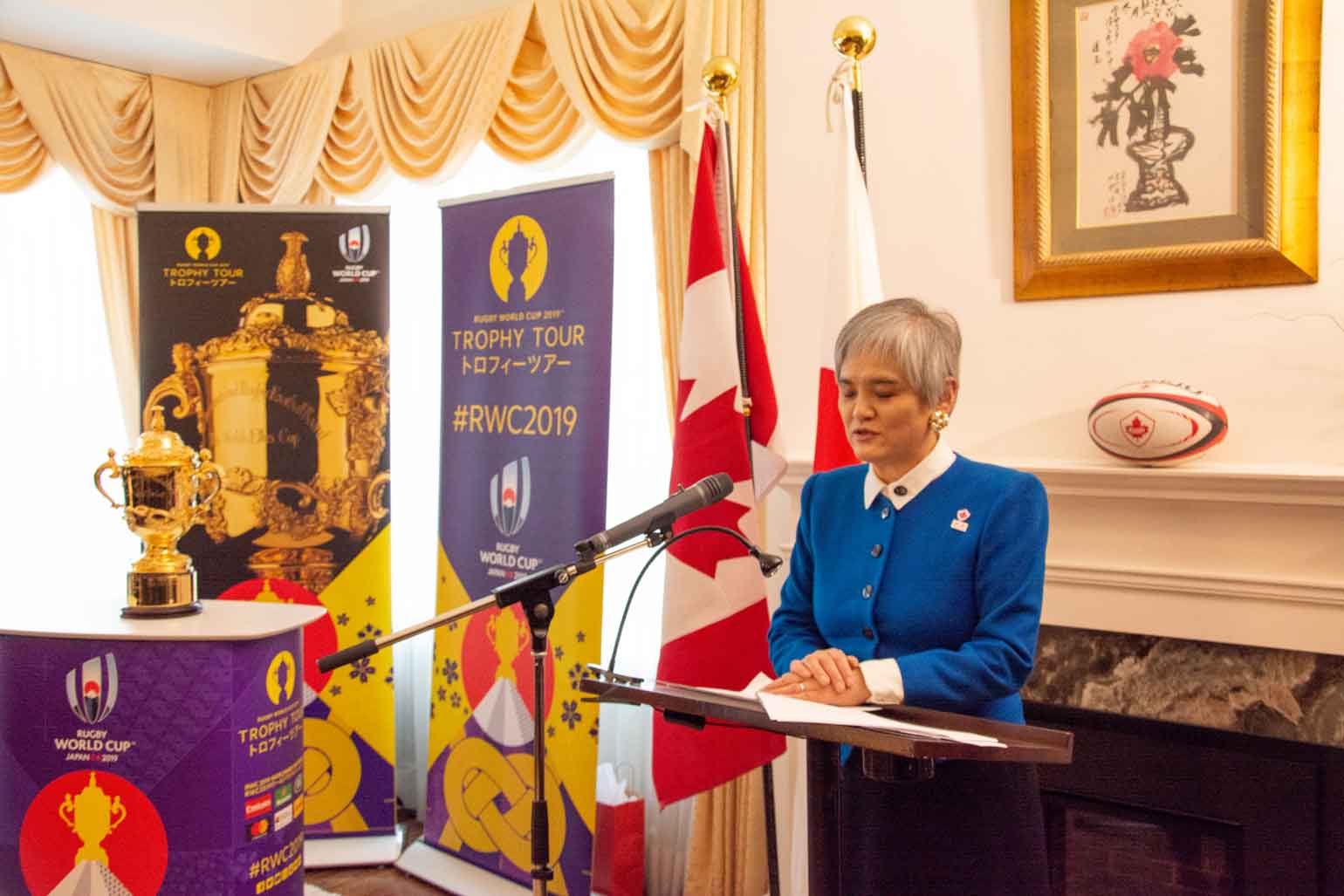 Following the remarks by Mr. Tim Powers, Ms. Ito shared her thoughts towards tournament being held in Japan. "Japan looks forward to host best players from around the world including my personal delight, those from Canada. Japan and Canada are in different pools for primary matches but I hope you cheer for both," Ms. Ito said. "This is a year for Japan new emperor ascend the throne on May 1st and begin new era, and Japan will also host the chair play G20 17th June, as well Seventh Tokyo International Conference on African Development (TICAD7) in August. It is a time for Japan to attract a great deal of attention from the world and providing world renown hospitality omotenashi."
She mentioned the Kamaishi city, located on the Sanriku rias coast in Iwate Prefecture, Japan: "During this year's world cup, there will be a match in the city of Kamaishi, in Iwate prefecture. Kamaishi suffered a loss of 11,000 people who have perished or gone missing because of the 311. In preparation for the world cup, the city of Kamaishi has brought the Kamaishi Unosumai Memorial Stadium. At the upcoming games the city would express its appreciation with tremendous support it received in Japan and from abroad for recovery efforts after the disaster. The fourth qualified match for Canada will be held at this stadium in Kamaishi." She suggested audiences to see the tournament as the opportunity to witness the remarkable revival of Japan's north eastern known as Tohoku.
Ms. Ito, also mentioned that Word Cup is a chance to learn of various charms which exist in various parts of Japan. "Each location which Canada's team will train and have its qualifying matches has its own charm," she said. She suggested to ask the representative from Japan National Tourism Organization, Mr. Yamashita, who recently produced a booklet for the Canadian team, about various charms in Japan.
She ended her speech by reminding the audiences to take this opportunity to have your picture taken with the Ellis Cup and use this photo as an opportunity to start a conversation about world cup with your friends and family, and that she greatly appreciates support in attracting attentions of Canadian to Japan.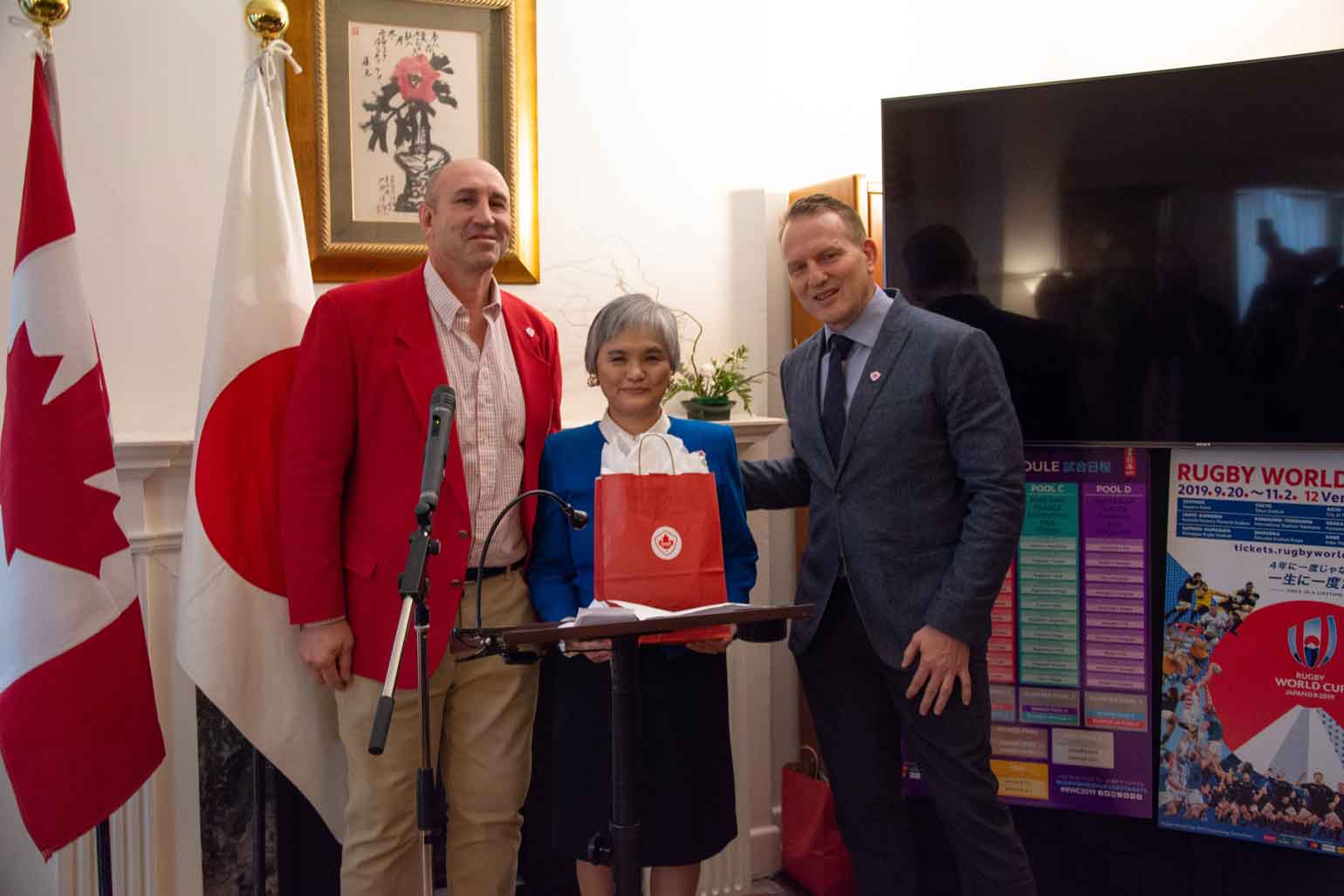 Chairman of Rugby Canada's Director, Mr. Tim Powers thanked Ms. Ito for hosting an event at a marvelous home, ambassador and embassy. "It's a big moment for Japan, not just for the world cup but for G7 and G20, and off course, for the Olympics. The next 2 and a half years are wonderful moments in history and we are looking forward to share that," he said. He congratulated Japan for the opportunity and wished the best of luck on behalf of Rugby Canada, and gifted Ms. Ito.
Al Charron, who became Canada's third inductee into the World Rugby Hall of Fame in 2017, raised his glass for toast, saying that "It's an honor and privilege to play for Canada, to be around a great event like this and celebrate World Cup taking place in Japan", and that "this is the closest I've been to the trophy" and is thankful, followed by laughter of the audiences.