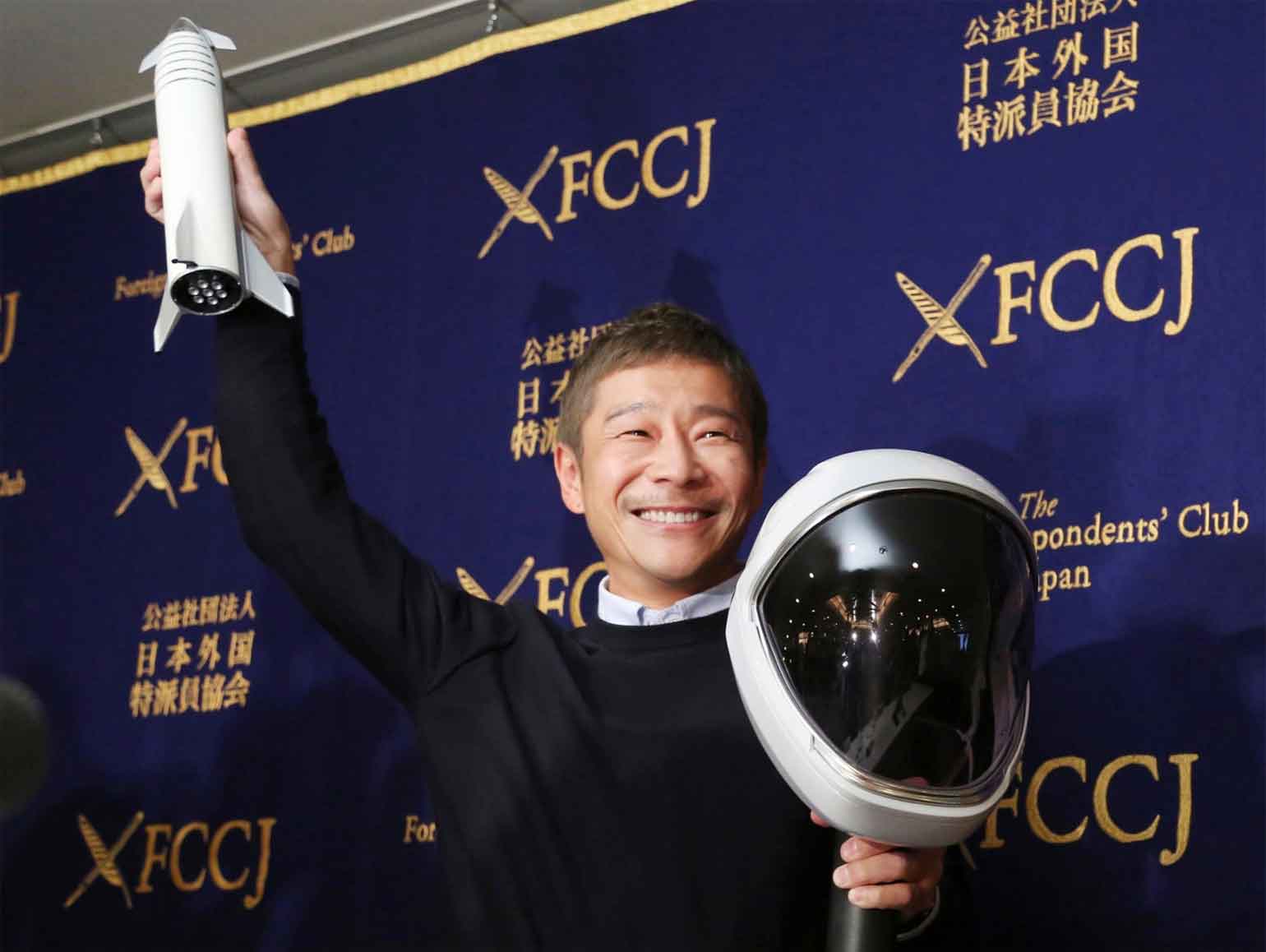 In September 2018, Japanese billionaire Yusaku Maezawa announced that he will be the first tourist to fly around the moon in 2023. He hosted reality show to search for the perfect candidate. However, last month, Maezawa decided to end the search due to "personal reasons".
How to perfectly manifest the statement that 'I love you to the moon and back'? Maezawa decided to show overflowing love for this unknown partner by treating the potential girl to physically visit the moon and back.
Maezawa is a Japanese entrepreneur and the founder of online fashion firm ZOZOTOWN, Japan's largest fashion retailer. According to Bloomberg Billionaires Index, Maezawa has a current net worth of 3.6 billion USD.
The trip was supposed to be provided by Space X, the rocket company of the billionaire Elon Musk. It will not be a surprise that the tickets are most likely costed him millions of dollars.
According to Business Insider, "The search for his life partner will be made into a series by Japanese streaming site Abema TV in what it describes as a 'serious matchmaking documentary,' and prospective candidates can apply via a website.
The deadline was on the 17 of last month, and there were over 20,000 people applied for the position. Maezawa made a post to list out the qualities that he is looking for at a partner. On the post, it says:
Application conditions:
Single women aged 20 or over
Bright personality and always positive
Interested in going into space and able to participate in the preparation for it
Want to enjoy life to the fullest
Be someone who wishes for world peace
The requirements are not the most difficult to achieve but Maezawa sure knows what he is looking for.
Some might wonder why he started the search for a partner, he said, ""I'm sure I've been able to acquire my share of money, social status, and fame along the way. But now I'm restarting my life. I'm 44 now. As feelings of loneliness and emptiness slowly begin to surge upon me, there's one thing that I think about: continuing to love one woman," according to Business Insider.
According to CNBC, Maezawa also apologized to the Abema TV staffs, the broadcast that was preparing for the documentary, that he was "truly sorry from the bottom of the heart".
Unfortunately, the search ended before it started. Maezawa said he stopped looking for a partner due to 'personal reasons' and apologized to the public via twitter. He added that "To think that 27,722 women, with earnest intentions and courage, had used their precious time to apply makes me feel extremely remorseful to conclude and inform everyone with this selfish decision of mine."
According to New York Times, it is still unclear that if he is going on the trip alone or during the application process, he was able to find love outside of the 27 thousand applicants.
In the beginning of the year, Maezawa generously gave away 9.1 million USD to his twitter follower. Soon after he launched another smaller giveaway that over another million Japanese yen to 20 people.
This gentleman genuinely has too much money in hand and want to share it to the world. However, instead of just giving away money, maybe donating to a reliable charity can have a better effect. Through the qualities that he is looking for in a candidate, at least we understand that this man knows money cannot buy world peace. Maybe he thinks that visiting the moon can help creating a more peaceful world?