Have you ever questioned why all English songs are sung by non-Asians? 88rising sees Asian minority in the English music industry and created a platform primarily for Asian American and Asian artists who release music in the United States.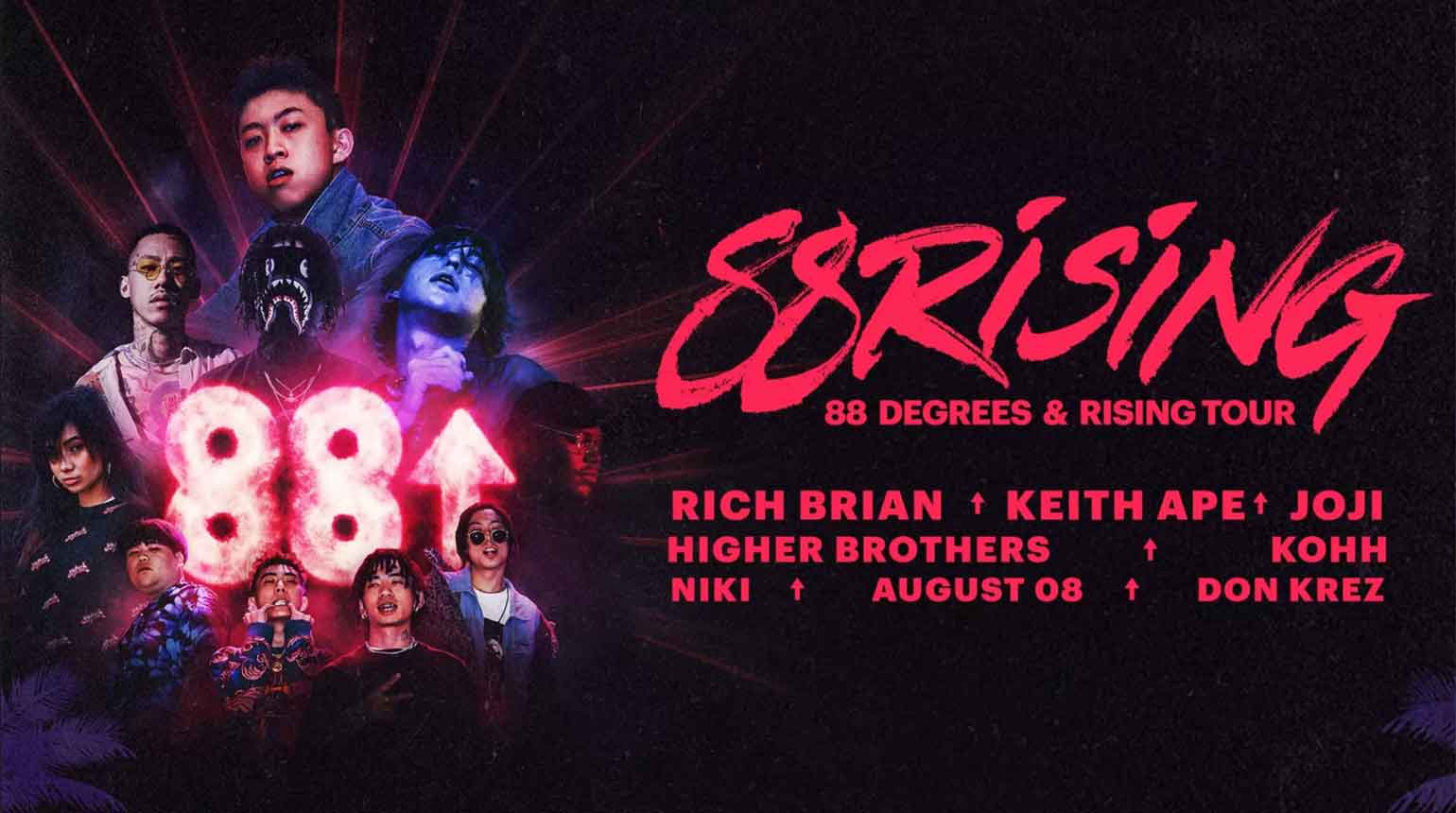 88rising, was formerly known as CXSHXNLY, is an American mass media company that was founded by Sean Miyashiro. The founded described the company as a "hybrid management, record label, video production, and marketing company." Their famous artists include NIKI, Keith Ape, Rich Brian, Joji and Higher Brothers.
According to a New Yorker article, Miyashiro spotted the growth of hip hop in Asia, which for decades it has been central to young Americans' understanding of what is cool. The article said that he "wanted to document that culture, but he wanted to make things that shaped it."
The article mentioned 88rising's collaboration with Kris Wu, a famous Asian rapper, actor, singer and model, who is twenty-seven, grew up in Canada and in China. Wu and Miyashiro worked with Travis Scott and release the first single "Deserve". According to the article, "Wu and Scott list the various forms of attention that their women warrant, including a spot on a club's guest list, a French kiss and the song itself."
The song blew up. Wu was the first Chinese artist ever to top iTunes' rap charts, and the second Asian, after Psy whose "Gangnam Styles" was a novelty hit in 2012.
During an interview with pitchfork (please excuse the language), Miyashiro explained his aim for promoting the Asian music is because "There's some fly Asian shit out there, but no one can tangibly give you an example," Miyashiro says. "That's insane, when you're talking about fucking two billion people, and people in the West can't be like, 'That's fucking dope.'"
Miyashiro mentioned that many music want to infiltrate the Asia market however they could not find a way. Yet here, 88rising is being notice in Asia, especially in China, Korea and Japan. Miyashiro said that "a lot of American artist that we grew up liking are collaborating with us to learn how to get over there." He mentioned how his company brought Skrillex to Korea to work with underground musician with the biggest pop star. He concludes that the experience was a good testament to where his company plays into "this whole creative kingdom", adding that his company helps facilitate, as well as create their own music. He emphasized that he wants to "keep the real culture", there's been no crew doing what his company has been doing and now his company has to take on this responsibility to make Asian hip hop something that is tangible and long-lasting.
According to New Yorker, 88 means happiness in Chinese, which as a Chinese I always thought that 8 means fortune, and 88 means doubling the fortune. Maybe I have been falsely educated my entire life but if you have double fortune, I guess that means you have happiness?
The company also owns an online merchant store called 88nightmaket. The following is their biography:
We grew up on the streets of night markets – from Chinatowns to China towns and every Asian neighborhood in between. They're special to us because they're made of the best things that represent our people. Night markets can even take some credit for being the reason we love the things we love about food, clothing, video games, and pretty much everything else we care about. Now we're on a journey around the globe to share all of our peoples' stories, artworks, creations and capture it all in one place.
Writer's choice
If you have never heard of any of the 88rising songs, here are some personal recommendations.
I love 3000
Yes, the avenger caption caught my attention, so did Jackson Wong's voice. HK represent!

History
One of the top hit on Spotify. I was looping this song after a heartbreak so here to you shattered pieces out there.
Midsummer Madness
The name itself strongly alludes to Summertime Sadness. They both play on a mellow tune but I think this one is just more appropriate after a jot.
Peach Jam
This list is a combination of different style of hip hop songs. Compare to the previous songs, peach jam is more cutesy.
Warpaint
Hip hop does not always have to be about make love, make out or make money. Sometimes, it can also be empowering like this song.