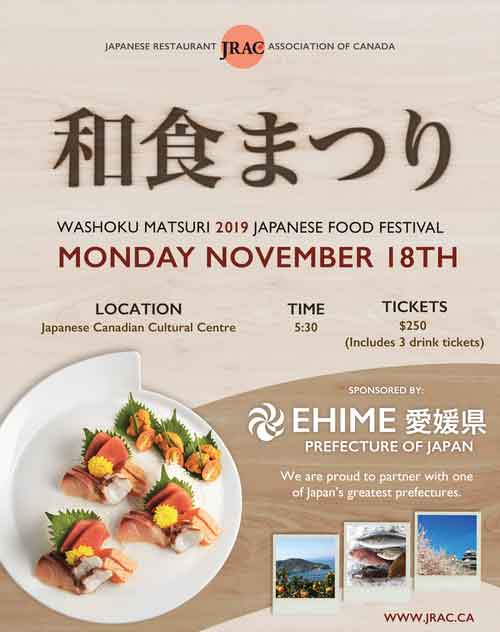 This year the Washoku Matsuri will again assemble some of the top Japanese chefs in Canada to personally serve you authentic signature Japanese dishes that has captivated foodies and culinary experts alike. As with last year, we are proud to partner with Japan's legendary prefecture: EHIME. Ehime translates to "lovely princess".  It's coastline protected by the Seto in-land sea, Ehime is famous for its superior quality seafood, delicious fruits and beverages that pair with the best dishes. The chefs of JRAC will showcase Ehime's beautiful and delicious natural bounty to all in attendance.
As part of the evening, you will enjoy a fantastic line-up of premium Japanese sakes, shochu and beers (national import brands as well as several Japanese craft microbrew beers) to pair with the wonderful dishes and experience traditional arts for entertainment like Taiko demonstrations, as you taste exquisite dishes from all the chefs.
LOCATION

Japanese Canadian Cultural Centre
JCCC Kobayashi Hall | 6 Garamond Court | Toronto
TIME

5:30 PM – Reception/Demonstrations/ Hors D'Oeuvres
7:00 PM – Dinner
9:00 PM – Last Call (for Alcohol)
10:00 PM – Event Finish
TICKETS

$250* (Includes 3 drink tickets)
Tickets are available for purchase ONLINE 
Ticket holders must be 19 years or older.
*subject to availability
**Regrettably, we cannot accept special meal requests due to allergies.
Information & Tickets
https://www.jrac.ca/news-washoku-2019
Food and Ingredients from Ehime: A Promotion Luncheon 2018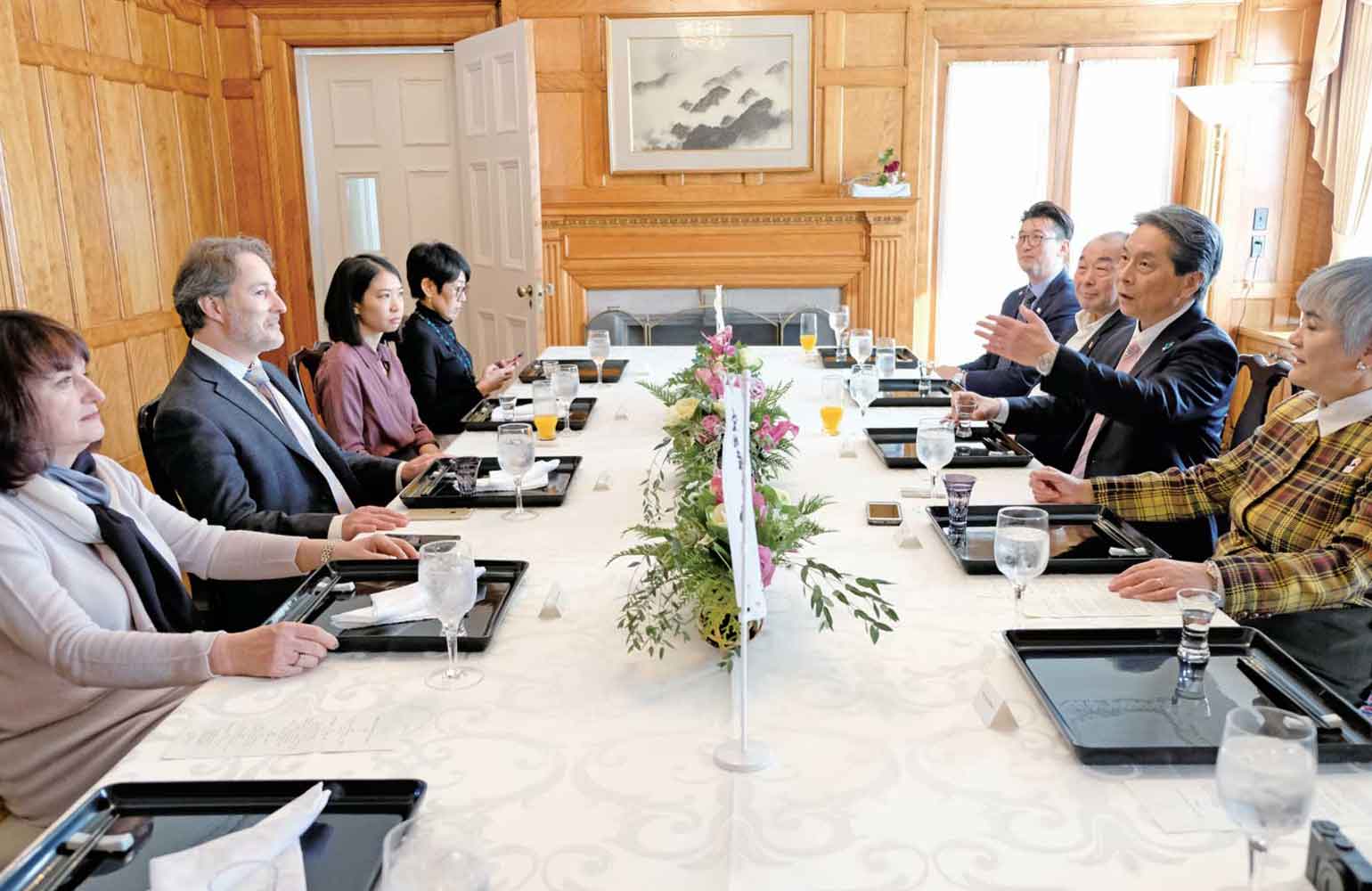 On November 6, a luncheon promoting the foods and ingredients of Ehime was hosted at the official residence of Consul-General of Japan, Takako Ito. As the luncheon was targeted towards those involved media, journalists from the Food & Drink Magazine, Lucy Waverman and Ann Hui from The Globe and Mail, Adam Waxman from DINE MAGAZINE and Nancy Matsumoto, who writes for magazines such as Air Canada's En Route, attended the luncheon.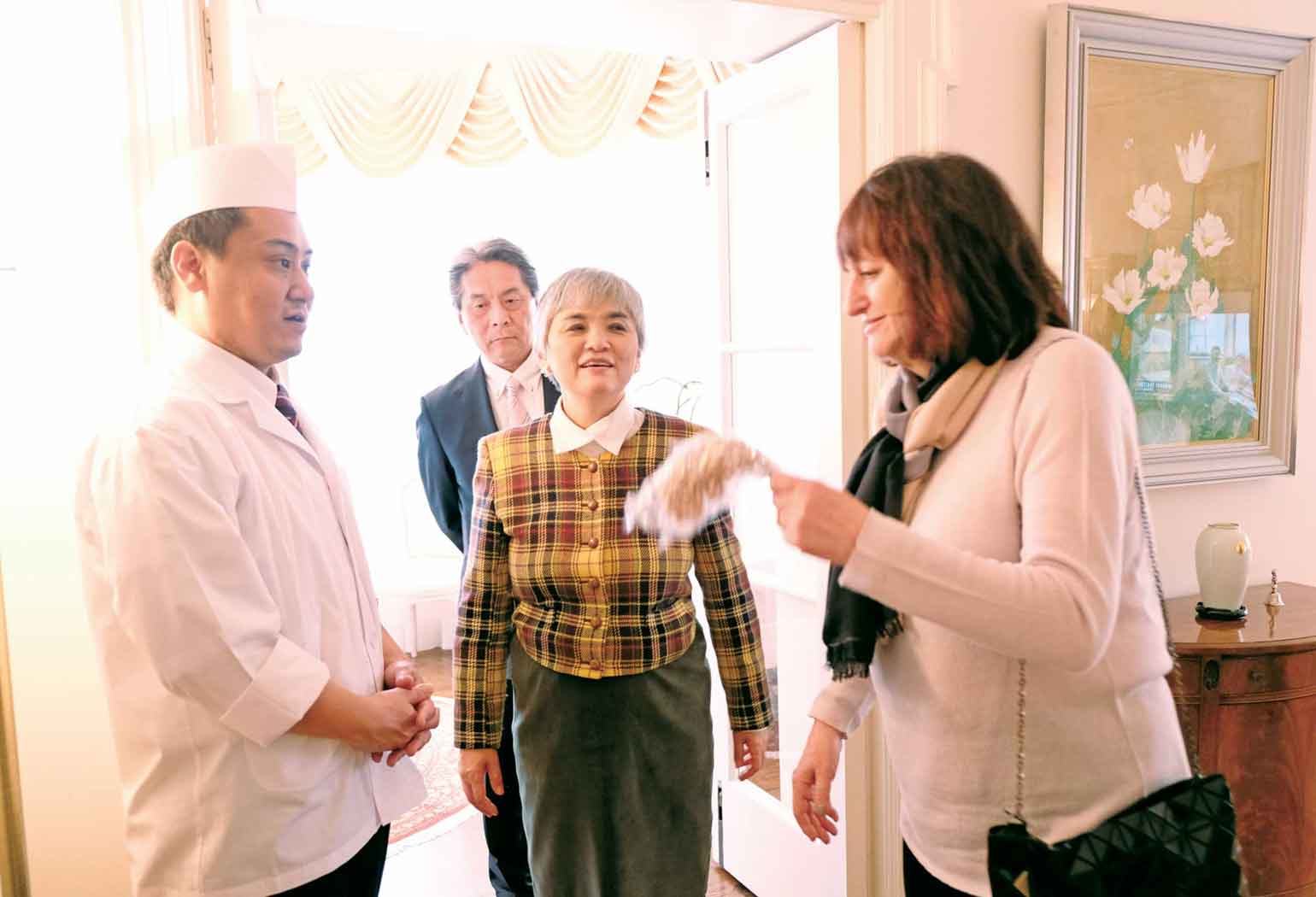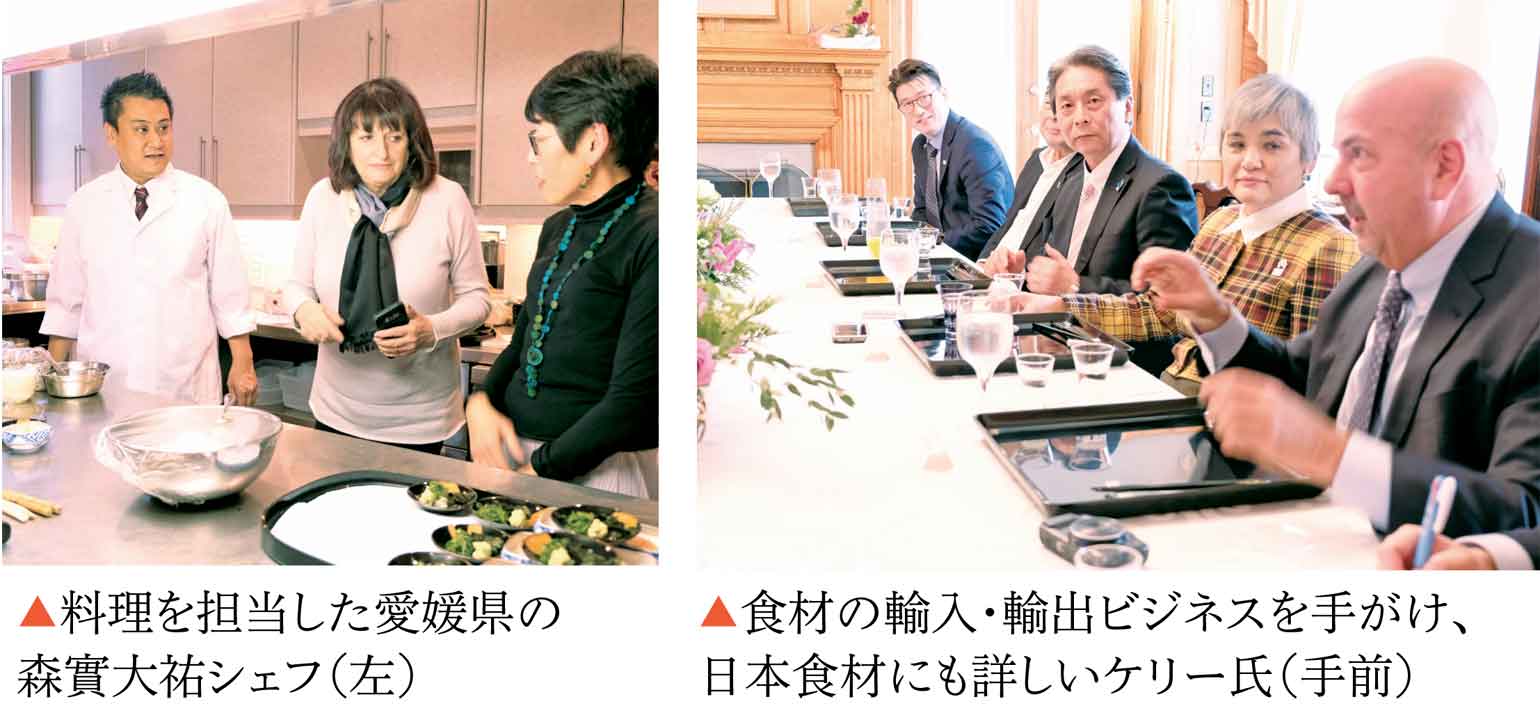 After Consul-General Takako Ito described briefly about the objectives of the event and the prefecture of Ehime, Mr. Ryuji Tadokoro, who is in charge of the Department of Agriculture, Forestry and Fisheries at Ehime, introduced the foods of Ehime to the group. He also elaborated on how cultured fish such as mikan-buri (yellowtail, or buri, that has been fed tangerines, or mikan) is produced based on scientific research, and on the characteristics of the citrus fruits and vegetables of Ehime, including Hime-Oh, the local mushroom.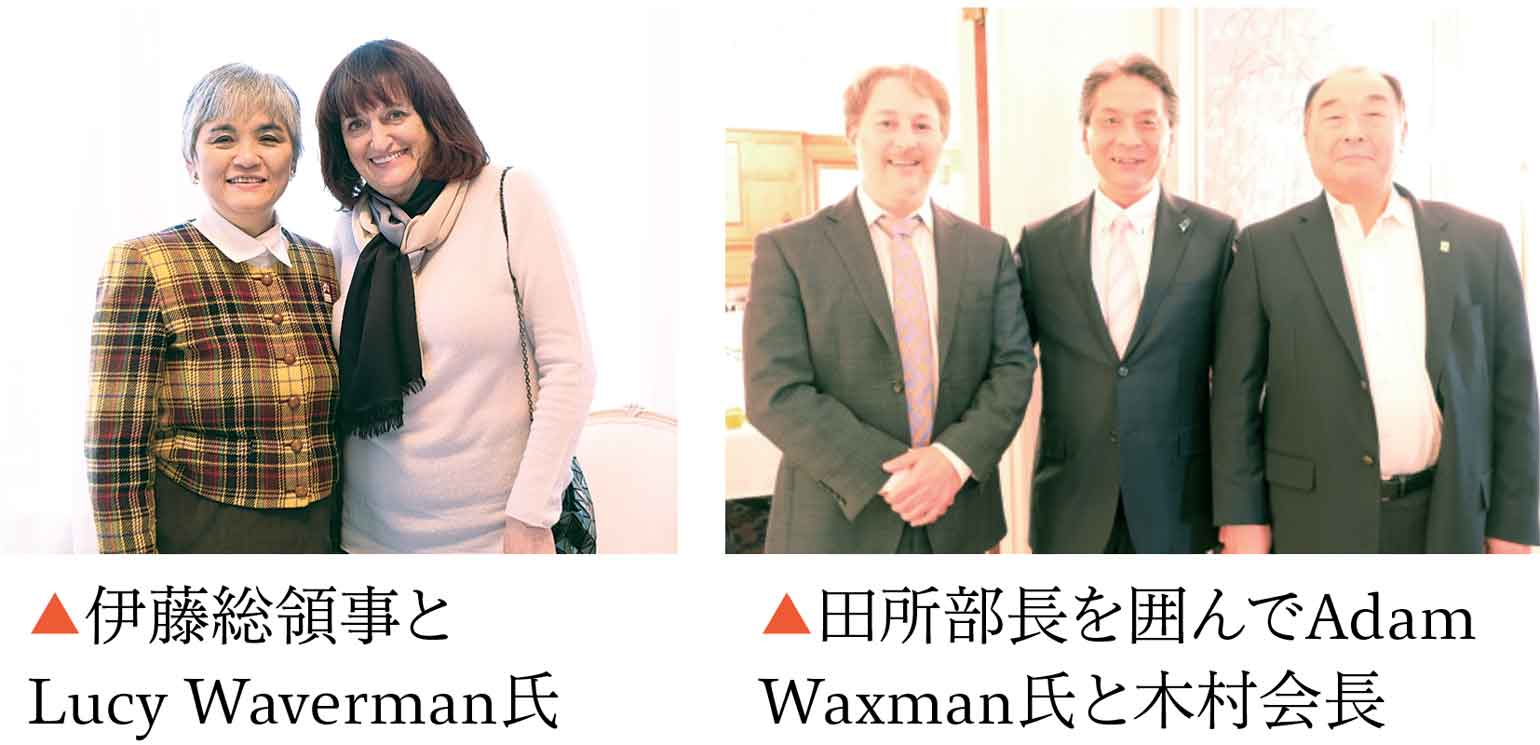 The attendees of the event enjoyed sake from Ehime, Ishizuchi, along with their meal, while admiring the beauty and technique of the dishes. Further, they exchanged their views on promoting the food of Ehime throughout Canada, making it a productive luncheon.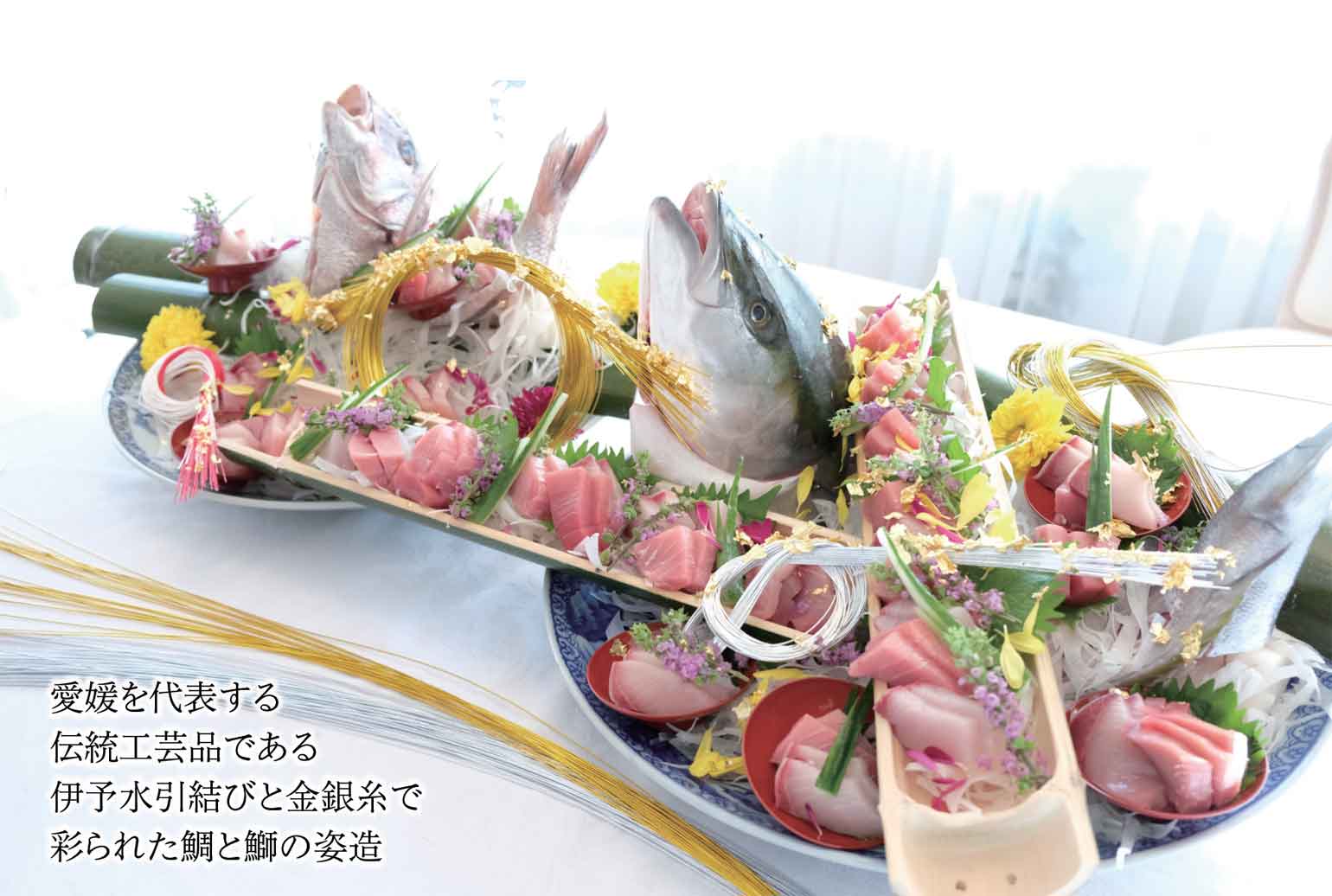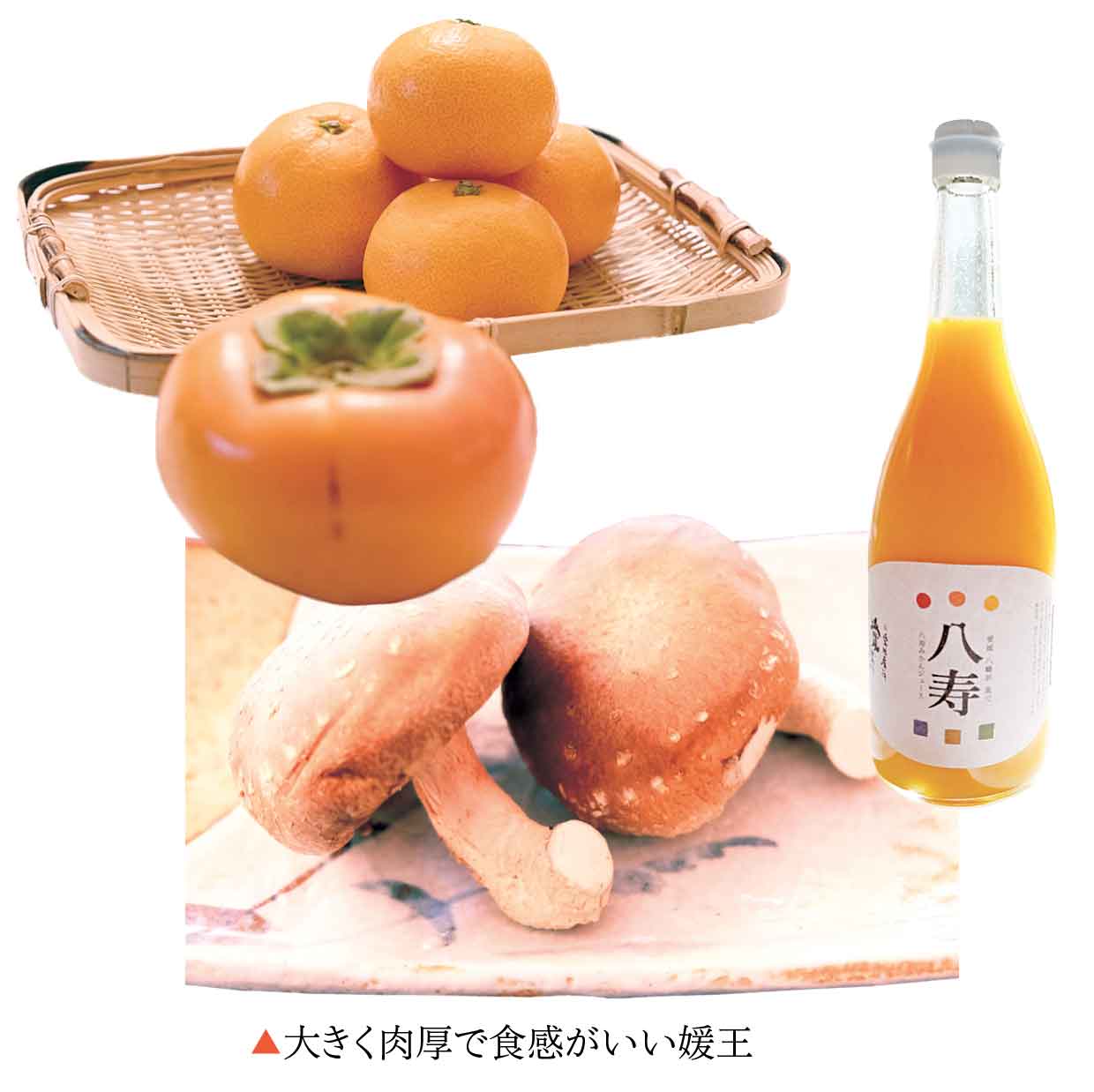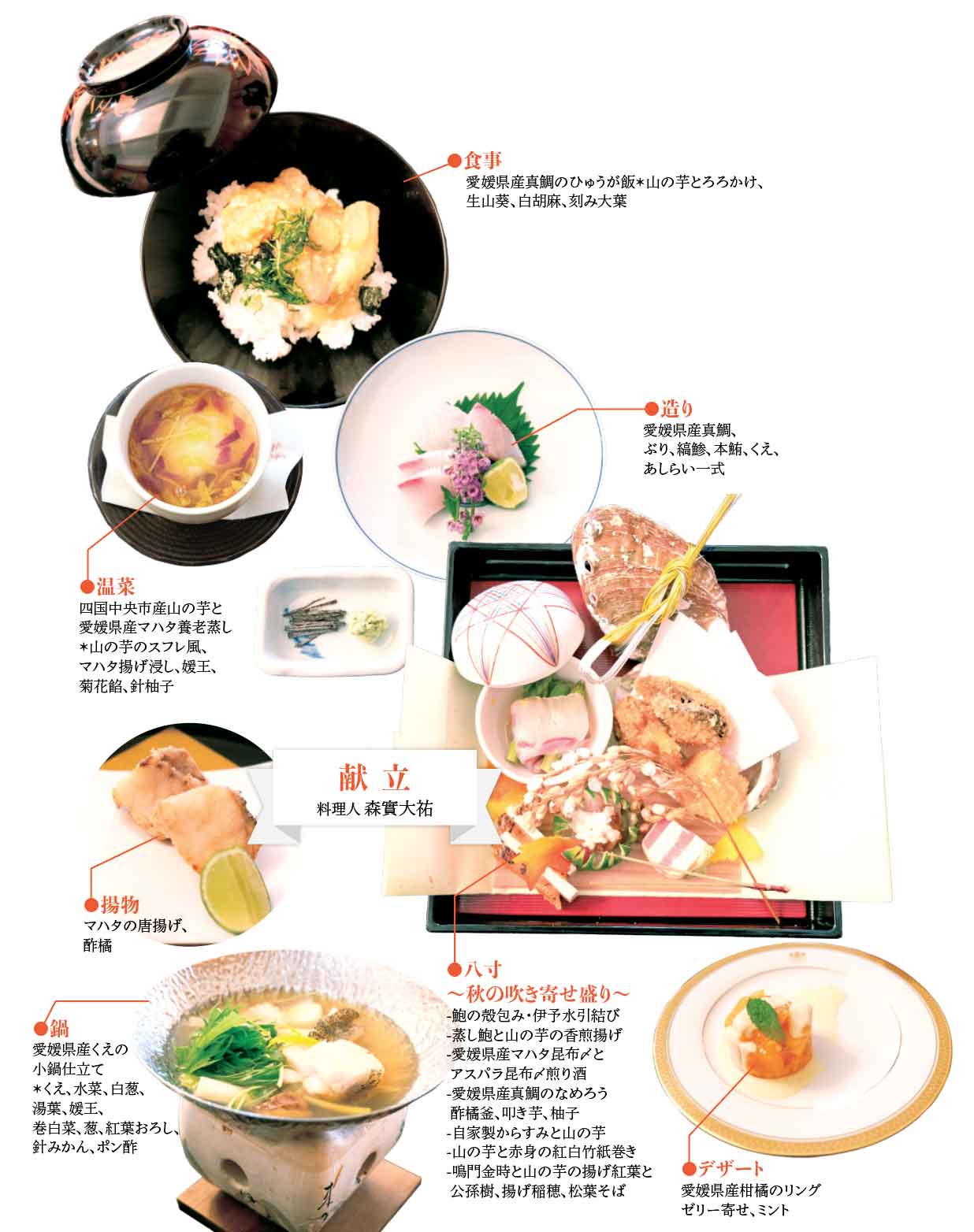 Menu by: Chef Daisuke Morizane
Rice: Hyuga-meshi with red sea bream (madai) from Ehime. Served with grated yam, fresh wasabi, white sesame and chopped peril
Sashimi: Red Sea bream from Ehime, yellowtail (buri), striped jack (shima-aji), bluefin tuna (hon-maguro), long tooth grouper (kue)
Warm dish: Yoro-mushi with yam from Shikoku-chuo city and mahata from Ehime. Served with yam, deep-fried mahata, Hime-Oh
Fried dish: deep-fried mahata, sudachi
Small dishes—dishes for the fall:
—Abalone with Iyo mizuhiki-musubi
—Steamed abalone with fried yam
—Marinated mahata and sake made with marinated asparagus
—Chopped red sea bream with sudachi, potato and yuzu citrus
—Homemade dried mullet roe with yam
—Yam and akami fish wrapped in kouhaku (red and white) bamboo paper
—Naruto Kintoki and yam along with fried maple and gingko, fried ear of rice, Matsuba soba
Hot pot: Small hot pot with long tooth grouper (kue). Served with kue, mizuna lettuce, white scallion, yuba, Hime-Oh, Napa cabbage, scallion, flavoured grated radish, mikan, ponzu (citrus-based sauce)
Dessert: a ring of citrus from Ehime. Served with jelly and mint
(Japanese Article: トロント総領事館公邸にて愛媛県食材プロモーション昼食会 開催)