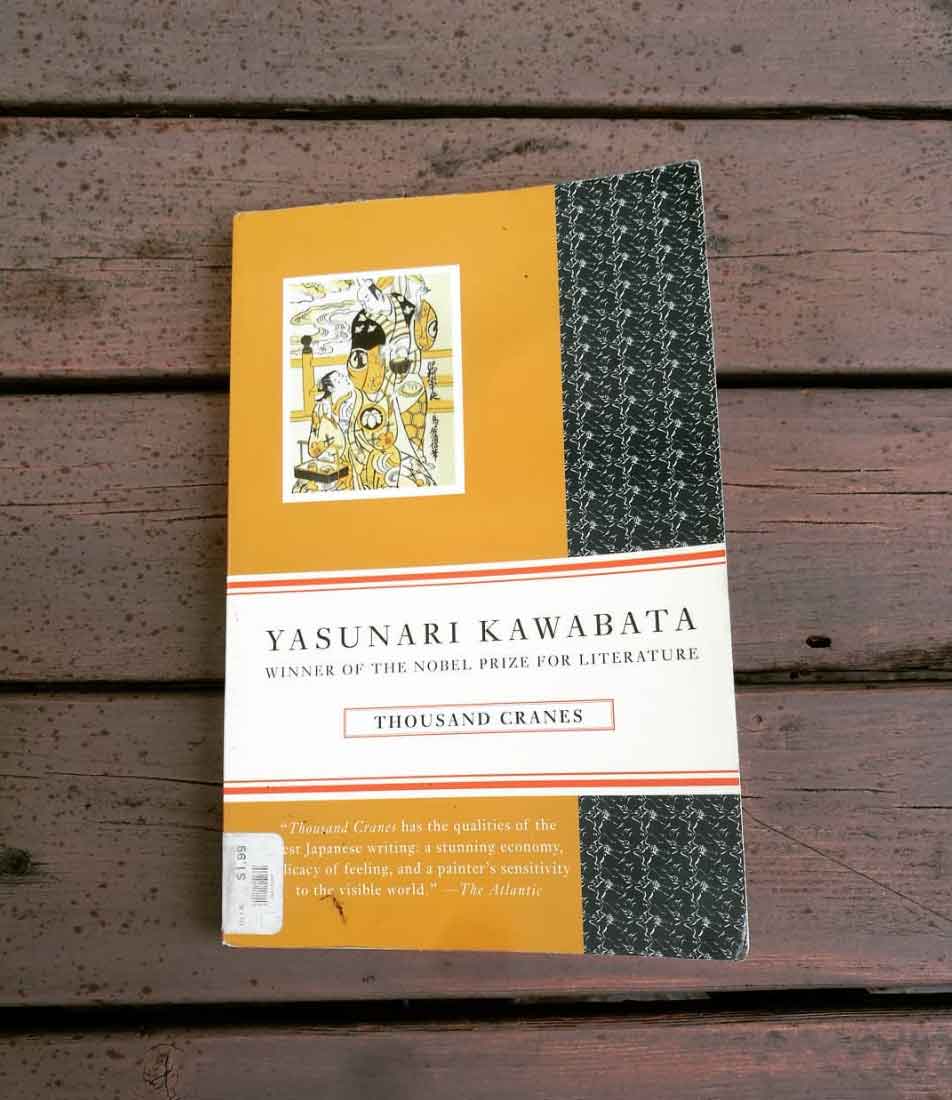 Chikako was once Kikuji's father's plaything (Kikuji's father, deceased in the novel, was a Japanese man of leisure with a reputation in tea ceremony). Kikuji remembers going with his father to Chikako's home as a child and seeing her with her kimono half-open, "cutting the hair on her birthmark with a small pair of scissors" (a great example of the ugly in Kawabata). His father's affair with her ends after a short time, but the image of her giant, repulsive birthmark  clings stubbornly throughout the novel, mirroring the old and neutered Chikako, whose life festers with a venomous ressentiment.

As the novel begins, Kikuji is on his way to a tea ceremony that Chikako is hosting. Chikako lures him in with the promise of introducing him to a girl. The Inamura girl, who, with her kerchief with a thousand cranes, is beauty, much like Yoko in Snow Country. Is the neuter and venomous Chikako choosing her successor in the pure and clean Inamura girl?

At the tea ceremony, Kikuji meets Mrs. Ota and her daughter. Mrs. Ota replaced Chikako in his father's life, and was his mistress to the end of his life. In Kikuji Mrs. Ota sees his father, and they become lovers.
Kikuji experiences something akin to a youthful sexual awakening in his experience: "He usually wanted to make his departure roughly; but today it was as though for the first time someone was warmly near him and he was drifting willingly along. He had not until then seen how the wave of woman followed after. Giving his body to the wave, he even felt a satisfaction as of drowsing off in triumph, the conqueror whose feet were being washed by a slave." (p. 29).
Chikako interferes again, and her venom (indirectly) leads to the suicide of her old rival, who succumbs to guilt and shame at her relationship with Kikuji. Kikuji discovers in the daughter something of the mother, and an intimacy warms from between them–and the old drama between Kikuji's father, Mrs. Ota, and Chikako move on in the bodies of their new owners through the ancient ritual of the tea ceremony.
However, unlike the tea utensils that they use–the tea bowls from Old Masters of several centuries past–these new hosts are not so easily prone to manipulation: these bodies are modern subjects that possess a subversive agency, while the tea bowls are passed around with their strange careers, imprinted with the histories of their old owners.
It is interesting to see how modernity, post-war Japan, is suggested in Kawabata's work. Kikuji is a salaryman who works in an office. He does not care for the tea ceremony. Mrs. Ota's daughter looks for work after her mother's death, like the other Japanese women entered the labour market. Kikuji considers selling his house, as housing and land is also becoming commodified.
#yasunarikawabata #kawabata#teaceremony #thousandcranes#nobelprizeforliterature #nobelprize#japaneseliterature #japaneseculture#japan #book #books #bookstagram#read #reader #alwaysteading#instabooks #instareads #goodreads#booklover #bookporn #bookaholic#reading #igreads #bookreview#bibliophile