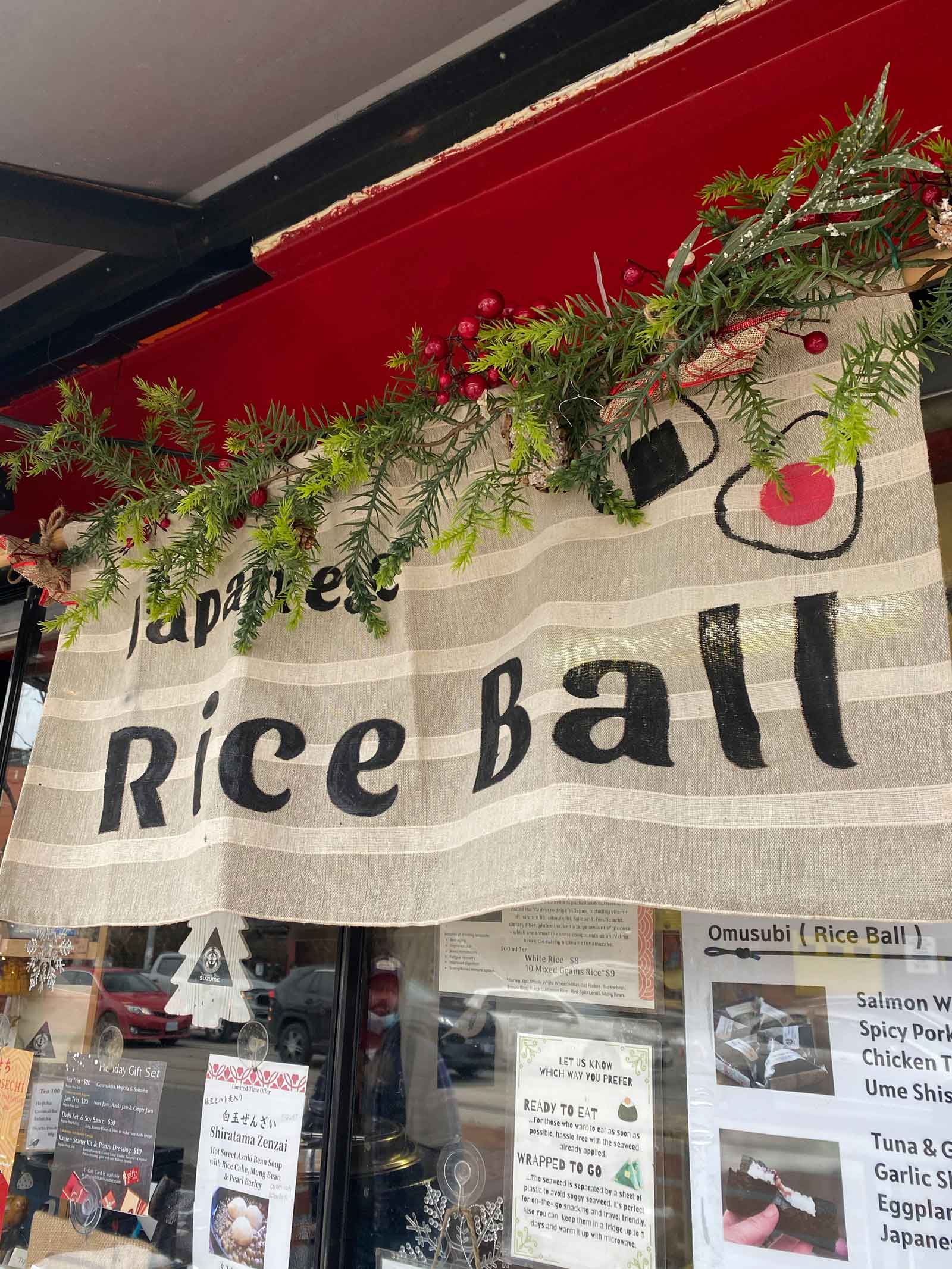 Have you ever had Japanese rice ball called "Onigiri" ? For those who are unfamiliar, Onigiri (おにぎり), also known as omusubi (おむすび), nigirimeshi (握り飯), or rice ball is a Japanese food made from white rice, formed into triangular shapes and often wrapped in seaweed called nori (海苔).
Although the one seen in the famous scene of the Studio Ghibli film, "Spirited Away" ― Haku makes some onigiri for Chihiro to encourage her after she'd had a rough day, and Chihiro stuffs her face with rice as sobbing, oh, so touching ― is simply made with plain white rice and salt, it's normally filled with some salty, savory fillings like salted salmon, pickled plum, teriyaki chicken and MORE.
It's highly portable and can be eaten by hand, so it's been eaten as fast food, school/work lunch, or snacks in Japan from ancient times to the present day.
"Onigiri" is one of the most beloved and best-selling convenience store products in Japan and comes in an astonishingly wide variety of flavors.
I wish that more people were aware of onigiri, as other Japanese meals are known in the West because it's gluten-free, and depending on the filling, it can also be a vegan food. More people can enjoy sharing the same experience with their loved ones.
So today I'd like to introduce my go-to onigiri shop in Toronto.
Omusubi bar Suzume
Suzume's closest intersection is Bathurst and Dundas. (check below for the exact location on the map.) She serves rice balls and other Japanese comfort food out of a shipping container in a market called Market 707 where you can enjoy authentic food from around the world.
↓↓↓↓
She makes traditional onigiri fillings including Ume (pickled plum), salmon, but also her original fillings like garlic shitake mushroom, Japanese sweet potato are loved by many people as well.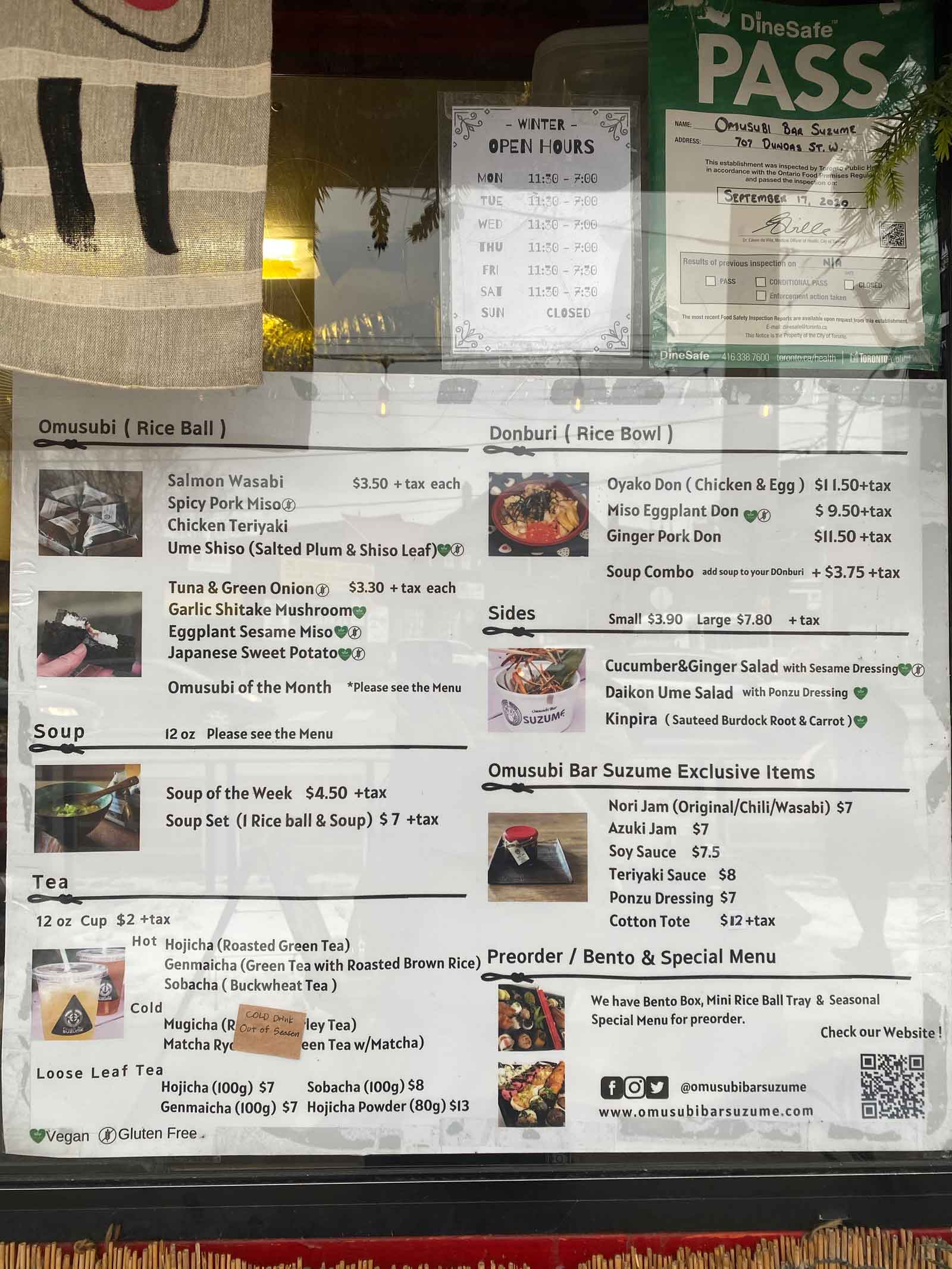 You can't miss out her Omusubi of the Month!
In October, she had "Kabocha squash walnut miso" which shows her originality and the skill of making the neat balance of the taste.
A little sweetness of the kabocha squash, the savouriness of miso, of course, goes well with rice, and the addition of walnut that added a pleasant nuttiness. Tip my hat.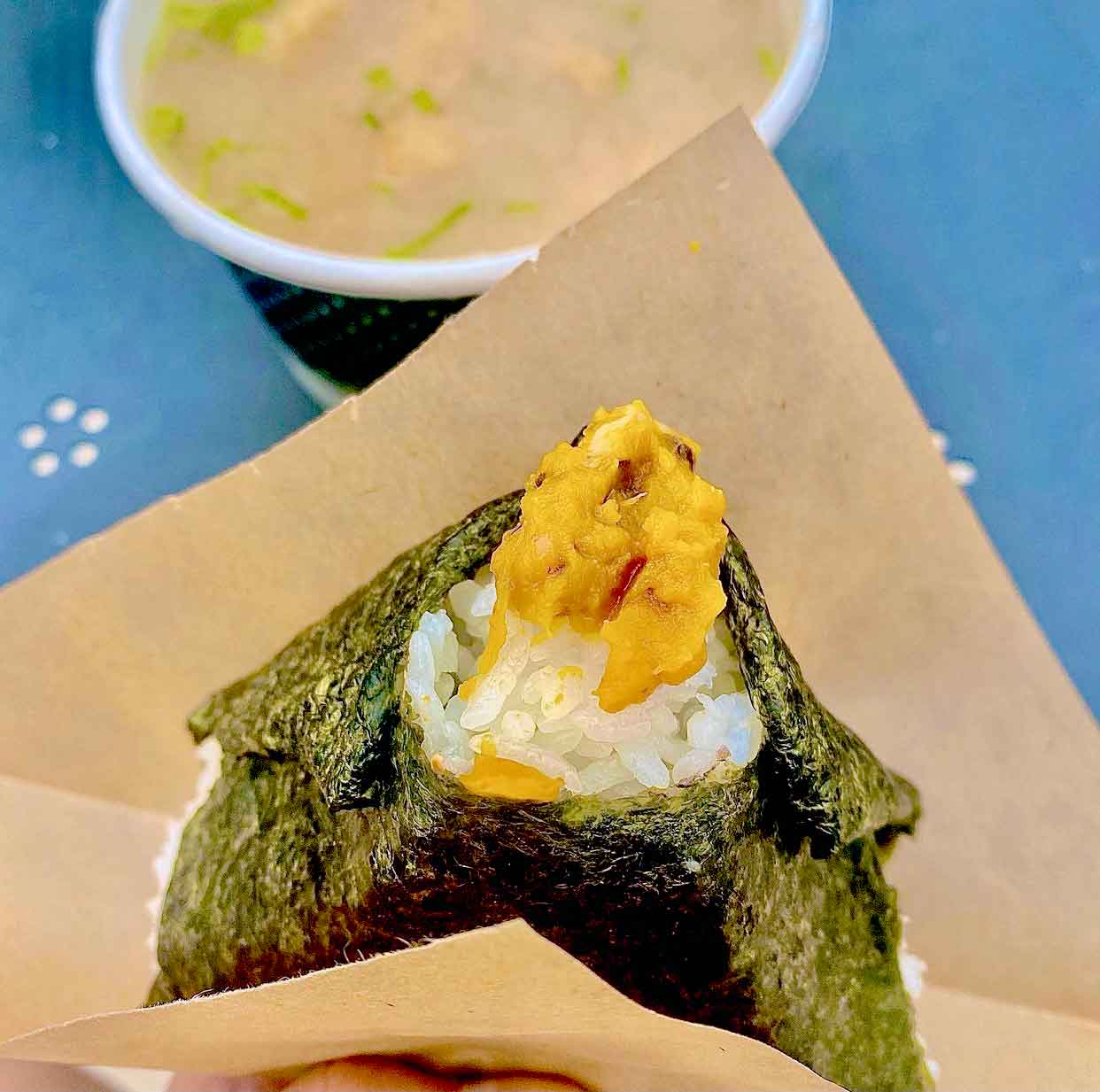 How about miso soup that's made with fresh local ingredients?
Miso soup is the best companion with rice dishes and makes the perfect healthy balance of a dish. Miso is made from soybeans, which are rich in protein and other important nutrients that contribute to a healthy diet.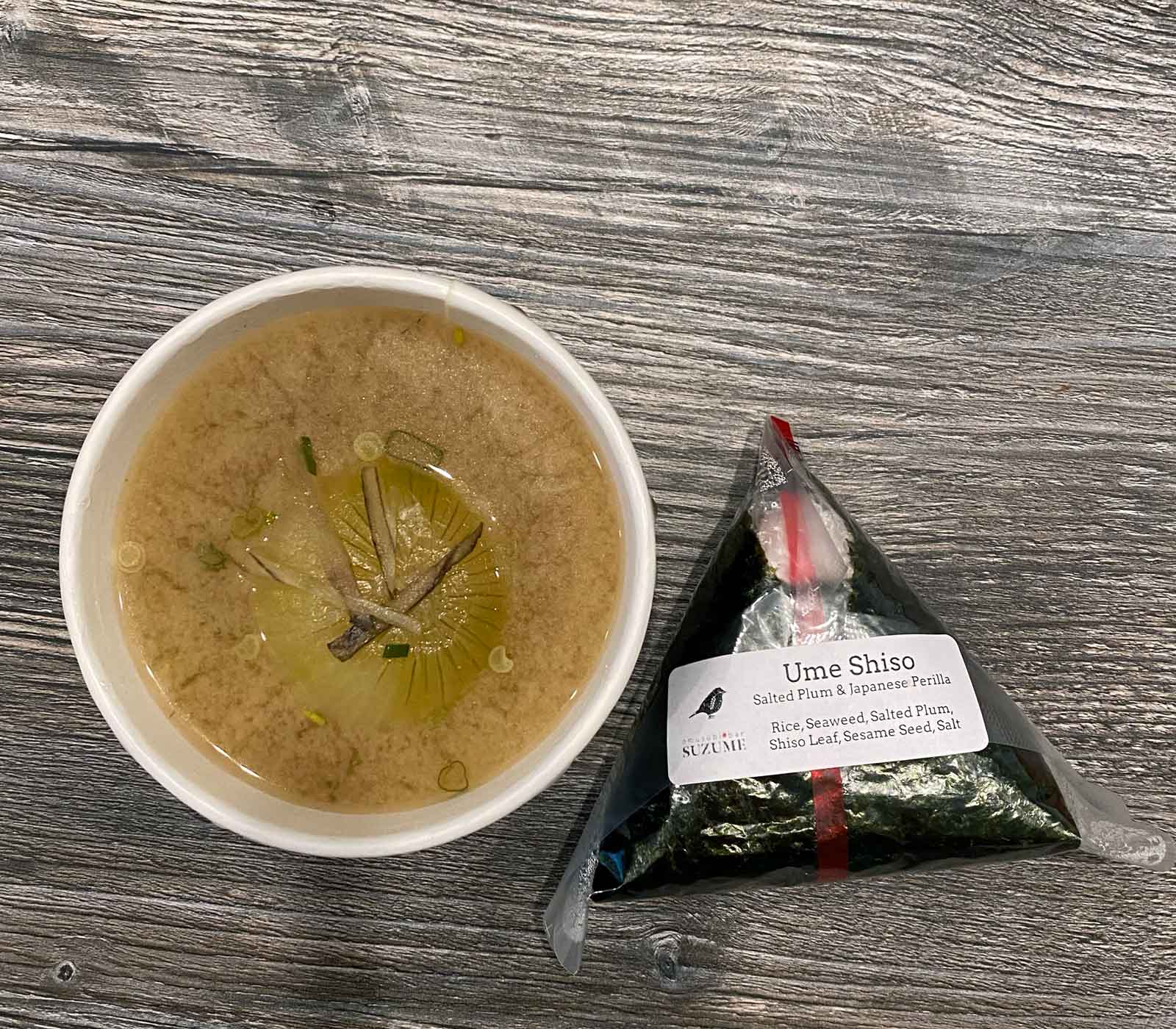 As a Japanese person, what I appropriate the most in her menu is winter special, Oden.
A Japanese classic winter comfort food Oden is a one-pot dish with an assortment of fish balls, fish cakes, deep-fried tofu, hard-boiled eggs, konnyaku, and some vegetable simmered in soy sauce-based dashi broth.
When the leaves turn from fresh green to warm yellow, she puts a sign that says "Oden Available", and that makes me beyond happy because when I was in Japan, I'd have this dish often in winter, but it's hard to find restaurants that serve oden here in Toronto. Her oden literally bettered my winter depression. Literally.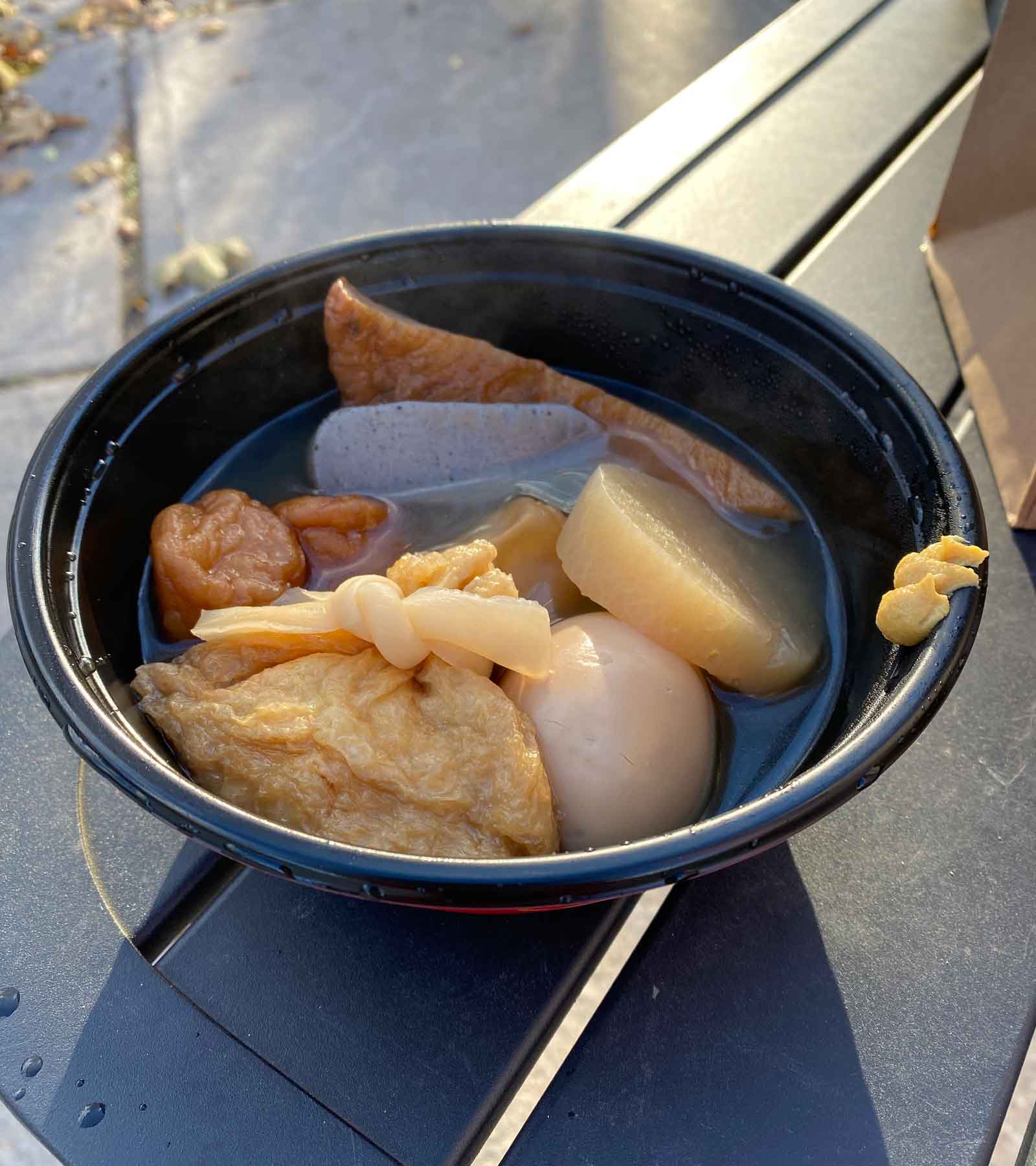 Her desserts are not always available, though, they are one of the reasons why I love her shop. Again, what she makes are truly authentic, yet very original. You can see it in her desserts, too.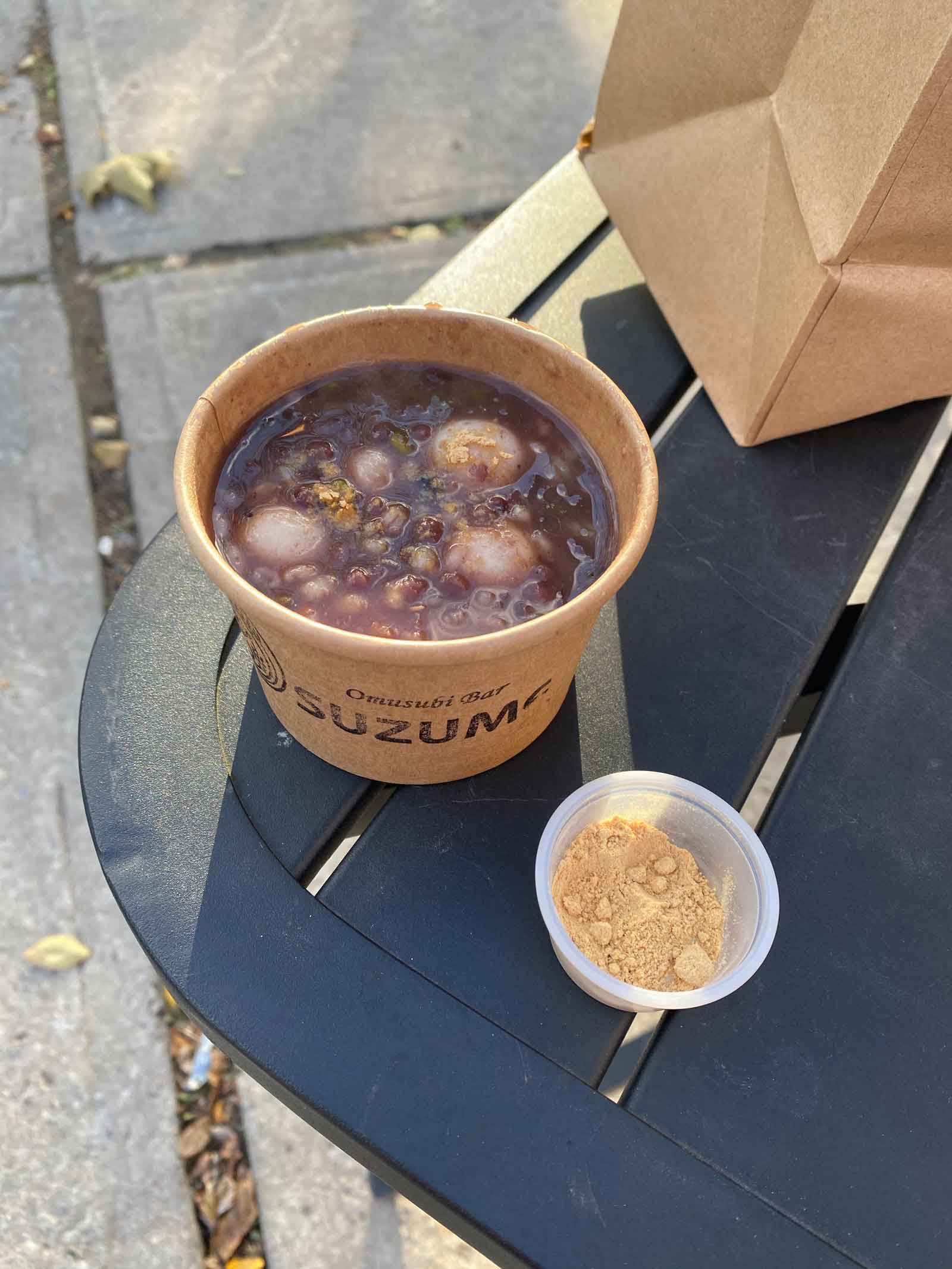 This Shiratama Zenzai is a good example. It's usually a simple hot sweet red beans soup with rice cake, but she added mung bean and pearl barley which add a fun texture to it. I loved it so much.
Last but not least, her gorgeous Obento box (lunch box), Mini rice ball set are definitely worth a try!
Omakase Bento Box
Seasonal local ingredients with her original flavors in a box.
Available by pre-order only (at least 48 hours in advance )
Minimum order 2 bento. Starting from $30/ 1 bento
Mini Rice Ball Tray
Assorted mini rice balls. Vegan, Gluten free option available.
Available by pre-order only. (at least 48 hours in advance)
32 pieces $55
64 pieces $100
Her regular menus include onigiri, soup, donburi (rice bowl), other sides are available pickup/ delivery on ritual. Special orders include omakase bento, mini rice ball tray are available on Tock or Email.
Email: omusubibarsuzume@gmail.com
If these meals piqued your interest, please give them a shot! We have so much more than sushi, ramen, and teriyaki. I'd be glad if I've given you a new perspective on Japanese food. Thank you for reading ☺