A manga character shaped like a pink blob with bright red lips is challenging stigmas surrounding menstruation in Japan. But not everyone is convinced that Little Miss Period—Seiri chan—is a force for good.
The live action film Seiri chan was released last month. The film, based on a manga by a male artist, Ken Koyama, was premiered in Taiwan this month and will debut in Hong Kong in January. Premieres in China and across south-east Asia are planned.
The film has been lauded as an honest portrayal of the frustrations felt by majority of women in Japan, where menstrual leave has been a legal right since 1947 but is rarely taken.
Taboos around menstruation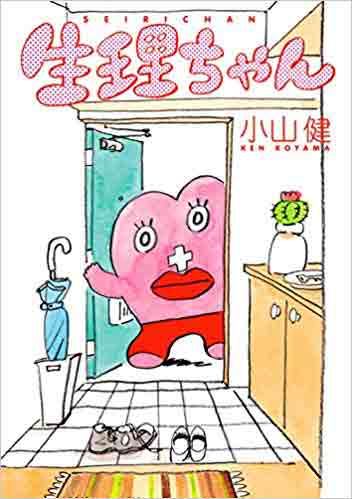 https://www.amazon.co.jp/生理ちゃん-小山-健/dp/4047352373
There is a strong stigma around menstruation in Japan. Many women feel ashamed to tell anyone that they feel unwell during periods and suffer in silence. The Shinto religion's belief that menstrual blood is "impure" prevents women from entering professional sumo rings or setting foot on a sacred UNESCO world heritage site. When customers buy feminine hydyne products in Japan, stores put them in non-translucent shopping bags.
The #NoBagForMe movement in Japan
いつぞや、投票したパッケージが商品化🙂生理用品が身近に、身体のあれこれを話すことが気軽になれば良いなぁ〜。ネコちゃんタンポン愛用!これなら、「黒い袋要りません」と言えた。来年、女性だけで性のこと、身体のことを話す場をつくりたい。#NoBagForMe #ソフィパッケージ開発 pic.twitter.com/Pshs5HBiPp

— れもん🌈 (@sexual_casual) December 18, 2019
Last month, Japanese social media influencers started a slogan hashtag #NoBagForMe as a counter movement to the practice of hiding the products, a part of a bid to end period shaming. They discussed feminine hygiene product packaging as part of a project Unicharm Corp. and launched amid a spreading move to talk more openly about menstruation and increase the number of feminine hygiene item options in Japan.
Reception of Seiri chan
In the manga series, Seiri-chan adopts a blunt approach, "visiting" several women to administer a "period punch" to represent menstrual cramping. But she also supports them through their personal problems and metes out similarly debilitating punches to unsympathetic husbands.
The film, based on the manga, received a largely positive response from women in Japan, where talking in public about menstruation is often seen as dirty or embarrassing.
"Until now menstruation has been something to hide and many people completely lack a proper understanding of it," said Kazue Muta to the Japan Times, a sociology professor at Osaka University. "I can't praise the manga 100% … but it would be good if it were a step toward greater openness and education."
Feminist author Minori Kitahara welcomed efforts to break taboos but lamented that the representations were "treating the matter like a comedy talk show."
"Oh, there you are, Seiri-chan! Has another month passed already?" Seiri-chan helps woman through their daily hardships like when they had unprotected sex and are relieved when Little Miss P appears eventually. A companion happy to have in the end. An unique tale & a hidden gem. pic.twitter.com/Cuo2egRqL6

— Manga Mogura (@MangaMogura) November 17, 2018
A department store's Seiri chan badges for employees on their period gets complaints
Seiri-chan found herself at the centre of controversy in October when she appeared on "wellbeing badges" that women working at Daimaru department store in Osaka started wearing to indicate they were having their periods.
A female staff suggested the badges to 500 or so staff in the women's products section to encourage understanding among colleagues and customers. The idea was for employees on their period to wear them so that the co-workers could recognize when they might need extra help or need to take a break.
Some shoppers supported the idea but critics said the badges were an invasion of privacy and could leave them open to workplace harassment. According to the BBC, store management never intended to "share the menstrual information" with customers. It is unclear how customers would not have seen the badges.
The badge policy is not compulsory, and was reportedly suggested by the employees themselves when a new "Women's Wellbeing" section was opened in the store. An unnamed executive at the store told local media: "We received many complaints from the public. "Some of them concerned harassment and that was definitely not our intention. We're reconsidering plans now."