Ishigaki Island
Ishigaki Island (石垣島, Ishigakijima) is the main island of the Yaeyama Islands and the region's transportation hub. Ishigaki City, Japan's southernmost city, is the only urban center of the Yaeyama Islands and the site of the region's major airport and ferry terminal, as well as of lots of hotels, shops, restaurants and bars.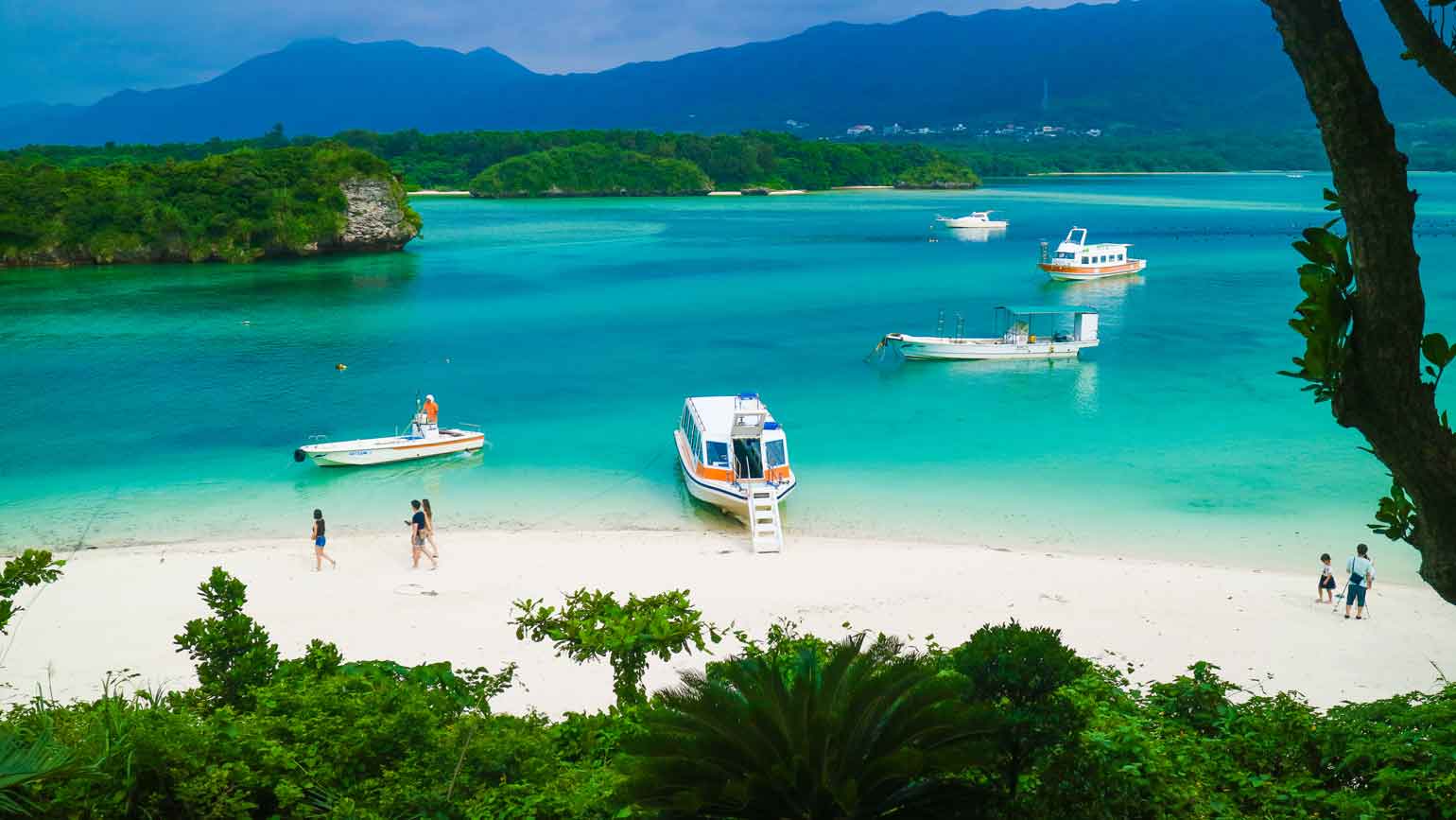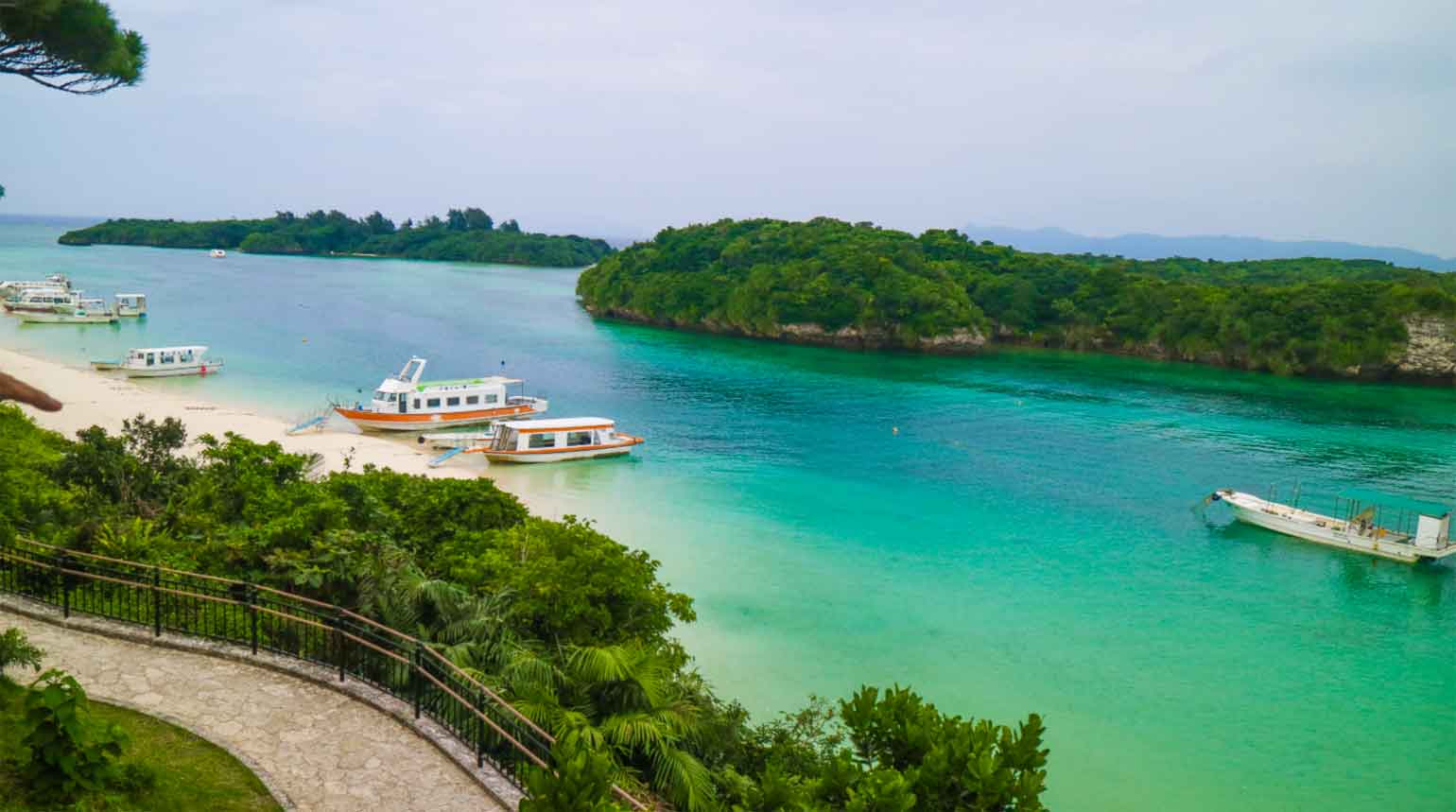 Kabira Bay
Swimming is prohibited in the Kabira Bay. Glass-bottom boat is the only way to observe the corals and tropical fish in the water. Selected as one of the 100 Landscapes of Japan, Kabira Bay on Ishigaki island(石垣島 Ishigaki-jima) is one of the most beautiful beach among beaches in Okinawa. Because of the black pearl cultivation in the bay, you cannot go swimming at the beach. But feel free to take off those your shoes and feel the sand between your toes as you take a pleasant walk on the white sand enjoying the tropical scenery.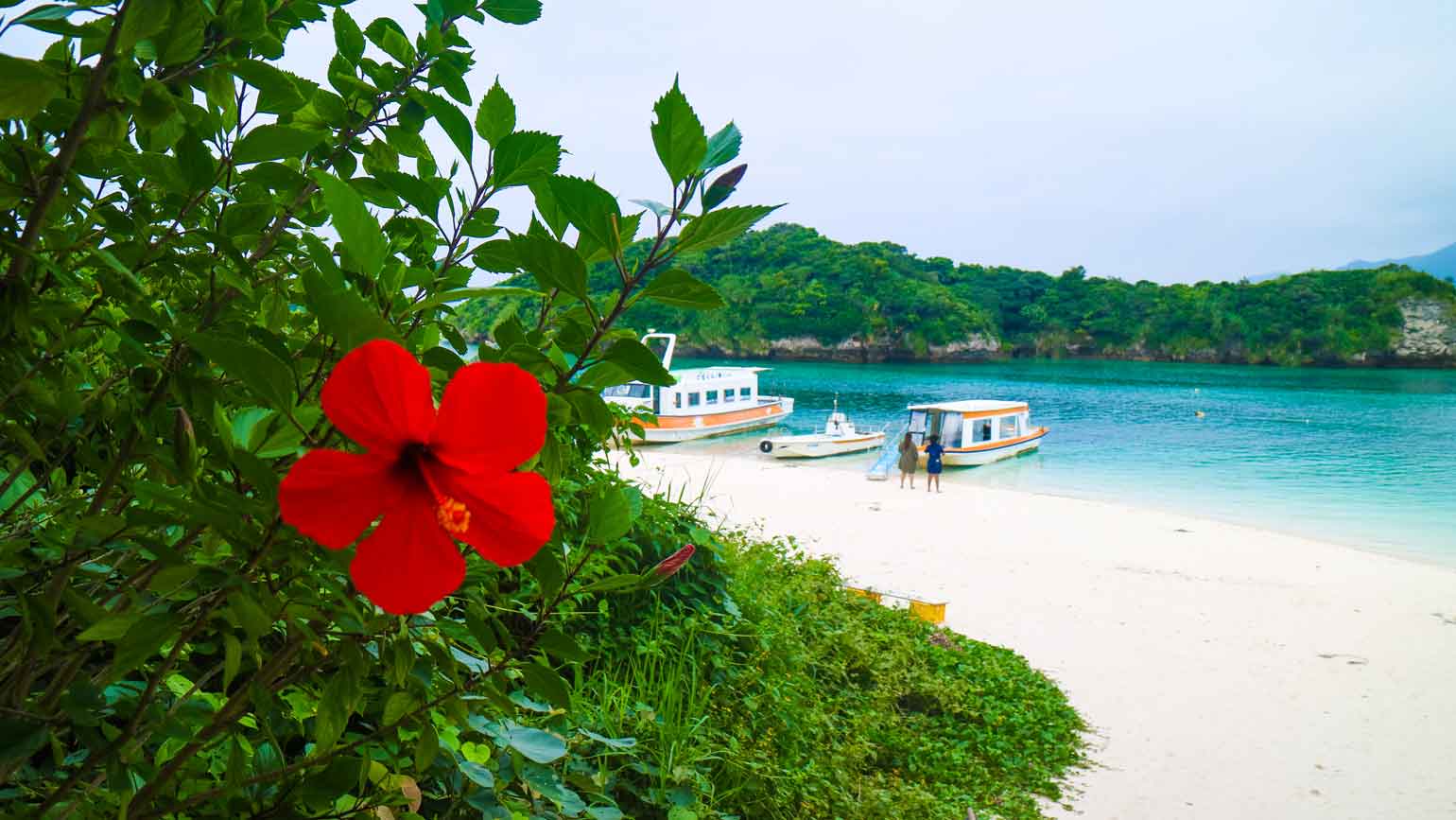 For those who want to have a look below the surface of the water, without getting wet, there are glass bottom boats departing from around 9:00 to 17:00. You can buy the tickets (which costs about ¥1000) at the shops close by the big car park.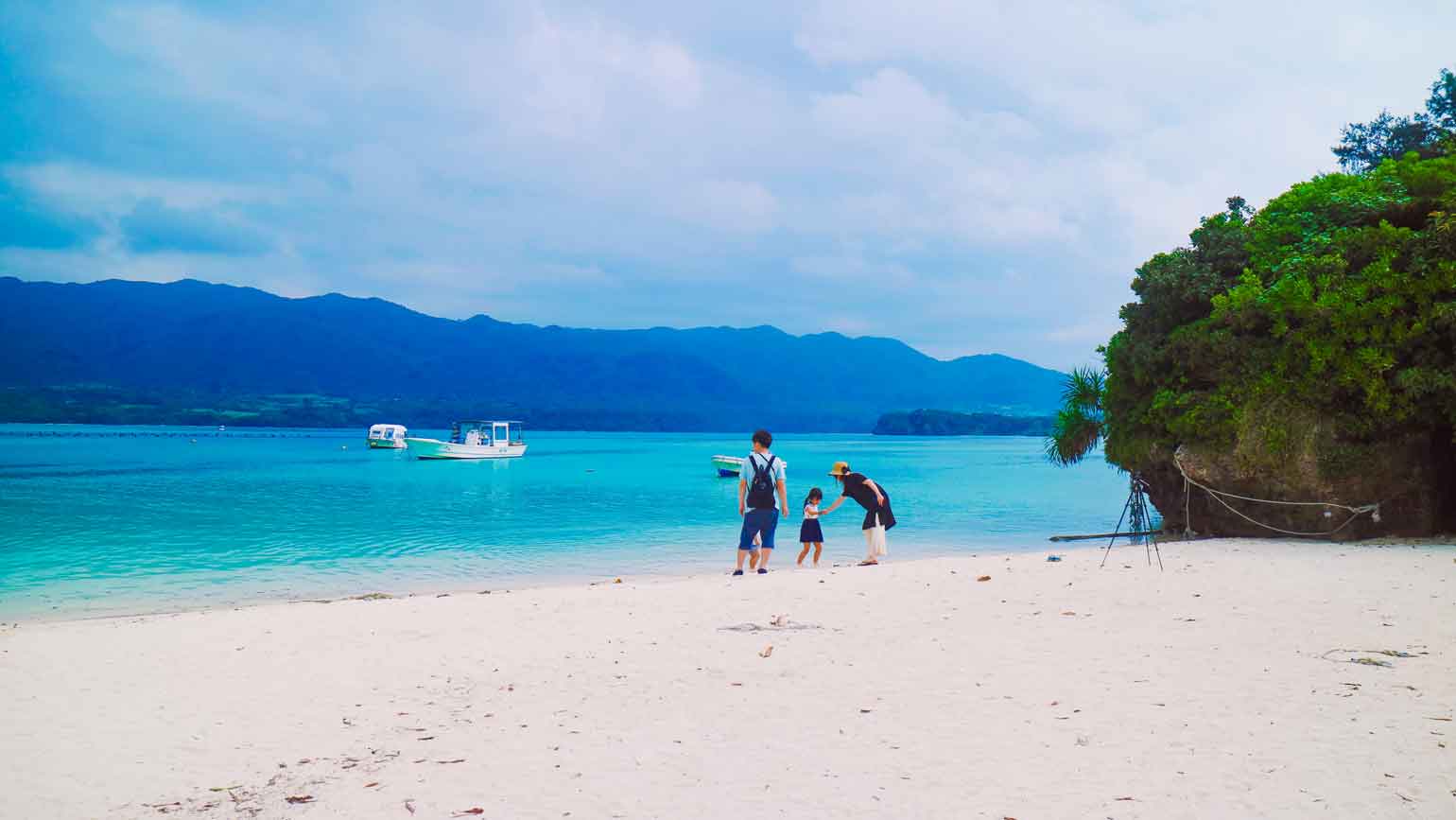 Glass-bottom boats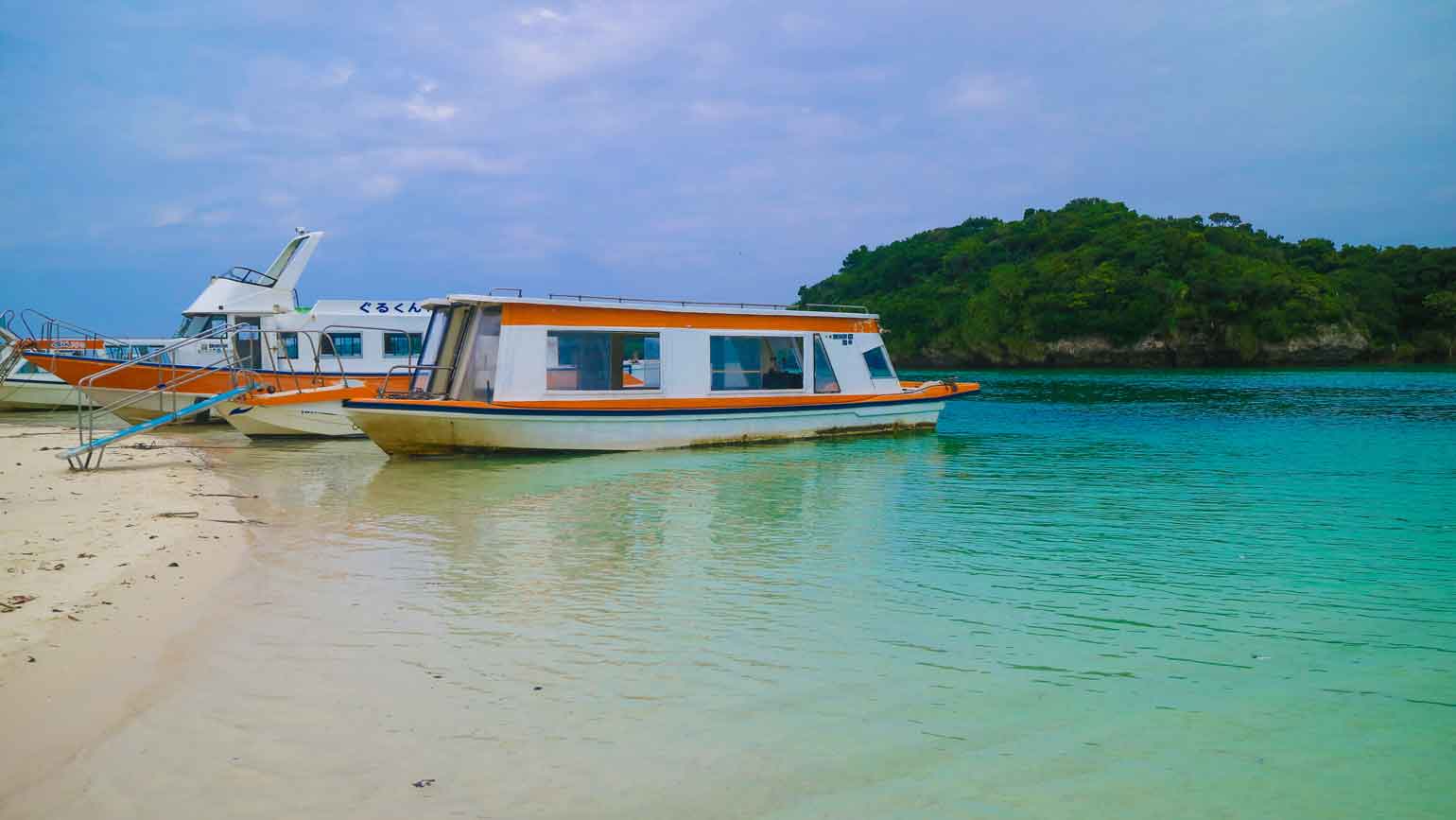 A variety of colorful corals live in the Kabira Bay, creating an amazingly beautiful underwater scenery. Kids will be excited to find clownfish in the water! There are many companies that offer glass-bottom boat tours at the Kabira Bay. Most of them operate between 9:00am and 5:00pm. Most of them charge around ¥1,000 for adults and ¥520 for children. They operate every 15 minutes, so you will not have to wait too long.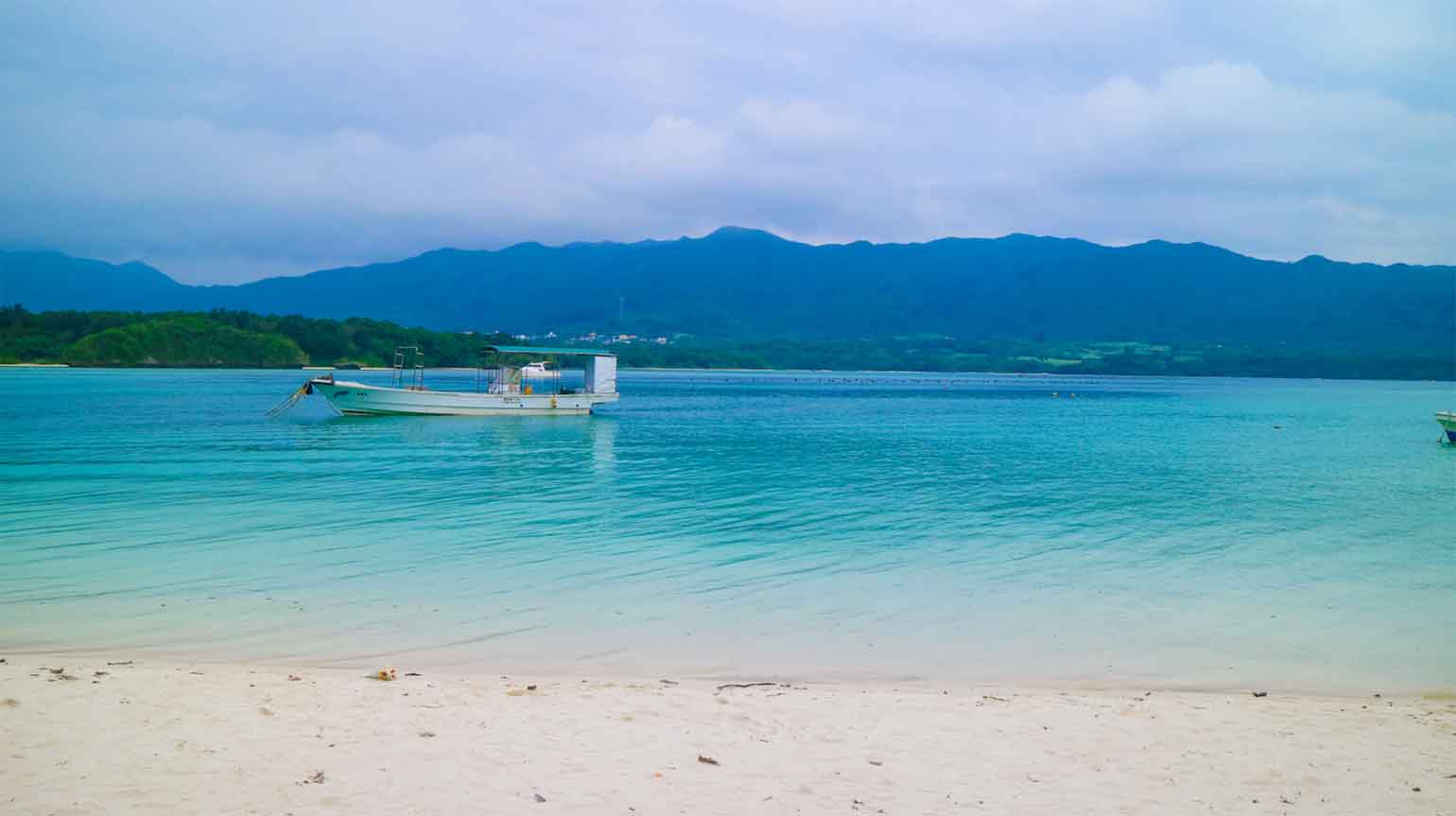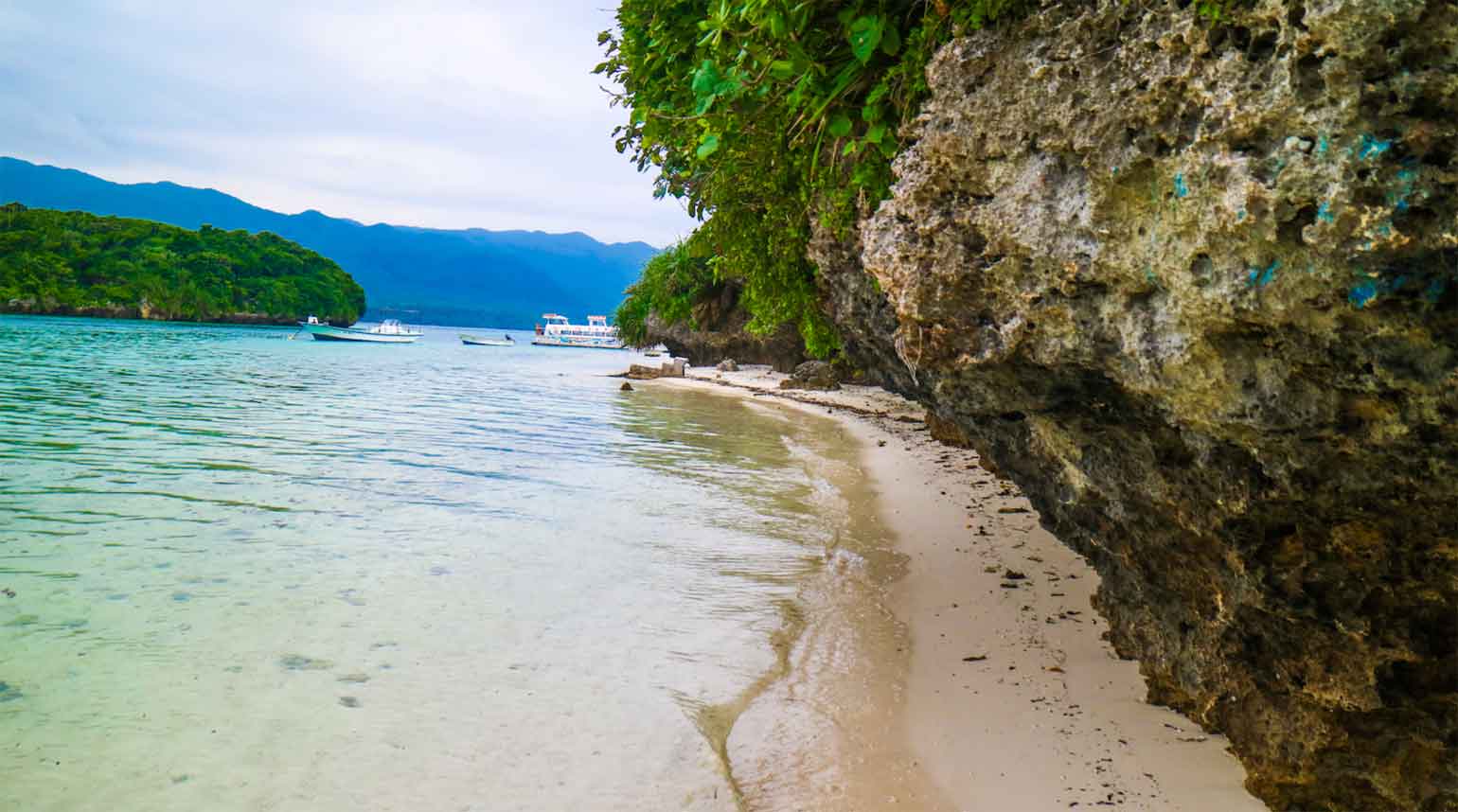 How to Get to Kabira Bay
By Bus
There is a local bus from the airport to Kabira Bay. It is the bus to "Yonehara Campground (Yonehara Kyanpujo Iki)," departing at noon and 3pm. This bus will take you to Kabira Bay, without having to transfer to another line (approximately 40 minutes).
By car
Kabira Bay is a 40-minute drive, heading about 25km in the northeast direction, from the airport. Bus is the only mode of public transportation on Ishigaki Island. Touring the island is most convenient by car, if you are able to rent and drive a rental car.
Kabira Kannon Temple
On top of the hill, near the observation point, is a small temple that is worth a visit. It was built in the 17th century when Kabira bay was one of the primary ports for Okinawa's main island. According to legend, one day, a ship had anchored in the bay while waiting for the weather to clear up. A small boy went ashore while the ship was waiting to do some exploration in the nearby area. When he came back to the shore, the ship had sailed without him. The boy prayed and prayed for the ship to come back. Then, suddenly a strong north wind started blowing. The ship had no choice but to come back to the bay because of the bad weather and the boy could go aboard and return to his home in Okinawa. Later in life the boy, he became a monk, returned to Ishigaki and built the Kabira Kannon temple.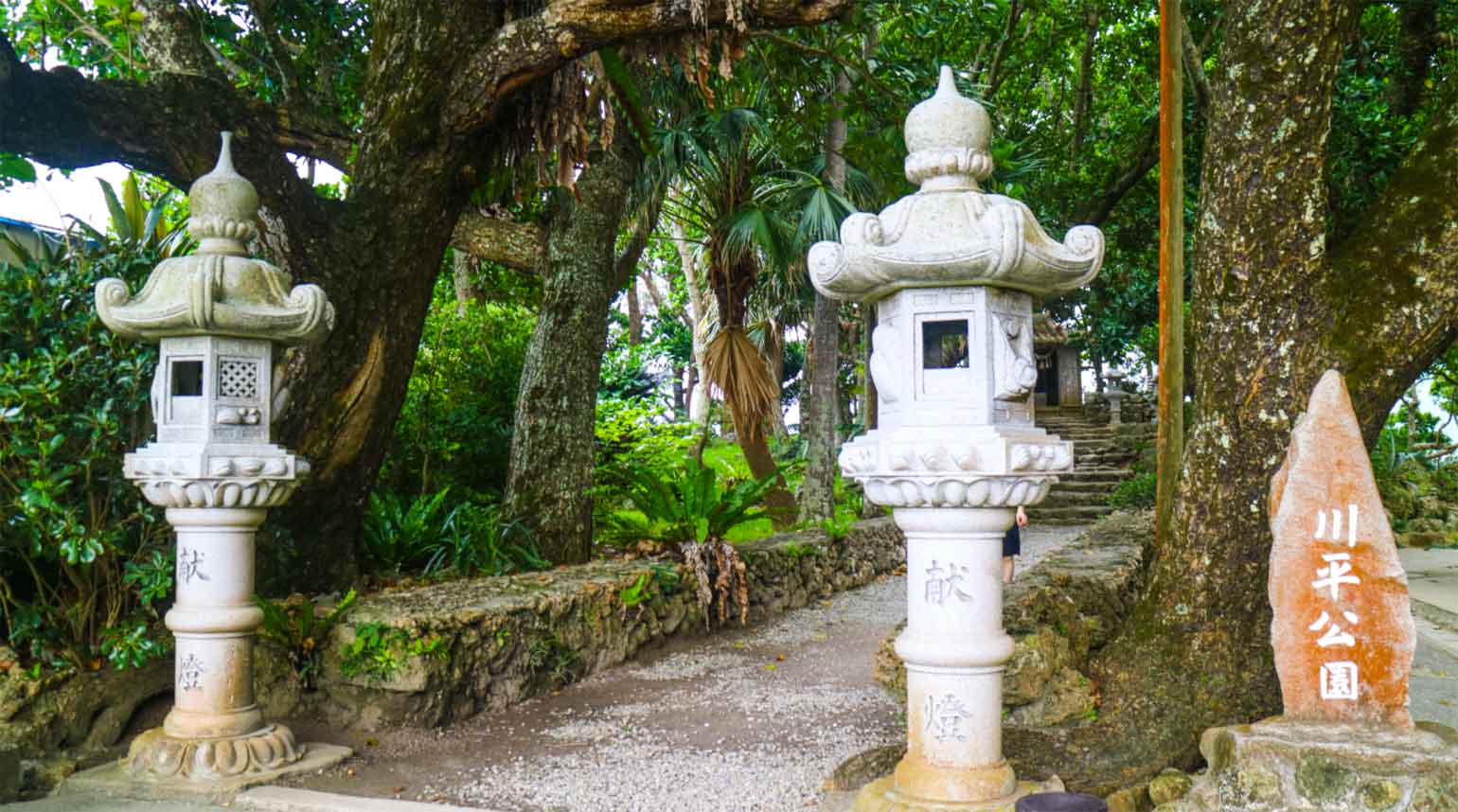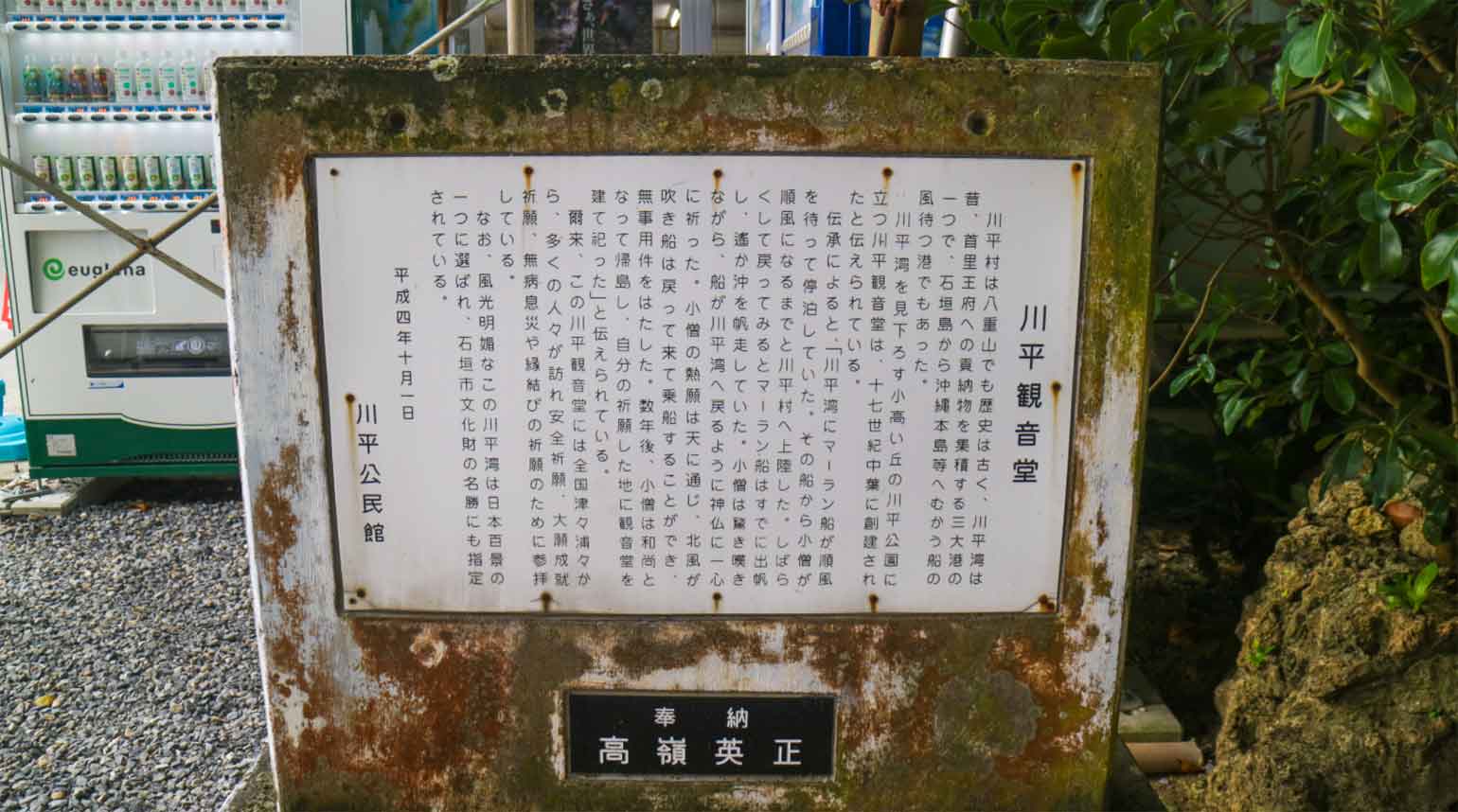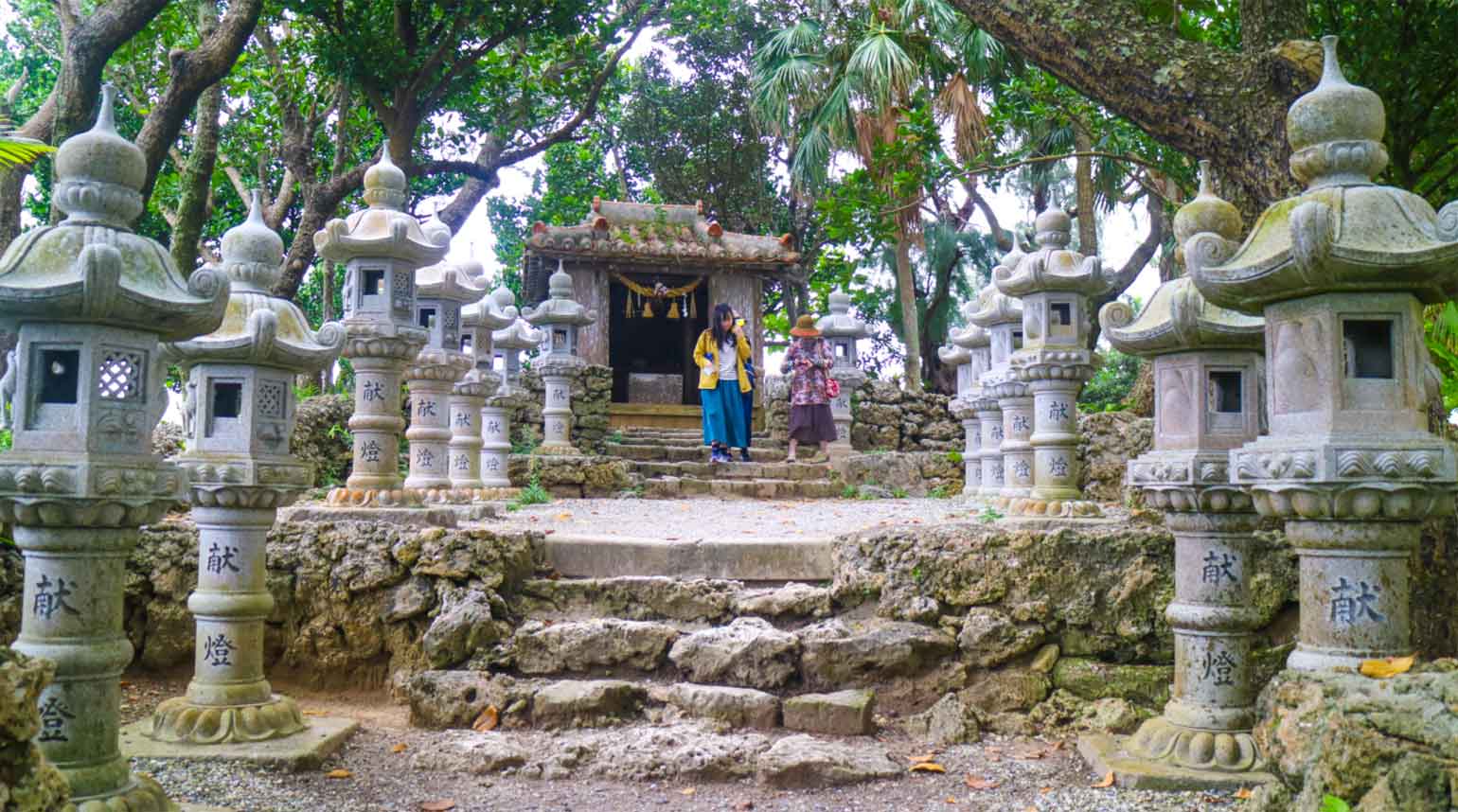 Kouen Chaya
Kouen Jaya is a popular spot for visitors to indulge in casual, authentic Okinawan dining. The tea house is a mere 2-minute walk from the famous Kabira park and the beach. It gets packed around noon. Their signature dishes are traditional Okinawan noodles such as Soki soba and Yaeyama soba. They serve variety of ice cream and gelato, using local ingredients like salted vanilla, papaya and pineapple that would satisfy your sweet tooth.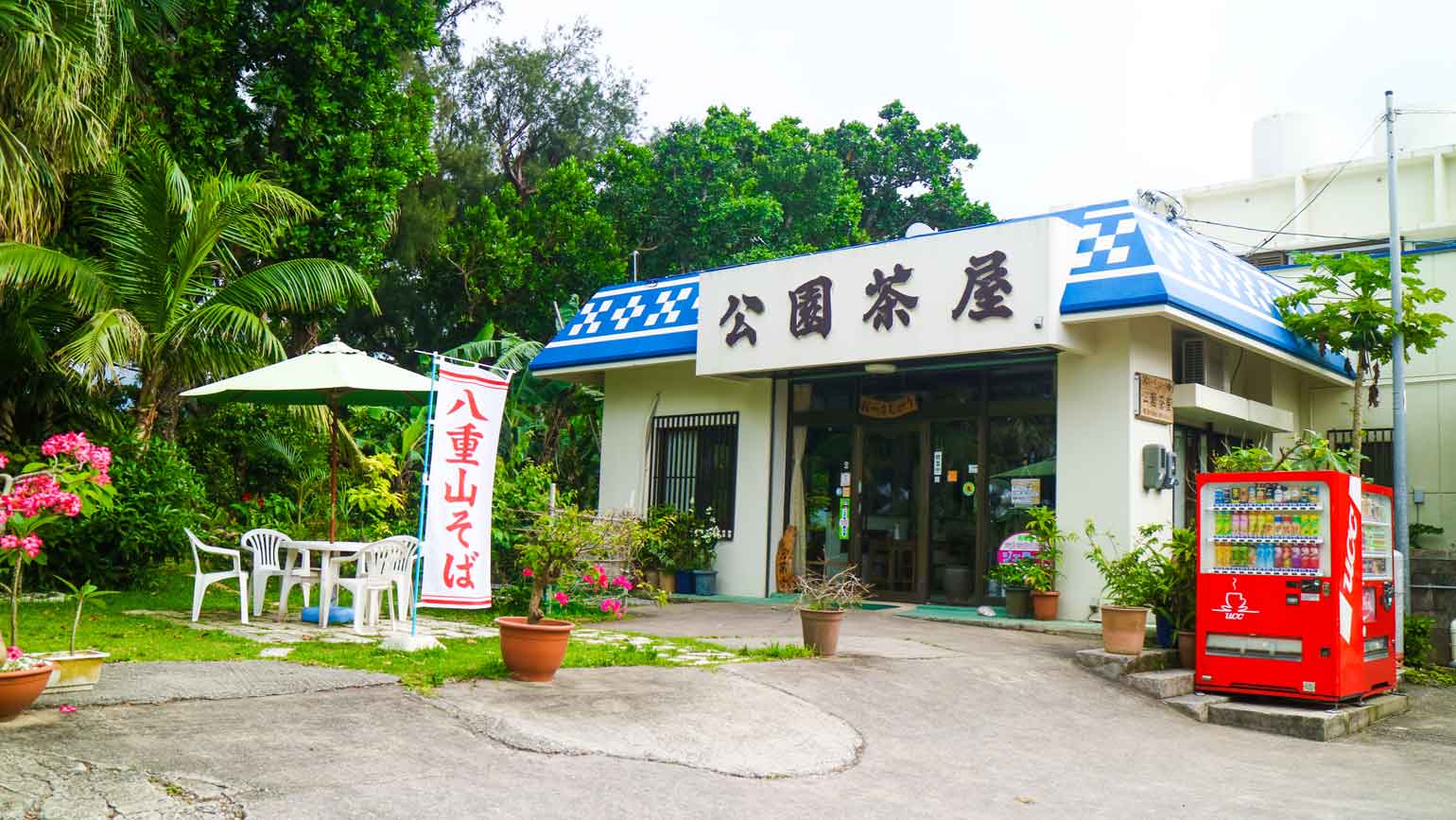 Soki Soba
Soki means pork spare rib in Okinawa, and soki soba is a noodle dish with tender, sweet and savory soki that are easily broken into pieces with your chopsticks and melt in your mouth. Although it says "soba", the noodles in soki soba are made with flour and kansui, and has the chewy texture.
Goya Champuru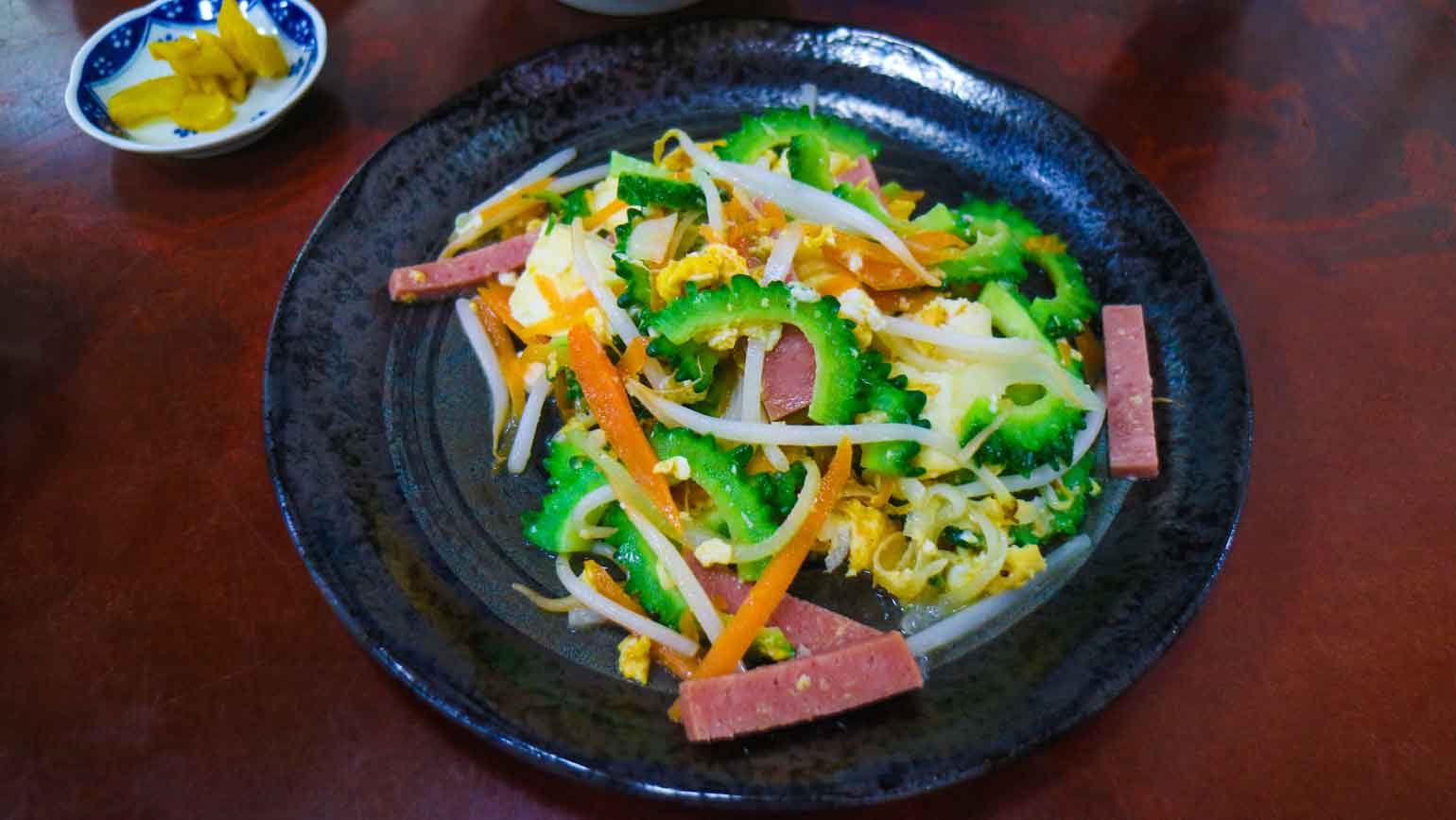 Goya Champuru is one of the most common of champuru. Translated as bittermelon, goya has a green body and bitter taste. When goya is in season during the summer months, its champuru is served at many restaurants. Goya Champuru is made of goya, tofu, pork, eggs, salt and soy sauce. Goya gives the champuru an exotic taste and healthy qualities.
Tebichi Soba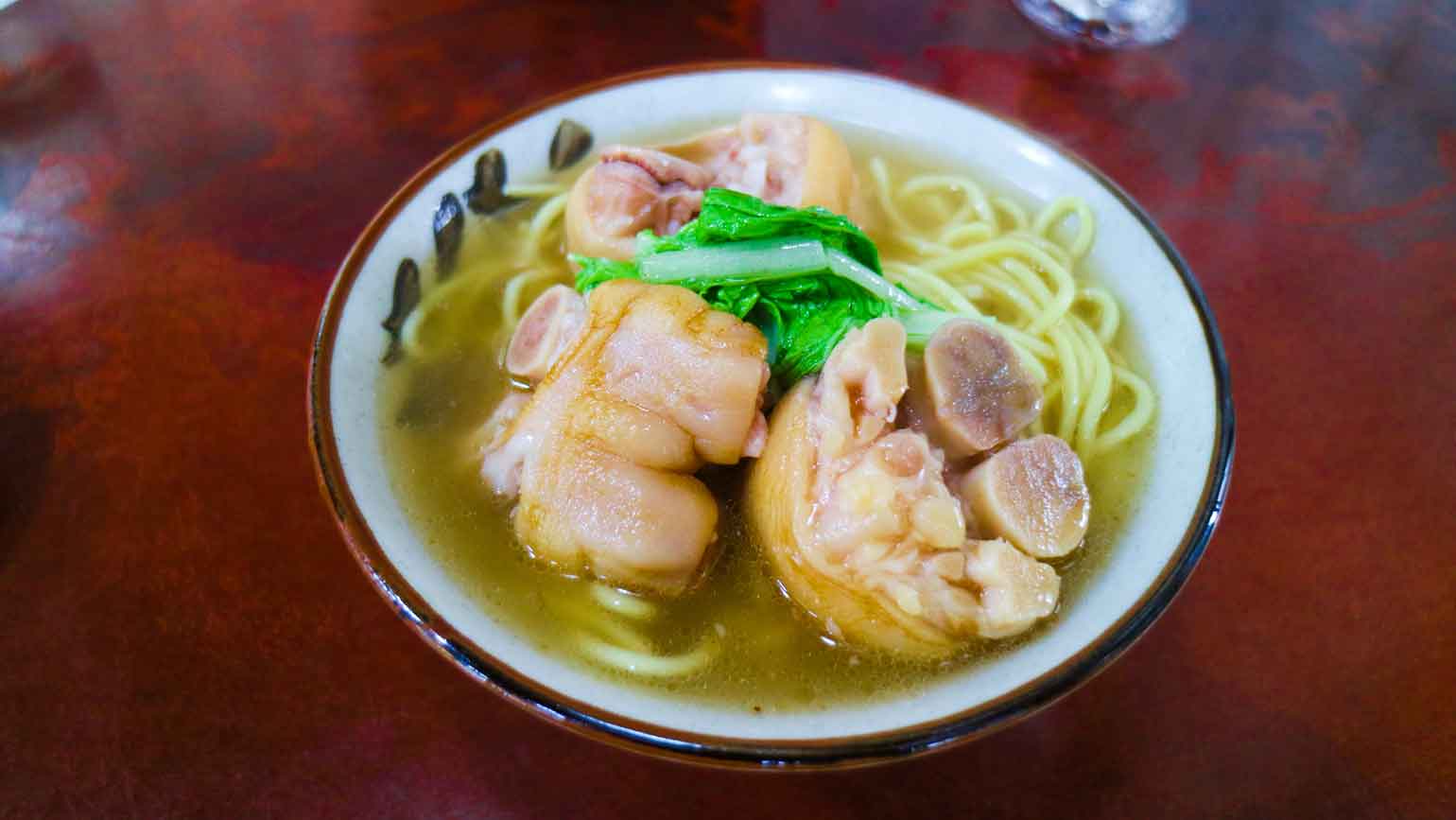 Tebichi is a traditional Okinawan dish: boiled pork leg so tender that you can cut it by chopsticks. Usually, Okinawans eat tebichi as nitsuke or in an oden style (cooked in Japanese style stewed in soy or bonito broth). Okinawa soba topped with tebichi is called Tebichi Soba, and when it is served in a soup with kelp and radish, it's simply called Tebichi Soup.
Kabira Kouen Chaya (川平公園茶屋)