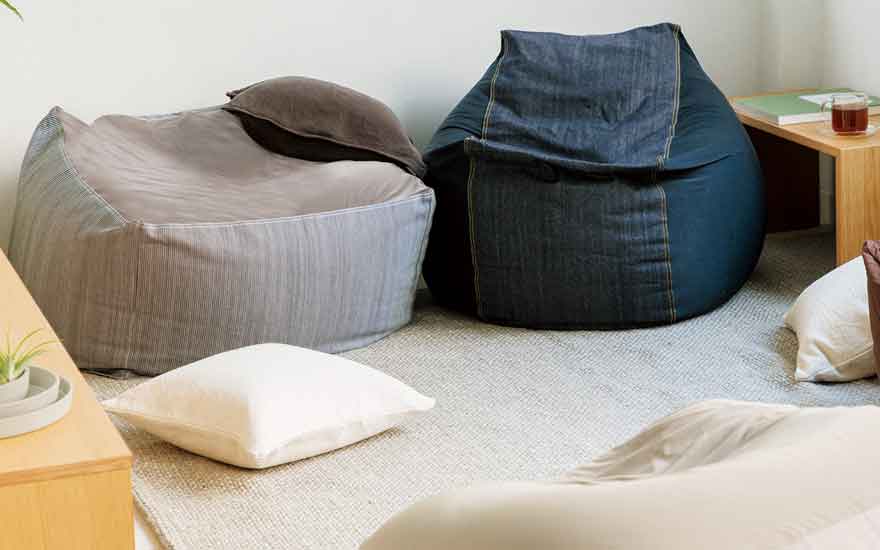 As soon as you take a seat, you can feel yourself settling deeper and deeper into the sofa. This sensation immediately sends a signal to your brain saying, "I don't want to move anymore." The culprit, of course, is the infamous sofa "that makes you slack off."
I've always wanted a sofa for myself ever since I moved to my current home five years ago. I had everything planned out—I knew where I was going to put the sofa, and I could already picture myself reading a good book, sipping a cup of tea, and just spending the most luxurious time I can imagine. The only piece that was missing from this scenario, however, was the sofa.
Of course, the most important standard when choosing a sofa is how comfortable it is. A chair like those you find in cafés is really not that comfortable, and even the most extravagant sofa doesn't necessarily offer the comfort I'm looking for. The sofa in the furniture store was perfect—until I saw the price tag. A reasonable price is also something to consider. I mean, what if I spend all the money and end up growing tired of it?
Yes, it's just as important that I don't become tired of it, too. Say, for instance, I might want to change the looks of my room every once in a while. If the sofa has too unique of a design, it might not be the most versatile. But even so, a "normal" sofa isn't too interesting either.
Looking at the huge list of the things I look for in a sofa, I was probably setting too high of a standard. But what can I say? It's a sofa, just for me. I have to find the perfect one.
Whether they heard all of this or not I do not know, but there came the opportunity to try the sofa from the world-renowned MUJI that just opened in Toronto.
"Body Fit Cushion," the tag read. Apparently, it's also known as the "sofa that makes you slack off." What in the world does that supposed to mean!?

Looking at the product, I was taken aback by its design—it's nothing like a sofa! It's more of an oversized cushion, or an ottoman, if you may. Its dimensions are L 65cm (25in) x W 65cm (25in) x H 43cm (17in) and the shape changes depending on how you sit in it. Shorter than 50cm in height, the sofa can come really low, making you feel like you're sitting directly on the floor. Of course, apart from sitting, you can lean on it or even sleep on it. Whether you want to dominate the space in front of the TV or snuggle up in the corner of your room, you can do all of it since the cushion is only six kilograms (13lb), allowing you to carry it around wherever you wish.
Typically, soft sofas are comfortable at first but can eventually get tiring. You find yourself turning, stirring, changing your posture every ten seconds… And that's not what you look for when you sit in a sofa. But with this one, it is more accurate to say that the sofa is "fitting" rather than "comfy". The small particles inside is apparently what's doing the trick. On top of that, you can choose your favourite fabric and colour for the cover—all designed to match whatever room!
Ever since I bought this sofa, my nephews would play on it every time they come over. At night, though, they would lie on it and quietly watch TV. It's really tempting to just grab the sofa from them—I want to sit on it too, you know.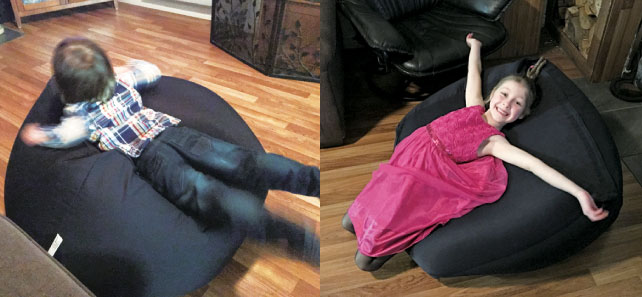 Having used this sofa for a few days, I very much understand why it has the nickname, the "sofa that makes you slack off". It's just too comfortable, and after sitting on it you never want to stand up again.
Before you know it, all your necessities are located within arm's reach from the sofa, including your iPhone, iPad, books, magazines, TV remote, drinks, and even blankets. Now that's when you know you're really starting to slack off.
Here are 4 reasons why you would love the sofa:
First and foremost, it's just too comfortable to sit on. Known as "the sofa that makes you slack off," you never want to get up again once you sit on it.
You can even change the shape depending on your mood or the situation.
The design is so simple, you'll never grow tired of it.
It's fun to pick and choose the cover you want to go with it. You can even wash the cover yourself.
MUJI Atrium
20 Dundas St. W, Toronto, ON
Tel: 416 591 2233
MUJI Square One
100 City Centre Dr., Mississauga, ON
Tel: 905 276 2737