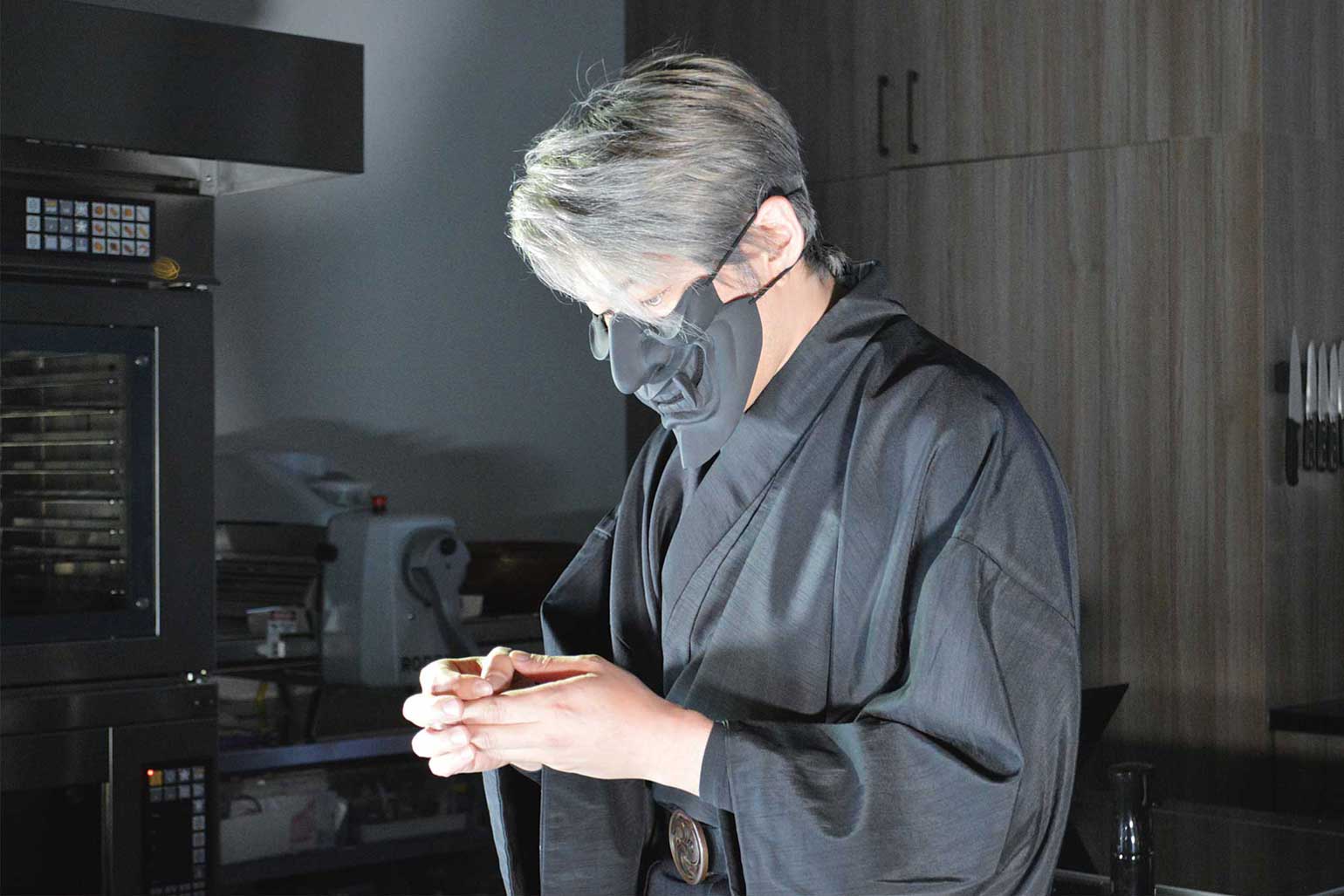 On April 12, a press conference was held featuring the wagashi artist, Junichi Mitsubori, at Gusta Cooking Studio in Markham.
Following his victory in a cooking competition, Mr. Mitsubori has made numerous appearances on TV shows in Japan. He is also the founder and master of Kado Ichikaryu, which translates to "the way of wagashi (和菓子, Japanese sweets)". Recently he has earned worldwide popularity, having been invited to France and multiple countries around Asia including China, Thailand and Vietnam. This is his first time in North America, Toronto being the first stop.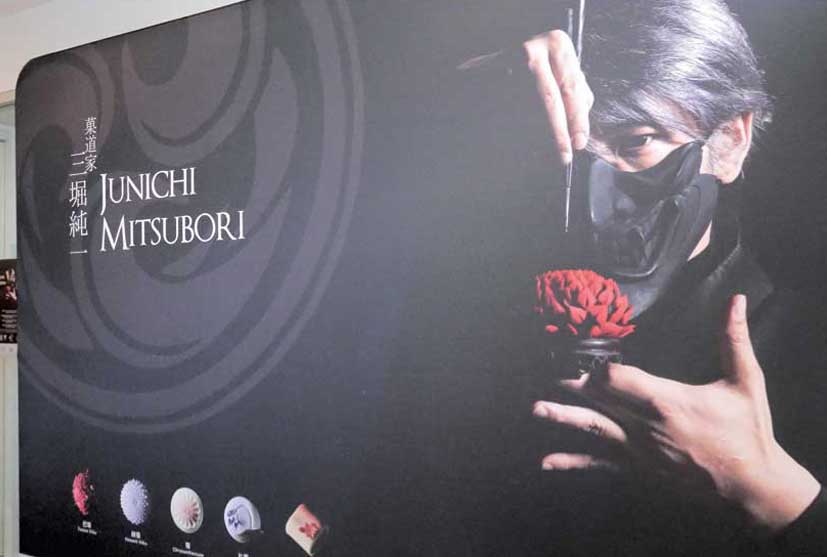 At the press conference were Consul General Takako Ito and Mr. James Heron, Director of Japan Canadian Cultural Centre (JCCC). After introducing Mr. Mitsubori, Consul General Ito expressed her gratitude for the rare opportunity to witness the skills of the talented master. Furthermore, she expressed her determination to increase the popularity of Mr. Mitsubori's works as well as traditional Japanese culture in Toronto.
Following Consul General Ito, Mr. Heron expressed his thanks for being able to host Mr. Mitsubori in Toronto. He added that holding such events in Toronto is perfectly in line with the visions and recent activities of JCCC, and that it will be a great opportunity for the people in Toronto to encounter the beauty of wagashi.
Following their greetings, Mr. Mitsubori spoke about Kado (菓道), "the way of wagashi" which he established, and briefly spoke about his performance. As Mr. Mitsubori continues to perform overseas, one thing he has been keeping in mind when describing himself is the fact that he is "not a chef". As a master of Kado, he does not merely make food. Rather, he wants the audience to appreciate the performance and his subtle movements. Such act is referred to "otemae (お点前)" in Japanese, and is a key aspect of Sado (茶道), the traditional tea ceremony.

Once the performance began, lights were dimmed save the stage. Mr. Mitsubori's masked face emerged from the darkness and a tense atmosphere filled the room. Numerous tools lined the table, waiting to be used by Mr. Mitsubori. One by one, he took out the balls of coloured red bean paste and shaped each one of them with great care and precision. All eyes were on his hands, inside which the balls gradually took shape as if by magic. In the end, five pieces were made, each of them brightly coloured. Following the performance, the audience, though hesitant, took a bite out of the wagashi and savoured them.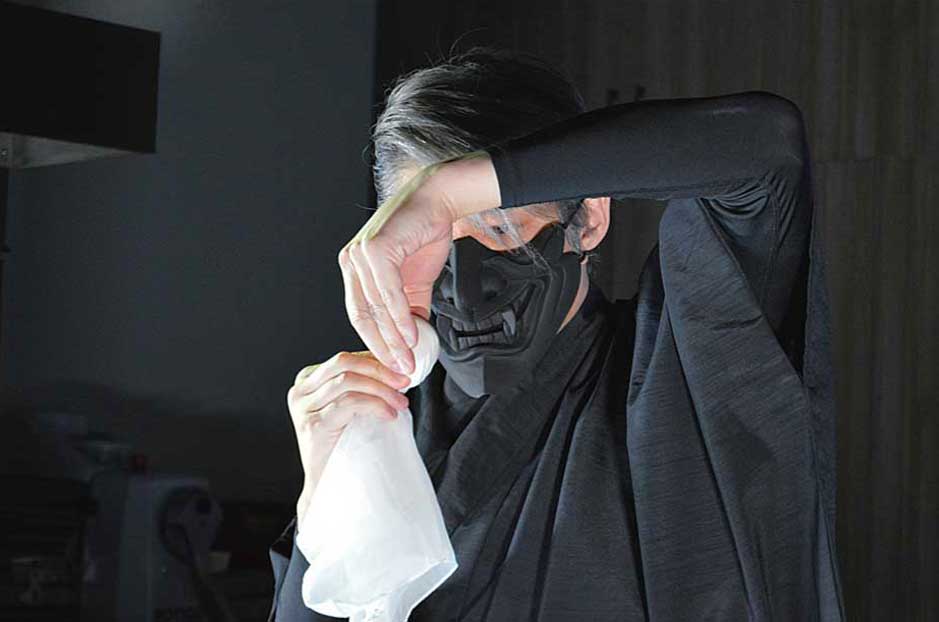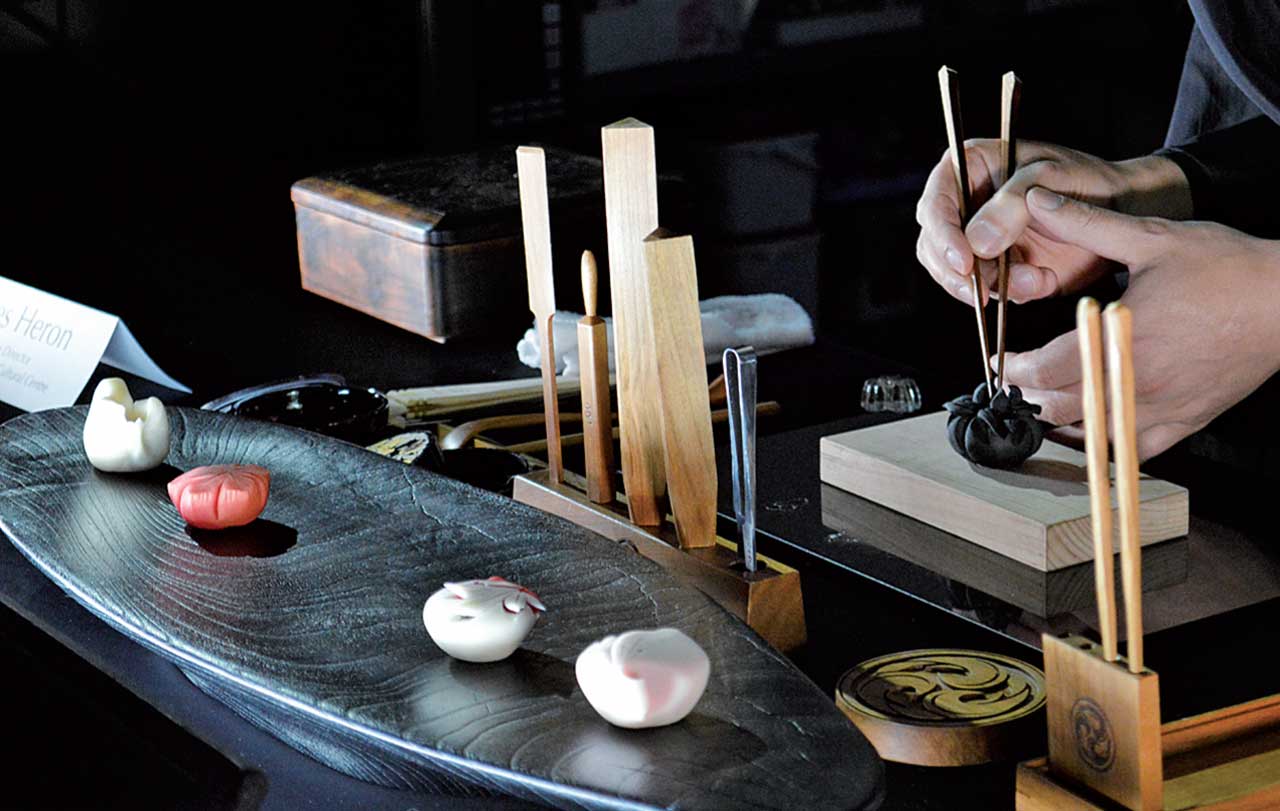 During his week-long stay in Toronto, Mr. Mitsubori hosted several workshops and performances. He then departed for his next destination, the United States, where he also held workshops in cities such as Los Angeles and New York. His way of wagashi, Kado Ichikaryu, does not only present the beauty of the wagashi but also the artistry in the process of creating them. As he continues his journey around the world, so will his art and teachings. Meanwhile, his fans in Toronto eagerly wait for their next opportunity to witness his craftsmanship once again.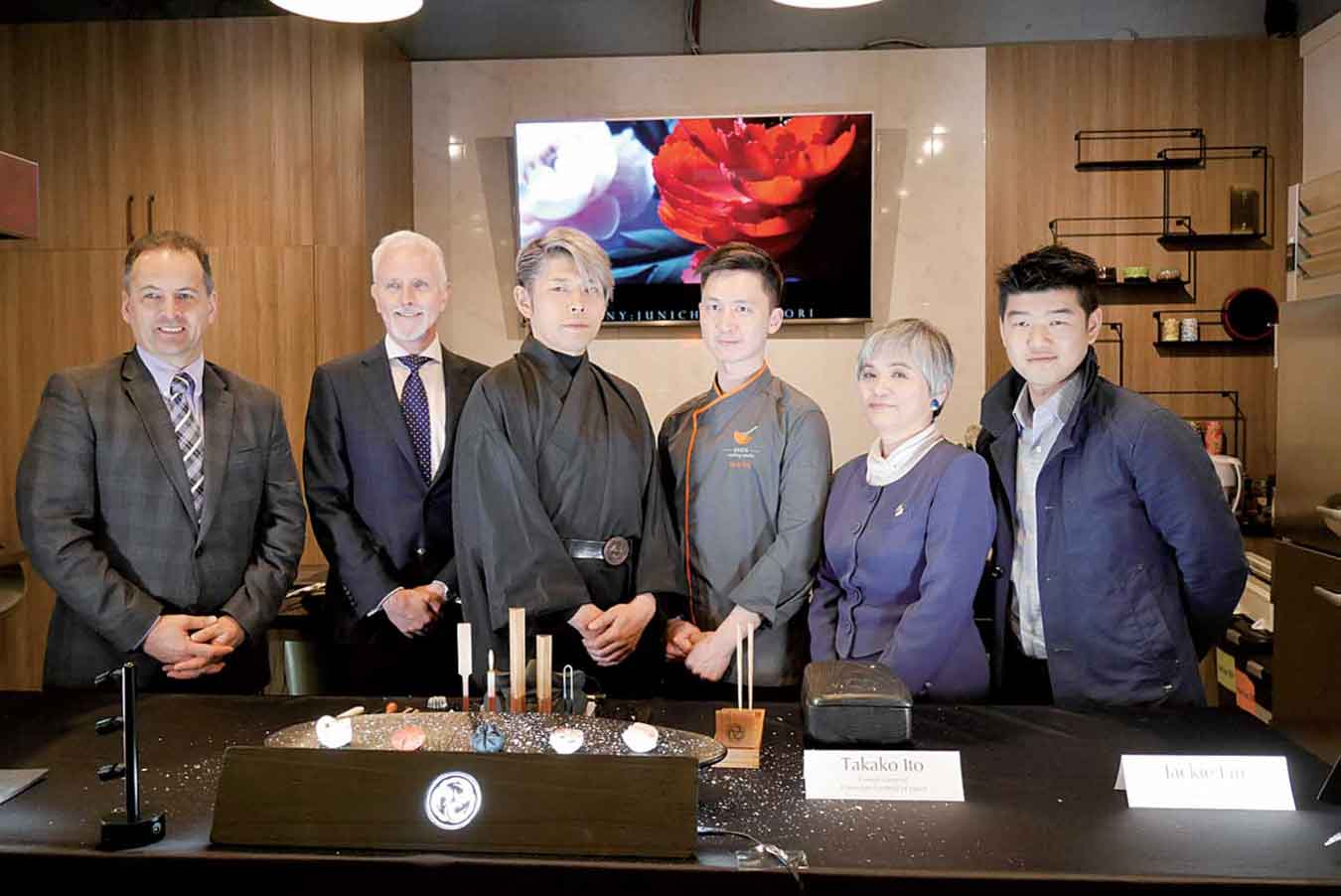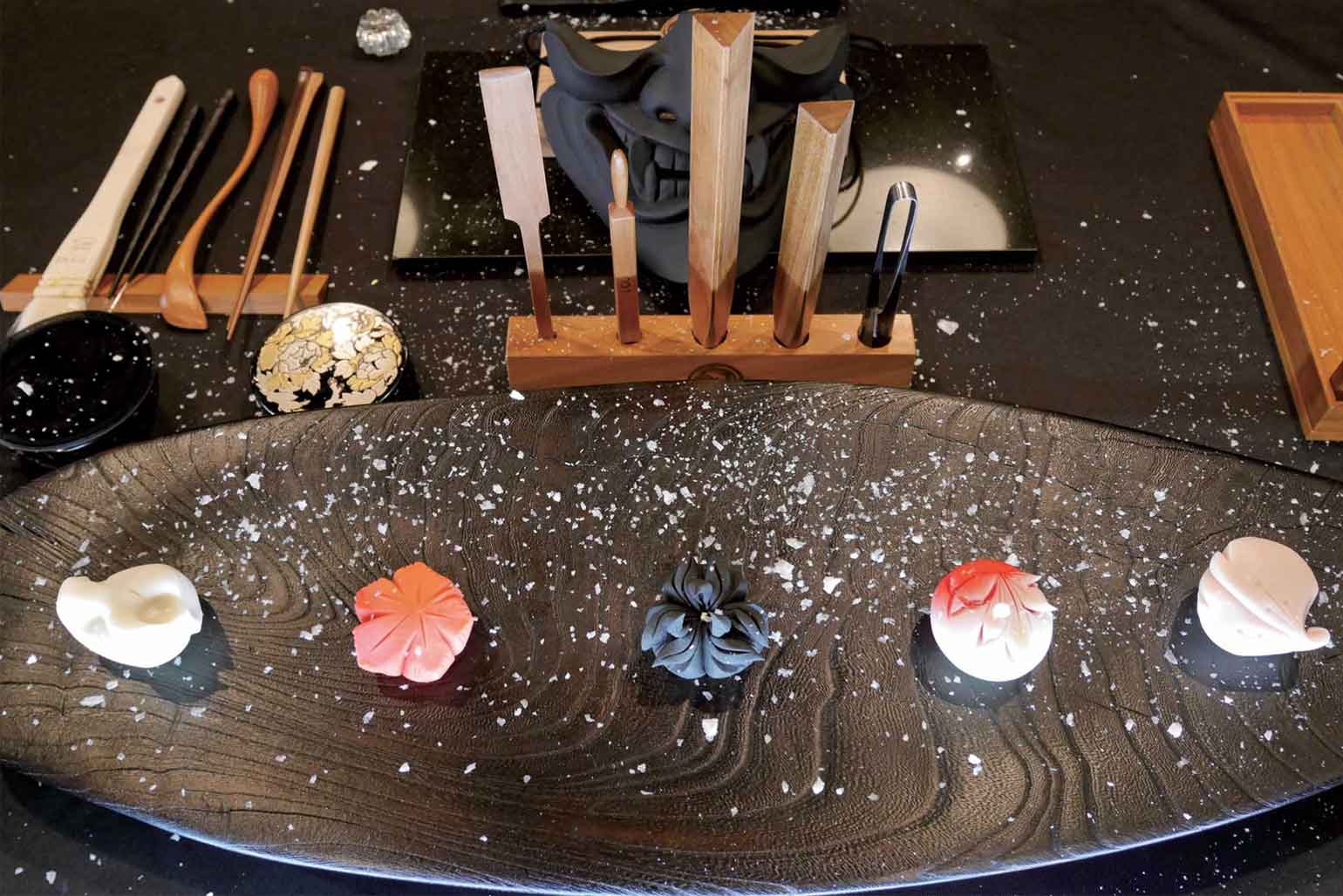 The world-renowned master and a bringer of the new wave to wagashi
Interview: Junichi Mitsubori (Part 1)
Following the press conference, we were able to conduct an interview with Mr. Mitsubori. We will present his interview in two parts, focusing on his origins, his purpose, and his untold thoughts for the young generations of Japan.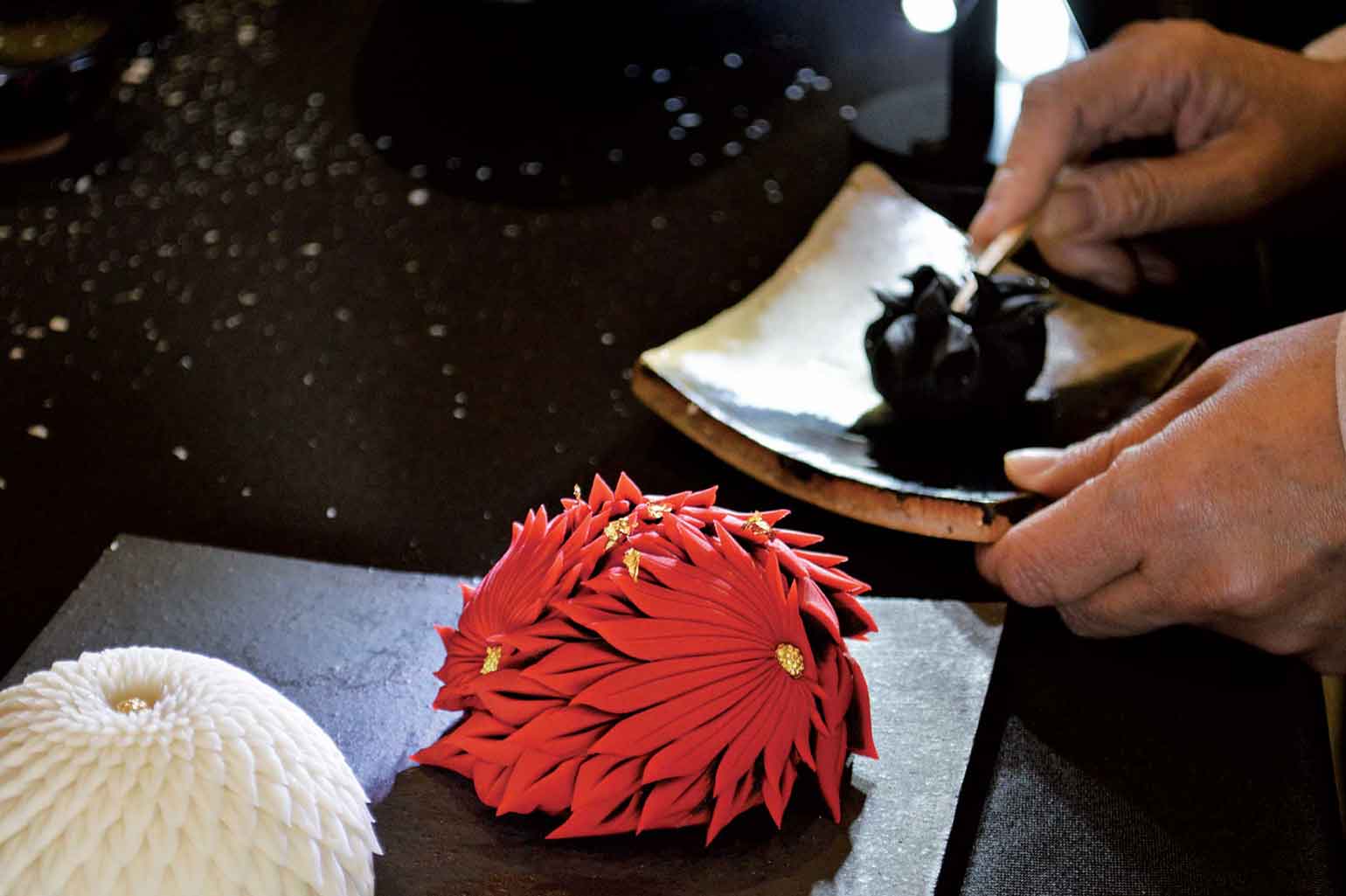 I couldn't think of wagashi as something cool in the beginning
How did you come to the decision to pursue wagashi making?
Although I was born as the third generation of a wagashi store, initially I had no desire whatsoever to become a wagashi maker. At one point I even considered being a musician. But of course, I was raised with the assumption that I will eventually take over the store. Unfortunately, though, I couldn't think of wagashi as something cool in the beginning. I was only producing bulks of wagashi for the sake of selling them, so I had never considered them as an art.
How did you eventually come to see the beauty in wagashi?
I think the reason why I wasn't able to see the beauty in wagashi was that they were too deeply integrated into my everyday life. When I was 27, I was invited to the United States for the first time to teach wagashi making. What surprised me was that the audience there saw wagashi making as an entertainment. That was the first time that I considered my skills as something artistic. I also realized then that this art was of second nature to me, almost like I was born with it. All I did back then was make wagashi as a wagashi maker—live performance wasn't part of it—but this eventually led to the establishment of Kado Ichikaryu, the way of wagashi.
Just when I thought I would be able to face wagashi as an artist, I was required to do so as a businessman instead.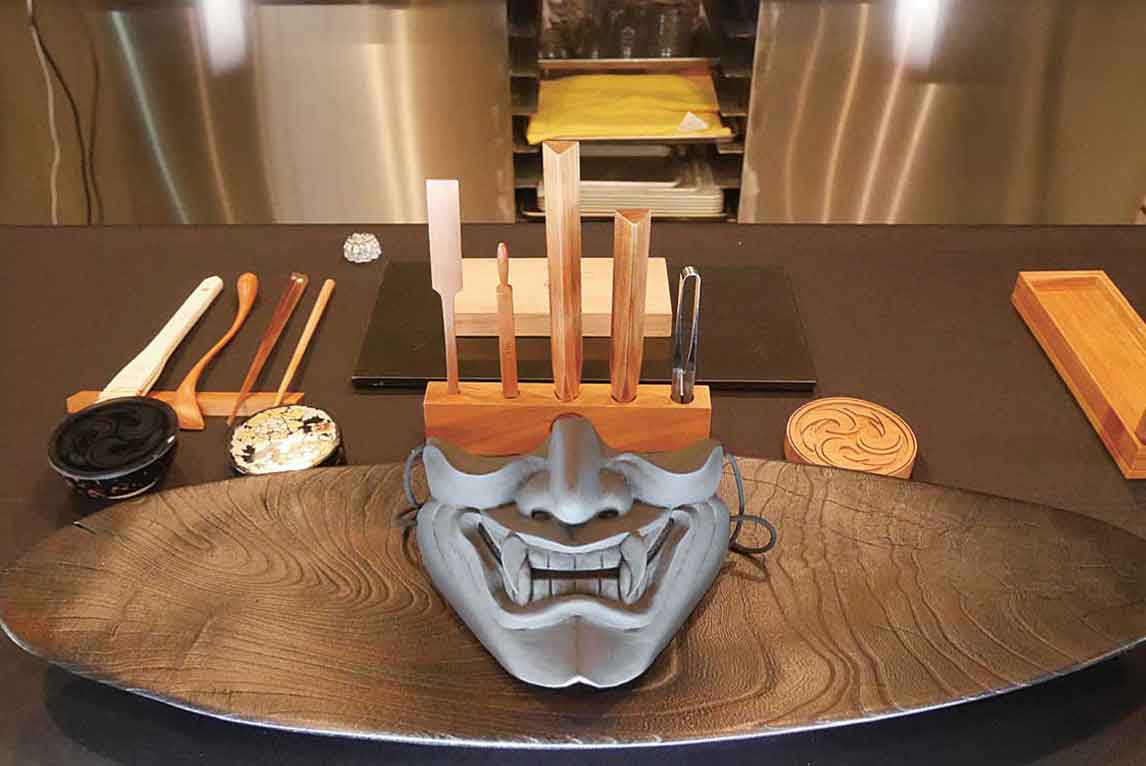 Did you establish Kado Ichikaryu immediately after you were able to recognize wagashi as an entertainment?
No, it was not immediate. A year after I went to the United States, my father realized the change in my attitude and he put me in charge of the company. Ironically enough, I was forced to make money out of wagashi immediately after I recognized wagashi as a form of art and self-expression. I was pressured to make something that would sell. Just when I thought I would be able to face wagashi as an artist, I was required to do so as a businessman instead.
Things didn't go so well for a while and by the time I was 34, our company was at an all-time low. Fortunately, though, our product called "Karinto Manju" became a hit at around the same time. That very year, I even competed in a cooking competition TV show and came in 1st place. From then on everything went pretty well. I became confident with myself, and I naïvely saw myself as a very successful businessman.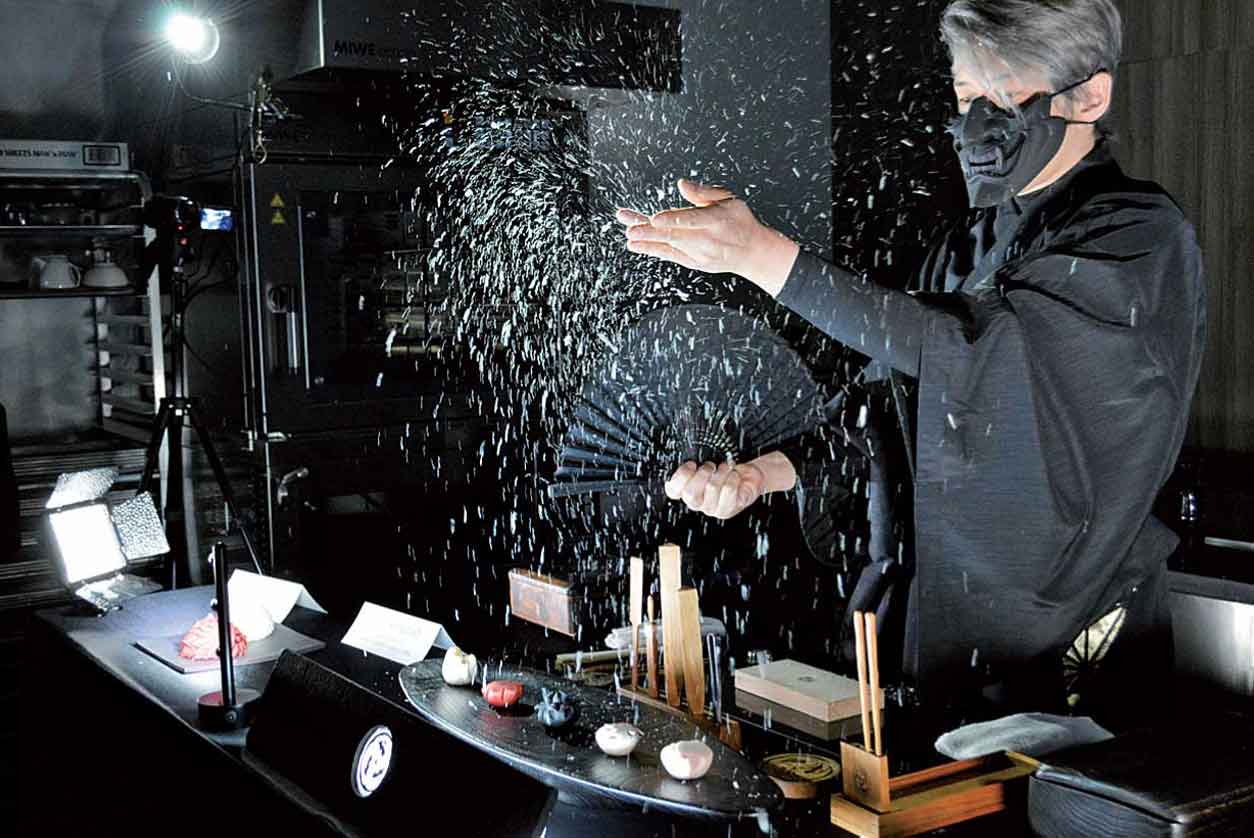 Once the company started to burgeon, I began thinking of hiring more staff. But then it struck me that young people were aspiring to be pastry chefs, not wagashi makers. Most wagashi makers are born into the family including myself. But that's not as common for pastry chefs. In fact, many of them initially dream of becoming one, and typically go to school to pursue their dream. That was when I started to question the difference between the two—why is it that many aspire to be pastry chefs but not wagashi makers? Then it dawned on me that one was about the individual and the other was about the shop.
Could you elaborate on what you mean by that?
Wagashi is traditionally a part of the tea ceremony. Once, when I participated in a tea ceremony, I realized that every artwork in the room was recognized as a work of an individual. The calligraphy was written by a calligrapher, the painting was created by a painter, and even the bowl was made by a potter. But when it came to the wagashi, there was no individual named—rather, it was referred to as a work of the shop as a whole. With wagashi, what's more important than the individual is the shop, or the family. But the beauty of such deep-rooted tradition is only really recognized by adults, and not so much by the younger generations.
On the other hand, western sweets such as cakes and baked goods are a product of the individual that made it, similar to other works of art. When we think of cake for example, we can immediately picture a person with the tall hat and the white uniform that made it. That individual is the idol, even for children. When children are asked what they want to be in the future, a pastry chef would be a popular choice. They know is that it's a dream job. Meanwhile, not many children give "wagashi maker" as an answer since they don't view it as equally attractive.
With any art, you often see the individual behind the work and what they want to express, like the pieces of art in a tea room. Of course, it's possible to use wagashi as a form of art and do something similar, but only under the name of your shop and rarely under your own name. It's a shame, but I believe many wagashi makers still haven't stepped out from under the roofs of their shops.
The philosophy of the individual is something that resonates with many.

Would you say that your performance is to present the wagashi artist as an individual?
Yes. The kimono that I wear is also a symbol of it. This is actually a gift from one of my fans, and I've been wearing it for three years now. Receiving gifts like this from my fans tells me that what I present as an individual artist resonates with the audience. Some think of my costume as cosplay, but I tell them in response that this is indeed my style. It really helps to be able to do what I do with confidence.
I actually started wearing the mask only recently. When participating in the tea ceremony, I realized that the eyes are indeed the window to the heart of the tea master. Covering everything in black except for the eyes and hands contributes to the tense atmosphere, too. That's why I had been covering my mouth with a black furoshiki (cloth) ever since I started performing as an artist. However, I later received a suggestion that I should wear a mask instead of a piece of cloth. But of course, antique masks cost a substantial amount, and they are heavy too, as they were historically used as a piece of armour. As a result, I decided to make one for myself, and also because I had experience making masks for Noh using wagashi. In all honesty though, I would love to ask a mask maker to make one for me someday.
(Japanese Article: トロントで和菓子教室を開催 菓道家 三堀純一氏 記者会見レポート&インタビュー)