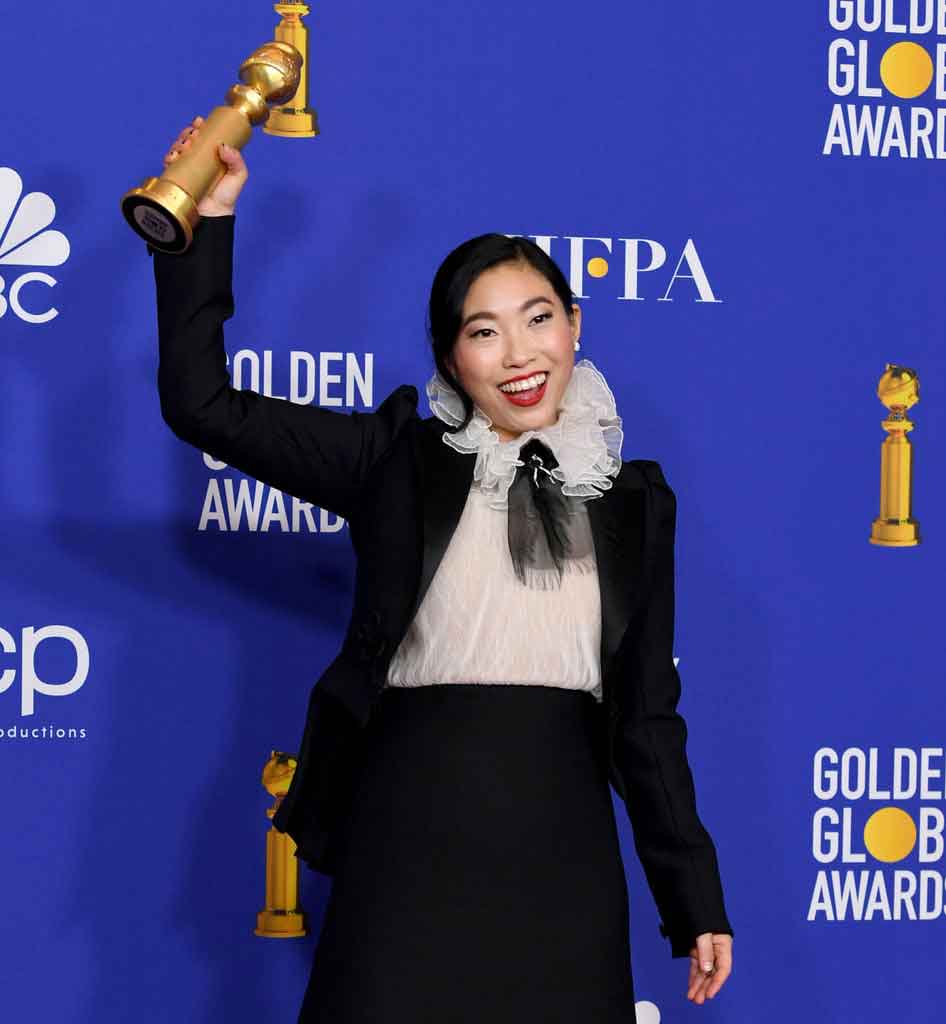 Awkwafina has made Golden Globes history for being the first performer of Asian descent to win a Golden Globe Award in a lead actress film category.
Awkwafina Among the Five Nominees for the BAFTA Rising Star Award https://t.co/rpnM5y7Hdq

— Variety (@Variety) January 6, 2020
When I say, it has been a significant two years for Asian Americans, I mean it. Asian diaspora is getting notice by the western culture. Not just acknowledgement but appreciation is received from the Western society. Our Asian pride shines proudly when we saw Awkwafina on at the Golden Globes Awards holding on to her trophy.
"The Farewell" gave Awkwafina the winning role for the Golden Globe Award. She was also the first Asian descent to win a lead actress award in the film category. (Remember Sandra Oh won her prizes in the TV drama category, minor difference but equally proud for them.)
😍😍😍 pic.twitter.com/aH8D5yB4fQ

— Matt Jacobs (@tarantallegra) January 6, 2020
The film writer and director Lulu Wang was pointed out by Awkwafina that she had given her "the chance of a lifetime" and she "taught [her] so much". Like many typical Asian family, being an actor may not be considered as a "real job". However, when Awkafina dedicated her prize to her father she added "I told you I'd get a job, dad" implying that this prize had confirmed her career choice.
History made 🎉 Congratulations to BEST ACTRESS @awkwafina for @thefarewell #GoldenGlobes pic.twitter.com/YXGGCpioJt

— A24 (@A24) January 6, 2020
The award-winning character Billie is from the film "The Farewell". The movie was about a family trying to hide the secret of the paternal grandmother's (Nai Nai in mandarin) life-threatening diagnosis of lung cancer. The family tried to organize the "last" family gathering through a cousin's wedding to reunite all the family members to say their farewell to the grandmother subtly. Billie is one of the grandchildren of the sick granny. She found out that
Nai Nai severe illness and may only have a few months left to live right after she got a rejection letter from her dream fellowship. She insisted on visiting Nai Nai in China when the family tried to prevent her from going, worrying that she might disclose the secret.
The film was, according to the director's interview with a radio show, that it was based on her own experience and the grandmother in the film (Nai Nai) is based on her still alive and remains unaware of her condition grandmother.
Although this storyline may seem depressing, this film was surprisingly categorized as comedy. The film was rated 7.7/10 on IMDd and 98% on Rotten Tomatoes, in other words, this movie is popular and well-loved.
Best Actress. No Lie.

Congratulations to @Awkwafina on the #GoldenGlobes WIN for #TheFarewell! 🎊💖 pic.twitter.com/iNnDj3y3l2

— The Farewell (@thefarewell) January 6, 2020
A Wall Street Journal, Joe Morgenstern described the film as a "lovely paradox" because "everyone in it tries to hide their feelings as long as they can, yet their story goes straight to your heart." He explains that "'The Farewell' is the family's story, to be sure, a paying of last respects—though never say last, the film reminds us with a wink and a prod—to its eldest member. Yet this stirring dramatic comedy, which takes a jumble-shop approach to narrative structure, is equally Billi's story, a classic tale of divided identity in a modern split setting."
Zhao Shuzhen's arrival is all I want to talk about. #GoldenGlobes pic.twitter.com/WBByR86h6F

— Jason Carlos (@jaarlos) January 5, 2020
I cannot put the film in better words than he is. All I can say is I teared up just watching the trailer. Awkwafina is playing a completely different character from her role in Crazy Rich Asians, yet she still executes her role perfectly.
Last year around the same time, Sandra Oh was also holding a trophy for being woman of Asian descent to be holding more than one Golden Globe trophy. She was the first woman of Asian descent in 39 years of this ceremony to win best actress in a TV drama. And everyone watching her as she started crying on the stage.
Awkwafina and Oh found their calling, they also found a spot in everyone's (not just Asians) heart.
The women of @thefarewell: @awkwafina, @thumbelulu & Zhao Shuzhen! #AFIAWARDS pic.twitter.com/Sb5z2w2Wpy

— AFI (@AmericanFilm) January 4, 2020