Dear Toronto Ramen Fans:
If you live in downtown Toronto, there is good news for you.
Konjiki Hototogisu is opening their 2nd location in downtown Toronto at 41 Elm Street.
Konjiki Hototogisu (金色 不如帰)- Refers to golden little cuckoo in Japanese, popular ramen restaurant brand originated from Japan and they had recently recognized as one star establishment by Tokyo Michelin restaurant guide in 2019. Konjiki Hototogisu was first opened in Tokyo Japan in 2006 by Chef & Owner Mr. Atsushi Yamamoto. Indeed, Chef Yamamoto has chosen Toronto as his stage to discover more inspirations at one of the most multicultural diverse city in the world. For more background information about Konjiki, please visit www.konjikiramen.com for more details.
Their 1st Toronto ramen establishment in North York primary offers their signature clam broth & tonkotsu broth on their menu. So what's new about their upcoming downtown locations?
Konjiki Downtown location will be collaborated with Shitamachi Tendon Akimitsu, which is a Japanese Tendon (Tempura Rice Bowl) brand originated from Asakusa, Tokyo. Both restaurant brands will be under the same store front. Most importantly, you can enjoy both ramen and tendon on the same time. 🙂 Furthermore, ramen menu will had slightly different variations than their 1st Toronto location. Please see below for details.
Wagyu & Angus Beef Shoyu Ramen ($19.5)
*Sunday, Monday, & Tuesday Special – Downtown location only *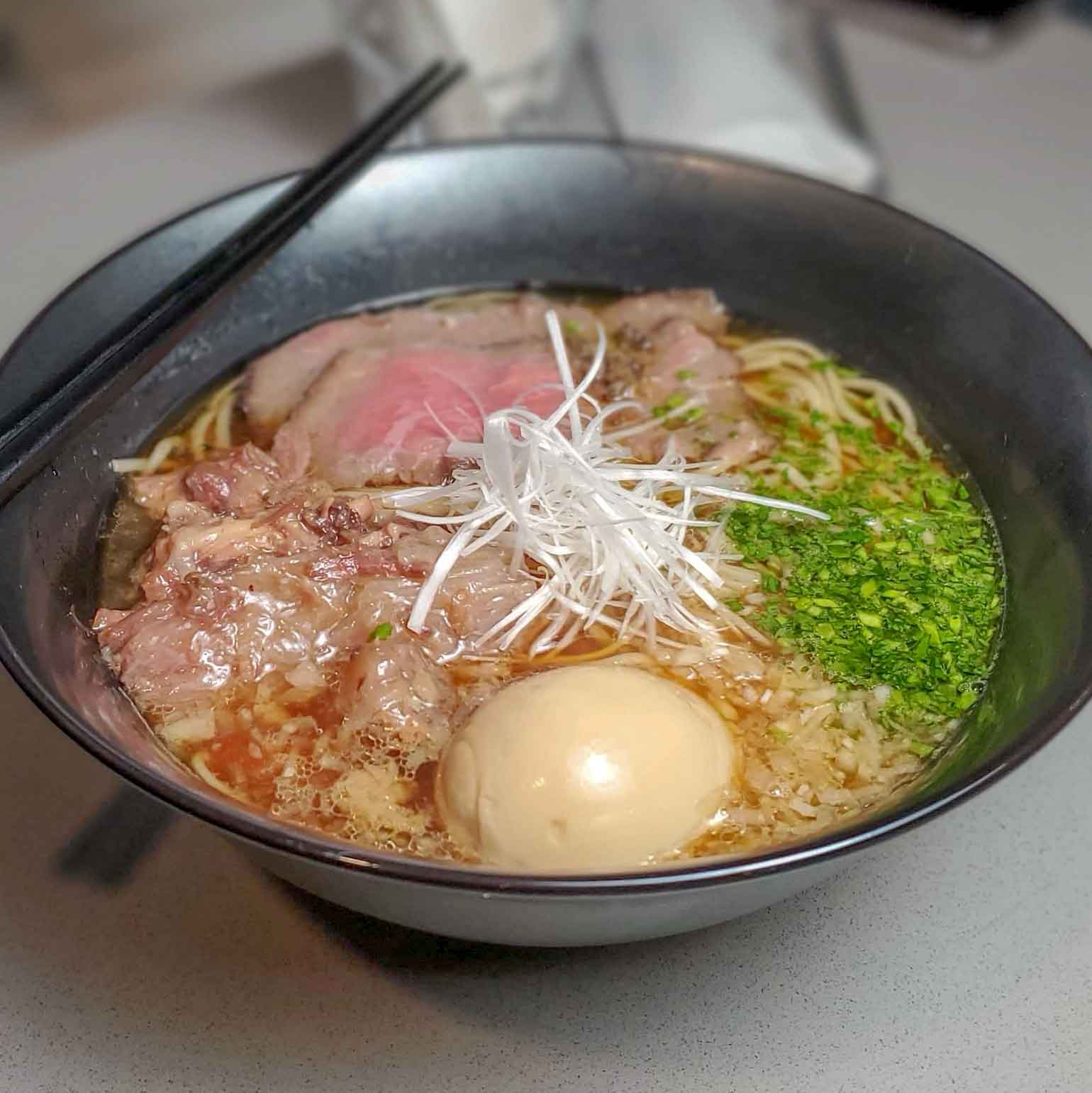 One of the highlights of Konjiki downtown would be ramen options that were exclusively provided at this store. This would be definitely being one of them – Wagyu & Angus Beef Shoyu Ramen.
Savoury broth consists of high quality beef bone & whole chicken. The amount of meat that they put in this broth introduces a genuine umami flavour. Noodles were topped with Wagyu & Angus roasted beef, beef tendon & brisket, black truffle sauce, leek, watercress and onion. According to Konjiki, Beef ramen was once a secret menu in Konjiki Hototogisu Soba house in Shibuya Shop. I really appreciate that they would introduce this special ramen in Toronto. There's not much Japanese style ramen with beef option in Toronto in the past. Come by and check this out.
If you had tried it, let me know what you think.
Authentic Tonkotsu Ramen ($14)
*Only in Downtown Location*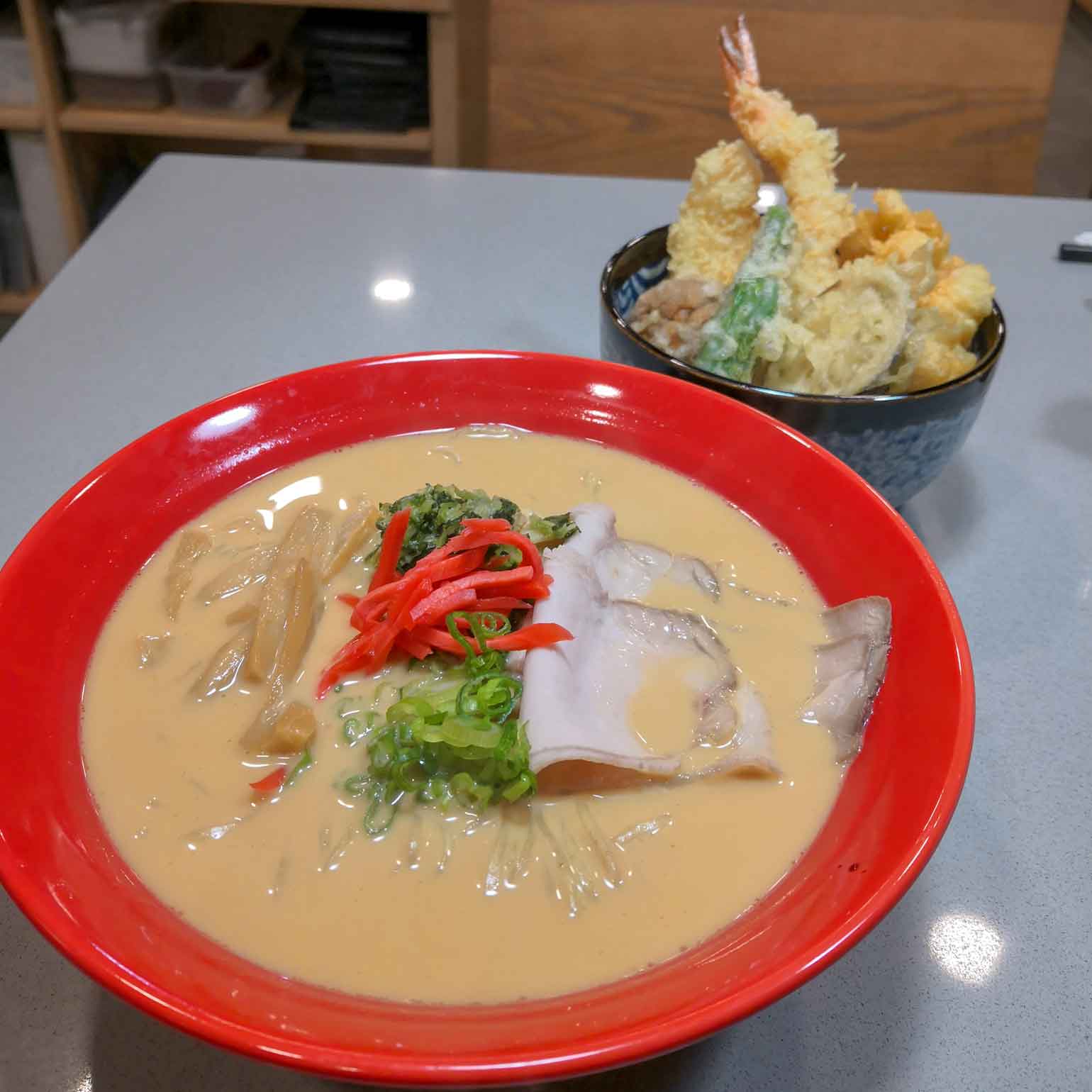 As for Konjiki Tonkotsu selections, downtown store offers their own unique tonkotsu ramen that were slightly different than their North York location. Their authentic Tonkotsu ramen is made in the old fashion way. 100% Tonkotsu broth base contains large amount of pork bones, skin and different portions of pork. All Ingredients were boiled in an extremely high temperature and rolling boiled it for a long time. The broth itself was pretty dense with a rich & bold flavour. House made noodles were topped with sous vide pork cha shu, pickled ginger, pickled takana, braised bamboo shoot, and spring onion. As you enjoy this ramen, the creaminess pork broth will build up in your taste pallet. Pickled ginger & takana become an important role for this ramen, because these pickled flavoured toppings will cleanse your pallet thought the process. Therefore, you can consistently enjoy the overall flavour of this ramen. If you are a fan of tonkotsu ramen, come by and check this out.
Avocado Vegetarian Ramen ($14)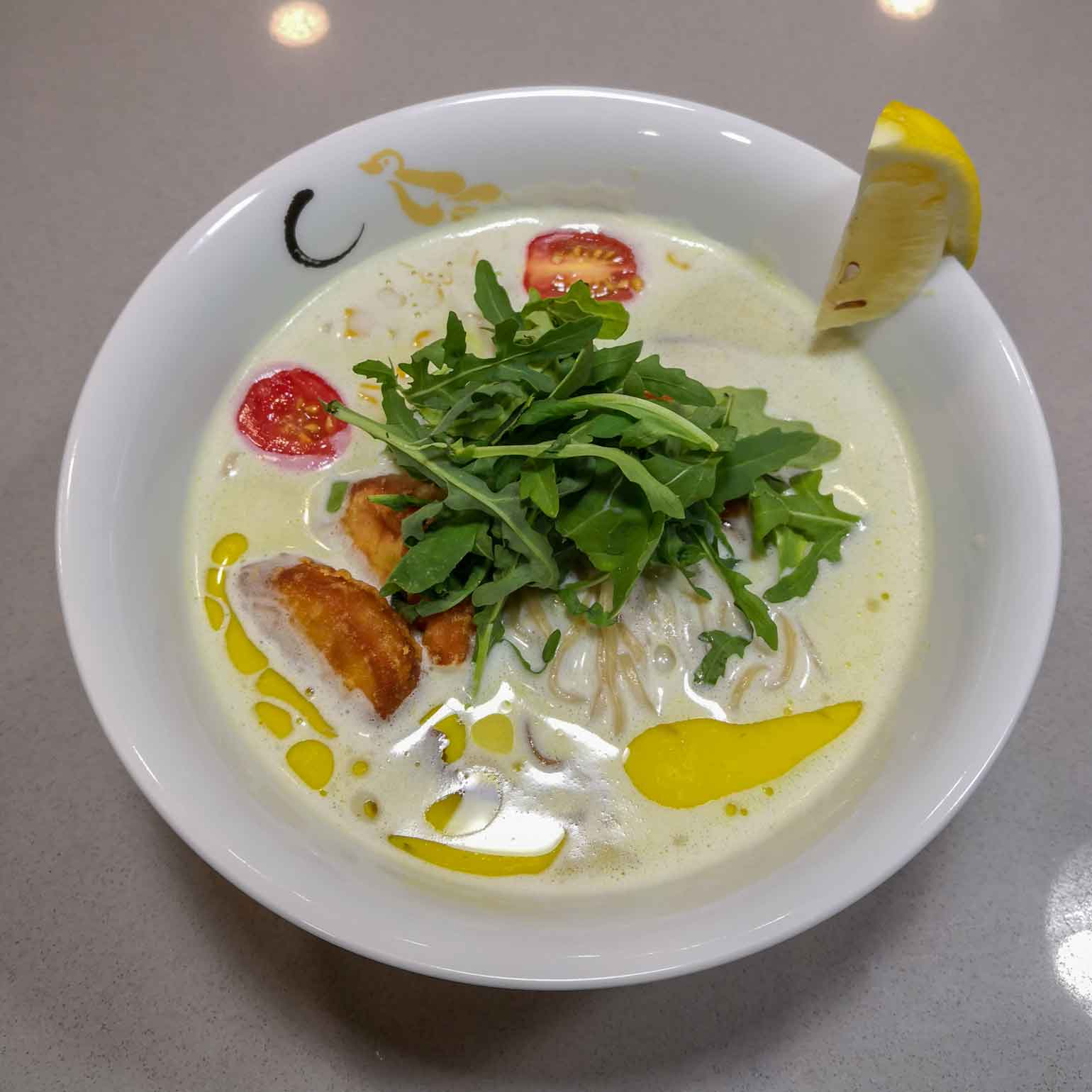 Similar with North York, Konjiki downtown offers vegetarian ramen option as well. Their version of Vegetarian Ramen consists of a rich broth blend of avocado, mushroom, heavy cream & soy milk. Ramen were topped with arugula, porcini mushroom & oil, tomato, tofu nugget, roasted corn, roasted pumpkin, and sliced lemon. The creamy soup base style was consistent with North York's vegetarian ramen. The main difference would be the use of avocado on their broth.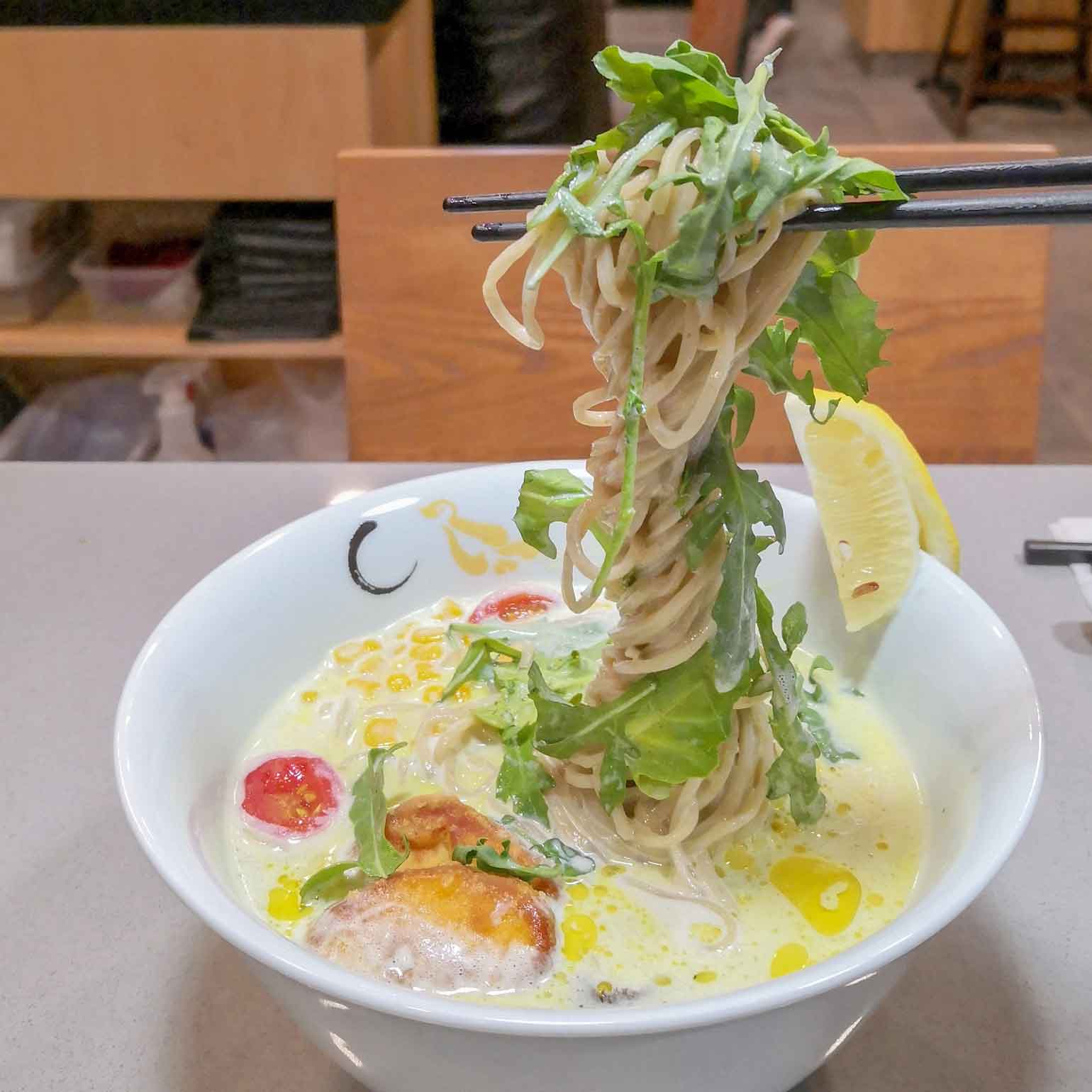 Avocado does enhance the richness of this ramen broth, and I like the creaminess of this broth. However, I didn't really taste avocado flavour as much. Moreover, Arugula itself tastes slightly bitter that adds an addition element toward the flavour of this ramen. I don't mind the taste of bitterness, but I have a feeling that certain customers might not like it. Overall, this is pretty interesting to try.
Signature Clam Ramen (Shoyu & Shio) (Regular $14, Super-Size $18)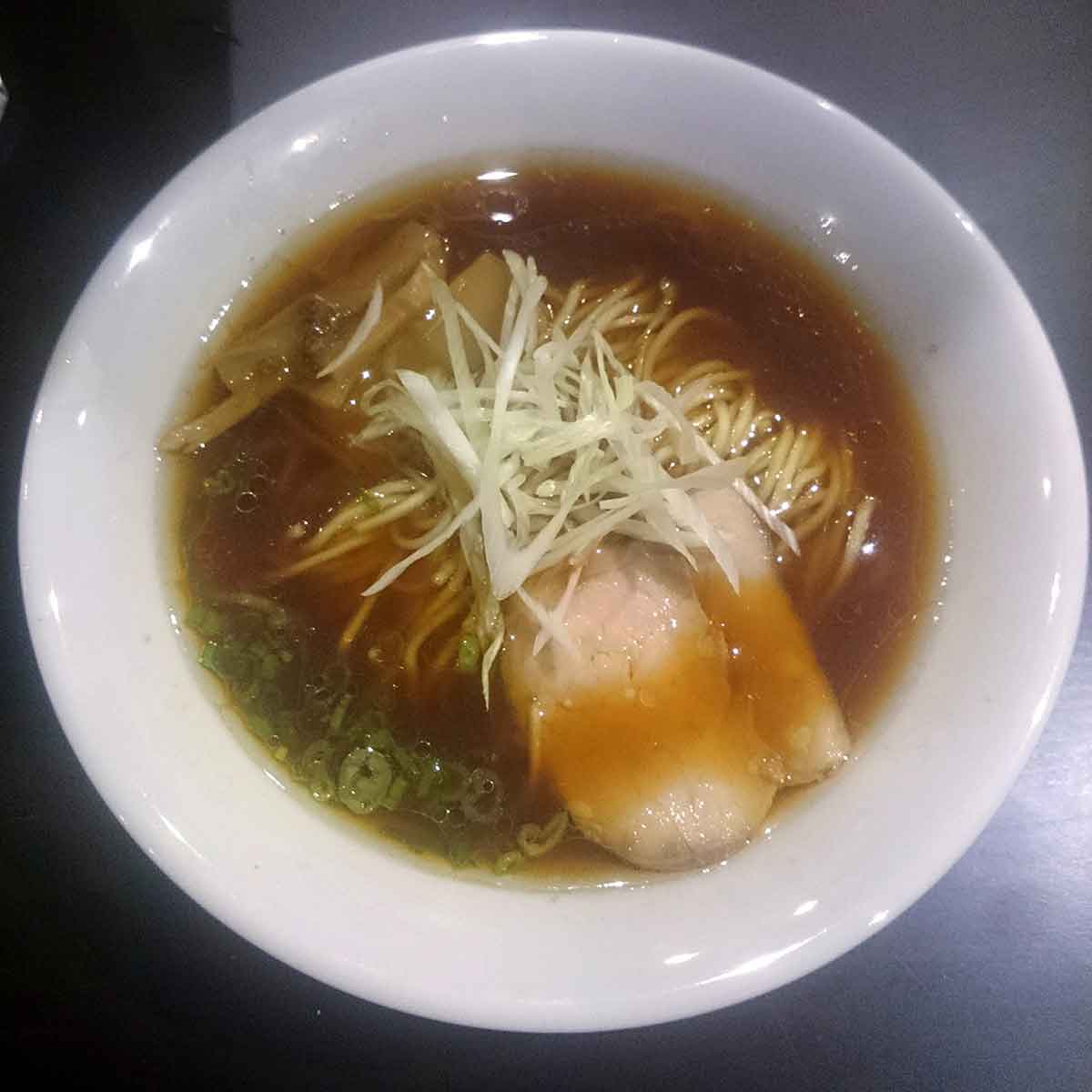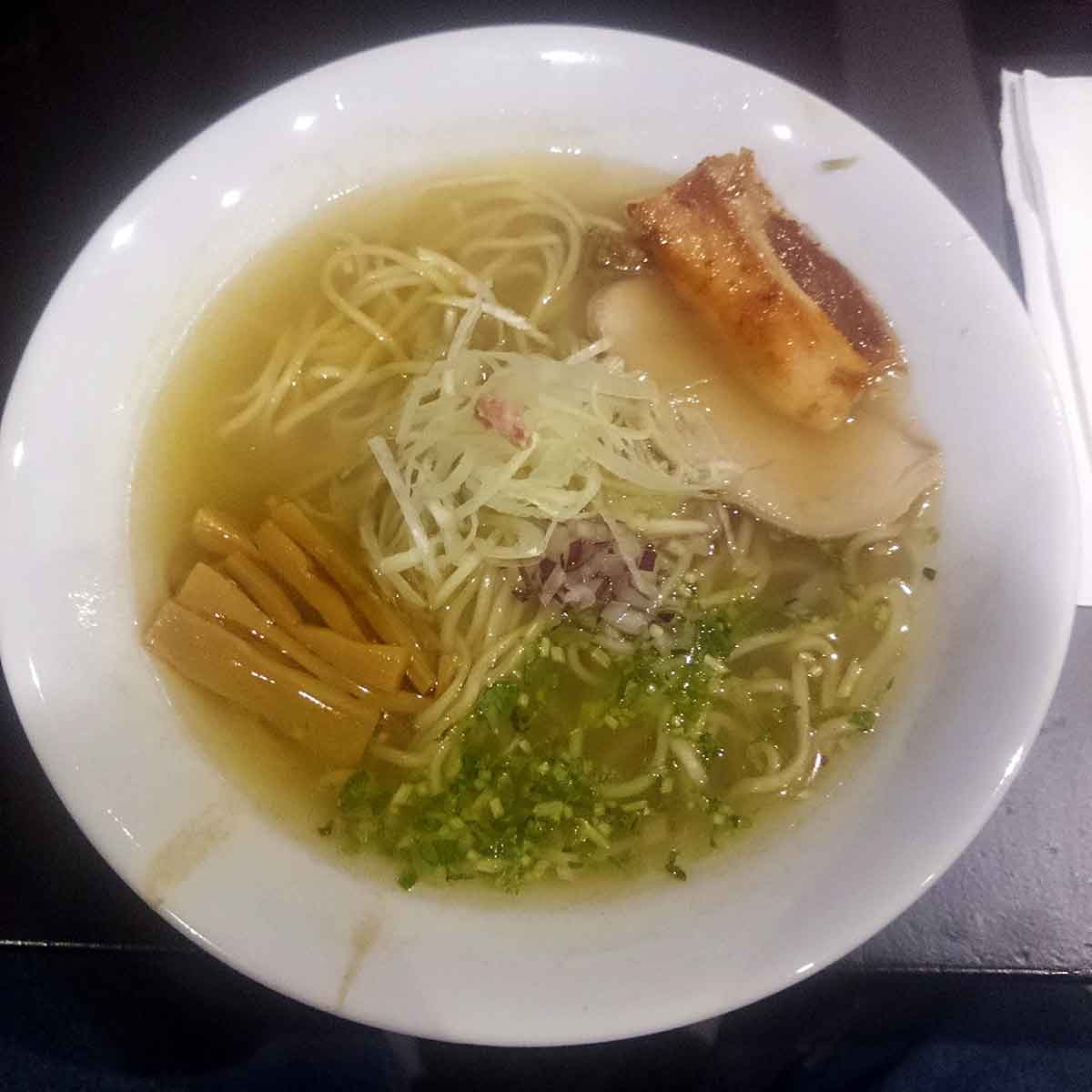 Other than special ramen for this location, you can also enjoy Konjiki's classic clam broth ramen for this location as well. Moreover, you can add $4 to super-size your ramen portion. Here's the regular sized ramen.
Ramen + Mini Tempura Donburi ($20)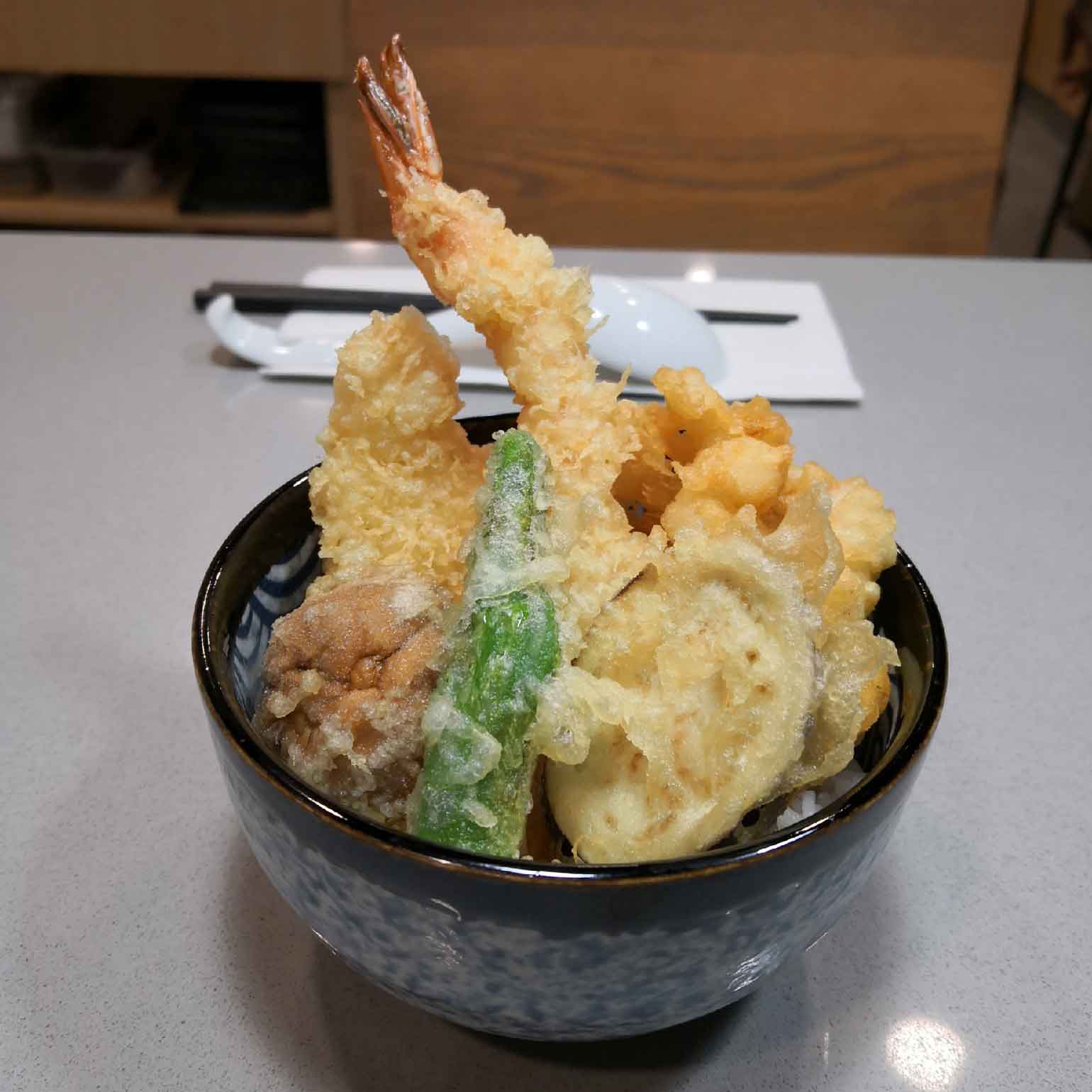 Since Konjiki & Tendon Akimitsu were under the same roof, you can order Akimitsu's mini donburi at Konjiki store located on the second level. Currently, they were offering a special ramen set consists of your choice ramen + Mini rice bowl (tendon). You can choose either Special seafood tendon or vegetarian tempura tendon. Their Special seafood Tendon consists of assortment of seafood tempura with rice. Assortment of Seafood tempura was consists of the following.
Shrimp
Salmon
Squid
Eggplant
Okra
Mushroom
I really like their tempura batter. It had a nice crispiness with the balance of meat & batter. Dollar value wise were pretty decent. Ramen itself cost $14 dollars. Add $6 for added mini rice bowl is a pretty good deal for 6 pieces of decent quality tempura. This ramen set is definitely worth to try.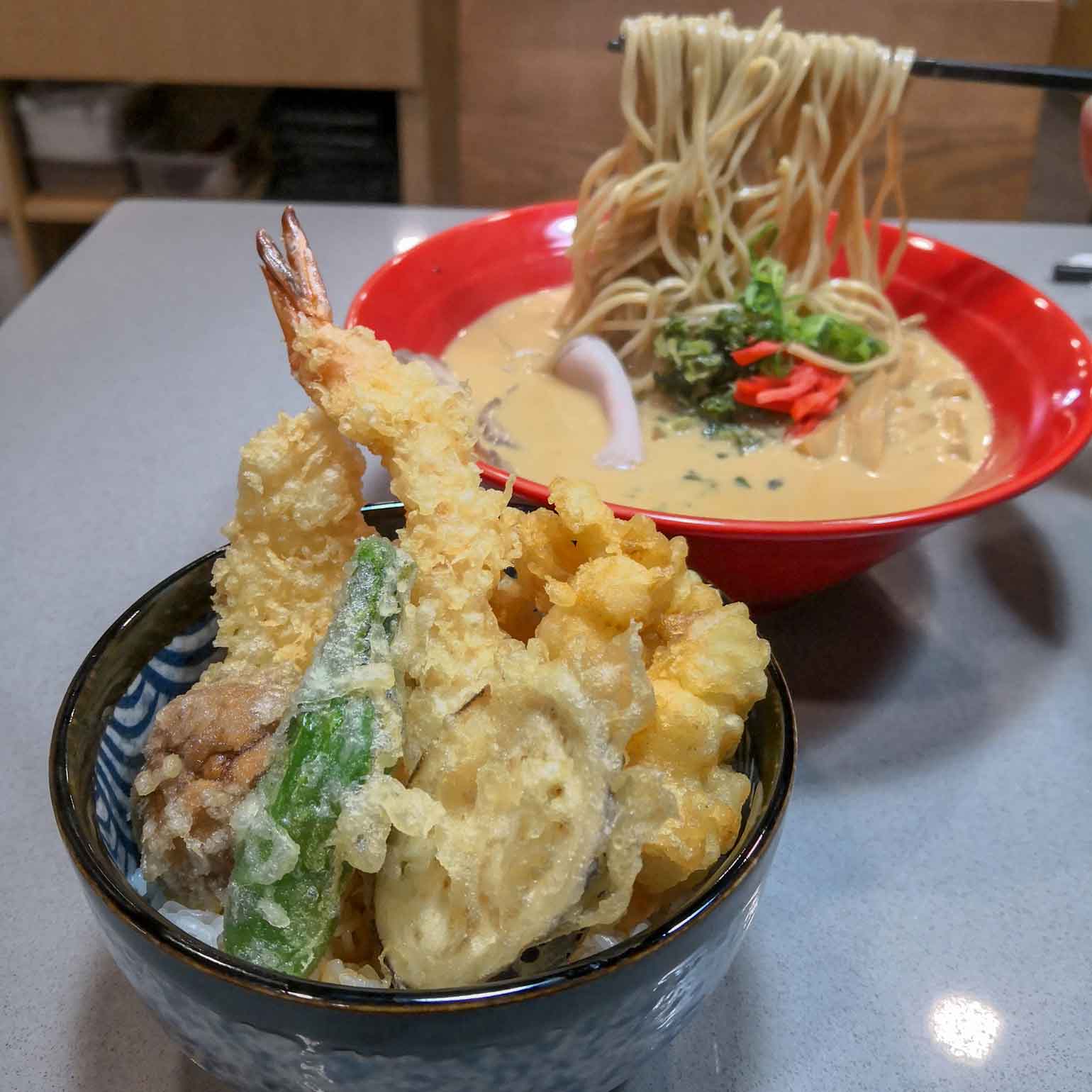 Konjiki Ramen. Thank you for choosing Toronto for your new restaurant establishment.
Congratulation for your soft opening in Downtown Toronto
We will definite stay tuned for your grand opening day.
Best Regards,
Anthoni @ Japan in Canada