I had sensed an enormous ramen wave coming on Queen Street West recently.
YES… International Japanese ramen chain had opened their first location in TORONTO. – Hakata Ikkousha Ramen (博多一幸舎) @ 249 Queen Street West.
Originated from Fukuoka, Founder Kousuke Yoshimura had developed his original tonkotsu ramen recipe, and established his first Hakata Ikkousha Ramen location in Daimyo, Fukuoka. The name "Ikkousha" (一幸舎) was referring to one happy place in Japanese, which they hope that whoever visits Ikkousha can find "one" or more "happiness" at the precious "place".
"To bring happiness to all the people".
Living up to his motto, Ikkousha makes every effort to spread out "Hakata Ramen" culture to the world. Indeed, Ikkousha ramen shop had spread out internationally around the world.
Are you excited to try Ramen Ikkousha?
Let's begin with Anthoni's Ramen Adventures… 始めましょう
Hakata Ikkousha Tonkotsu Ramen
The soul of Hakata style tonkotsu ramen comes from their rich and flavourful tonkotsu broth. Ikkousha uses a huge amount of pork bone for their broth, and simmered for long hours to extract its natural sweetness, umami and bone taste. Chef works precisely with the quality control of their broth, which the quality will remain consistent with other locations around the world.
Menu – Hakata Ikkousha
In Toronto location, they had utilized their signature Tonkotsu broth into four different variations. (Signature, Shio, Black, & God Fire). One thing that impressed me at Ikkousha would be their ordering sheet. You can customize your ramen with the following selections.
Pick your ramen base (Signature Tonkotsu, Shio Tonkotsu, Black Tonkotsu, and God Fire)
Noodles texture (Soft, Normal, Hard, & Very Hard)
Saltiness (Light, or Normal)
Spring Onions (Yes or No)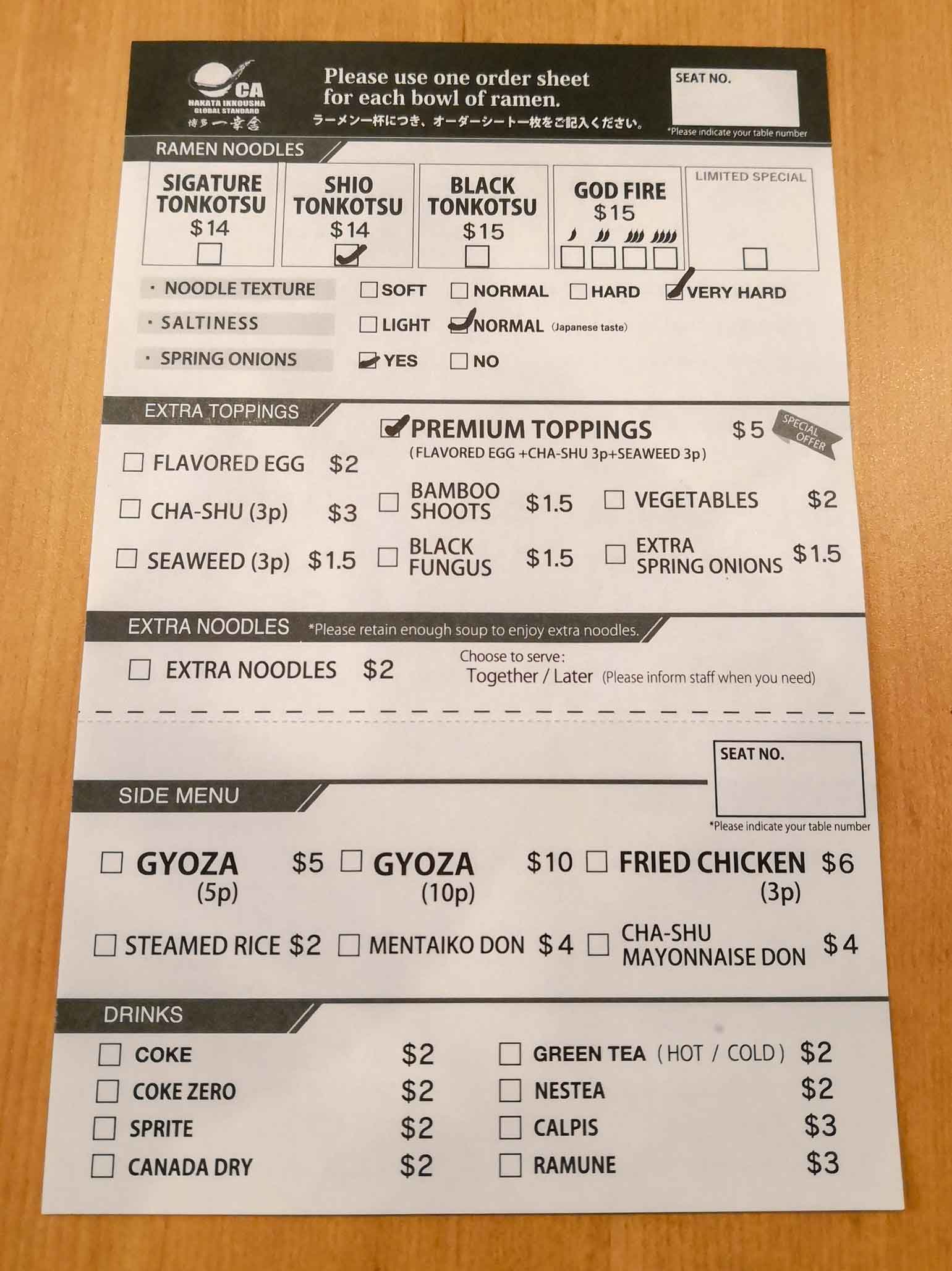 This way you can choose your unique ramen based on your own preferences.
Of course. You can add extra toppings.
Are you deciding what to choose for your ramen base?
Let me show you what we got.
Signature Tonkotsu Ramen + egg ($14+2)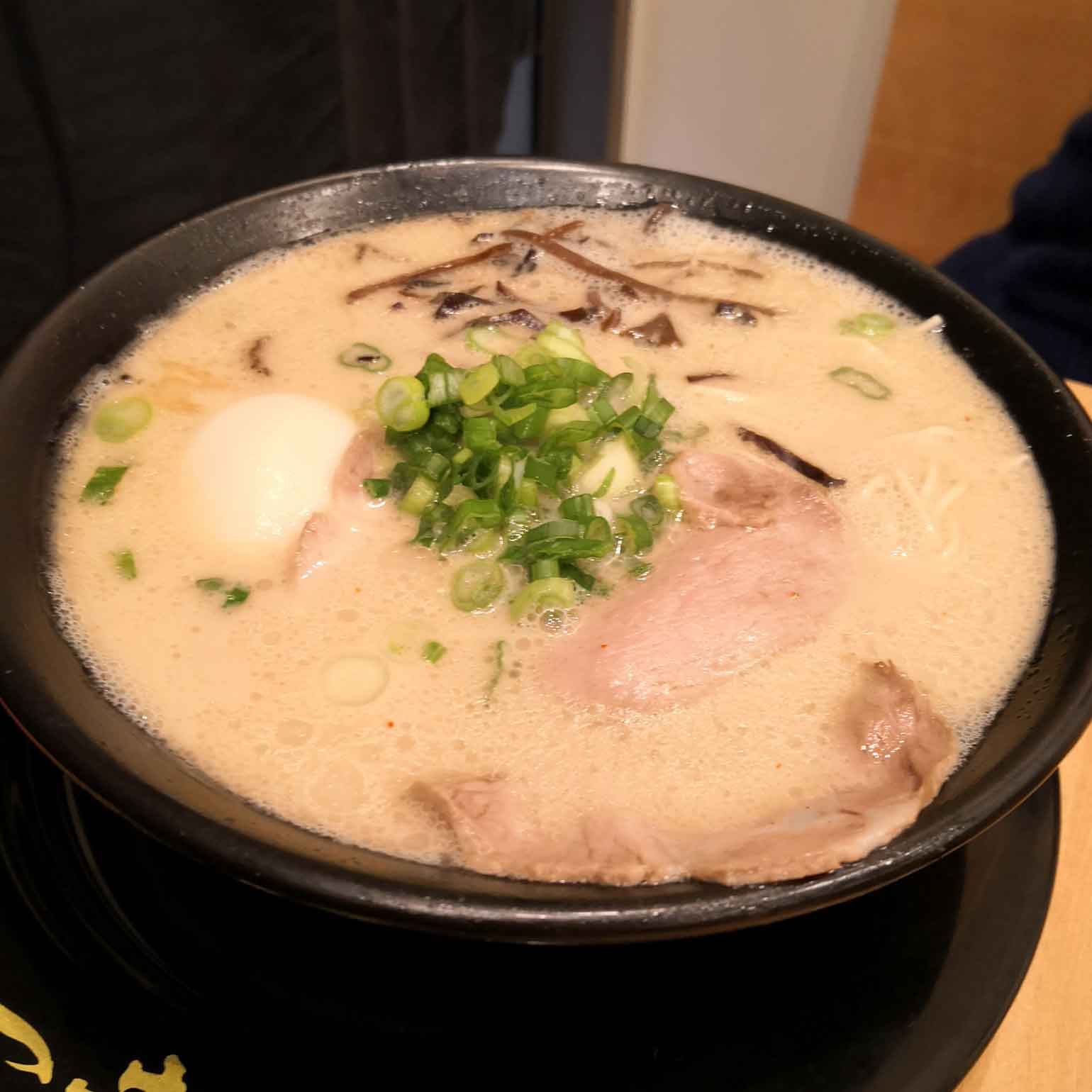 Ikkousha signature Tonkotsu ramen consists of their original creamy pork bone broth. Thin tradition noodles were topped with tender pork cha shu, black fungus and spring onions. Their original creamy pork bone broth had a strong pork flavour. It tastes somewhat milky but not too thick in texture. I personally like their normal saltiness level. If you don't like the saltiness, you can always choose the lighter option in your order sheet.
Shio Tonkotsu Ramen + Premium Toppings ($14+5)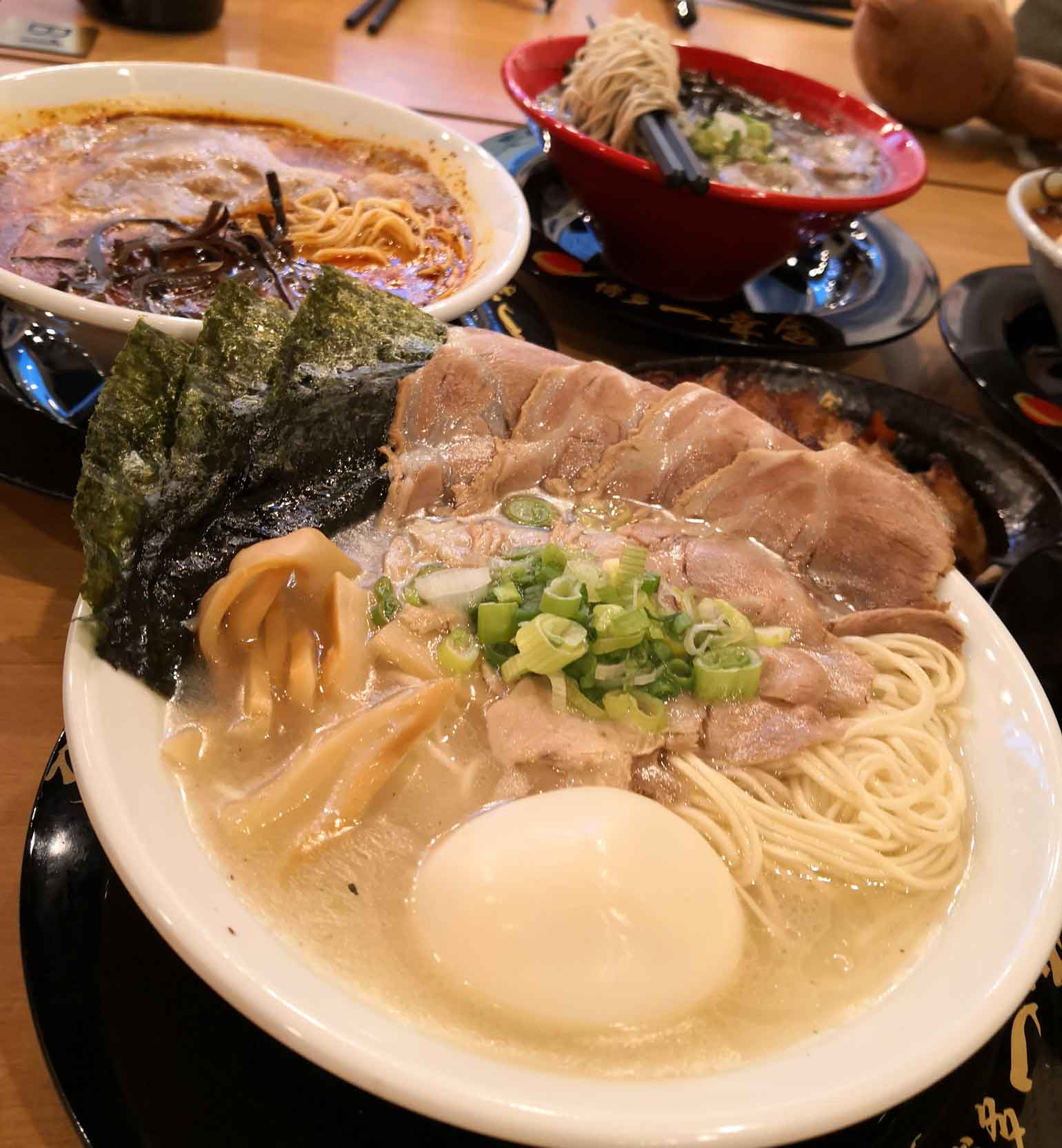 If you like something lighter than their signature ramen, you can consider trying their Shio Ramen. Shio Tonkotsu Ramen consists of light pork broth with their standard topping (Black fungus, spring onions, and pork cha shu), and addition bamboo shoots.
Feeling for extra toppings?
I would suggest their Premium Toppings option for extra $ 5 dollars, which includes flavoured egg, 3 slices of cha shu, and 3 pieces of seaweed. Moreover, you will save $1.5 for this combination instead of ordering those topping separately. If you the one who love lots of topping on your bowl of ramen, add premium topping would be the best option.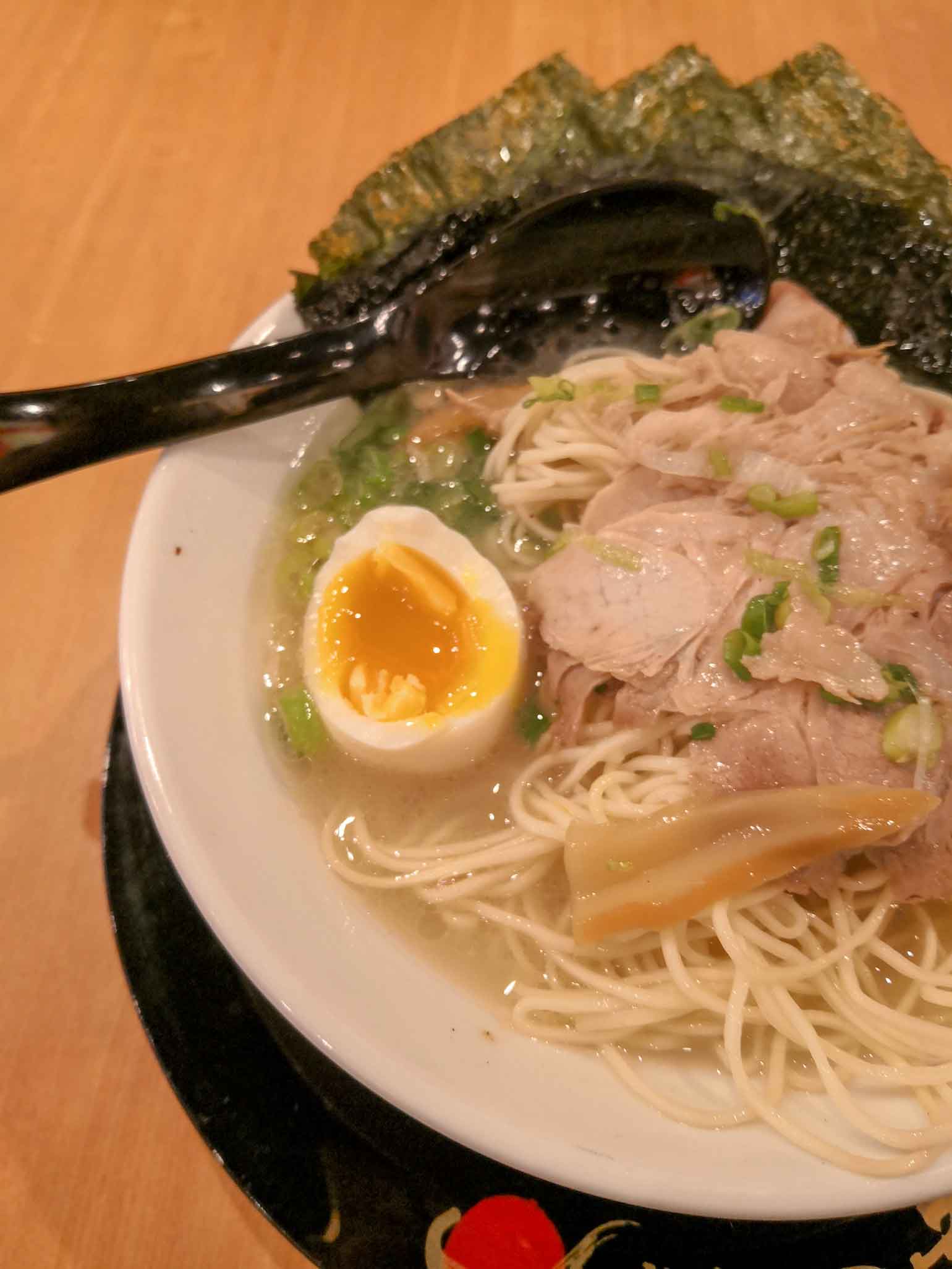 Black Tonkotsu Ramen + Premium Toppings ($15+5)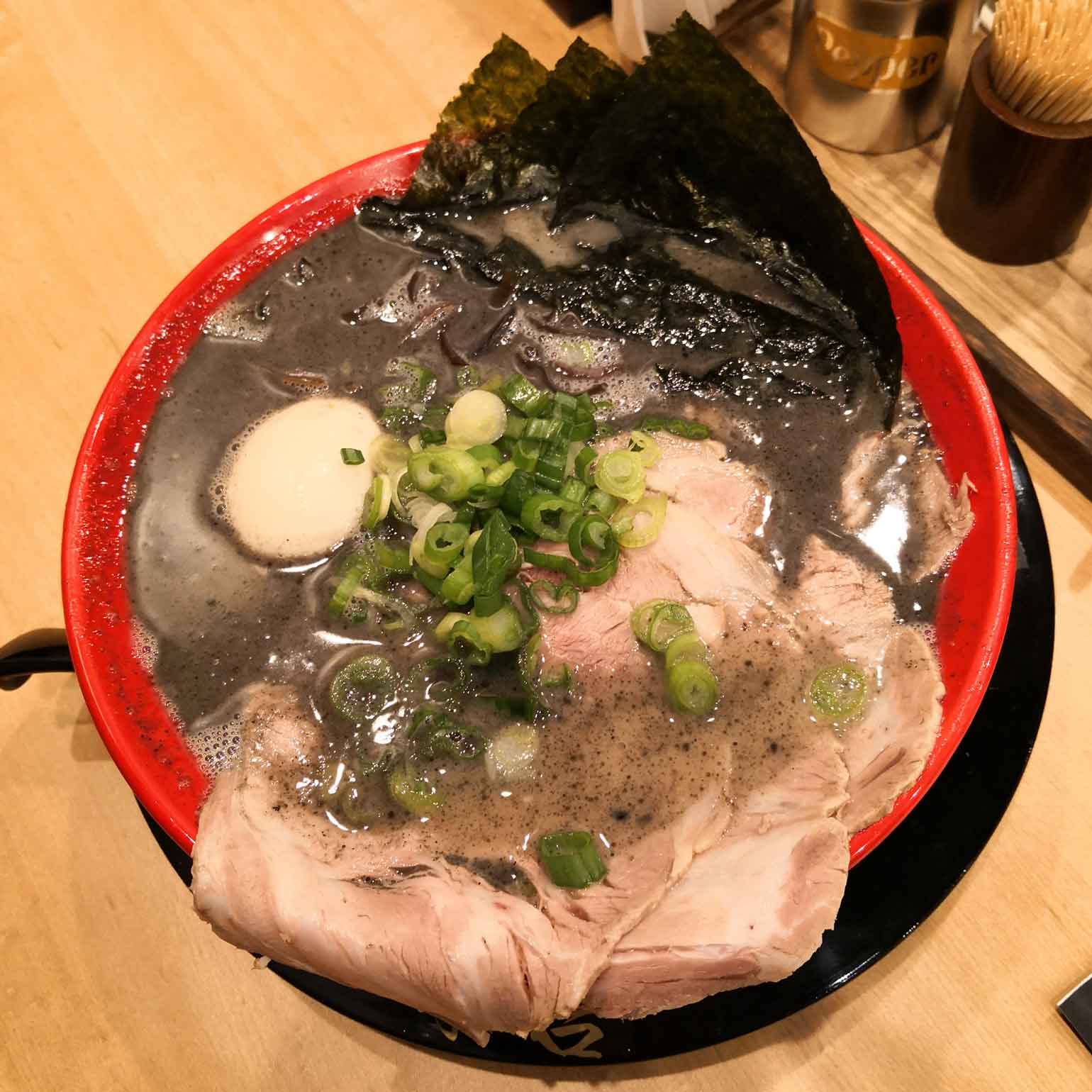 Are you feeling for stronger flavour?
Black Tonkotsu Ramen would definitely satisfy your cravings. 🙂
Black Tonkotsu Ramen consists of a combination of rich tonkotsu broth, charcoal garlic, and house blend sesame oil. It had a light sesame oil aroma as they serve at the table. Moreover, Charcoal garlic is something that I couldn't find at other places in Toronto. To be honest, I didn't taste the garlicky element in this broth. However, Charcoal garlic oil really does enhance the flavour of this broth. Actually, Black tonkotsu ramen is my favourite ramen on the menu.
God Fire (Spicy Tonkotsu Ramen with no onion) ($15)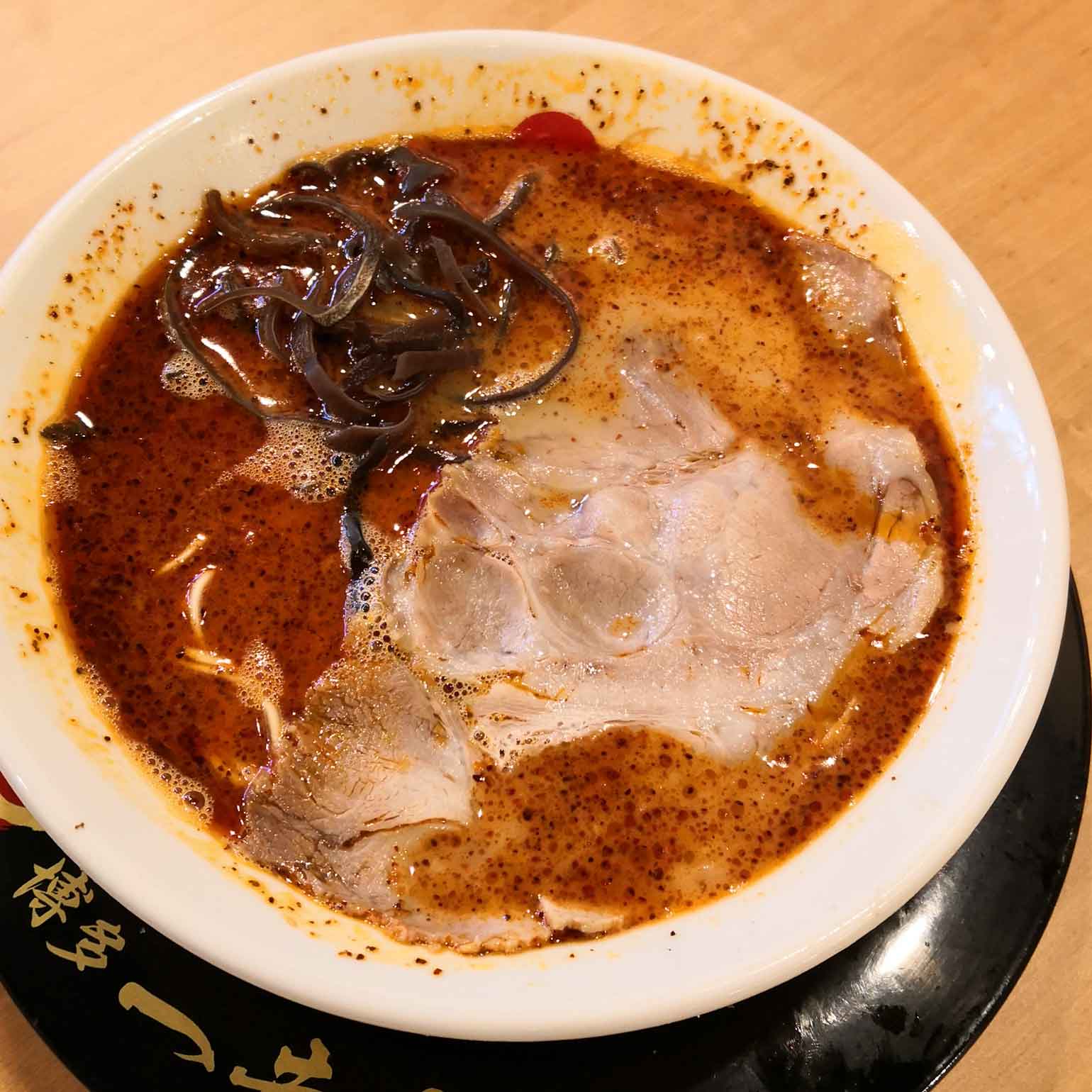 Other than the above selection, spicy lovers can consider trying their God Fire Ramen. This is Ikkousha's spicy tonkotsu ramen with the combination of their signature creamy bone broth and their secret "Spicy fire" tare. There are four different spicy levels that you can choose. In my opinion, their level two spicy was consider spicy to me with a real kick in my taste pallets. If you have a strong spicy tolerance, feel free to try level 3 or 4 for your pleasure.
In summary
Overall, I do like their original hakata style tonkotsu broth, and their offering are competitive with other ramen places with Tonkotsu ramen offerings in Toronto. Also, they have lots of ramen condiments on the table (pickle ginger, garlic, sesame, & ramen sauces). Other than their condiments selection, I like their ordering paper system where you can customize your ramen to the way you like it. Some ramen places in Toronto used to offer the saltiness level as an option in their ramen, but they don't offer it anymore. Moreover, Ikkousha offers the option of choosing your noodles texture. This is something that other ramen restaurant don't have in Toronto. On the other hand, Ikkousha is very specialize in Hakata style ramen, which they only offers only tonkotsu base broth and one type of noodle on the menu, which can a disadvantage for them comparing with ramen restaurants in Toronto. All in all, specialization had their own benefits, because the quality will definitely be ensure, since they were focus on what they do.
If you love Hakata style tonkotsu ramen, I would suggest you to check out Ramen Ikkousha on 249 Queen Street West.

Ramen Ikkousha. Welcome to Toronto.
Thank you for introducing your ramen creation to ramen lovers in Toronto.
See you next time. Therefore,
Anthoni Food Adventures Continues….
P.S. Don't forget to get their classic appetizers…. Fried chicken & Gyoza.