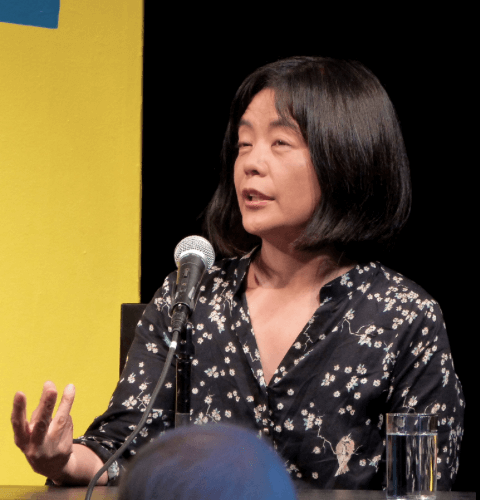 I first discovered works by Yoko Tawada when I was a grad school student, studying creative writing (whatever that means). The professor, an author from Newfoundland, told a story of him reading with Tawada at the Vancouver Writers Fest. There was an empty chair on the stage. According to the festival's website, "the Empty Chair highlights the absence of a writer due to unjust travel restrictions, imprisonment, or threat of violence" and is, of course, not supposed to be sat on. Before he went on stage, he was approached by Tawada, who asked if he could read for her since English is not her first language. The professor agreed. My professor, who was young at the time and is attending the festival for the first time, mistakenly sat on the empty chair on the stage before he read. He started reading a passage in Tawada's book (he didn't tell us which book it was) about a woman cooking in a kitchen in the summer. The passage was pleasant and beautiful written, he said, until a man enters the scene and a graphic sex scene follows. The professor, embarrassed by the detailed descriptions and lengthy sex scene, turned his head to see Yoko Tawada, sitting on the Empty Chair trying to hide her laughter.
I looked up Yoko Tawada's work. The first book I read of hers was Where Europe Begins, a collection of stories that challenge the limits of language, cultural norms, and values, as well as logic as to how we understand it. The line is carefully constructed, playing with how readers perceive words and use deconstruction to test the limit of language by bending logic. The book is also about transnational identity. Tawada grew up in Japan but was unable to write anything until she learned German and Russian. She once said in an interview that she found the Japanese language to be confining, learning another language allowed her mind to articulate ideas that she otherwise couldn't. She moved to Germany after completing her degree at Waseda University and earned a master and Ph.D. in German literature. She is currently based in Berlin.
Last year, Tawada's Emissary, won the U.S. National Book Award for Translated Literature. The dystopian novel depicts an older man and his great-grandchild living in a difficult situation in Japan after a disaster (nuclear fallout, perhaps). The country has quarantined itself and language has started to disappear. Men go through menopause. Children are so weak that pediatricians begin to commit suicide for feeling useless. "I take my winning of the award as a message that it is necessary to look at the world, at a time when the administration of U.S. President Donald Trump takes a stance of not giving consideration to other countries under his 'America First' policy," Tawada said at an event at Waseda University after the win.
I enjoyed the Emissary; Tawada's sarcastic dark humour is all over the piece. The novel is thought-provoking, sad, yet meaningful. Not centered on one idea, isn't didactic and overall, a great read.
For my friends who were raised in more than one culture, Tawada is the writer for you. Many of her works are philosophical yet personal, capturing the lives those in the transnational community—a group that is growing as faster than ever.
Later that year, after having heard the story of my professor being pranked by Yoko Tawada, I attended the Vancouver Writers Fest. The Empty Chair had a name tag on it and next to the chair, was a banner with a photograph of the author being honoured, perhaps to remind speakers that the chair is a symbol that is not to be sat on.
The Emissary, as well as Tawada's other books are available in stores around Toronto, Amazon.ca, Audible.ca, as well as on Kindle and Apple Books.