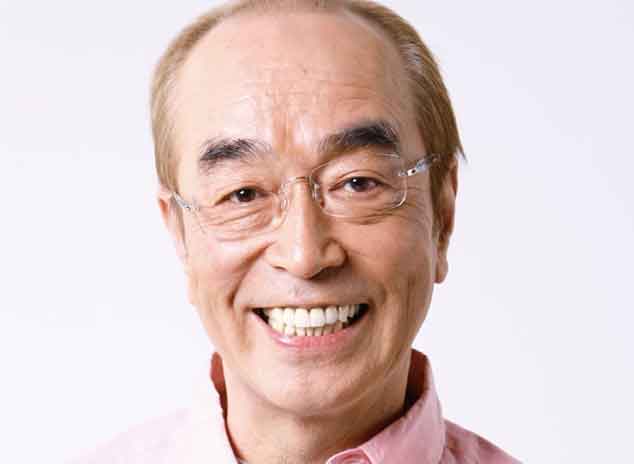 Ken Shimura, a veteran Japanese slapstick comedian, has died after contracting novel coronavirus, according to his representatives. The beloved comedian became the first person in the entertainment industry to announce their infection with the virus.
Shimura, who was also known as "Japan's Robin Williams," was hospitalized on March 20 after developing a fever and extreme fatigue. Three days later, he was tested positive for the coronavirus. He suffered pneumonia-like symptoms and passed away on Sunday night.
He had been cast as the lead in a film by Yoji Yamada. He had also been invited to be a torch runner in the Olympic relay, which was cancelled after the postponement of the Tokyo Summer Olympics.
With Japanese television networks heavily covering his death, he is mourned deeply in Japan.
Here, you can watch his skits with English subtitles.
The fame of Beloved Ken Shimura
Shimura, whose real name was Yasunori Shimura, began his comedy career in 1974 after joining the comedy group the Drifters. He was recruited to join the group and performed regularly with it in its television variety show. He became known across Japan for his Charlie Chaplin-like "Mustache Dance" and physical comedy. In his memoir, Shimura said he was inspired by American comedian Jerry Lewis. His skits made him a household name for almost five decades.

Shimura Ken's "Mustache Dance"
Shimura rose to prominence after starring in the group's prime-time TV slapstick show "Hachijidayo Zeninshugo!" ("It's 8 o'clock, assemble everyone!") launched in 1969. He became popular for his easy-to-understand gags and range of parodies, including the "mustache dance" and the song "Higashimurayama Ondo," a song written about his hometown. He added comical moves to traditional dance forms as he performed the song on the variety show, and the dance routine became popular enough that people all over Japan learnt the words.

" Higashimurayama Ondo"
He later became known for the popular comedy characters he played on TV, including Baka Tonosama (stupid lord) and Henna Ojisan (strange uncle). From 2006, he began leading a troupe for his theatre show "Shimurakon" ("Shimura Spirit").

Henna Ojisan (strange uncle)
At the time of his death, he was starring in "Tensai! Shimura Dobutsuen" ("Genius! Shimura Zoo"), as well as other TV programs and was scheduled to start work on a movie based on the book "The Name Above the Title" in April.
"He was popular among a wide range of generations and was the No. 1 source of pride for locals," said Minoru Hasegawa, 69, who lives in Higashimurayama, according to the Japan Times. "I'm the same generation and (his death is) very regrettable."
Some voices concern towards reminiscing the "good-old times"
"Yes, his death shocked many of us. But let's not reminisce the "good-old time" when sexual harassment was overlooked and idealize the past. The time he was active in the comedy industry was definitely not a good time for all of us," said a man in his fifties.
志村けんの死は衝撃だった。だけど彼を懐かしむあまり「昔はおおらかだった」などとセクハラが横行していた時代を肯定的に回顧するのは本当にやめてほしい。セクハラに限らず、この種の回顧には記憶補正がかかる。彼が活躍していた時代、決してよい時代ではなかった。

— ペロンパー(前事不忘 後事之師) (@klezmer722) March 30, 2020
"I imagine that a lot of women were hurt by his skits. The Drifters' skits has hurt many, including somebody like me, a man who couldn't fit in or find the jokes funny. Some bullies used the skit as a source of inspiration. Don't get me wrong. I don't think his death serves him right. But we cannot idealize the past and let these things pass," he said.
あれに傷付いた女性は多かっただろうと想像するし、私のように笑いの輪に入れないイジメられ男性にも、ドリフターズの笑いはひたすら苦痛だった。彼らのネタをダシに虐められたことも幾度となくあった。亡くなってザマミロとは思わない。だが故人であっても手放しで肯定しちゃいけないものもある。

— ペロンパー(前事不忘 後事之師) (@klezmer722) March 30, 2020
Although Shimura captured the hearts of viewers from all generations with his penchant for funny faces and his ability to deliver jokes, some voices concern for those who reminisce the "good-old times" where regulations were looser, and entertainers could care less of so-called political correctness.
Shimura Ken no Bakatonosama (Ken Shimura's Idiot Feudal Lord), a comedy skit show that's been airing on the Fuji TV network since 1988, starring Shimura, has been called out for being outdated and sexist.
In the show, Shimura plays a number of recurring characters, including a "Hen na Ojisan" (Weird Old Man) who chases women and then makes everyone fall down laughing by dancing and singing "Hen na ojisan dakara hen na ojisan" ("I'm a weird old man, so I'm a weird old man ").
He also plays a character called "Bakatono" (Idiot Feudal Lord), who's usually just referred to as Tono (Feudal Lord) with his full face of white makeup and a comically long top knot, which stands upright directly on top of his head.
Although the world has changed a lot since the '80s, Shimura's style of comedy hasn't over the last decades. On an episode aired on January 9 this year, a skit was brought to everyone's attention after he appeared sandwiched in a "Niku Buton" or "Meat Futon."
Niku Buton refers to a female bedmate, and in the skit, bakatono requests a Niku Buton and eight women in bikinis are brought to his quarters to warm him up.
After the controversial skit appeared on TV on 9 January, viewers were quick to point out the outdated sexism, saying:
"Disgusting. This type of lowbrow humor isn't funny at all."
"This totally disregards women's rights and does nothing for gender equality."
"It's unbelievable that they still get away with this sort of thing in this day and age."
"How outdated and sexist is this?! It makes me feel sick."
"I can't believe this is aired on Fuji TV, a mainstream commercial network. They ought to be ashamed of themselves."
"He's been doing this for ages, and no matter how much he gets criticized for it, nothing ever happens to him." "I'd love to see him come out and apologize for this."
Despite the criticism which has made headlines in Japan, neither Shimura nor the network that aired the episode made any apologies for the skit.
More than 40 million tuned in to tribute show for Ken Shimura
The program, which aired on Fuji TV from 7 p.m. on April 1, earned an average viewer share of 21.9% for households in the Kanto region in eastern Japan and was watched by over 40 million people across Japan — a sign of just how popular the comedian was. The survey by ratings and marketing firm Video Research Ltd, covered 27 Fuji TV-affiliated stations.
The show included famous comedy skits from Fuji TV shows from over the years, including "Dorifu Daibakusho," "Shimura Ken no Baka Tonosama" and "Shimura Ken no Daijobuda."