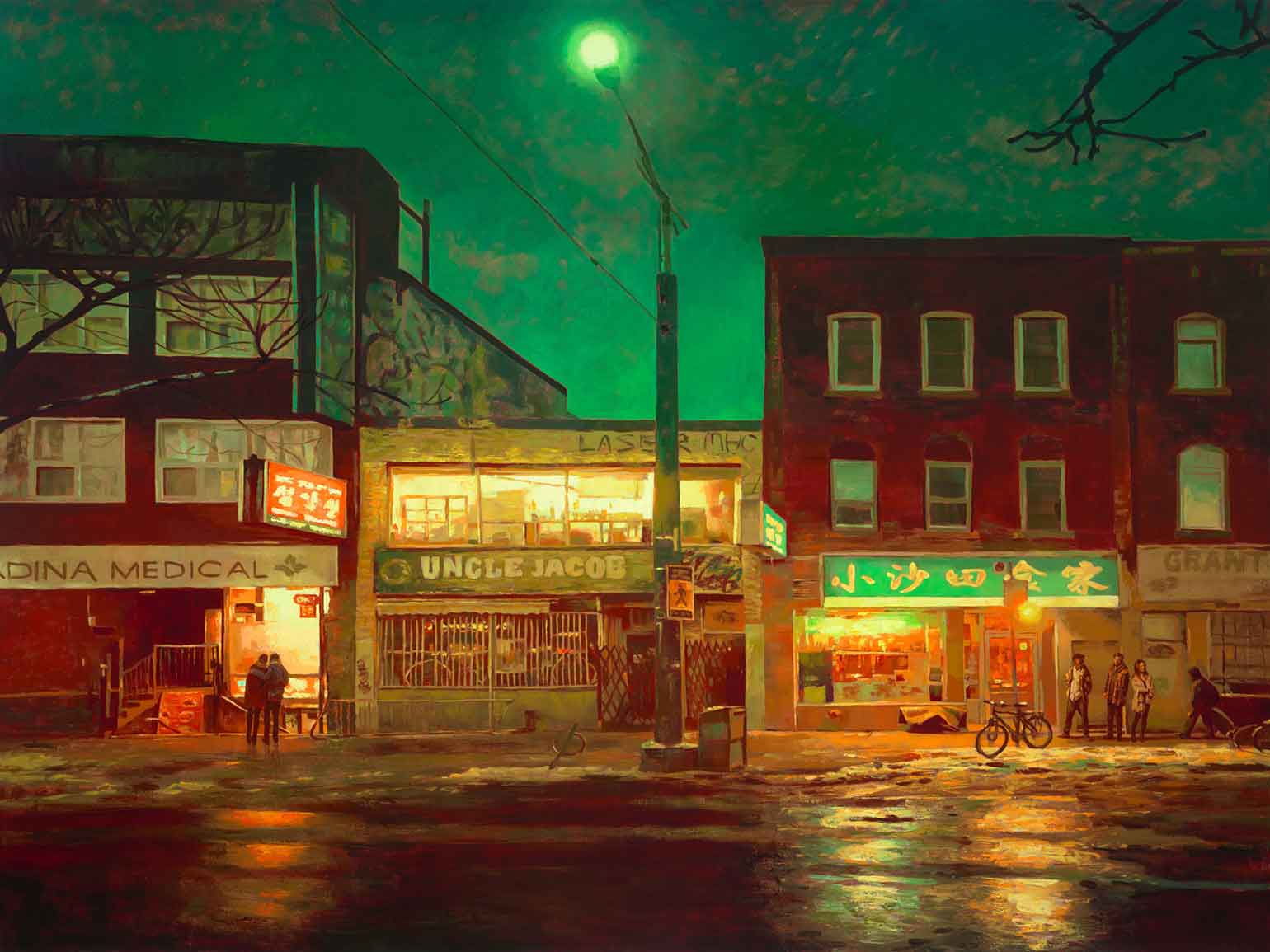 In Keita Morimoto's paintings, the streets of Toronto are strangely seductive. You see figures in streetwear. They are people you see, people you know. They eat in Chinatown, they get gas from the Shell gas station on Wellington, they share a cigarette on St Andrew street before heading into Kensington Market. You try to recognize the familiar faces and then you stop. You stare at his work and feel how intimate the spaces in his paintings are to him, you and everyone else who inhabits the city.

The Osaka-born figurative artist is known for having a realist's eye. Morimoto, who moved to Canada following a study abroad program when he was 16, graduated from OCAD University and rapidly earned a wide and enthusiastic following. His work has been exhibited across Canada and the United States. In 2014, his exhibition at the Museum of Contemporary Canadian Art, Nightwatchers, received critical acclaim. In 2016, he was a finalist in the RBC Painting competition.
Morimoto's dramatic interaction of light and shadow is reminiscent of grand masters like Rembrandt, Caravaggio, and Gainsborough while his crisply articulated technique makes references to works by anime auteurs like Miyazaki. The theatricality of his composition shadows works by William Eggleston, who is known for focusing on the complexity and beauty in ordinary subjects. His works are carefully constructed, with objects and people precisely arranged. He is a director, but instead of elucidating a definitive story, he suggests to viewers a narrative—a story that you perhaps already know.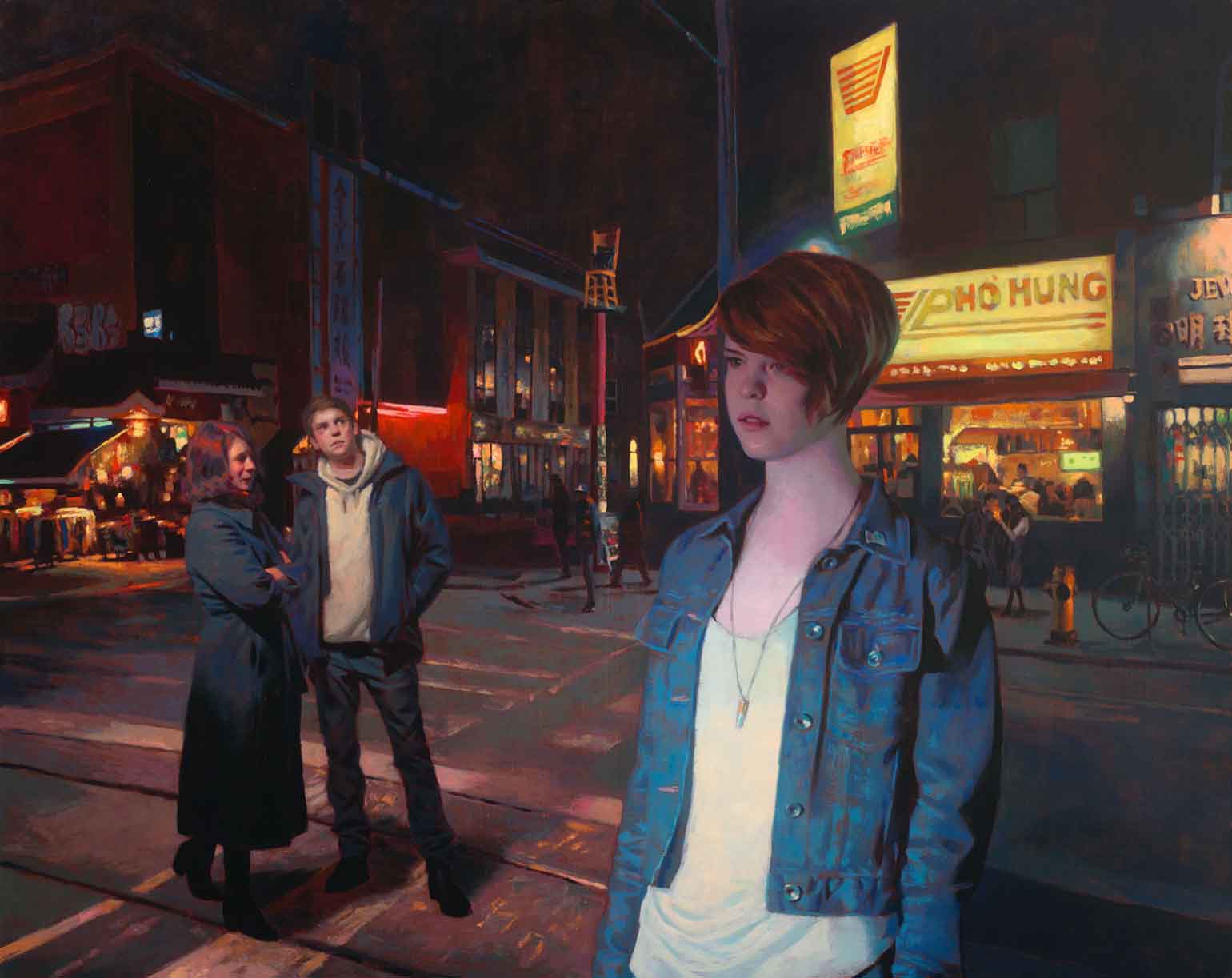 In Night Owls, the lights are bright, but places retain a certain sense of anonymity. Logos are blurred out, but identifiable to those who populate the space. His long-time partner (also a painter), Meghan, stands mesmerized in the center of the frame. Her eyes are shielded by her anime pixie-cut. She is static. Is she lost? I wonder what she is staring at? Behind her, a young man and a woman gaze in different directions and across the street, a couple lights a cigarette. Which they will share. They don't smoke often, only on Friday nights and, in an attempt to smoke less, they share one. Morimoto's painting is a sanctuary for the emotionally isolated. Kinship develops naturally when it is night, especially for our friends who wonder streets after dark. 

In Green City, one of his recent works, Morimoto moves away from verisimilitude while retaining the same sense of solitude established in his earlier works. The space in his paintings and the subjects that inhabit it, are one. This allow us to reconsider how our bodies interact with the space that surrounds us.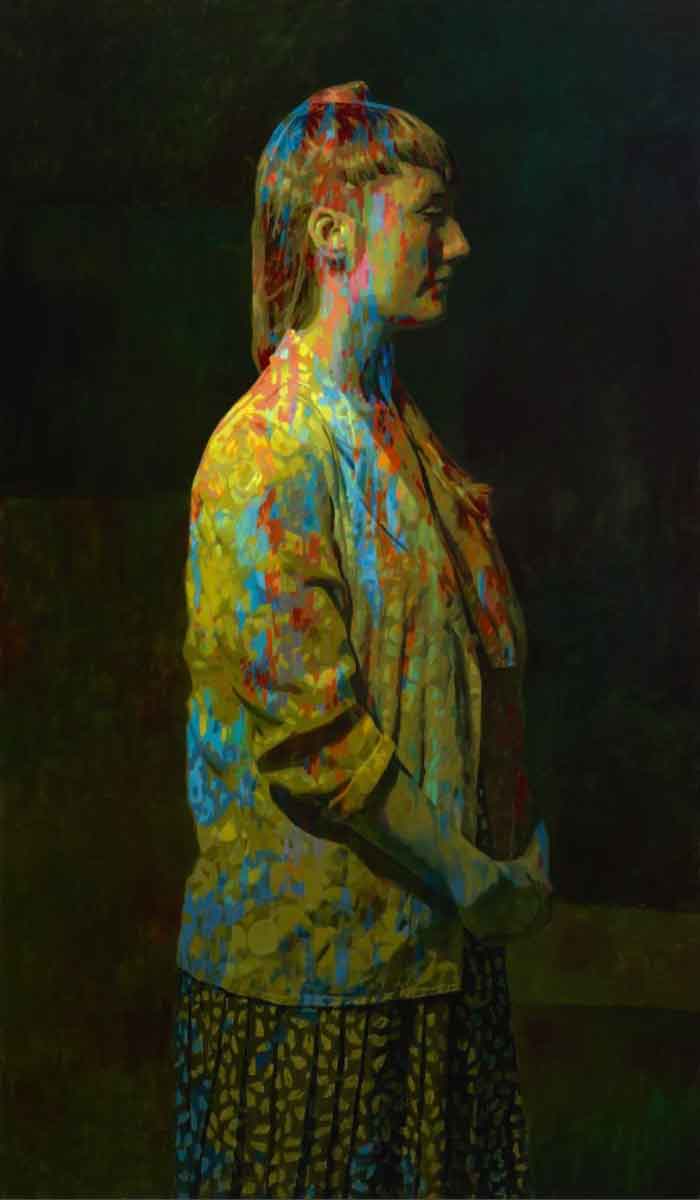 The figure in Green City, a thermal image, stands in the dark, alone. Her posture is calm. She is relaxed. She is undisguised. Is she just body, lost in the dark? Or is she an entity? She is perhaps an angel, feeling the night that surrounds her. Once we turn our heads away from the painting, the thermal image—the woman, will calmly and slowly, releases her breath, her heat, and her colors. She will become part of the night and, when we look back, the space that surrounds her, once dark, will be filled with color.

It was an afternoon in March when I visited Keita Morimoto's studio in Etobicoke.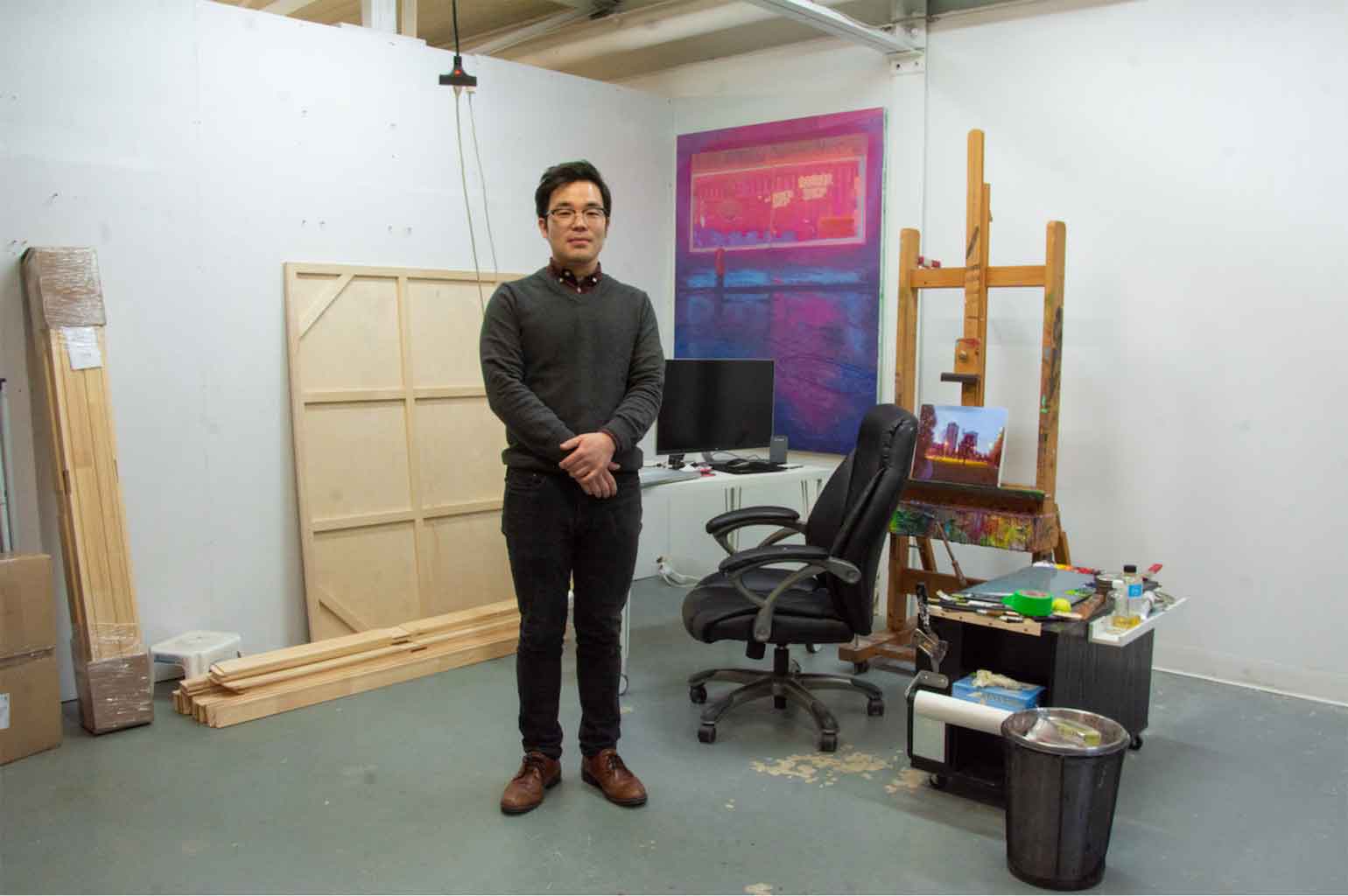 Maari Sugawara: Could you tell me about your process? You digitally collage photographs of your friends in urban spaces. Do photos always come first?
Keita Morimoto: Yes, I take photographs, and I make collages. If I am to put figures in my paintings, it is usually from a collage. I edit the colors, hue, and brightness using Photoshop.
MS: How long does it take for you to complete your works?
KM: 2-3 weeks for more significant works, a week for smaller ones—or maybe 3 or 4 days. When I was younger, a piece took me about 1 or 2 months, but I couldn't make the deadlines that way. So, I shortened the process.
MS: How much time do you spend working on your paintings?
KM: Around 4 hours a day.
MS: Your works have the influences of grandmasters like Caravaggio and Hopper, while your subjects are youthful and contemporary. How did you come to establish such a style?
KM: My first exhibition had references to old masters such as Rembrandt while portraying people of contemporary times and objects. I was playing with creating a narrative. My second exhibition, I did without any direct references. I did, however, incorporate their compositions.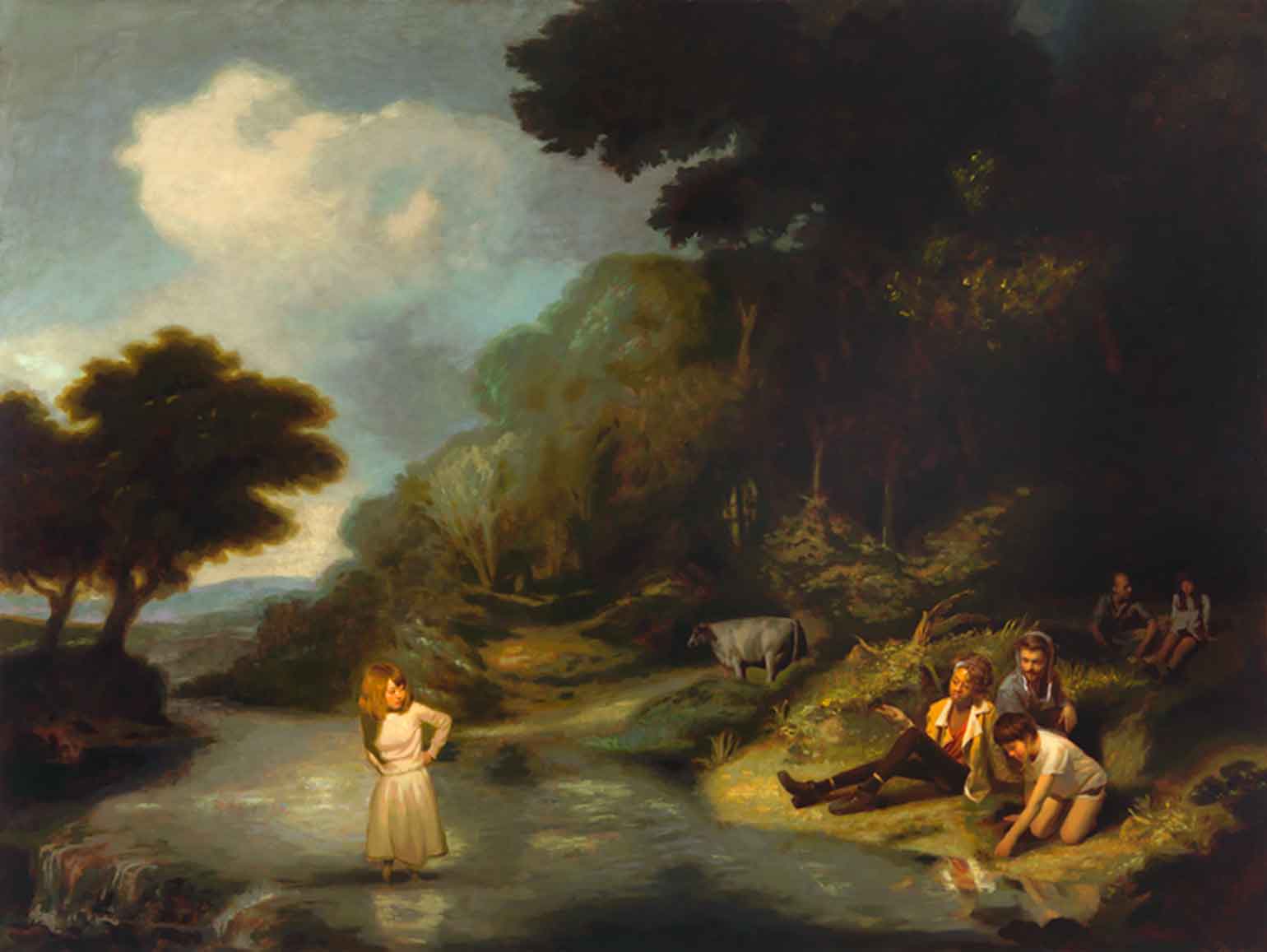 KM: I don't usually wear glasses, and sometimes I miss out details. My recent works focus on formality. I want to express the feel of the air and temperature. My motifs used to have narratives, but recently, I'm more intrigued by straight forward motifs, simply expressing emotions and space's atmosphere. I'm fond of Peter Doig and Higashiyama. I'm interested in how they use simple motifs while capturing the emotions. (pointing at his PC screen) Hiroshi Sugimoto is my favorite Japanese photographer.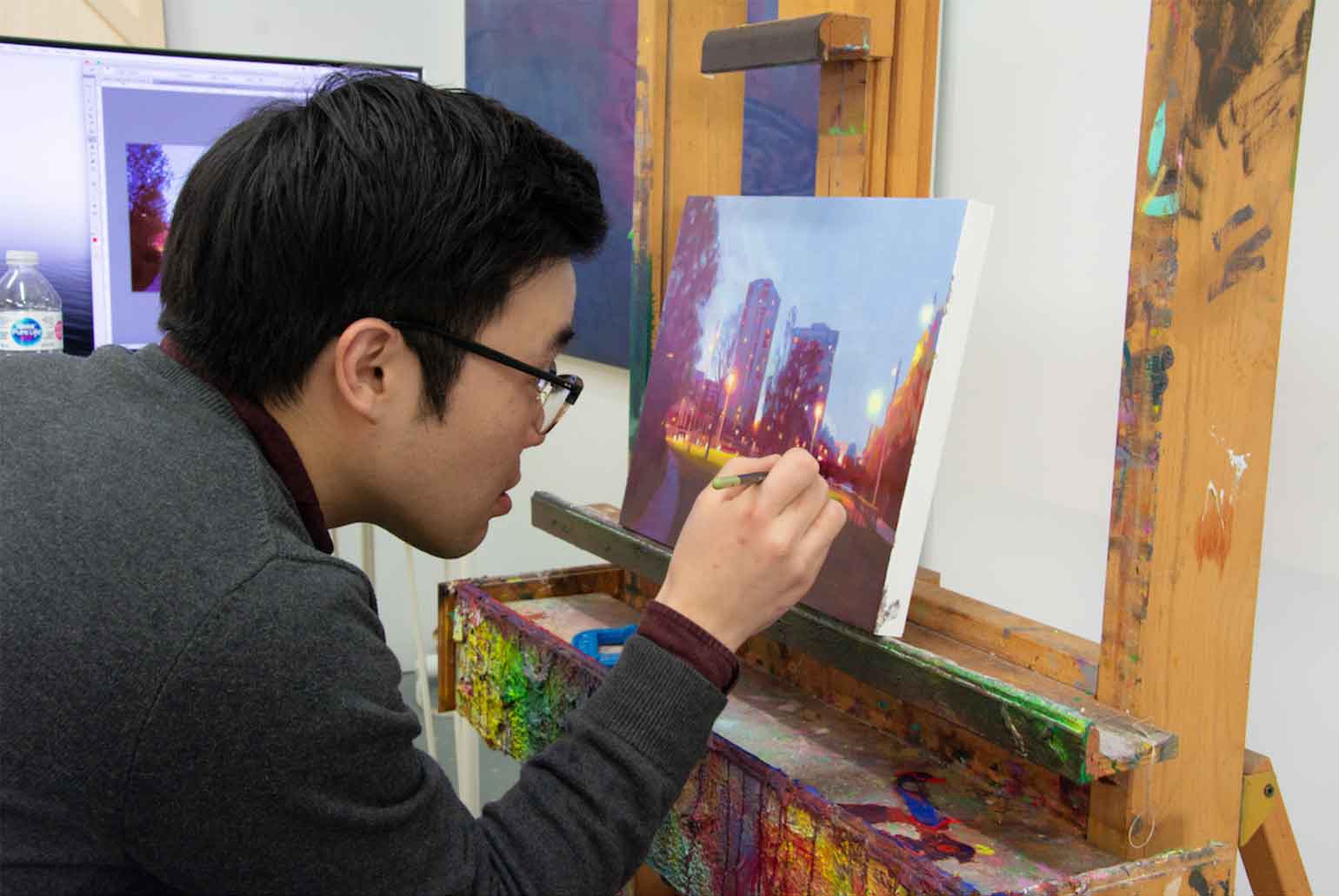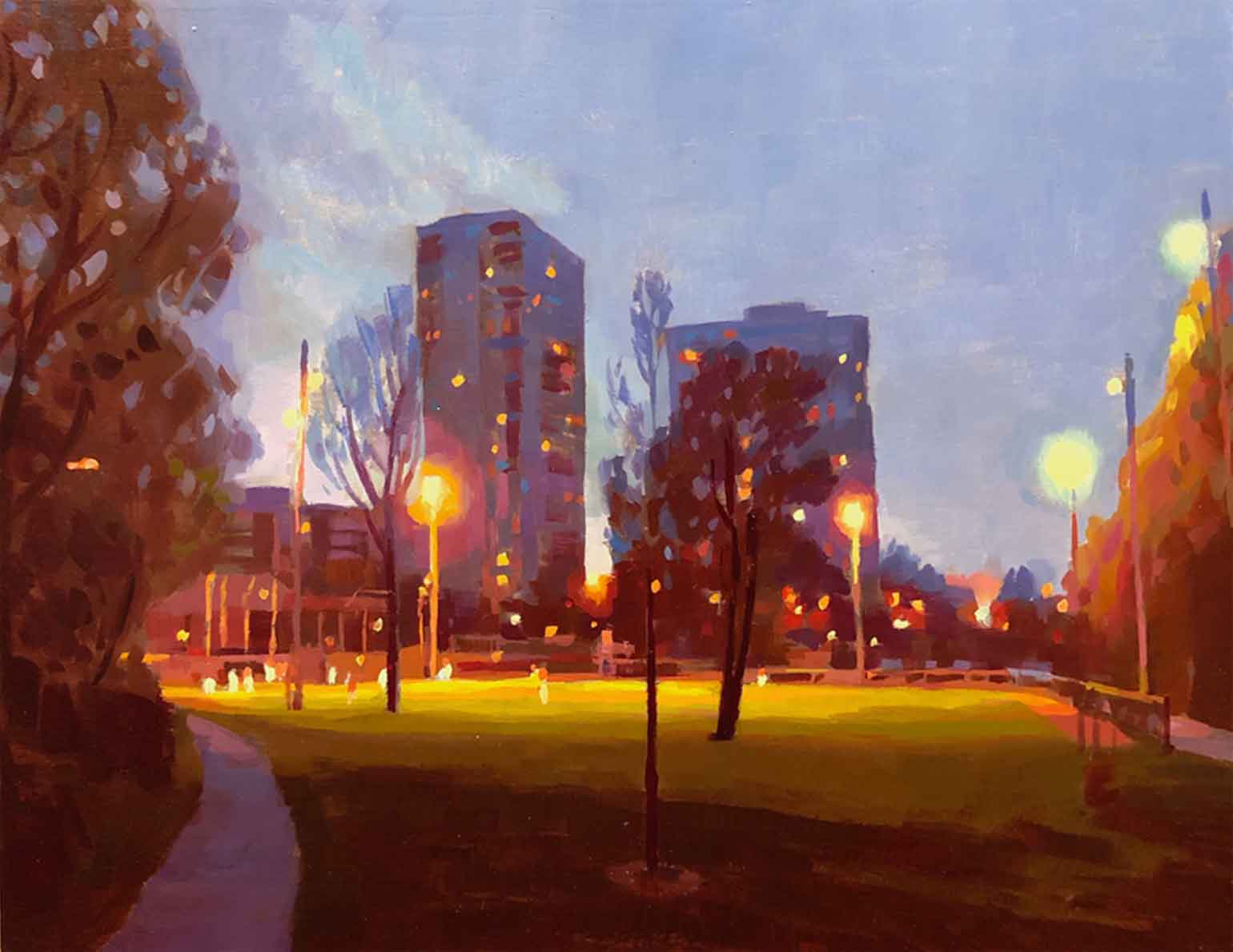 MS: You tend to draw people who seem to be emotionally isolated in empty spaces. What's the reason behind it?
KM: Artists tend to work on the same style after establishing one, but I don't want to stick to mine. Right now, I am trying to separate people and sceneries in my paintings. I sent these works in the last months to the gallery. So, I don't have the artworks with me. These will be presented next February. People and landscapes are drawn similarly, using abstract colors, in an abstract manner.
MS: Your portraits seem entirely different from your previous series. What was the source of your inspirations for your multicolored portraits?
KM: I incorporated rough lights of the cities and fragments of colors into people. (zooms into a photograph) If you zoom in, you see that the colors are fragmented and I am intrigued by that.
MS: That's very impressionistic.
KM: Definitely.
MS: Urban spaces seem to be your underlying theme. What about it that attracts you?
KM: What I really want to draw right now is Niagara's fall, but not many artists draw it because of its cheesiness. I want to draw the fall with a big scale. It's a touristy spot, but I want to draw a large, long painting of it. (points at the wall, around 3metres long) Like the size of that wall. I also want to draw it vertically.
MS: From American inside or Canadian side?
KM: Not sure. (laughing) I wonder.
MS: You had a group exhibition in 2018, where you had your works of Chinatown. The theme of the exhibition was to break the colonial art history canon. Is that something you aim to do?
KM: I am furthering from that lately. Traditionally, in Canadian landscapes, like paintings by Group of Seven (the Algonquin School) there is an absence of indigenous people. I want to portray things as they are, without editing any motifs. I also want to draw commercial motifs too, but maybe not CN tower. Maybe from the top. I still haven't drawn MacDonald's.
MS: I read that you don't draw too many logos.
KM: I did once, of Pizza Pizza.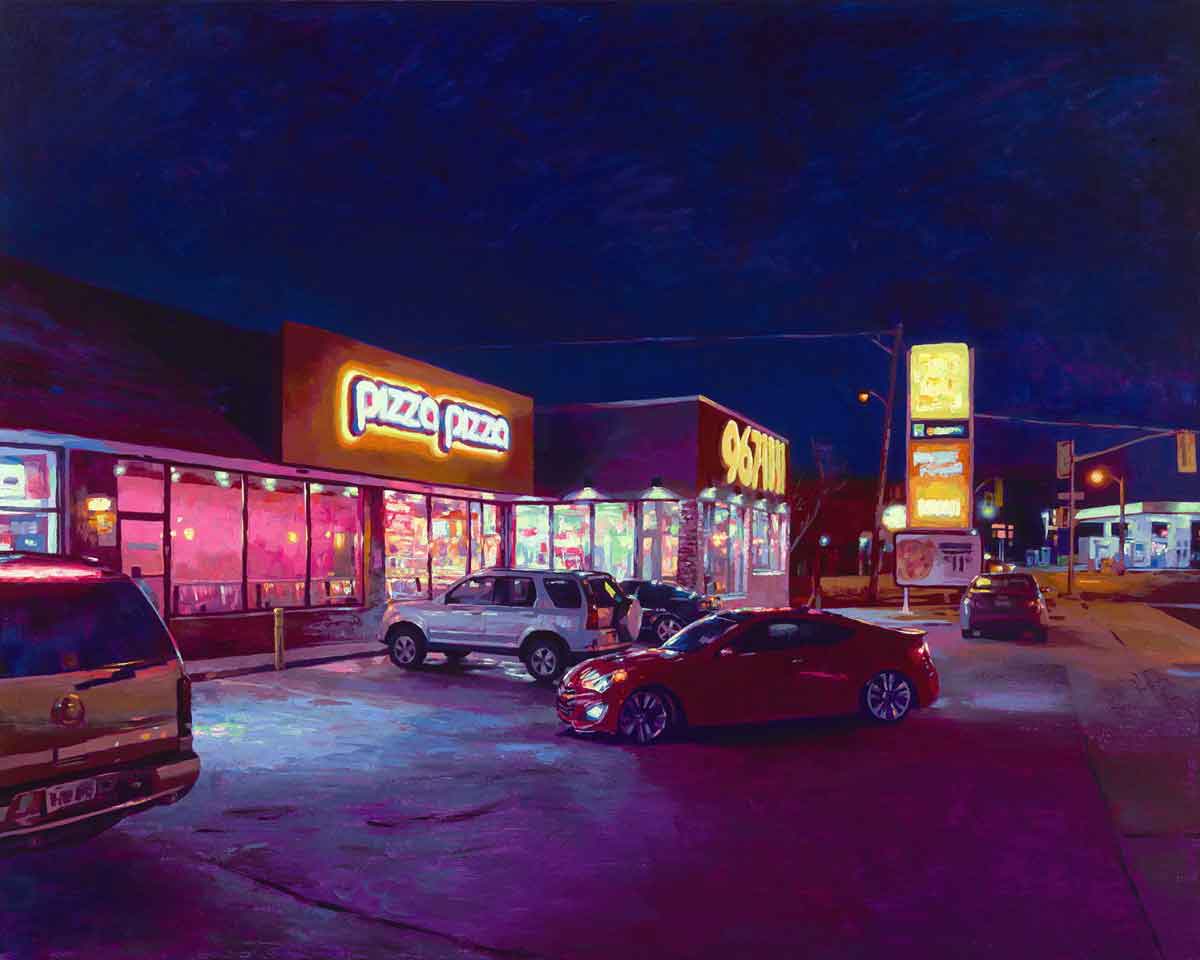 MS: Have you tried other mediums for your creative work?
KM: For my references, I tried to build sculptures but gave up. It must be interesting to try again. But when I don't paint, I feel low and let down.
MS: Exhibitions you were inspired lately?
KM: Omar Ba's 'Same Dream' exhibition at Power Plant. He is a contemporary Senegalese artist with psychedelic, monster works like Japanese "yokai-zu".
MS: Are there a certain rule you have to stick to in commercial galleries? For example, is making a political statement something artists avoid such an environment?
KM: Not at Metivier. But it's very important for me to be articulate with my works because people have a lot of questions.
MS: What are your aspirations?
KM: want my works to be exhibited at museums, although I don't mind commercial galleries. But I want to use spaces more freely without thinking of the commercial aspect of my work. I also want to curate, a group exhibition with 50 artists, with a focus specifically on paintings, as there aren't too many.
MS: Could I get a message from you too young artists?
KM: Do what you want to do; that's the most important thing. Also, be aware of your strengths. Don't overthink of what is trendy in the contemporary art scene. It's important to know what's happening, but don't adjust yourself too much. Keep your works very personal.