Jay Chou is a Taiwanese superstar. His fame was spread Asia-wide, including regions like Japan, Singapore, Southeast Asia and Korea. Later he is also popularized among Asian communities in North America. His most popular songs include "Promised Love", "Won't Cry", "Fragrant Rice" and "Simple Love". So far, his intelligence is already proven by his worldwide recognition. But most importantly, this man is not just intelligently hot but also physically hot. He has six steel-like packs and a jaw that is probably sharper than my kitchen knife.
Background information
Jay Chou Jielun is a musician, specializing in singing, song writing and record producing. In 2000, he released an album titled Jay and since then his music has gained worldwide recognition.
He won the Best-Selling Chinese-Speaking Artist from the World Music Award in four consecutive years. In addition to all that, since 2001, Jay has been be winning Golden Melody Awards almost every year. Besides his successful music career, Chou is also an actor, director and film producer. His film "Initial D" and "Secret" both won the Golden Horse Awards. His success in the entertainment industry had earned him the name "President Chou", which consolidates his influence and capability.
The Green Hornet
After all the essential facts about our big star right here, it is time to explore more about his physicals. In 2011, in preparation for the movie "The Green Hornet", Chou hired two trainers and did 3000 push-ups per day to train his abs to be photogenic.
In the story, Chou's character is named Kato, an assistant of the Green Hornet. In other words, Kato was the Robert to the Batman. Kato was a karate master raised in Shanghai and used to work for Green Hornet's father to create innovative gadgets.
The competition for this role was intense but this perfect man excelled the role and became the token Asian in this movie. For this film, Chou trained hard for a perfect presentable body.
Other information about his six or eight abs
I tried many different sources to find out whether Chou has six or eight abs. As a result, different sources, including my vision, cannot agree on a number. But here is a picture of one from his album released in 2012.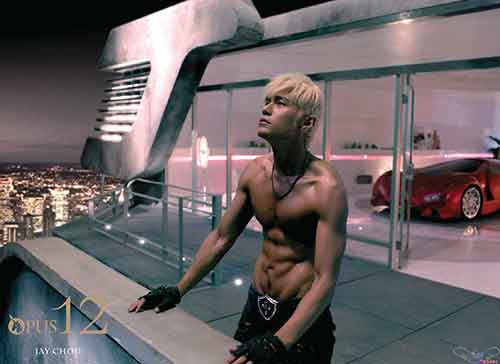 According to an unsourced blogpost, Chou once said "I am not training for the muscles but training my determination."
To me, as long as my man is smart, talented and has abs. I am set.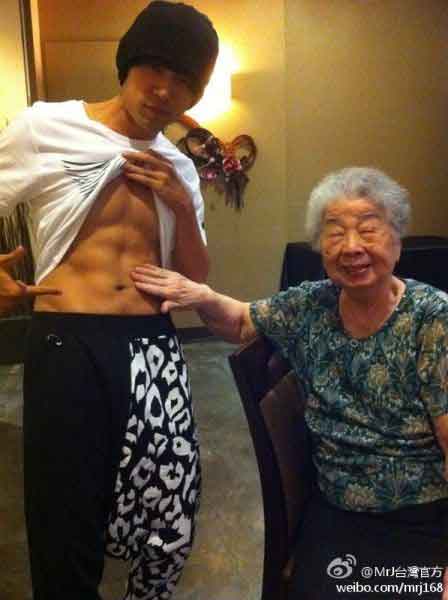 Grandma Chou is stroking Chou's abs. I wish I could touch his abs too.
According to Yahoo news, Chou's fans did not enjoy the image of him barely clad and showing off his 8-packs abs as we donning a golden hairstyle because the image "resemble[s] a K-pop idol".